In today's edition: Democrats have a good night at the ballot box in off-year races across the count͏‌ ͏‌ ͏‌ ͏‌ ͏‌ ͏‌
| | | |
| --- | --- | --- |
| Washington | Richmond | Berlin |

| | | |
| --- | --- | --- |
| | November 8, 2023 | |

Principals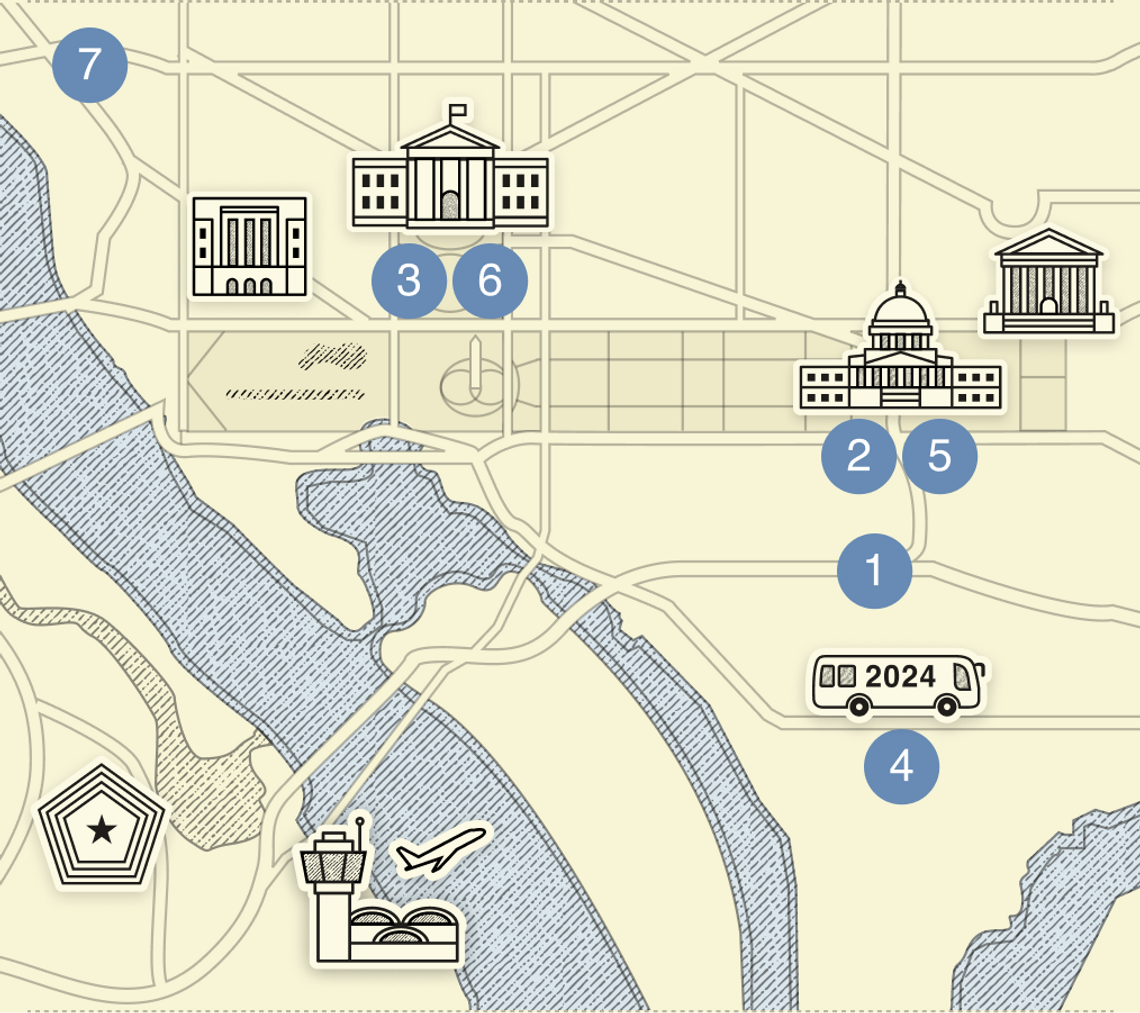 Democrats' big night
The Capitol's Israel divide
White House cautions on Gaza 'reoccupation'
Republican fight night
Surveillance overhaul proposed
Biden's price war
Germany's Israel-Hamas debate
PDB: Poll finds Chinese population's negative views of U.S., U.S. views of China softening

Blinken to South Korea … Mayorkas, Becerra testify on funding request … Kyodo: Biden-Xi meeting set for Nov. 15
— edited by Benjy Sarlin, Jordan Weissmann and Morgan Chalfant
Democrats' post-Dobbs winning streak continues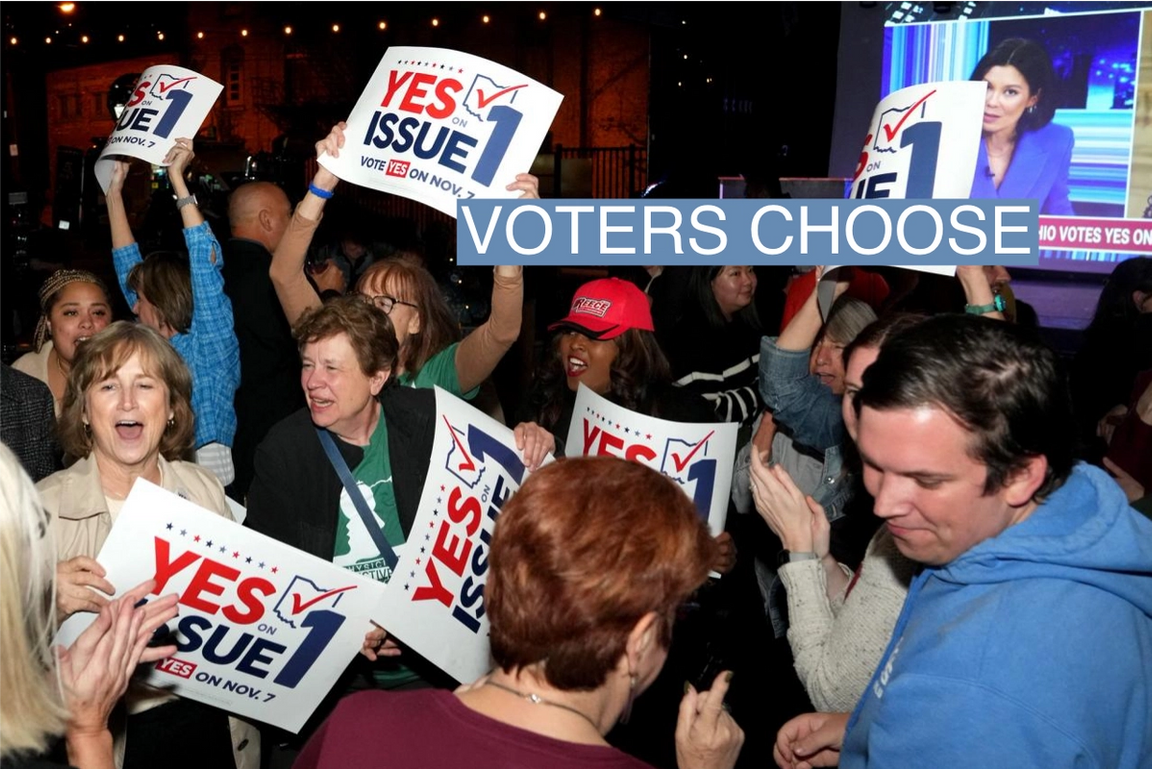 Kareem Elgazzar/USA Today Network via REUTERS
It's been the same story since Roe v. Wade fell: President Biden is struggling, but Democrats keep winning. Republicans fell short in key races on Tuesday, from Kentucky to Virginia to Ohio, after hoping that Biden's unpopularity — and some updated, revamped messaging on abortion — would lead them to victory.
In Kentucky, Democratic Gov. Andy Beshear won reelection over Republican Daniel Cameron, the state's attorney general. Beshear, who'd won his first term by just 5,000 votes, held on in key rural counties and grew his margins in suburbs after relentlessly attacking Cameron for his defense of the state's abortion ban. The governor thanked the star of this extremely memorable ad in his victory speech.
In Ohio, voters added abortion rights to the state constitution, with landslide margins in the state's urban areas and solid margins in suburbs, including parts of northeastern Ohio won twice by Donald Trump. The measure overcame a well-funded "no" campaign backed by Gov. Mike DeWine.
And in Virginia, Democrats held onto the state senate and flipped the House of Delegates, denying Gov. Glenn Youngkin majorities after he pitched a ban on abortion after 15 weeks as a "commonsense" goal for the legislature. A months-long, Youngkin-led campaign to brand Democrats in ads and speeches as the real abortion extremists fell short. Democrats underperformed Biden's 2020 numbers, but the trajectory was upward.
Republicans didn't walk away with nothing. In Mississippi, Gov. Tate Reeves won reelection against a socially conservative Democrat, Brandon Presley; the GOP candidate won city hall in Manchester, N.H.; and the party was fighting for gains in some urban races where law-and-order messages broke through. But it was a far worse night than they hoped for, with no obvious path forward in races centered on abortion.
— David Weigel
A candlelight vigil for Israel, then a censure vote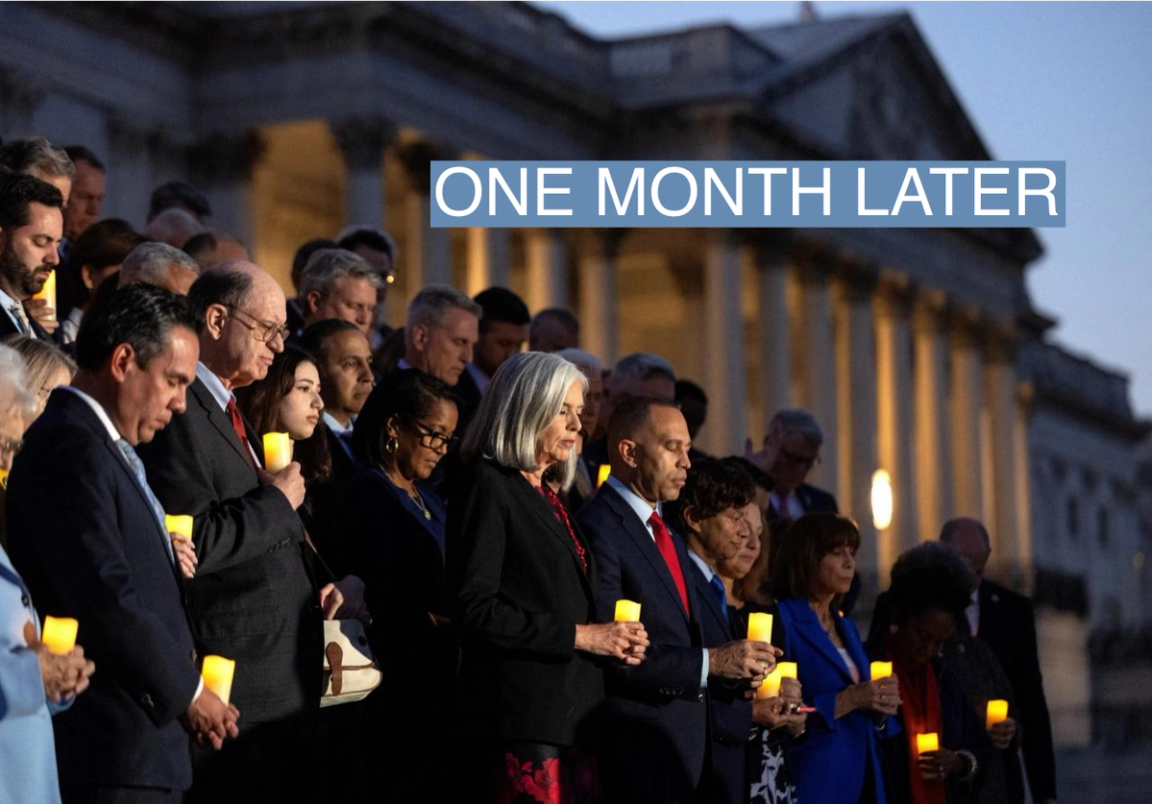 REUTERS/Evelyn Hockstein
The House showcased its support for Israel at a bipartisan vigil on the Capitol steps Tuesday night to mark one month since Hamas' attacks killed over 1,400 people. Speaker Mike Johnson led a moment of silence and a prayer; Minority Leader Hakeem Jeffries acknowledged the more than 200 hostages whose fate remains uncertain. Itay Raviv, whose family members are being held captive in Gaza, told Semafor the event was "very emotional" and that he relayed to lawmakers that victims' relatives don't care who gets the partisan credit for helping them.
But the veneer of unity was a thin one. The House voted just hours later to censure Rep. Rashida Tlaib, D-Mich., who attended the vigil, over her statements on Israel. Without naming her, Jeffries sharply condemned Tlaib's use of the phrase "from the river to the sea" earlier that day, which Tlaib says refers to peaceful coexistence, but is also used by Hamas and has long been interpreted by many Jews as calling for Israel's destruction. He also called on members to respect the president — Tlaib had posted a video accusing Biden of backing "genocide." It all set the stage for 22 Democrats to join all but 4 Republicans in censuring her. At the same time, progressives accused lawmakers of hypocrisy for failing to condemn anti-Palestinian bigotry, citing remarks like Rep. Max Miller's, R-Ohio call to turn Gaza into a "parking lot." Rep. Ryan Zinke's, R-Mont. bill to block Palestinian nationals from the U.S., and Rep. Brian Mast's, R-Fla. comparison of civilians in Gaza to Nazis (which prompted an attempted censure vote of its own).
— Kadia Goba and Benjy Sarlin
White House cautions Netanyahu on post-conflict Gaza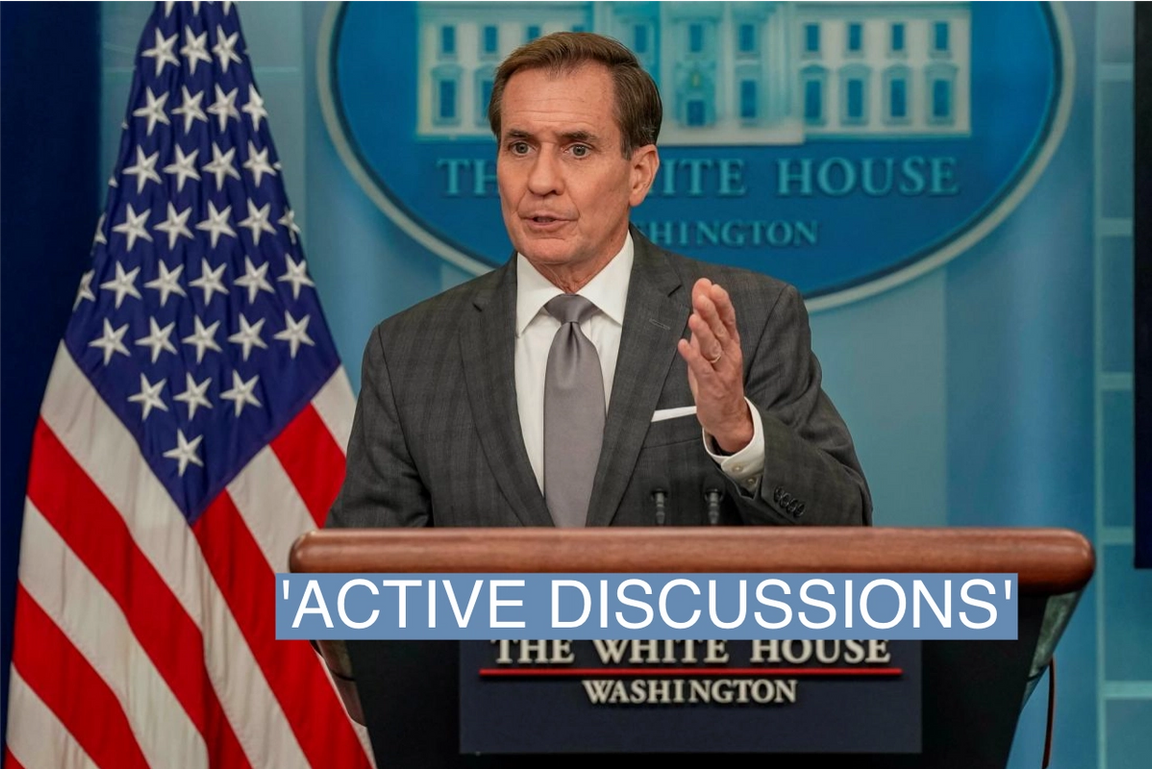 REUTERS/Ken Cedeno
The White House said Israel should not reoccupy Gaza after Israeli Prime Minister Benjamin Netanyahu hinted at taking "indefinite" control of the enclave. "The president maintains his position that reoccupation by Israeli forces is not the right thing to do," White House national security spokesman John Kirby told reporters, noting that the administration is having "active discussions with our Israeli counterparts about what post-conflict Gaza looks like." Secretary of State Antony Blinken delivered a similar message today, telling reporters Israel and its allies need to "begin setting the conditions for durable peace and security" in Gaza. With Israeli troops fighting deep in Gaza City, the newspaper Israel Hayom, which traditionally backs Netanyahu, unexpectedly called for him to step down over Hamas' Oct. 7 attack, underlining his worsening political fortunes. The U.S. faces its own difficulties with the war: Its secretaries of state and defense are touring Asian capitals to reassure allies concerned that Washington is overstretched by conflicts in the Middle East and Ukraine, and would not be able to ward off feared Chinese aggression. President Biden "can ill afford a third geopolitical crisis," the former head of the International Institute for Strategic Studies' Singapore branch wrote in Foreign Policy.
— Tom Chivers and Morgan Chalfant
Nikki Haley's big debate night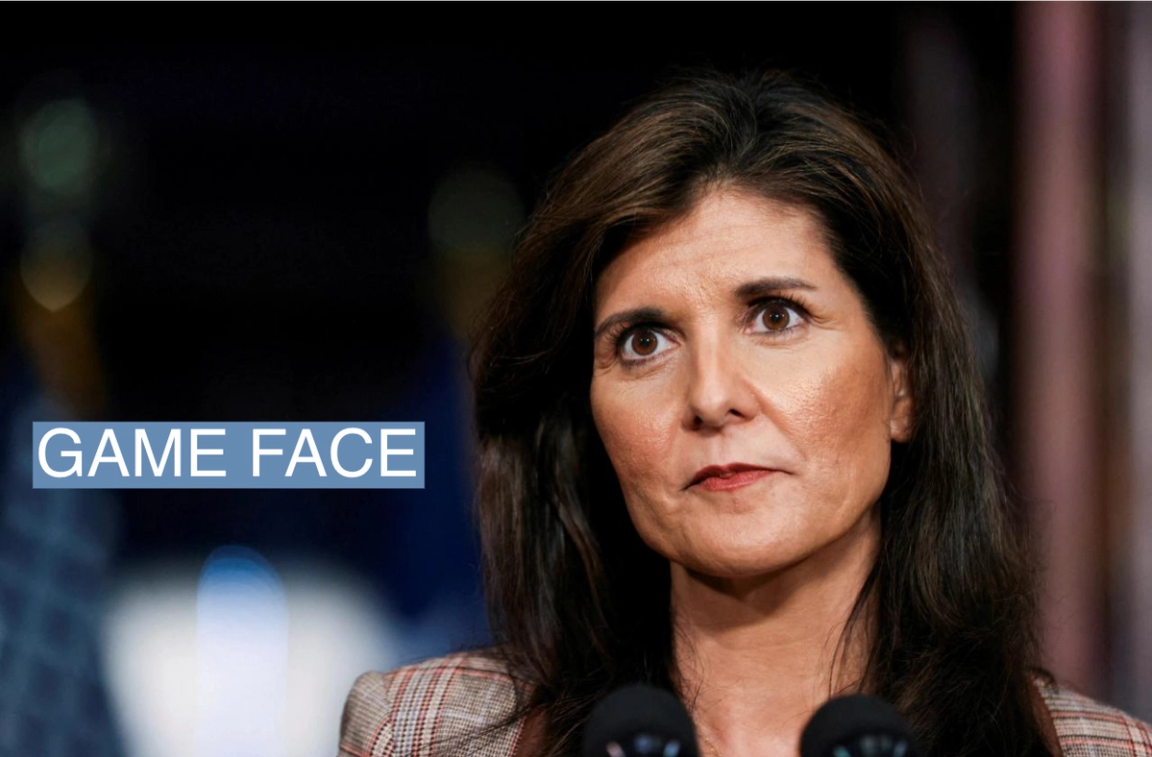 REUTERS/Sam Wolfe/File Photo
Five Republican candidates are in Miami tonight for the third Trump-less presidential debate, hosted by NBC News. The center of attention this time is likely Nikki Haley, Semafor's David Weigel reports in Americana, who the field increasingly sees as a threat to move into the (extremely distant) second-place slot against Donald Trump. Ron DeSantis' campaign is coming off a big endorsement from Iowa Gov. Kim Reynolds and has argued Haley is incapable of consolidating MAGA and non-MAGA voters. He's been going after her for weeks over a false claim that she supported taking in refugees from Gaza, while Haley's campaign previewed the debate with a video compilation of DeSantis "lies" about his opposition to offshore drilling. Sen. Tim Scott, R-S.C. has also started to go directly after Haley, portraying himself as a more reliable conservative on issues like abortion. "She is playing for the Never Trump lane," he said at a candidate event in Orlando. "It won't unite the party." And while they haven't clashed much lately, Chris Christie and Haley are competing for a similar pool of moderates and independents in New Hampshire that could bring them into conflict.
Conservatives, liberals push major overhaul of Section 702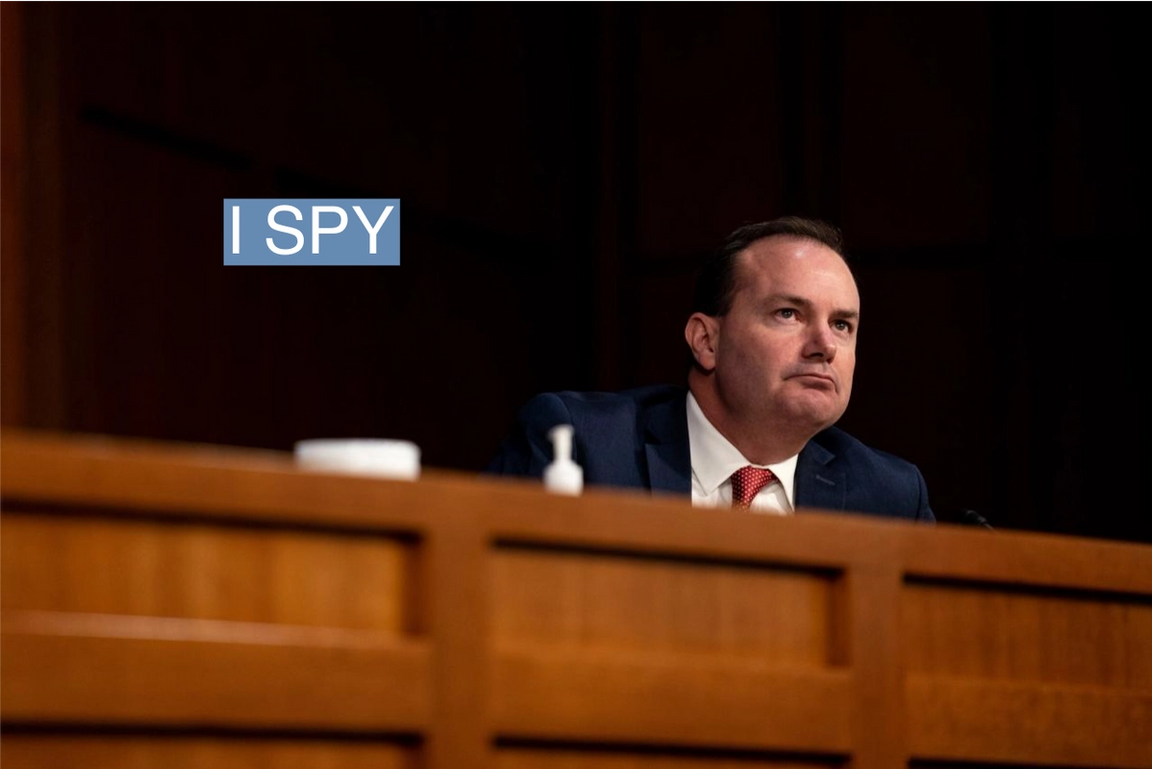 Erin Schaff-Pool/Getty Images
A new push to dramatically overhaul a key government surveillance tool is uniting progressive lawmakers and hardline conservatives. A group led by Sens. Ron Wyden, D-Ore. and Mike Lee, R-Utah as well as Reps. Warren Davidson, R-Ohio and Zoe Lofgren, D-Calif. introduced a bill that would require a probable cause warrant for searches of American data incidentally swept up under Section 702 of the Foreign Intelligence Surveillance Act. The sweeping bill would also restrict the government's ability to purchase data on U.S. citizens from data brokers. In exchange, it would reauthorize Section 702 — due to expire at the end of 2023 — for four years. The bill still faces an uphill climb due to opposition from the White House and Congressional hawks who worry the warrant requirement could impact intelligence-gathering. "It remains a red line not to have to go to a court and lose the operational window to stop an assassination attempt, to prevent ransomware, to stop a senior government official's email account from being hacked," a senior Biden administration official told reporters on a press call. Still, many lawmakers are pressing for at least some kind of reform. "A clean reauthorization of 702 is not in the cards," Lee said at a press conference.
— Morgan Chalfant
What to make of Biden's inflation struggle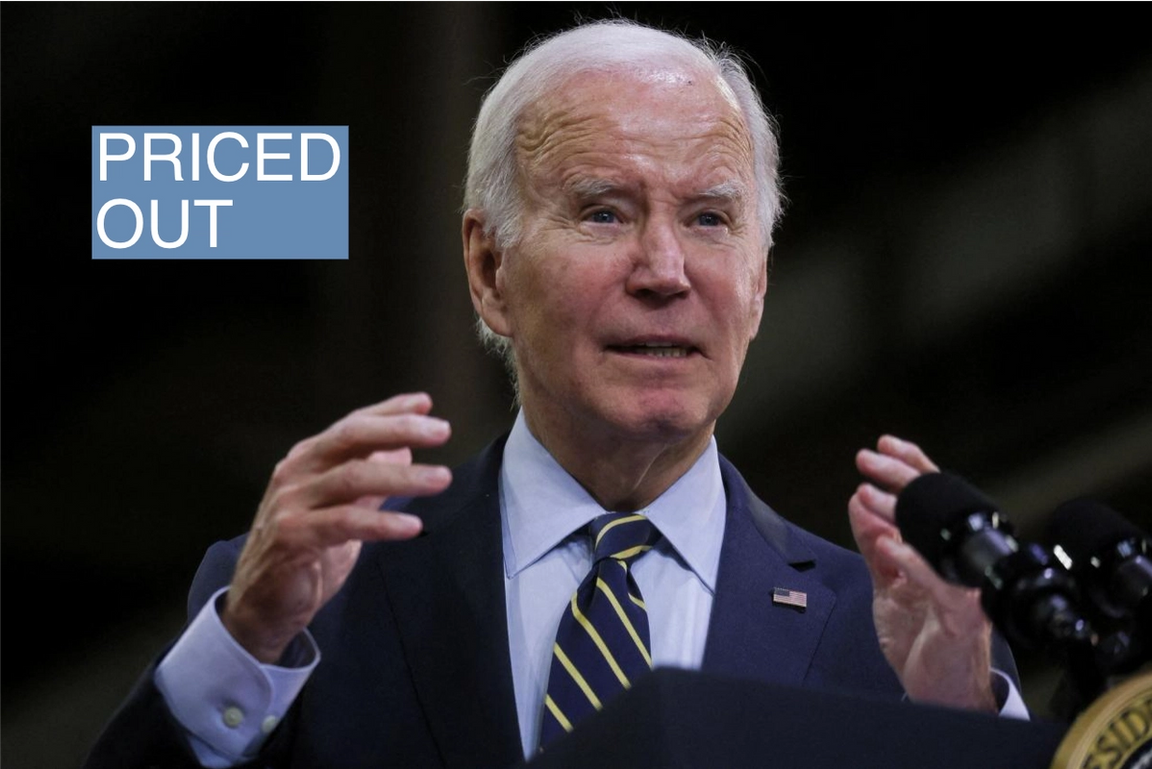 REUTERS/Leah Millis/File Photo
It's the prices, stupid. Voters resent Biden's focus on "jobs" over lowering "prices," according to a new Blueprint poll we reported yesterday, prompting an animated debate over the implications. One common sentiment: Even though inflation has slowed substantially, Biden is in trouble if voters are yearning for the return of pre-pandemic prices. "Voters are very clear: REDUCING PRICES, not reducing the rate of price inflation, is what they want," Republican strategist Logan Dobson tweeted. Fair enough. But as Atlantic business columnist Derek Thompson noted, this is a tough complaint for Biden (or any president) to address since deflation is typically a symptom of a horrendous economy. A former deputy director at Biden's National Economic Council, Bharat Ramamurti, suggested Biden could make gains by highlighting narrow instances where policy really can reduce prices in absolute terms. Examples include the administration's massive release of oil reserves during the Ukraine war, a new cap on Medicare insulin prices at $30, and its current crackdown on "junk fees" in travel and entertainment. "It will take real creativity for the government to produce the type of price cuts people want," Ramamurti tweeted.
Israel-Hamas conflict puts stress on Germany's post-WWII identity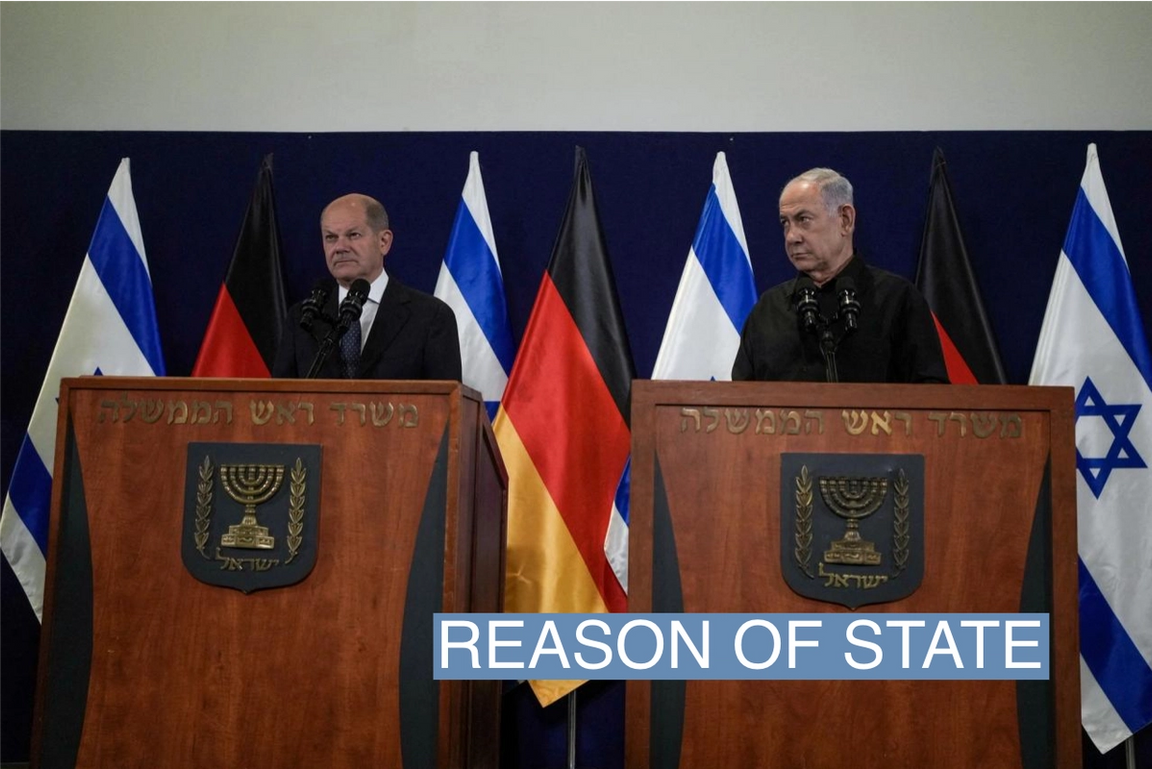 Maya Alleruzzo/Pool via REUTERS
Semafor aims to expose our readers to views they might not otherwise see, and we'll be running an occasional series here on the ways in which the new Middle East conflict is perceived in other capitals.
The Israel-Hamas conflict is putting Germany's modern identity to the test, both domestically and in its foreign policy. As a direct result of its Nazi past, Germany considers Israel's existence and security a Staatsräson, or "reason of state" — meaning it's a crucial tenet of German foreign policy. German Chancellor Olaf Scholz was among the first world leaders to visit Israel in the aftermath of last month's attacks, and officials have walked a careful line between underscoring Germany's strong support for Israel and encouraging Israeli Prime Minister Benjamin Netanyahu to avoid civilian casualties in Gaza. German Foreign Minister Annalena Baerbock has signaled Germany's support for "humanitarian pauses."
The conflict has led to a new wave of antisemitic rhetoric within Germany, a country that sees fighting antisemitism as its post-Holocaust responsibility — putting the country's Jewish community on edge and raising uncomfortable questions about the role Middle Eastern and Muslim immigrants play in the heightened tensions. Shortly after Hamas' Oct. 7 attacks, celebrations broke out in Berlin's immigrant-heavy Neukölln neighborhood; other similar demonstrations have taken place around the country in the weeks since, prompting German officials to ban all Hamas-related activities. Vice Chancellor Robert Habeck, a member of Germany's Greens, posted a nearly 10-minute video denouncing antisemitism in all corners of German society — and, in a move uncommon for left-leaning politicians, also called out Germany's Muslim community for not speaking out more forcefully against the antisemitic protests. The video quickly went viral, earning Habeck, who had been struggling with voters over his handling of an unpopular energy policy earlier this year, praise from across the political spectrum.
— Emily Schultheis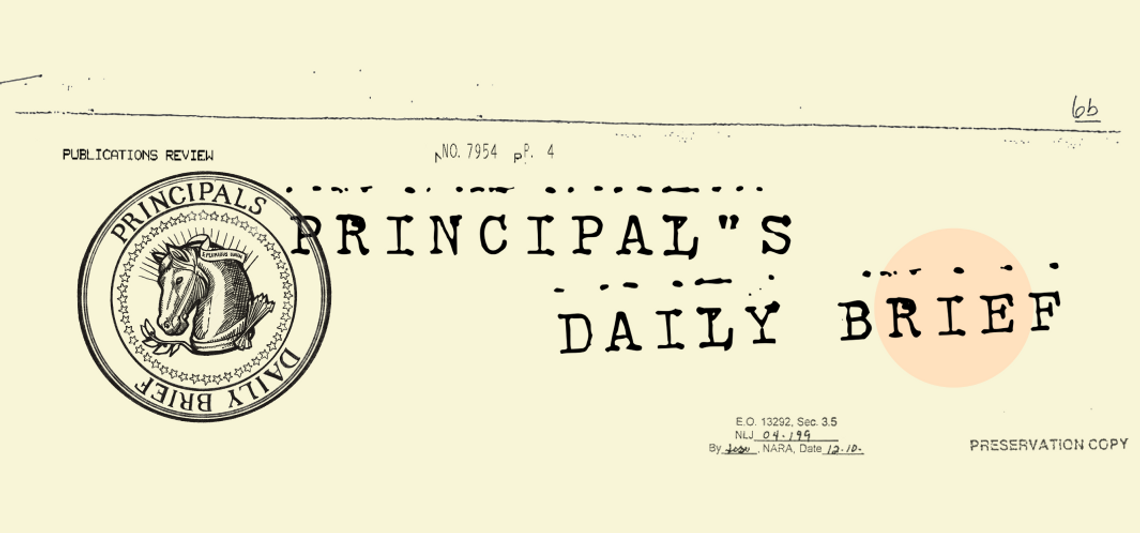 Beltway Newsletters
Punchbowl News: Speaker Mike Johnson might face the same challenges as his predecessor — a potential shutdown, a conference divided over a Biden impeachment — but he's unlikely to face the same level of backlash. Conservatives, at least for now, are giving him the benefit of the doubt. "The outcome is going to be quite a bit different," said Rep. Eli Crane, R-Ariz., one of the Republicans who voted to oust Kevin McCarthy. "Speaker Johnson is a lot more conservative and I don't believe he's as transactional."
Playbook: Following Tuesday's Democratic victories, "the overwhelming sentiment floating around Biden world overnight was vindication for their keep-calm-and-carry-on attitude."
The Early 202: After Rep. Jamie Raskin, D-Md. delivered an impassioned defense of Rep. Rashida Tlaib, D-Mich. during yesterday's censure vote on the House floor, Johnson reportedly pulled Raskin aside and gave him "props" for a compelling argument "that he may have made in a similar situation."
Axios: President Biden and Donald Trump are in a dead heat in the battleground state of Georgia, according to a new poll out this morning from the Atlanta Journal-Constitution/University of Georgia, the latest in a string of difficult numbers for Biden in key 2024 states.
White House
Congress
Courts
Polls
National Security
The Pentagon is losing the head of its UFO office, Sean Kirkpatrick. — Politico
Foreign Policy
2024
National Review scrutinized Vivek Ramaswamy's appearance at a 2018 biopharmaceutical conference in China that was attended by executives from Chinese firms "directly affiliated with a controversial Chinese-government-sponsored program called the Thousand Talents Plan (TTP)."
Blindspot
Stories that are being largely ignored by either left-leaning or right-leaning outlets, according to data from our partners at Ground News.
What the Left isn't reading: Missouri's Republican attorney general sued the Biden administration over the distribution of abortion pills by mail.
What the Right isn't reading: A lengthy new filing from special counsel Jack Smith urged a federal judge to reject former President Donald Trump's efforts to dismiss his election interference indictment.
Principals Team
Editors: Benjy Sarlin, Jordan Weissmann, Morgan Chalfant
Editor-at-Large: Steve Clemons
Reporters: Kadia Goba, Joseph Zeballos-Roig, Shelby Talcott, David Weigel
Tim Scott is a U.S. senator from South Carolina and a Republican presidential candidate.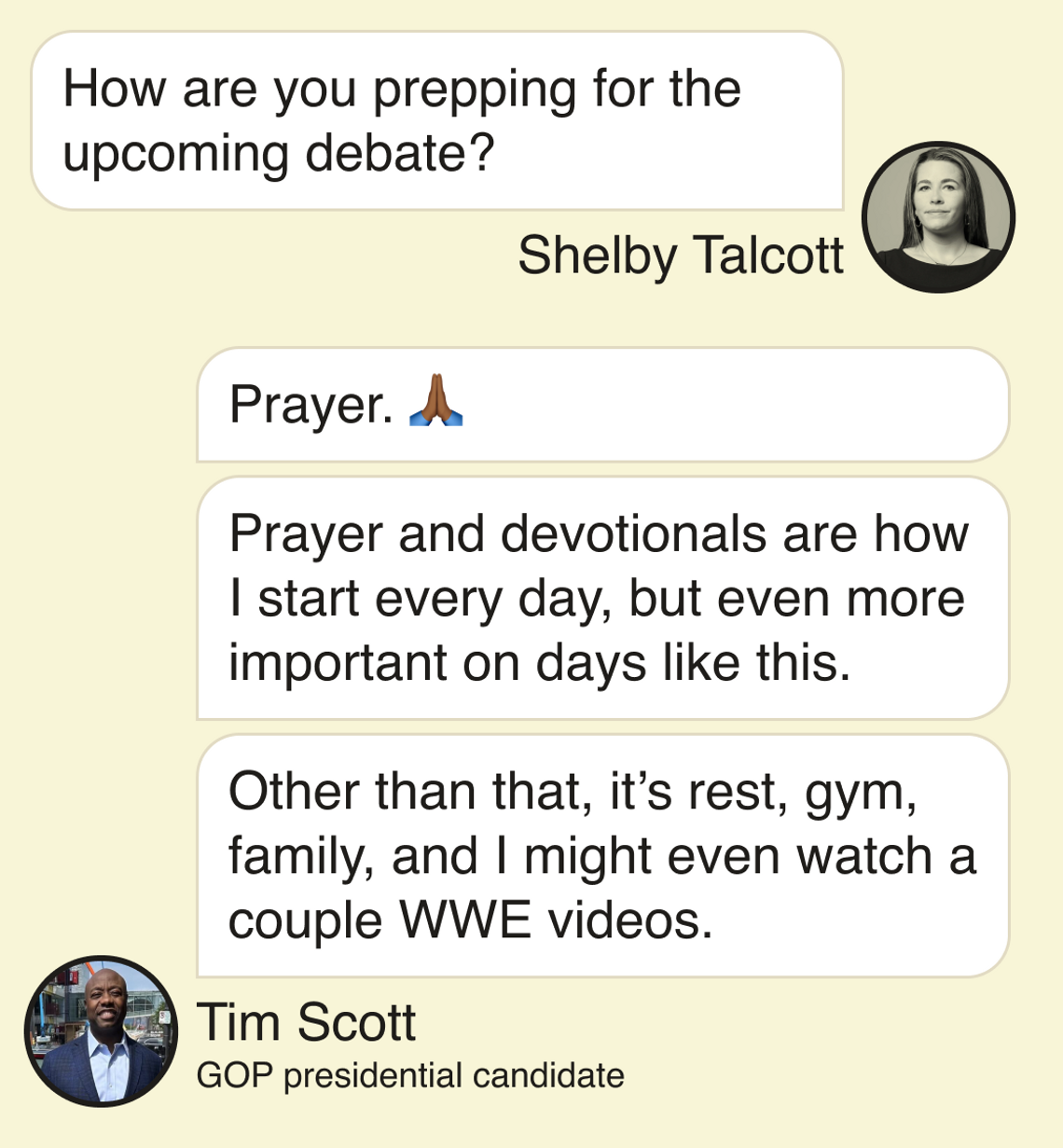 Sign up now to get Semafor in your inbox.
Semafor, Inc. 228 Park Ave S, PMB 59081, New York, NY, 10003-1502, USA