In today's edition: President Biden's birthday draws attention to his age as it becomes an issue on ͏‌ ͏‌ ͏‌ ͏‌ ͏‌ ͏‌
| | | |
| --- | --- | --- |
| Washington | Taipei | Buenos Aires |

| | | |
| --- | --- | --- |
| | November 20, 2023 | |

Principals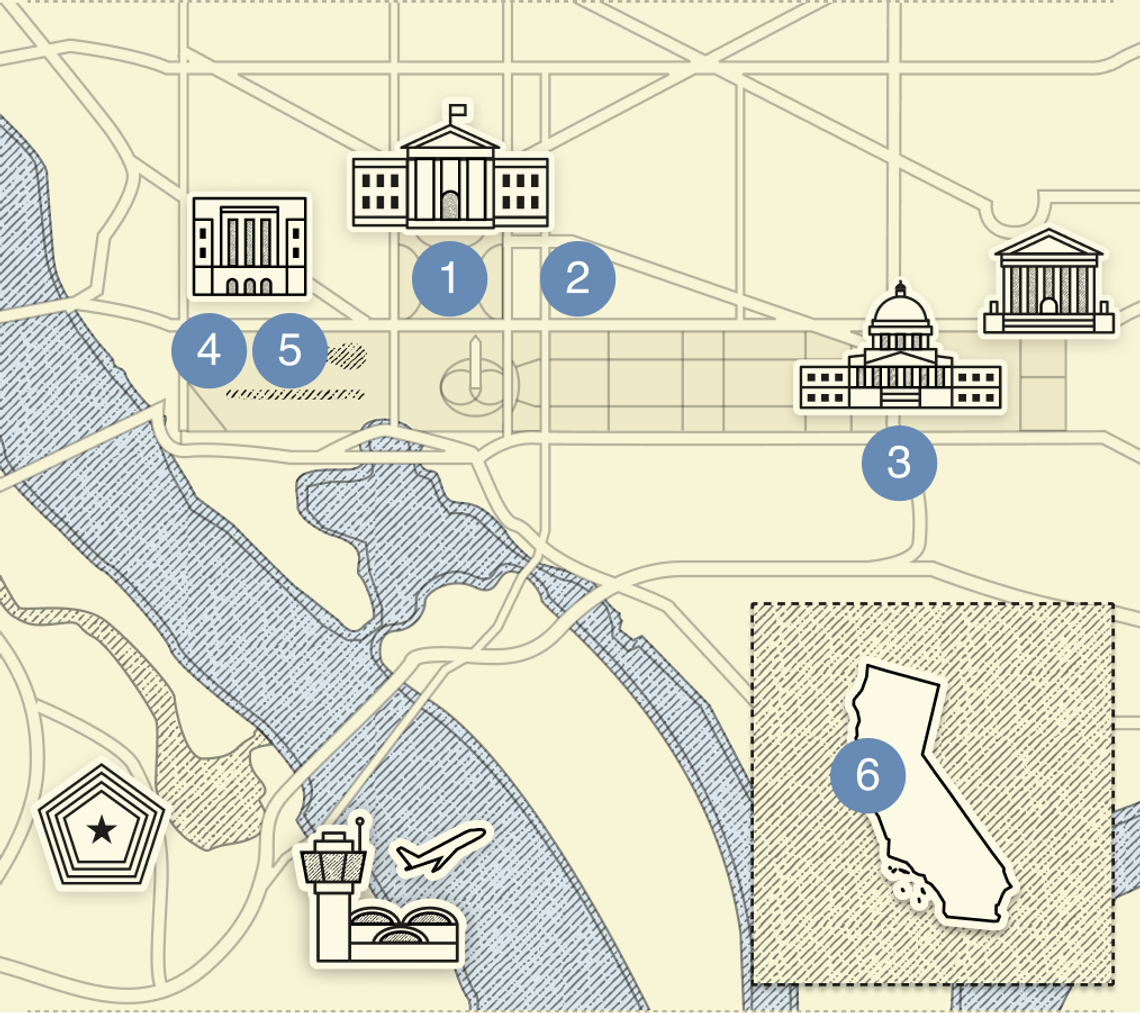 Happy Birthday Biden
New chips push
Chip Roy speech fallout
Hostage negotiations
Argentina's presidential election
X CEO taking heat
PDB: How Rosalynn Carter invented the role of modern first lady

Biden pardons turkeys … Microsoft hires OpenAI's Sam Altman after OpenAI rejects his return as CEO … D.C. appeals court to weigh Trump gag order
— edited by Benjy Sarlin, Jordan Weissmann and Morgan Chalfant
Biden's big day puts his age in the spotlight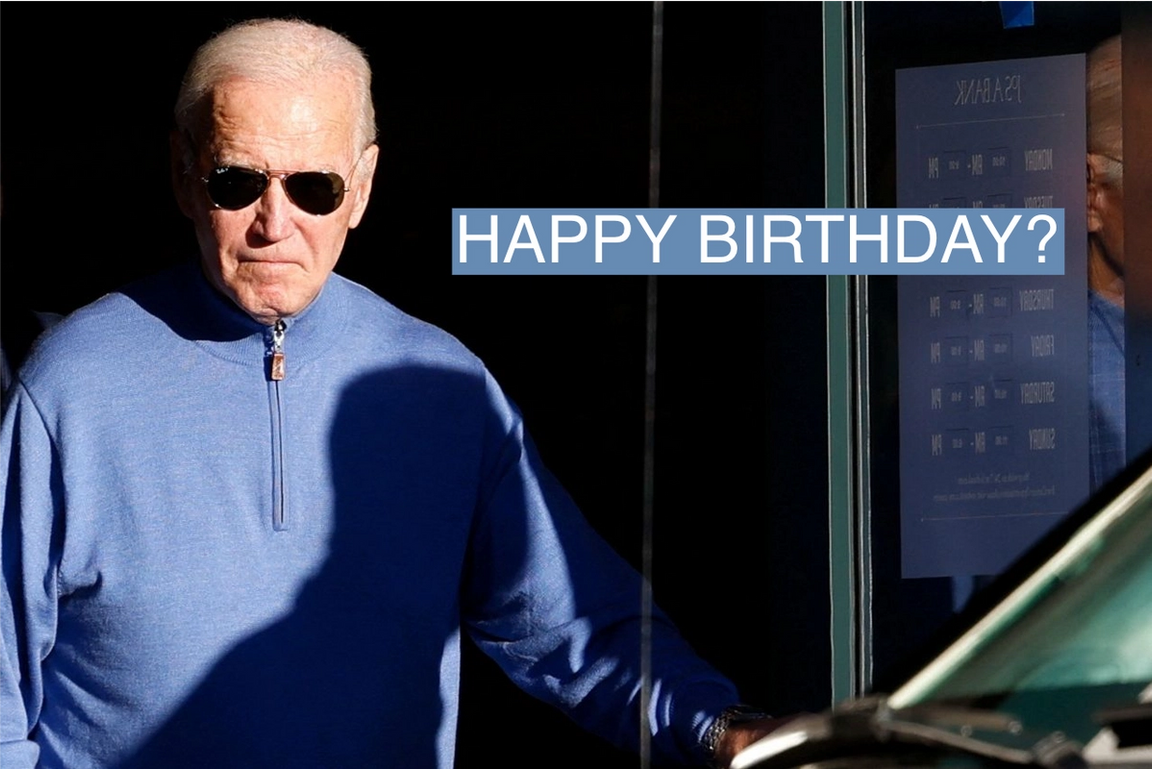 REUTERS / Julia Nikhinson
President Joe Biden turns 81 years old today, which Bloomberg writes will "highlight how age has become his greatest liability" headed into the 2024 presidential campaign. Poll after poll finds voters worried about his physical and mental fitness to hold office. The Biden campaign has sought to emphasize the president's age and experience as an asset while highlighting 77-year-old former President Donald Trump's own gaffes, though Politico reports that some Democrats are unsatisfied with the campaign's strategy. Meanwhile, Bidenworld received another disappointing round of polling this morning with Morning Consult's election watch report, which shows Trump gaining ground on Biden among independents as well as Black, Hispanic, and young voters. Nationally, Biden leads Trump 43% to 42% in the survey, which is consistent with the past four months. But an NBC News poll released Sunday showed Biden's approval rating at its lowest point yet: 40% and trailing Trump in the network's survey for the first time ever. The president's allies are publicly shrugging off the polls and suggestions Biden risks losing to Trump. "Head-to-head polls a year out frankly don't say much at all. What matters is the elections that just happened," Sen. Chris Coons, D-Del., said on Fox.
Inside Commerce's plan to build a domestic chip packaging industry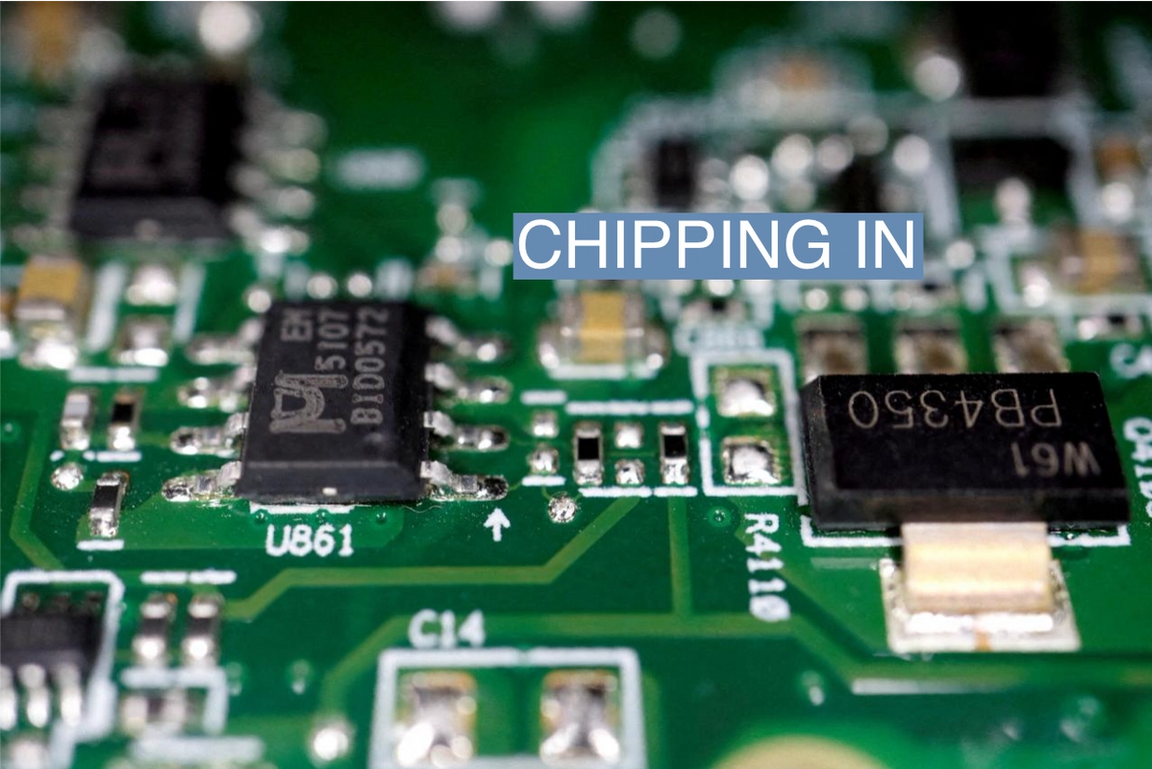 REUTERS / Florence Lo / Illustration / File Photo
Get ready to hear more about "advanced packaging." That's the next target in the Biden administration's support for U.S. manufacturing of semiconductors, which are crucial for everything from smartphones to AI. The Commerce Department will begin fielding funding applications early next year for research and development in the process that stitches multiple chips together to make devices faster, cheaper, and more complex. Details of the National Advanced Packaging Manufacturing Program, which gets $3 billion under the CHIPS and Science Act, were shared exclusively with Semafor's Morgan Chalfant before their release. "We've envisioned that, by the end of the decade, the United States would be home to multiple high-volume advanced packaging facilities and will be a global leader in commercial-scale advanced packaging for the most sophisticated chips made in the world," Under Secretary of Commerce Laurie Locascio said. The U.S. has some catching up to do: Currently, most advanced packaging is concentrated in Asia, where Taiwan has dominated semiconductor production. China has also been investing in advanced packaging techniques. By one estimate highlighted by Commerce, North America accounted for only 3% of global advanced packaging production as of 2021.
House GOPers lash out at Chip Roy over critical speech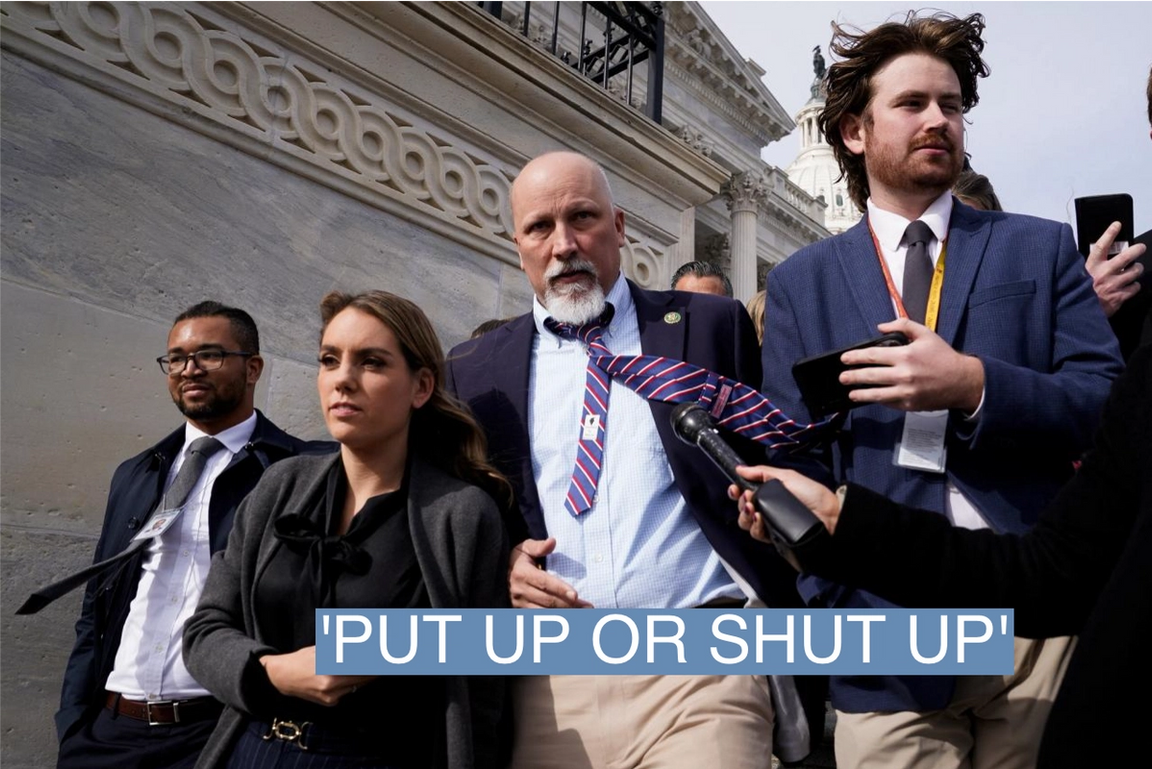 REUTERS / Elizabeth Frantz
Many House Republicans are unhappy with Rep. Chip Roy, R-Texas after he lambasted his colleagues for failing to do even "one material, significant thing" since taking over the chamber, shaping what is likely to be a battle between the hard-right and "pragmatic" members of the conference when they return from break. After the GOP failed to advance another one of its appropriations bills on Thursday, Roy, a member of the Freedom Caucus, delivered an hourlong floor speech directing his conference to "put up or shut up" and questioning what the Republican majority has done in this Congress. Some members think his remarks gift-wrap Democrats a winning campaign message ahead of the 2024 election (the Biden comms team notably tweeted it out). "The Dems can just play his speech for their TV ads," Rep. Don Bacon, R-Neb. told Semafor. "Some of the HFC knowingly or unknowingly help the Dems." The speech even got under the skin of a member of Speaker Mike Johnson's camp, who called Roy "an arsonist complaining about the smoke." Roy said he takes that as a compliment. "But to be clear, the arsonists of the swamp are the big spenders in both parties – including staff – burning down the American dream," he wrote in an X post. The public display of friction is yet another reason to doubt Republicans will be able to fund the government without Democrats.
— Kadia Goba
Some hostages might soon be freed in Gaza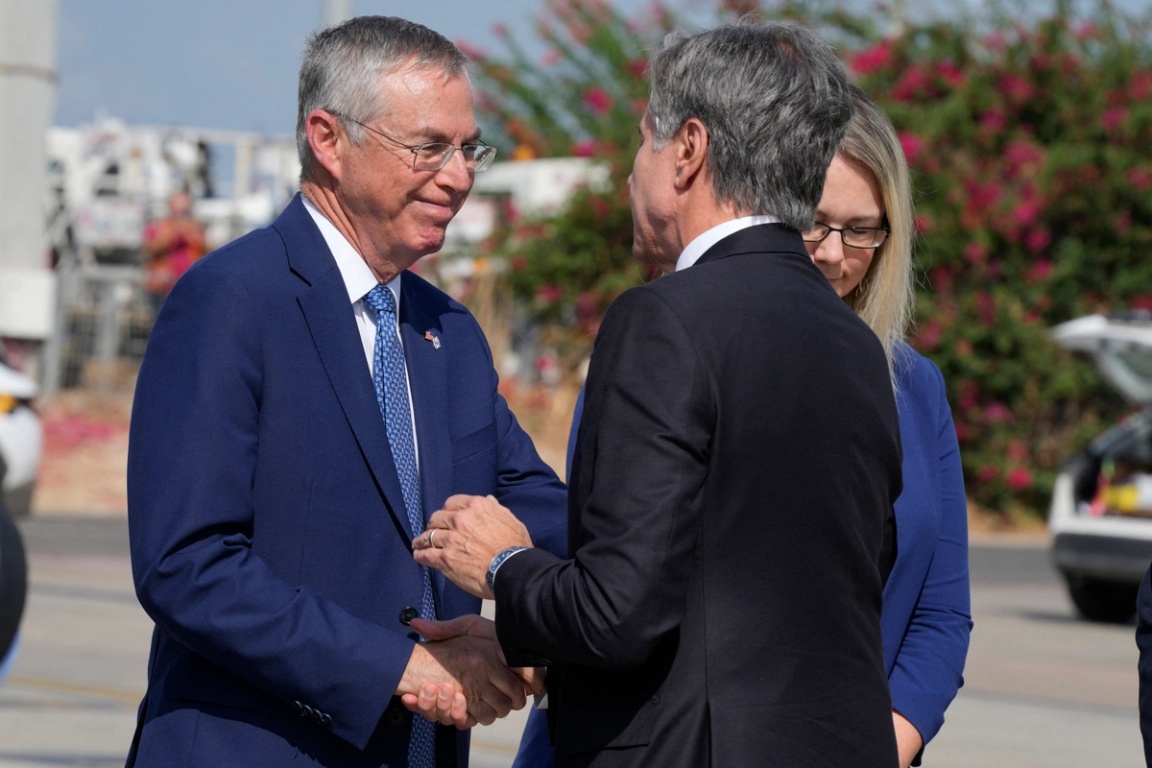 Jacquelyn Martin/Pool/AFP via GETTY IMAGES
Nothing is finalized yet, but American and Israeli officials sounded cautiously optimistic about a hostage deal over the weekend. The emerging framework would see a five-day pause in fighting while some 50 hostages are released, according to the Washington Post. Israeli ambassador to the U.S. Michael Herzog told ABC that he was hopeful Israel would be able to get a "significant" number of hostages out of Gaza "in the coming days." White House deputy national security adviser Jon Finer said on NBC that the parties were "closer than we have been in quite some time, maybe closer than we have been since the beginning of this process, to getting this deal done." The negotiations are being facilitated by Qatar, whose prime minister said over the weekend there had been "good progress" and that only minor differences remained. In an op-ed published over the weekend, Biden demanded Hamas release the hostages and turn in the people responsible for the Oct. 7 attack on Israel, while arguing that a ceasefire in Gaza "is not peace" because it would only allow Hamas to prepare new attacks. Meanwhile, Semafor's Jay Solomon reports that Arab and Muslim leaders are turning to China to increase pressure on the U.S. and Israel to agree to a formal ceasefire in the Gaza Strip.
Argentina elects radical candidate Javier Milei as president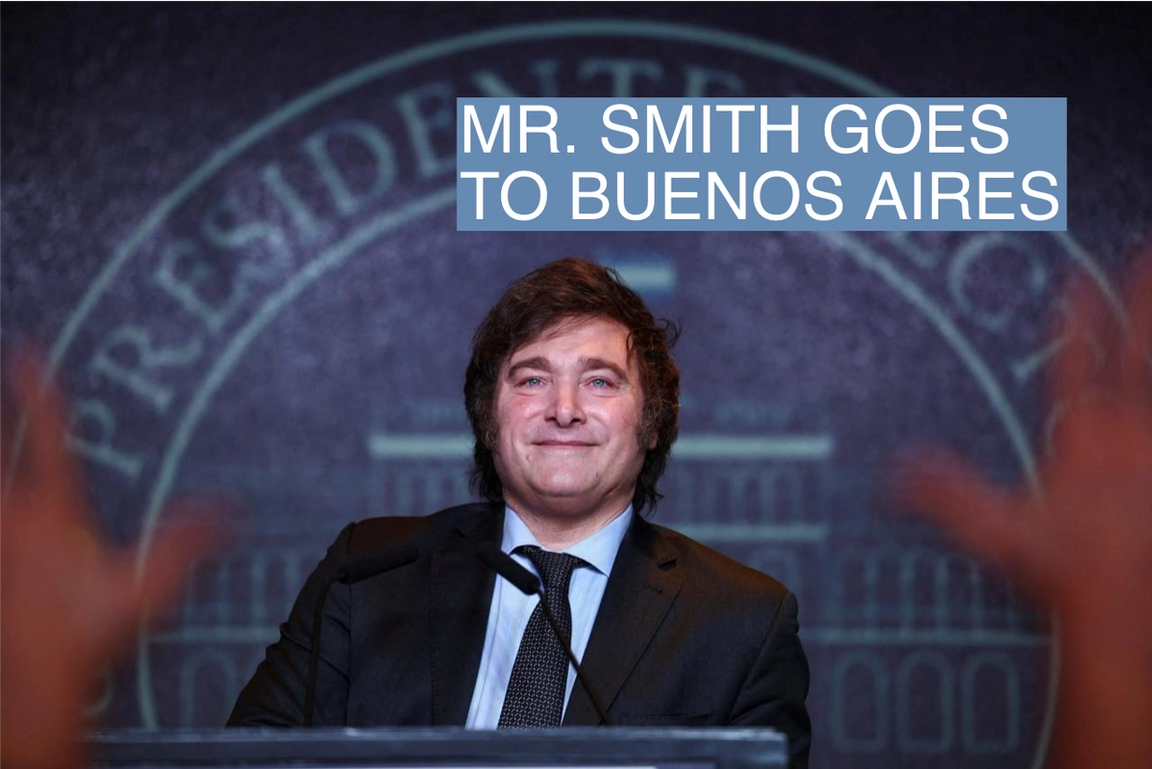 REUTERS / Agustin Marcarian
Javier Milei swept to victory in Argentina's presidential runoff, beating Sergio Massa, the country's economy minister. The radical libertarian, whose proposals include dollarizing the economy and doing away with most of the country's ministries, won by 11 percentage points, shocking most pollsters. Massa's mismanagement of the economy — inflation stands at over 140% — pushed many to vote for the inexperienced Milei, who became a congressman only in 2021. He and his fractious coalition will find it hard to govern, La Nación reported: The Freedom Advances coalition controls less than 15% of the Chamber of Deputies, and just over 10% of the Senate. "He has very little experience, not much of a team, and looks psychologically fragile," an expert on Latin America wrote. Far-right leaders in Europe cheered Milei's victory Monday morning, seeing him as part of a like-minded movement. "The fight to defend society is taking place in several territories and in Argentina the first battle has been won!" declared André Ventura of Portugal's far-right Chega party. Former President Donald Trump, too, praised Milei, writing on Truth Social that he's "very proud" of the Argentine president-elect: "You will turn your Country around and truly Make Argentina Great Again!" White House national security adviser Jake Sullivan congratulated Milei in an X post Sunday night, saying the administration looked forward to working with him "based on our shared commitment to human rights, democratic values, & transparency."
Linda Yaccarino on the hot seat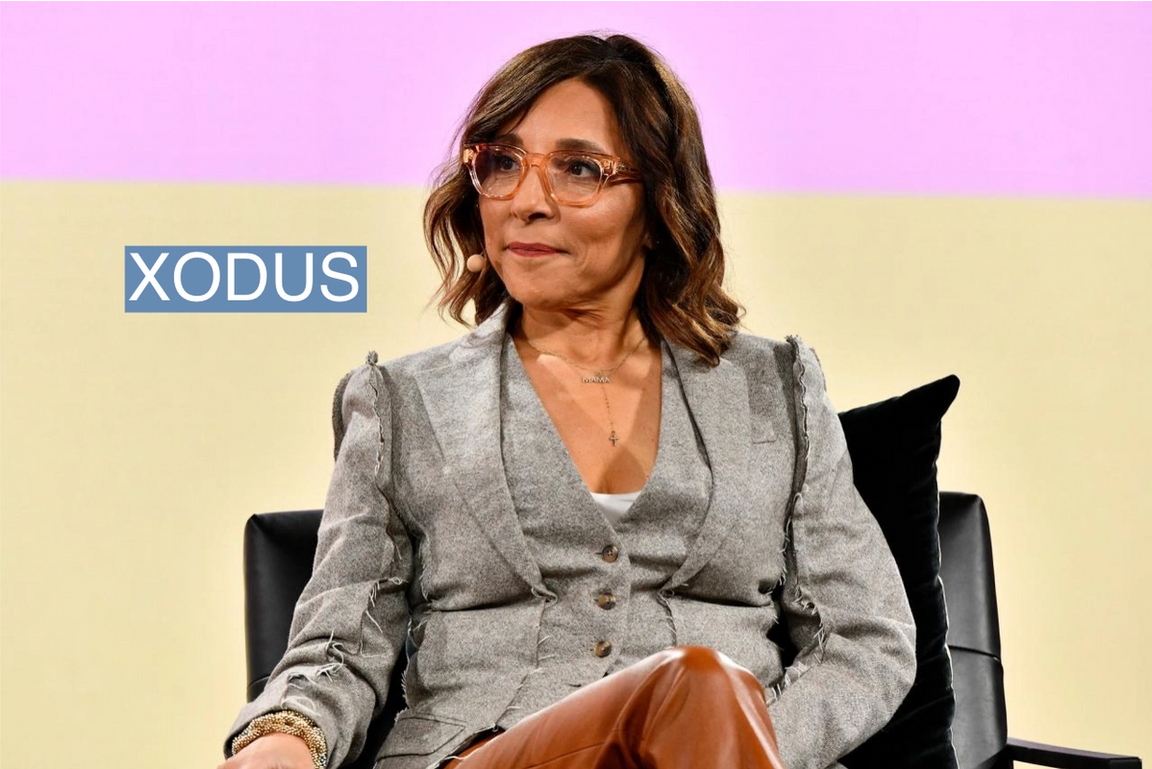 Jerod Harris / Getty Images for Vox Media
The ad execs that X CEO Linda Yaccarino is trying to lure back after Elon Musk's antisemitic spree aren't returning yet, but they reportedly gave her some free advice: Resign now. Forbes reported that "Yaccarino has been contacted by a groundswell of leading advertising executives who questioned why she is risking her reputation to shield Musk's behavior." One potential complicating factor, per Semafor's Max Tani, is that it isn't just her name entwined with the company's fortunes: Her son Matt Madrazo is running X's efforts to monetize its hard-right turn by making it — they hope — a $100 million destination for political ads. In the meantime, Musk continues to be Musk, following up his rage-tweeting about Jewish communities with a trans-bashing attack on Media Matters, the left-wing group that reported last week that ads on X were appearing near hateful content. The fallout from Musk's continued behavior is also reaching the 2024 trail: Ron DeSantis, who disastrously launched his campaign on Twitter Spaces with Musk, told CNN's Jake Tapper he was unaware of the antisemitic exchange in question, but said that Musk has had a "target on his back" since he bought the site. Rep. Jamie Raskin, D-Md., also on the program, called Musk's comments "outrageous and dangerous." Musk dismissed media reports accusing him of antisemitism as "bogus."
Join us in Washington, D.C. for a special bicoastal exchange of ideas on artificial intelligence.
Finding Common Ground on AI Date: December 7 | Washington D.C RSVP
Congressman Jim Himes, Google's President of Global Affairs, Kent Walker, Dr. Geri Richmond, Undersecretary for Science and Innovation at the DoE, and former FCC Chairman, Tom Wheeler will join Semafor's Editors on December 7th in Washington, D.C. for a live and high-energy exchange of ideas on artificial intelligence. Hosted by Semafor's editors, we'll engage tech leaders and policymakers with the profound questions about AI's boundaries and its implications on our work, life, healthcare, warfare, democratic elections, and its very essence.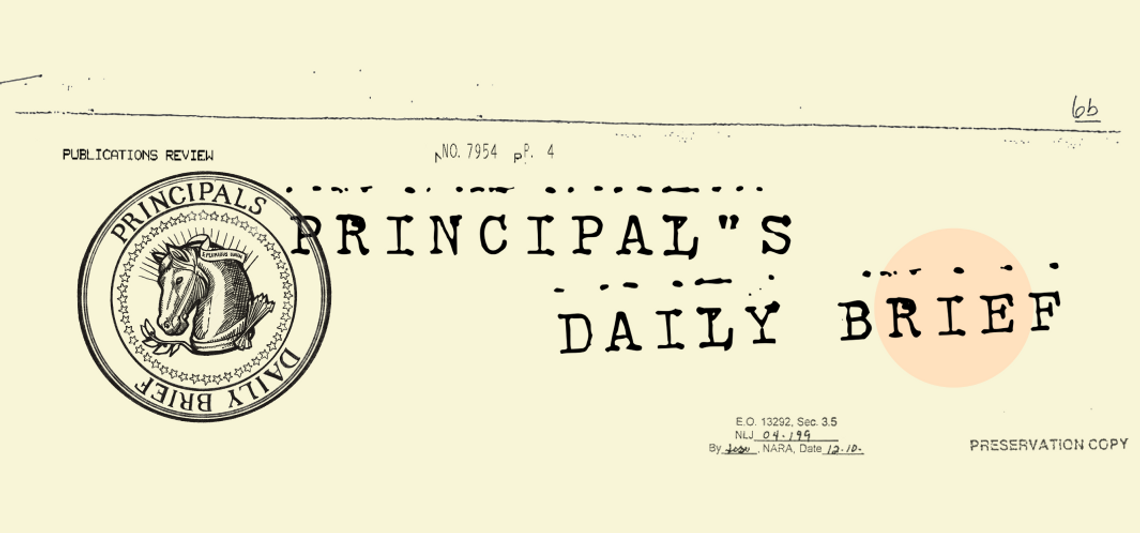 Beltway Newsletters
Punchbowl News: Republican and Democratic senators cautioned foreign officials at the security summit in Halifax that the U.S. would not be able to provide security funding for Ukraine unless Congress addresses border security.
Playbook: The NRSC is trying to boost Sen. Kyrsten Sinema, I-Ariz. among Democratic voters in the state with a new ad that ties her to President Biden, following polls showing her pulling more Republican votes than Democrat votes in a three-way Senate race. The ad also criticizes her challenger Rep. Ruben Gallego, D-Ariz. in "intensely personal terms."
Axios: Former White House chief of staff Ron Klain is joining Airbnb as its chief legal officer.
The Early 202: Now that there's a new House Speaker, Rep. Marjorie Taylor Greene, R-Ga. is returning to the same strategy she employed against former Speaker Kevin McCarthy when she arrived in Congress in 2021: Using aggressive public pressure to push her party to the right. ("I don't think it's possible for MTG to get more extreme," said Rep. Ken Buck, R-Colo. "Maybe more unhinged but not more extreme."
White House
Congress
Speaker Mike Johnson plans to publicly release footage from the Jan. 6, 2021 attack at the Capitol today.
Democrats led by Sen. Bernie Sanders, I-Vt. are discussing potentially conditioning aid to Israel, an idea that has prompted backlash among pro-Israel Democrats.
Outside the Beltway
The New York City Police Department is spending $500 million to upgrade its radio system and members of the public will no longer be able to listen in. — NYT
Tech
Former Twitch Chief Executive Emmett Shear has been tapped as the interim CEO of OpenAI following Sam Altman's ouster. Shear has previously said he is in favor of "slowing down" the development of AI. Shear posted on X overnight that he would consider "pushing strongly for significant governance changes if necessary."
Foreign Policy
White House energy adviser Amos Hochstein expressed measured confidence that Arab states in the Gulf would not weaponize energy in response to the Israel-Gaza war. — Financial Times
2024
Donald Trump said he would kill the Biden administration's Asia trade pact, called the Indo-Pacific Economic Framework, if he were elected president again. He called it "TPP Two." — Reuters
Texas Gov. Greg Abbott endorsed Trump during the former president's trip to the southern border.
Big Read
There are a number of excellent obituaries out today for Rosalynn Carter, who largely invented the modern role of first lady by acting as a critical political and policy adviser to her husband. Carter was the first presidential spouse to have her own office in the White House's east wing; she attended cabinet meetings, championed a successful push for mental health reform legislation, and acted as a spokesperson for the administration abroad. (She also encouraged Jimmy Carter to give the now-notorious "malaise" speech.) We enjoyed this long retrospective on her life from the Washington Post. But for a contemporaneous view of her influence, the New York Times resurfaced a piece from 1978. "White House aides consider her the most influential First Lady since Eleanor Roosevelt," it explains, "and some senior aides say that she is even more influential than Mrs. Roosevelt was in her political role in the White House."
Blindspot
Stories that are being largely ignored by either left-leaning or right-leaning outlets, according to data from our partners at Ground News.
What the Left isn't reading: A township in Michigan passed a resolution declaring the community a "Second Amendment sanctuary."
What the Right isn't reading: Over 260 congregations in Georgia defected from the United Methodist Church over its stance on same-sex marriage and LGBTQ clergy.
Principals Team
Editors: Benjy Sarlin, Jordan Weissmann, Morgan Chalfant
Editor-at-Large: Steve Clemons
Reporters: Kadia Goba, Joseph Zeballos-Roig, Shelby Talcott, David Weigel
Dennis Wilder is a senior fellow with Georgetown University's Initiative for U.S.-China Dialogue on Global Issues. He expressed confidence that pandas may return to the National Zoo in Washington following Chinese leader Xi Jinping's remarks, despite Xi signaling they would be sent to the San Diego Zoo. "This may have been because he wanted to please his host Governor Newsom," Wilder said. "My understanding is that the San Diego Zoo, which has not had pandas since 2019, may not be prepared to receive them in the near term."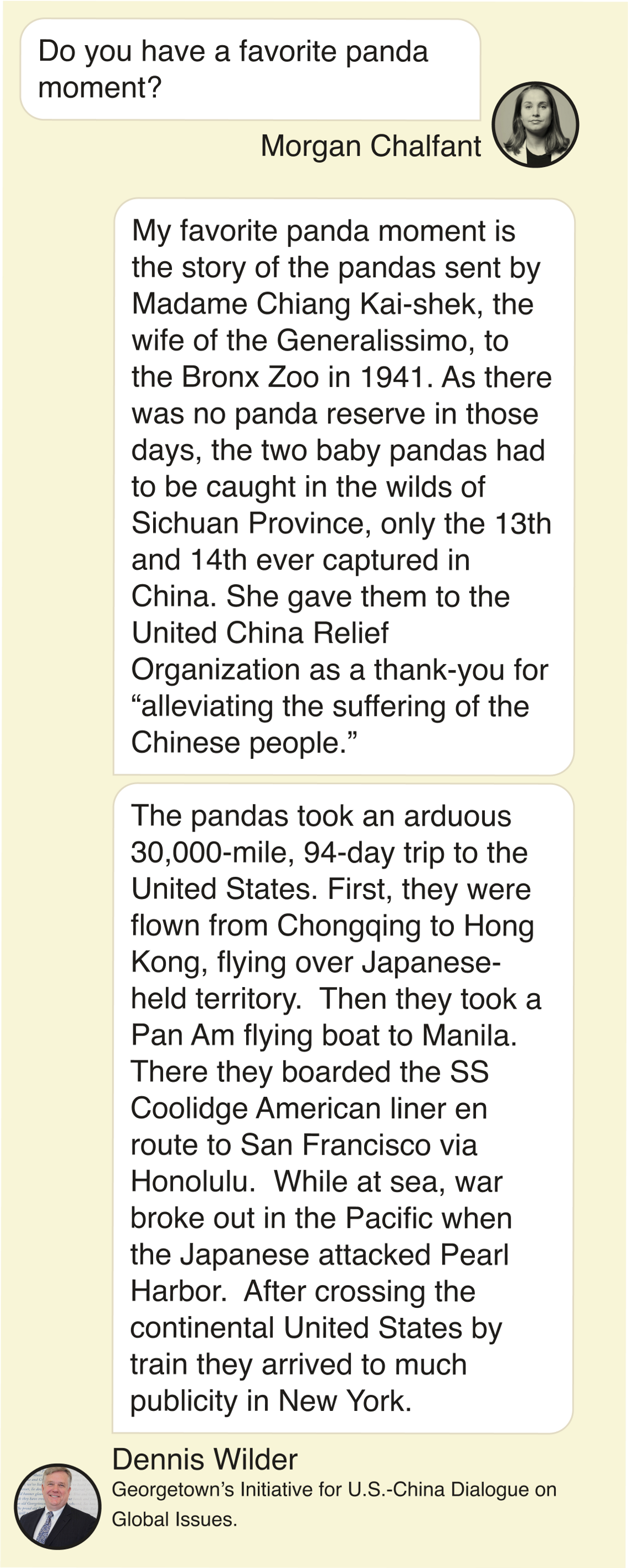 OpenAI has received just a fraction of Microsoft's $10 billion investment.
A powerful right-wing media figure sat down for a friendly interview with Ron DeSantis. He didn't disclose his family connection to the campaign.
There's a giant clock ticking until the next major city runs out of water. Our most ambitious mini-documentary yet looks to lessons from South Africa.

Sign up now to get Semafor in your inbox.
Semafor, Inc. 228 Park Ave S, PMB 59081, New York, NY, 10003-1502, USA