Principals

with Steve Clemons
| | | |
| --- | --- | --- |
|  Washington |  Philadelphia |  New York |
President Biden's wildly ambitious Build Back Better plan may have died back during 2021, but some of its ideas are alive and well in the White House's new budget. The big difference, as Joseph Zeballos-Roig writes today, is that its tax ideas are now being hyped as a way to slash deficits by soaking the rich in contrast to Republican plans to cut spending.
Another tick in the TikTok saga, according to Morgan Chalfant, is that the big bipartisan bill from Senators Mark Warner, D-Va. and John Thune, R-S.D. to potentially ban the app may not change things much for the company. The Treasury Department's Committee on Foreign Investment in the U.S. has already been investigating the popular Chinese-owned app since 2019 and there's still a good chance it resolves the situation with restrictions short of a ban.
I regularly watch videos of Jose Andres and his work helping victims of disasters, a channel on unclogging drains, and Volodymyr Zelenskyy clips on TikTok, and oh yes, of course, Semafor's TikTok creations. Just in case, hurry up and see them before we can only watch clips in Kigali.
PLUS: Jordan Weissmann has One Good Text with former Congressional Budget Office chief and American Action Forum CEO Douglas Holtz-Eakin on what surprised him most about Biden's budget. The answer certainly surprised us. Check it out, and have a great Friday and weekend.
Was this email forwarded to you? Sign up here!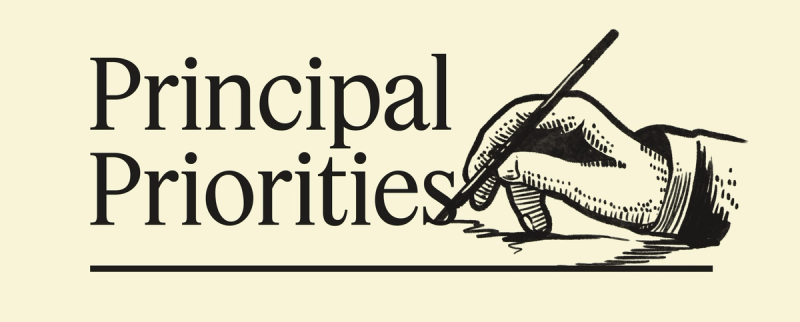 ☞ White House: Biden will meet with European Union President Ursula von der Leyen today. The two will discuss the Inflation Reduction Act, which has caused friction with Europe, as well as trade negotiations on critical minerals and Russia's war in Ukraine, senior administration officials said.
☞ Chuck Schumer: The Senate majority leader filed cloture on Eric Garcetti's nomination for U.S. ambassador to India, teeing up a vote next week after his nomination languished for more than a year.
☞ Mitch McConnell: The Senate minority leader suffered a concussion after falling during a dinner in Washington on Wednesday night. A spokesman said he will likely remain in hospital for "a few days" for observation and treatment. Sen. Lisa Murkowski, R-Alaska said she sent some Halibut to McConnell in the hospital that she prepared for the Republican lunch on Thursday.
☞ Kevin McCarthy: The House will vote today on a bill to declassify information related to the origins of COVID-19, which is expected to get bipartisan support.
☞ Hakeem Jeffries: The minority leader will join the Democratic Women's Caucus for a press conference to highlight the introduction of the Equal Pay Day Resolution and Paycheck Fairness Act ahead of Equal Pay Day. Minority Whip Katherine Clark and Speaker Emerita Nancy Pelosi will be in attendance along with other women of the Democratic caucus.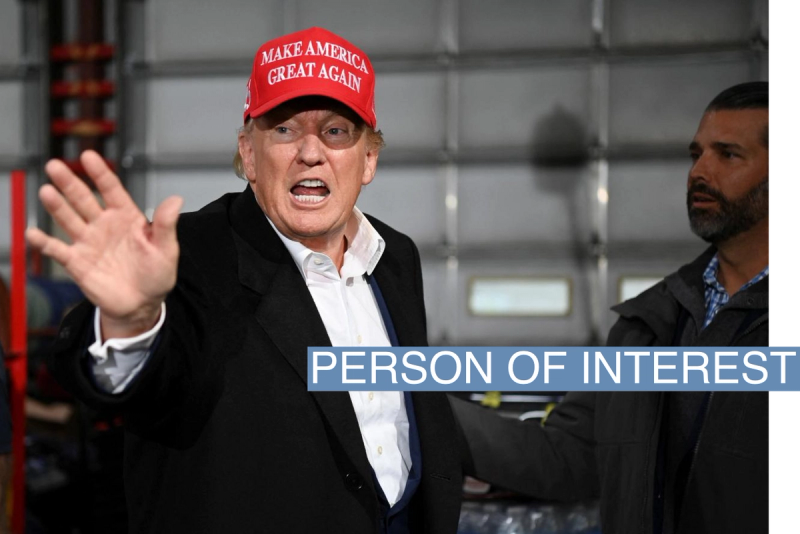 REUTERS/Alan Freed
Former President Trump could soon face charges in connection with an investigation into hush money payments to porn star Stormy Daniels, according to the New York Times, which reported that prosecutors with the Manhattan District Attorney's office recently offered Trump the chance to testify before the grand jury hearing evidence in the case. "​​The case against the former president hinges on an untested and therefore risky legal theory involving a complex interplay of laws, all amounting to a low-level felony," the Times notes.
In a statement, Trump reacted to the news by declaring the investigation a "political Witch-Hunt" and denied having an affair with Daniels. "It is Russia, Russia, Russia, Ukraine, Ukraine, Ukraine, the no-collusion Mueller hoax, and other targeted, false attacks against me all over again," he wrote. Hinting at a potential legal defense, he also argued that the prosecution should be a "federal case" because it involved U.S. election laws and said the statute of limitations had passed.
In a development that will surprise precisely nobody, Florida Gov. Ron DeSantis has privately told his inner circle that he plans to run for president, the Washington Post reports. But allies don't expect DeSantis to formally enter the race until after the state legislative session wraps up in May. In the meantime, Ken Cuccinelli, a former Trump administration official, launched a new pro-Ron DeSantis super PAC called Never Back Down on Thursday.
Norfolk Southern CEO Alan Shaw apologized for the derailment in East Palestine, Ohio during congressional testimony yesterday. "It's my personal commitment that's Norfolk Southern that we're going to be there for as long as it takes to help East Palestine thrive and recover," he said. Senators didn't seem satisfied by his answers.
The White House is marking the second anniversary of the American Rescue Plan a day early (it was signed two years ago tomorrow) by partnering with members of Congress and mayors to showcase the legislation's impact, and releasing a video from Vice President Kamala Harris, and putting out a state-by-state analysis of its effects, according to a White House official. The effort involves a "more targeted push" in Arizona, Florida, Georgia, and Michigan — which are also key swing states — to discuss how the legislation helped Black and Latino communities in particular, the official said.
— Morgan Chalfant and Shelby Talcott
Punchbowl News: Some Republican lawmakers and aides think that House Oversight Committee Chairman James Comer, R-Ky. is stepping on other committees' toes because of the breadth of his investigations (he's looking at everything from COVID-19 to the border to the Afghanistan withdrawal).
Playbook: Potential Republican 2024 hopefuls are starting to take aim at DeSantis.
Axios: DeSantis has also become a star boogeyman in pro-Biden advertisements from the liberal group American Bridge 21st Century running in key battlegrounds beginning today.
The Early 202: Biden aides are looking at a number of candidates for his campaign leadership as the president gets ready to launch a reelection bid.
Build Back Better's second life as President Biden's deficit pitch
REUTERS/Evelyn Hockstein
THE NEWS
President Biden hit the road on Thursday to sell his new budget, pitching Americans on a big expansion of the safety net paid for by an even bigger increase in taxes.
"My budget is going to give working people a fighting chance, it's going to create good-paying jobs, and we can pay for these jobs while reducing the deficit," Biden said in a speech in Philadelphia outlining his economic agenda.
JOSEPH'S VIEW
The headline the White House clearly wanted — and often got — is that his proposals would trim deficits by $3 trillion over ten years, thanks to about $4.5 trillion in new taxes and savings.
The tax and spending proposals are highly reminiscent of the "Build Back Better" framework he set out to achieve in his first year in office. But while Biden pitched that plan as a historic FDR-style expansion of the safety net that would be "fully paid for," he's now repurposed its revenue raisers as a plan to dramatically reduce the deficit.
"I think everyone is acknowledging that we are in a moment in time where conversations related to budget deficits and the debt limit are important," Zach Moller, director of economic policy at the centrist Third Way think tank, told Semafor.
Sen. Tim Kaine, D-Va. saw the budget as a natural evolution of the Inflation Reduction Act, which won over moderate Sen. Joe Manchin, D-W. Va. by pairing health and energy spending with about $238 billion in deficit reduction.
"I think that's IRA — learning 'Hey, this is a good thing; if we can do both, let's try,'" Kaine told Semafor.
As former Paul Ryan aide George Callas noted on Twitter, though, Biden's budget "relies heavily on proposals already rejected by his own party's congressional wing." Many of its tax ideas were pared back or vetoed by House and Senate Democrats even before Manchin killed "Build Back Better."
Now unchained by the need to scrounge for votes in Congress, however, Biden is signaling he wants to come back for the rest of his economic agenda ahead of a 2024 campaign run. His tax proposals include — among other items — stepping up the corporate tax rate to 28% from 21%; raising the top capital gains tax rate to 39.6% for million-dollar earners; a broad 25% minimum tax targeted at billionaires; and higher taxes on stock buybacks. On the other side of the ledger, he would reinstate the expired child tax credits from his pandemic relief package.
They serve a clear political purpose in the fight over the debt ceiling as well, allowing him to contrast his deficit reduction plans — raising taxes on rich people like crazy — with Republican calls for shrunken budgets and more tax cuts. On Thursday, he again challenged the GOP to name a budget plan of their own, betting that cuts to programs like Medicaid or the Affordable Care Act would prove less popular than expanding child care subsidies and asking someone like Elon Musk to pay more taxes on Tesla stock.
"No billionaire should be paying a lower tax than somebody working as a school teacher or a firefighter or any of you in this room," Biden said in Philadelphia on Thursday.
THE VIEW FROM REPUBLICANS
Speaker Kevin McCarthy dismissed Biden's spending plans as a "completely unserious" progressive wishlist in a statement and zeroed in on its tax-centric approach to deficit reduction. "Mr. President: Washington has a spending problem, NOT a revenue problem," he said.
Larry Kudlow, who served as Trump's National Economic Council director, wrote in Fox Business that the budget was an example of "radical left Democrats want to punish success" in contrast to his former boss, "who believed in rewarding success by reducing marginal tax rates across the board."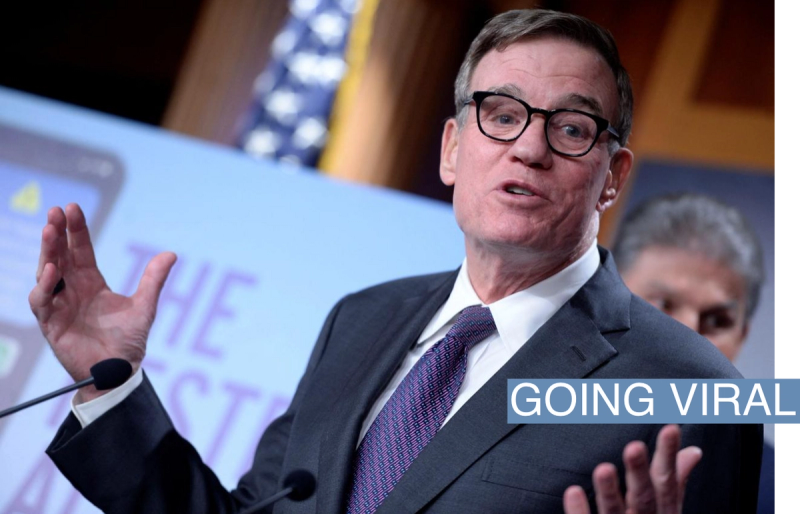 REUTERS/Bonnie Cash
A new bill that would let the Biden administration ban foreign-owned tech products like TikTok in the U.S. is already gaining major momentum in Congress.
But even if it passes, the bill might not change much for the wildly popular, Chinese-owned video app, which was already facing serious pressure from U.S. regulators. Instead, it could give the administration a bigger stick to use in talks that are already under way to address concerns about the app's handling of U.S. user data.
TikTok has been the subject of a longstanding review by the Treasury Department's Committee on Foreign Investment In the U.S., which can block or unwind deals involving overseas buyers of U.S. companies that it believes might threaten U.S. national security. Its investigation began in 2019, a couple years after ByteDance bought Musical.ly, a U.S. based app it merged into TikTok.
TikTok says that it proposed a settlement months ago that would keep American user data secure, in part by storing it on U.S. servers controlled by Oracle. But the sides haven't reached a final deal. Lawmakers have urged the administration to impose a strict wall between ByteDance and TikTok's American operations, and potentially force them to separate entirely.
The Senate's new bill, known as the RESTRICT Act, would give the government even more power to crack down on TikTok. The legislation allows the Department of Commerce to bar tech companies owned by "foreign adversaries," including China, from doing business in the U.S. if the government believes they pose a security risk.
The legislation would be hugely consequential for U.S. tech policy, since it would allow the government to investigate foreign companies over national security concerns even if they aren't involved in a merger, and shut their products out of the U.S. entirely, which it currently can't do.
But the RESTRICT Act would also let the government take steps short of an outright ban to address risks posed by foreign companies, such as forcing them to spin off their assets. So far, the bill's sponsors have been careful not to promise a full-on TikTok ban. Utah Sen. Mitt Romney, one of the RESTRICT Act's cosponsors, told Semafor that he couldn't predict what the measure would mean for the app's future.
It might not mean much of anything at all. Should it become law, the bill is designed to let the Treasury's current review process continue on, and would even prevent the administration from taking further action against the company if it has already reached a deal with CFIUS on national security issues. That's irked some lawmakers, who'd prefer to simply ban TikTok without any extra song and dance.
— Morgan Chalfant
A border skirmish on the debt ceiling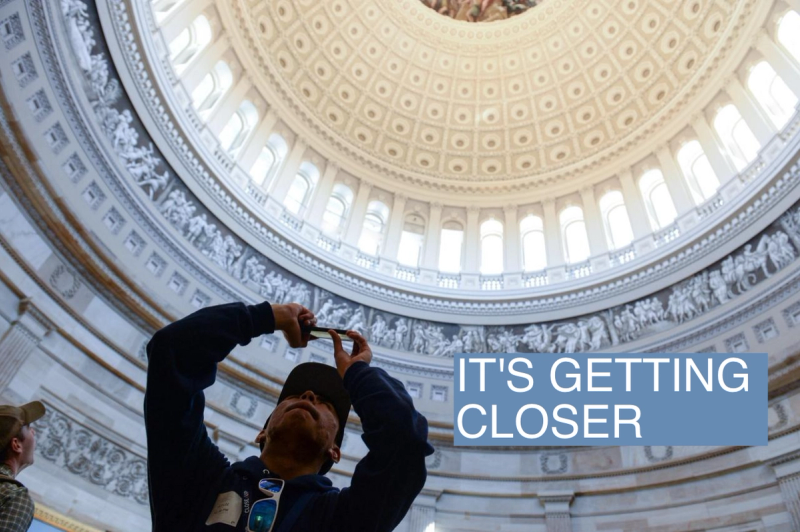 REUTERS/Mary F. Calvert
House Republicans and Democrats clashed over the debt ceiling on Thursday as the Ways and Means Committee advanced a bill to prioritize debt payments ahead of other spending if Congress fails to raise the borrowing limit.
The Default Prevention Act directs the federal government to continue paying interest on the debt along with Social Security and Medicare benefits in the event of a default. Leftover money would go into a series of "tiers," with the second consisting of veterans' benefits and Department of Defense funding. All domestic obligations that aren't listed would go into "tier three" ahead of salaries for the executive branch, members of Congress and federal employees.
The 21-17 vote was split on party-lines with Democrats on the panel in opposition.
Republicans stressed not to interpret the bill as a sign they were eager for a debt ceiling breach. "This is not in lieu of our other responsibilities to address America's debt limit. It complements those efforts," Ways and Means Chair Jason Smith, R-Mo., said. "Congress should walk and chew gum at the same time."
But Democrats argued it would do little to mitigate the worst economic consequences of a default, while putting Chinese and other foreign bondholders ahead of American citizens.
In one notable exchange, Rep. Linda Sánchez, D-Calif. questioned the sole witness in the hearing, GOP staffer Shaun Freiman, one-by-one on whether Medicaid, veterans' benefits and military salaries, funding for border control and Pell grants would be "Tier I" responsibilities that get funding first. Freiman responded no to all of them.
"There's a lot of tap-dancing going on here, but I think any normal general person in the public understands 'tier' means 'priorities,'" Sánchez said.
Democrats didn't try amending the bill, treating it instead as fundamentally unworkable. Meanwhile, Republican lawmakers still believe the Treasury can fill in the blanks on their tiered system while removing the threat of default by keeping payments flowing to the nation's creditors and seniors.
—Joseph Zeballos-Roig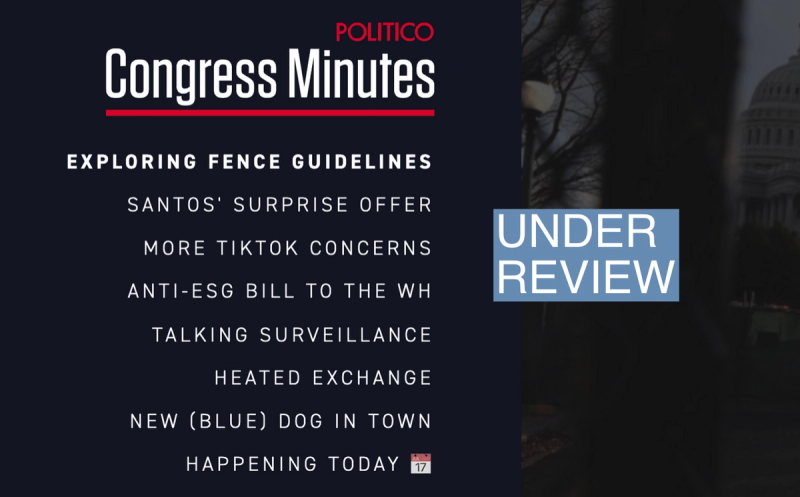 Politico
Politico was, for a few years, the only Beltway journalism game in town. Now executive editor Dafna Linzer is leaving the company after just a year, a high-profile mess that comes at a moment of growing internal concern over the publication's role on Capitol Hill. From a breakfast meeting at the Four Seasons to a secret internal review of coverage of the speakership fight, Politico's German owners are worried that competitors, including our mutual friends over at Punchbowl, are beating them at the lucrative game of inside baseball. (Just to make this as incestuous as possible: One of the triggers for that panic was a Semafor article by me — a recent Politico employee — about Punchbowl.) All those details and much more are in my article here.
—Max Tani
Douglas Holtz-Eakin is the president of the American Action Forum and a former head of the Congressional Budget Office.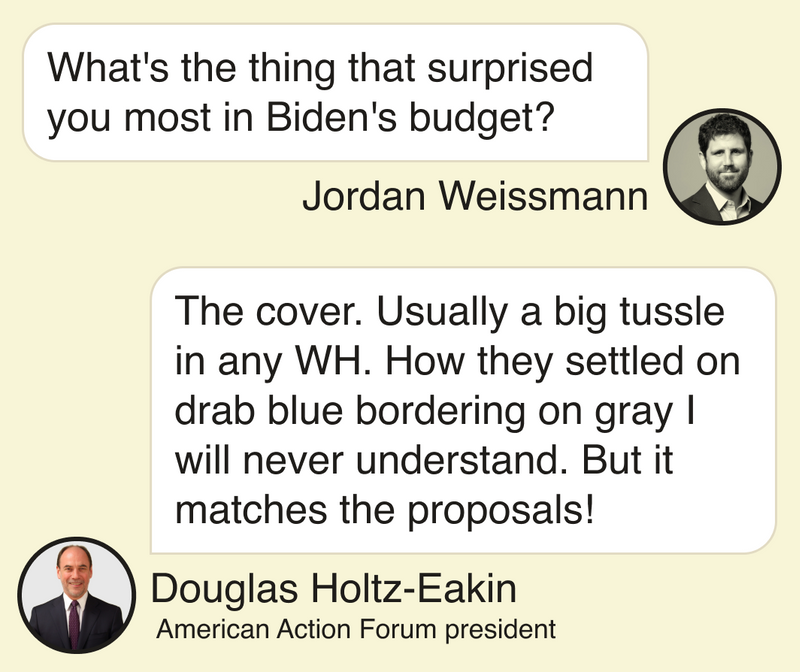 Stories that are being largely ignored by either left-leaning or right-leaning outlets, according to data from our partners at Ground News.
WHAT THE LEFT ISN'T READING: House Republicans are moving forward with an energy and permitting reform legislative package.
WHAT THE RIGHT ISN'T READING: Fox Corporation CEO Lachlan Murdoch seemed to minimize revelations from the Dominion Voting Systems' defamation lawsuit against Fox News, calling it "noise" during a Morgan Stanley conference.
If you're liking Semafor Principals, consider sharing with your family, friends and colleagues. It will make their day.
To make sure this newsletter reaches your inbox, add principals@semafor.com to your contacts. If you use Gmail, drag this newsletter over to your 'Primary' tab. You can also reply with a hello. And please send any feedback our way, we want to hear from you.
Thanks for getting up early with us. For more Semafor, explore all of our newsletters.
— Steve Clemons