Principals

with Steve Clemons
| | | |
| --- | --- | --- |
|  Washington |  Culver City |  Lima |
Rep. Jim Jordan, R-Ohio is pushing back on criticism that his Select Subcommittee on the Weaponization of the Federal Government has been going nowhere fast. In an exclusive interview with Kadia Goba, Jordan said that his staff are working "their tail off" and defended recent interviews with purported FBI whistleblowers that Democrats say are conspiracy-minded partisans.
Over on the other side of Congress, Senators Mark Warner, D-Va. and John Thune, R-S.D. introduced a consequential bill that could lead to the banning of TikTok in the United States, though the legislation never mentions TikTok by name.
On the debt ceiling front, Joseph Zeballos-Roig reports on Republicans preparing for a potential breach by moving a "debt prioritization" bill that would require the government to pay its creditors first. As Joseph notes, it's much easier said than done.
PLUS: Morgan Chalfant has One Good Text with China expert Drew Thompson on how Beijing might react to a meeting between House Speaker Kevin McCarthy and Taiwan's President Tsai Ing-wen.
Was this email forwarded to you? Sign up here!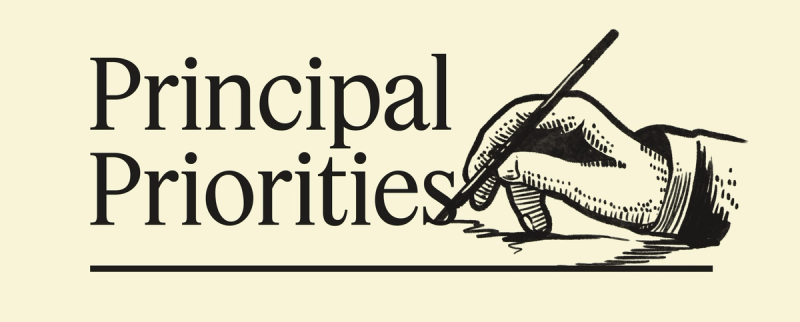 ☞ White House: Officials including Biden's new National Economic Council Director Lael Brainard and domestic policy adviser Susan Rice will meet virtually later today with state lawmakers who have introduced legislation to crack down on "junk fees."
☞ Chuck Schumer: The Senate majority leader intends to vote in favor of the GOP-led resolution blocking changes to the D.C. criminal code when the upper chamber votes on it later today.
☞ Mitch McConnell: Unprompted, the Senate minority leader said at a press conference that he agreed with a letter from the U.S. Capitol Police chief that called Tucker Carlson's depiction of the Jan. 6, 2021 attack on the Capitol "offensive" and "misleading."
☞ Kevin McCarthy: McCarthy told reporters Tuesday evening he did not regret sharing the Jan. 6 footage, but refused to comment on Carlson's use of it to downplay the violence as "mostly peaceful chaos." Almost 24 hours after the Carlson segment aired, McCarthy said he had not seen it, but that "each person can come up with their own conclusion." As HuffPost's Igor Bobic noted, he addressed reporters outside his office, which had been ransacked by rioters on Jan. 6th.
☞ Hakeem Jeffries: The minority leader and the Congressional Black Caucus hosted a swearing-in reception for incoming Rep. Jennifer McClellan, Virginia's first Black woman elected to Congress.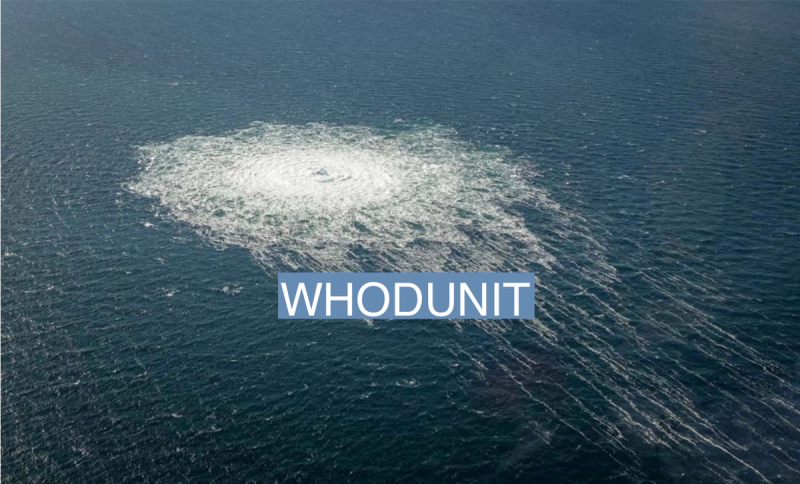 Reuters/Danish Defence Command
McConnell wasn't the only Republican to criticize Carlson's portrayal of Jan. 6 during his show earlier this week. Sen. Mitt Romney, R-Utah told reporters that Carlson is "joining a range of shock jocks that are disappointing America and feeding falsehoods." Sen. Thom Tillis, R-N.C. called it "bullshit." Sen. Lindsey Graham, R-S.C, a close Trump ally, said he was "not interested in whitewashing Jan. 6."
"I hate him passionately." That was Carlson's take on Trump in a text to his producer just two days before January 6th according to new documents in the Dominion case. In an incredibly timed reveal, the court filings showed Carlson trashed the then-president as a failure that he "truly can't wait" to ignore. "We're all pretending we've got a lot to show for it, because admitting what a disaster it's been is too tough to digest. But come on. There isn't really an upside to Trump," Carlson wrote in another text discussing the president's post-election lawsuits. A Fox spokesperson accused Dominion of using "distortions and misinformation" to misrepresent quotes.
U.S. officials have new intelligence suggesting a pro-Ukrianian group was responsible for blowing up the Nord Stream pipeline last year, the New York Times reports. German media sources said investigators had traced the attack back to a boat belonging to a Ukrainian-owned company. There isn't evidence of any involvement by Ukrainian President Volodymyr Zelenskyy, and one of his advisers dismissed the notion that Ukraine was involved. White House national security spokesman John Kirby noted Germany, Sweden, and Denmark are still investigating what happened and declined to get ahead of those probes.
Biden's pick to serve on the Federal Communications Commission, Gigi Sohn, withdrew her nomination after Sen. Joe Manchin, D- W. Va. said he would not vote to confirm her. Sohn criticized what she termed "unrelenting" and "dishonest" attacks.
House Speaker Kevin McCarthy confirmed plans to meet with Taiwan's leader in the U.S. later this year, but said it won't preclude him from ultimately visiting Taiwan. "That has nothing to do with my travel, if I would go to Taiwan," he told reporters.
— Benjy Sarlin and Morgan Chalfant
Punchbowl News: Sen. Bernie Sanders, I-Vt. wants to use his new perch atop the Senate HELP Committee to target big corporations like Amazon, Walmart, and Moderna. The senator recently successfully pushed Starbucks CEO Howard Schultz to testify about the company's actions related to union activities.
Playbook: Nina Jankowicz spoke with Politico about the harassment she faced in the months since becoming a target of the right because of her involvement in the Biden administration's now-defunct Disinformation Governance Board.
The Early 202: Homeland Security Secretary Alejandro Mayorkas faced a grilling from members of the Congressional Hispanic Caucus about the administration's potential resumption of migrant family detentions during a virtual meeting last night.
'Our staff is working their tail off': Jim Jordan responds to critics of his probe's slow start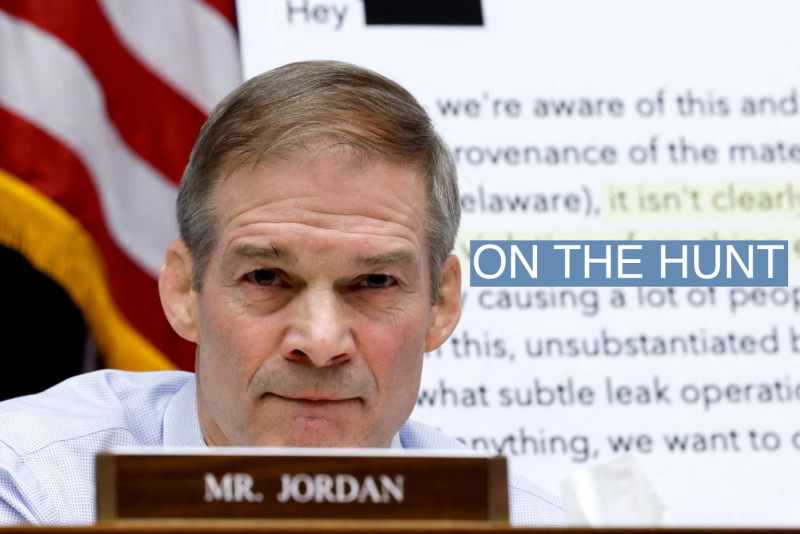 REUTERS/Evelyn Hockstein
THE NEWS
Rep. Jim Jordan, R-Ohio has heard the criticisms — including on Fox News — that his subcommittee on the weaponization of the federal government has yet to uncover much. He doesn't see it that way.
"I feel like our staff is working their tail off and we're getting things up and rolling," Jordan told Semafor in an exclusive interview inside his Washington office.
This week the committee will conduct its second hearing on "The Twitter Files," featuring testimony from journalists Matt Taibbi and Michael Shellenberger, who reported on materials provided to them by new owner Elon Musk related to the site's moderation decisions.
Jordan says the committee is locked in on investigations into the government's handling of purported threats from traditional Catholics, anti-abortion activists, and critics of school policies, which prompted a fresh round of subpoenas on Monday. He denied they were only speaking to a right-wing bubble, pointing to his inclusion of former Democrat Tulsi Gabbard — now a fill-in host for Tucker Carlson — as a witness in their first hearing, where she discussed her experience on social media.
"Our job is...to get the facts on the table, propose legislation that will help fix the problem, and use the appropriation process, if we need to, to limit some of the egregious behavior we've seen," Jordan said.
But the committee's first hearing, which featured a wide array of individual grievances from the committee's Republican members, generated relatively few splashy headlines. In a segment on Fox News last week, host Jesse Watters lumped it in with a series of Republican hearings that he complained had disappointed conservatives. "Where are the bombshells?" Watters asked. "Have the investigations even started?"
"I think we've done more letters for transcribed interviews than any other committee in Congress," Jordan said. "I'm focused on our job. I know we're gonna get criticized from folks, that's part of the deal."
Jordan said he has heard from "dozens" of potential whistleblowers who want to speak to the committee, and has already conducted interviews with three former FBI employees about possible politicization at the bureau.
But Democratic staffers have also proved nimble in their response — this week, they released a 316-page report preemptively casting doubt on their testimony that included links to incendiary social media posts and information about payments towards two of the witnesses from a pro-Trump group led by former administration official Kash Patel.
Jordan defended the trio's credibility, saying they had been unfairly "attacked" by Democrats for coming forward and that the payments from Patel's groups were appropriate.
"You lose your job for coming forward and telling the truth as a brave whistleblower, you're going to get help from where you get help," Jordan said. "These guys got families to take care of, for goodness sake."
KADIA'S VIEW
The committee is under heavy pressure to deliver given the intense conservative interest in their work. During the speaker's fight, Fox News host Tucker Carlson said Kevin McCarthy's commitment to creating the committee, staffing it properly, and installing trusted members were essential to winning over his critics in the caucus.
Some members of the weaponization committee have suggested they're still getting their sea legs. Rep. Dan Bishop, R-N.C. told Semafor last week they were still hiring enough people to match their ambitions.
"One of our challenges as we continue to move through the first couple or several months is to get a sufficient enough staff to have a wide enough investigation," Bishop said.
Critics have questioned whether the committee will be able to attract enough quality staff. But Jordan said the staff had "more than doubled" to 50 people since the new committee was created — up from 21 — and included battle-hardened veterans from Donald Trump's first impeachment and Obama-era investigations.
THE VIEW FROM DEMOCRATS
In contrast to the friendly bipartisanship on the select committee on China, relationships between the two parties on the weaponization committee couldn't be much worse.
"I think it's a waste of taxpayer dollars and should have never been formed," Colin Allred, D-Texas, said of the weaponization committee.
Ranking member Stacey Plaskett, D-V.I. said in a letter that Jordan was not "an honest broker," Punchbowl News reported this week, citing Democratic complaints that they've been left in the dark on updates. Republicans, for their part, have accused Democrats of going behind their back to leak material to the press with favorable spin.
White House backs bill that would let it ban TikTok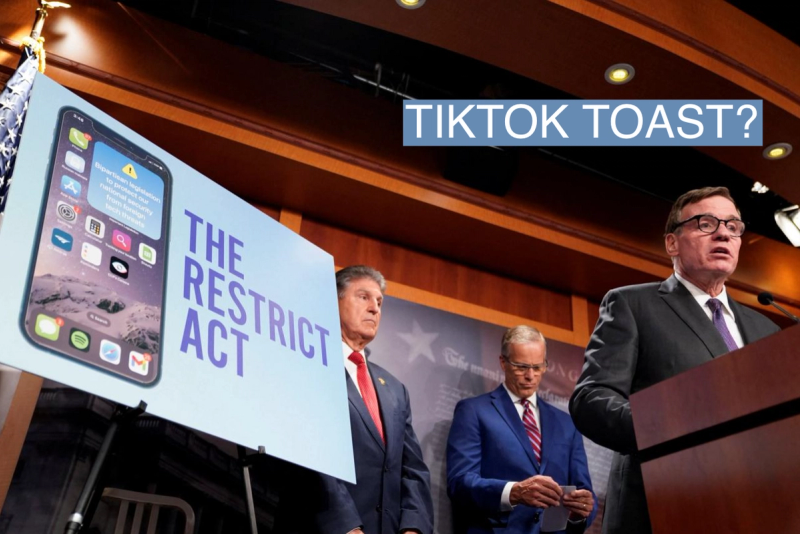 Reuters/Bonnie Cash
The White House is backing a new bill that could allow it to ban TikTok, lending by far the most momentum yet to efforts to crack down on the China-based social media phenomenon.
The legislation has strong bipartisan support: Twelve senators, including six Democrats and six Republicans, unveiled the measure at a press conference on Tuesday. They included Sens. Mark Warner, the chair of the Senate Intelligence Committee, and South Dakota Sen. John Thune, the chamber's No. 2 GOP leader.
The bill, titled the RESTRICT Act, would not ban any apps outright. Instead, it would give the Commerce Department new power to review tech products for national security risks if they are sold or run by companies connected to officially designated foreign adversaries — including China, Russia, Iran, North Korea, Cuba, or Venezuela.
It would give the Biden administration a variety of tools to respond if officials conclude that a product poses a threat, including forcing foreign-owned companies to divest their U.S. operations or imposing a full-fledged ban. It applies to a broad range of technologies, including artificial intelligence and quantum computing.
National security adviser Jake Sullivan said in a statement that the White House — which had stayed quiet on previous bills — would work with its sponsors "and urge Congress to act quickly to send it to the President's desk."
The RESTRICT Act, which doesn't mention TikTok specifically, goes less far than some similar legislation, like a Republican-backed House bill that Democrats voted against in committee last week, which would have required the administration to impose sanctions on certain companies. Nonetheless, Thune made clear it could lead to TikTok being banned. 
Warner told reporters that he believes "having a rules-based process that identifies types of technologies" would also hold up better in court. That could help it overcome challenges posed by the so-called Berman amendments, which limit the president's ability to ban "informational materials" from foreign countries.
The Biden administration has been conducting its own review of TikTok through the Committee on Foreign Investment in the United States, but that effort has appeared to stall recently. The talks were aimed at finding a way for TikTok to continue operating within the U.S. while finding a way to prevent private U.S. user data from being accessed by China.
TikTok has sought to assure lawmakers that its data is secure and that its parent company ByteDance is not controlled by the Chinese government.
"The Biden Administration does not need additional authority from Congress to address national security concerns about TikTok: it can approve the deal negotiated with CFIUS over two years that it has spent the last six months reviewing," TikTok spokeswoman Brooke Oberwetter said in a statement.
TikTok's popularity among Americans could still prove a hurdle to a ban. Some Democrats in particular could be sensitive to signing onto legislation because much of the party's younger base is on TikTok. Even Commerce Secretary Gina Raimondo has recently cautioned against banning it, citing both free speech and political concerns.
Asked about the potential for political blowback, Democratic pollster Celinda Lake told Semafor she didn't think there would be any if a ban were enacted. "Young people are very aware of the problems and the abuse," Lake said. "They worry about younger brothers and sisters."
— Morgan Chalfant
House Republicans are taking steps to prepare for a possible debt ceiling default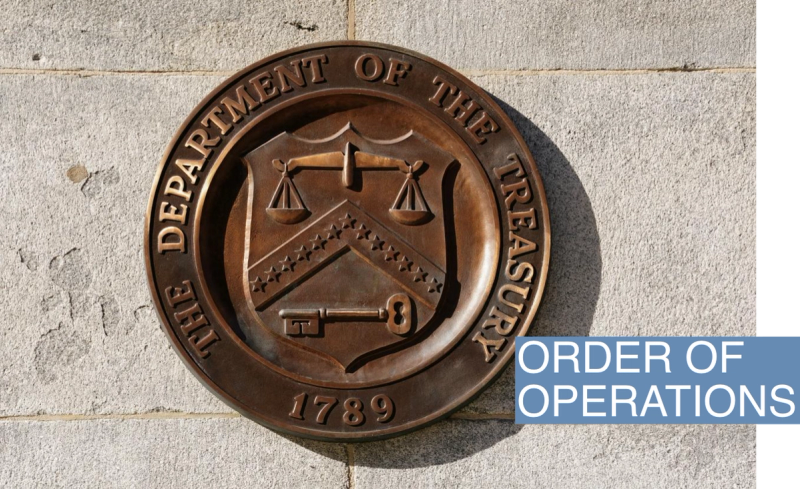 REUTERS/Kevin Lamarque
The House Ways and Means Committee is soon taking up a bill that would require the government to keep making certain payments if it breaches the debt ceiling.
The panel on Thursday will be marking up and voting on a three-page bill from Rep. Tom McClintock, R-Calif., that would authorize the Treasury Department to continue making interest payments on the national debt to try and prevent an outright default.
Some Republicans have long argued that, if the government were to crash up against its borrowing limit, it could still prioritize payments to bondholders and spare certain programs from funding cuts.
"You got to pay your creditors first," Rep. Jodey Arrington, chair of the House Budget Committee, told Semafor. "That's the principle our grandfathers taught us. We pay the people that you owe."
Arrington, who also sits on the Ways and Means Committee, said he supported the new legislative push, adding he was "very confident we're doing the right thing."
Prioritization has been met with resistance from both Democratic and Republican White Houses, which have argued it may be illegal and logistically infeasible. But conservatives in the House reportedly demanded a vote on a bill that would force the government to prioritize among its obligations as part of the deal that delivered the speaker's gavel to Rep. Kevin McCarthy. The Washington Post reported in January that a debt prioritization measure would move through the lower chamber by the end of the first quarter.
A group of conservatives in the Senate led by Sen. Rick Scott, R-Fla., released a bill in January that would require the government to keep making payments on Treasury bonds, Social Security benefits, military salaries, and veterans benefits. The Florida Republican told Semafor on Tuesday he's been in touch with House conservatives on the issue.
However, Semafor previously reported that prioritizing payments is much easier said than done. While it may be technically feasible to pay bondholders, it could be a much bigger lift — if not unworkable — to ensure domestic benefits like Social Security checks go out the door in a timely manner. The move could also expose Republicans to a barrage of Democratic attacks that they are paying foreign bondholders at the expense of other programs.
"It just seems silly and stupid," Rep. Don Beyer, D-Va., who sits on the Ways and Means panel, said in an interview on Tuesday. "Why would we prioritize Chinese bondholders over American military, Social Security, seniors, children? It's going to drive up costs for American citizens when we put bondholders first."
—Joseph Zeballos-Roig
To share this story, click here.
Drew Thompson is a visiting senior research fellow at the National University of Singapore's Lee Kuan Yew School of Public Policy. He previously served as the Director for China, Taiwan and Mongolia in the Office of the Secretary of Defense at the Pentagon.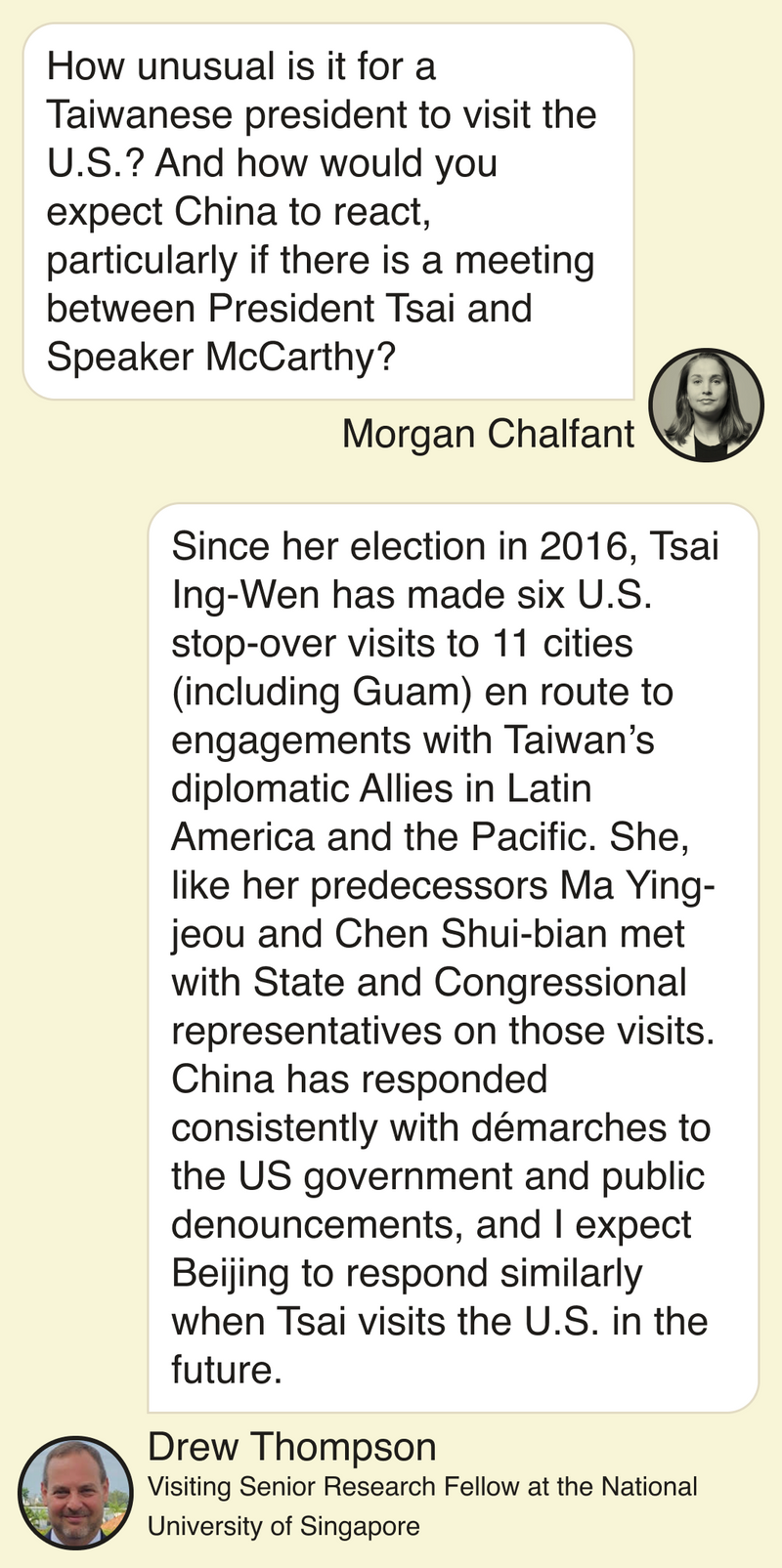 Stories that are being largely ignored by either left-leaning or right-leaning outlets, according to data from our partners at Ground News.
WHAT THE LEFT ISN'T READING: Florida Gov. Ron DeSantis sent a letter to President Biden calling on him to allow tennis star Novak Djokovic to enter the U.S. for a tournament in Miami. Djokovic has been prevented from traveling to the U.S. because he is not vaccinated against COVID-19, which is out of step with CDC rules for air travelers entering the country.
WHAT THE RIGHT ISN'T READING: A new U.K. study found that children of same-sex couples have similar development outcomes as children of heterosexual couples.
If you're liking Semafor Principals, consider sharing with your family, friends and colleagues. It will make their day.
To make sure this newsletter reaches your inbox, add principals@semafor.com to your contacts. If you use Gmail, drag this newsletter over to your 'Primary' tab. You can also reply with a hello. And please send any feedback our way, we want to hear from you.
Thanks for getting up early with us. For more Semafor, explore all of our newsletters.
— Steve Clemons