The News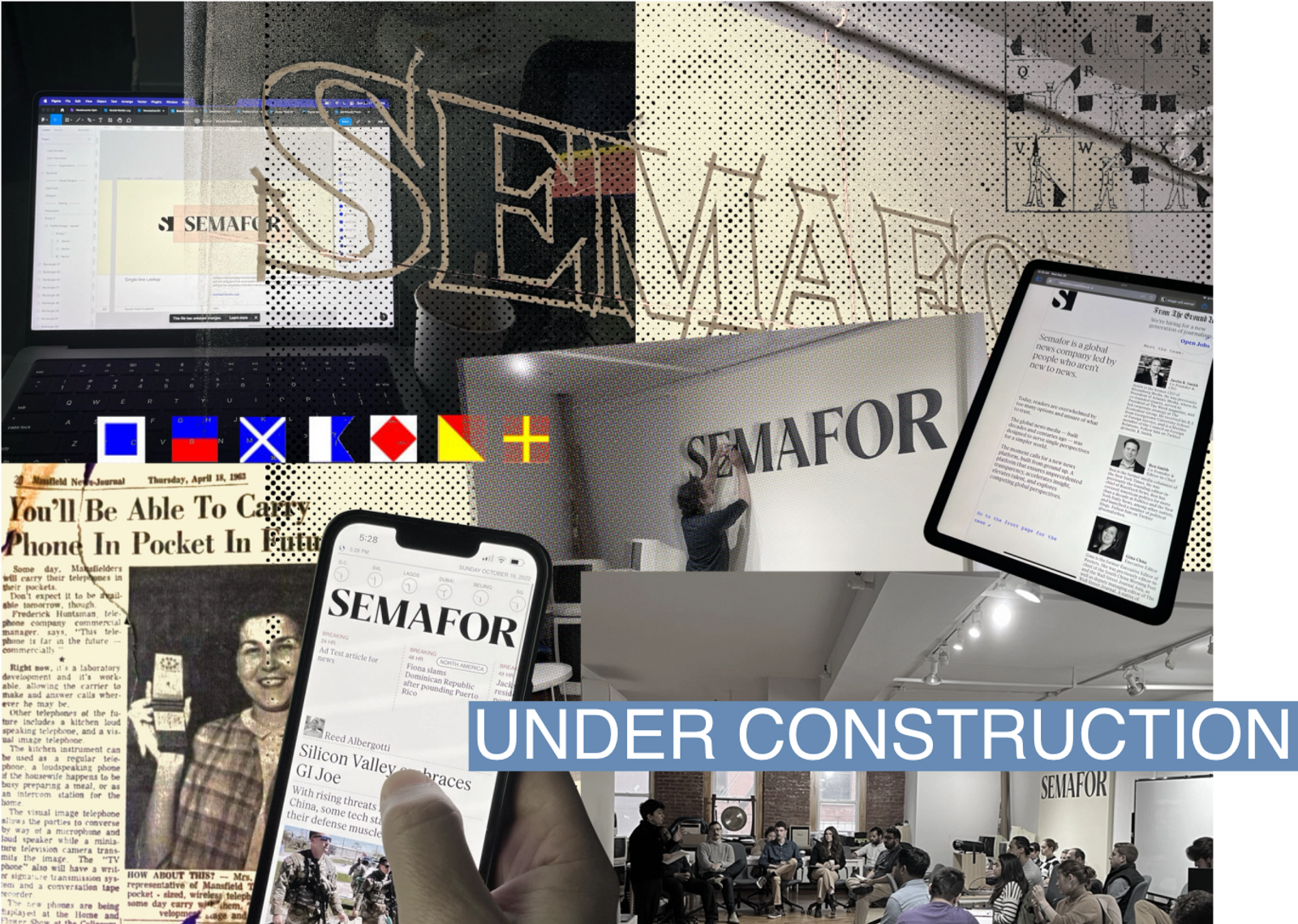 Semafor launched today with big stories about Elon Musk's rocket company, the future of Coca Cola, the election campaign in Nigeria, Donald Trump's new cause, and the identity crisis at The New York Times. We've been listening to readers and viewers who feel overwhelmed and unsure of what to trust among the sprawl of current news outlets — and eager for something new.
So our stories are told in a new format, the Semaform, that attempts to rebuild trust by making clear what's a statement of fact, and what's the journalist's view. In our newsletters, website, videos, and events, we're focused on bringing in diverse views that may differ from our own analysis, and on including a global perspective on the day's most important stories.

Ben's view
I hope you don't spend too much time on this page. I've been talking about Semafor for nearly a year now — and now I can just show it to my friends, to skeptics, and to an audience that we believe is eager for something new. Please click on those electric blue hyperlinks above and check out what we're up to, or watch the video below for a sense of the challenges we're trying to solve.
But if you're still here, I thought I'd elaborate a little on what we're trying to accomplish, and how we're going about it. I've spent 25 years as a reporter and editor obsessed with digging up new information and sharing it with readers — that is, with the very core of news. The most flattered I've ever been is when the media critic Jack Shafer wrote of me that I "break news the way rioters break glass: frequently and with glee."
So it's come as a painful realization to me that the problem with news right now isn't just that there aren't enough reporters out there getting scoops. Readers, listeners, and viewers are drowning in a stew of assertions and opinions. And yet trust in news, our partner Gallup found in a study released today, has sunk to 34% among Americans, the second-lowest point ever and lowest since 2016. Giant corporations blast out hundreds of links a day of their own work, ignoring all others. Other companies have become expert in telling readers exactly what they want to hear. Most national news organizations cover huge global stories, from the COVID pandemic to the effects of social media to the rise of the far right work as though the rest of the world barely exists.
And if you ask people, in polls or private conversations, what they think of this media environment, they'll tell you they hate it. They're overwhelmed, disoriented, and don't know what to trust.
The solutions, though, have proven elusive. Some think the answer is in going back to the most old-fashioned forms of journalism — voice-of-god editorial pronouncements and requiring journalists to conceal their identities and views. And there are a lot of gimmicky solutions. Perhaps truth can be detected by algorithm, tokenized, or enforced by committees at social media companies.
Our approach is more literal, and it's built from the core principles of journalism. We take people seriously when they say they know that reporters are human beings — and experts in their beats — who have views of their own. But they'd also like us to separate the facts from our views. They'd like us to be humble about the possibility of disagreement. And they'd like us to distill differing views, and gather global perspective.

Room for Disagreement

We know these problems aren't simple to solve, and we also know that many journalists around the world are struggling with many of the same issues. They haven't all reached the same conclusions. Our head of video Joe Posner, our executive editor Gina Chua, and I spent the last few weeks interviewing prominent journalists and newspeople around the world, from the American interviewer Chris Wallace and the Filipina Nobel Prize winner Maria Ressa, to the British provocateur Piers Morgan and the CEO of Germany's Axel Springer Mathias Döpfner.
Some of them think we can pull this off. Others think we're a little nuts. Our approach "flies  completely in the face of what most people are currently doing," Morgan said.

Notable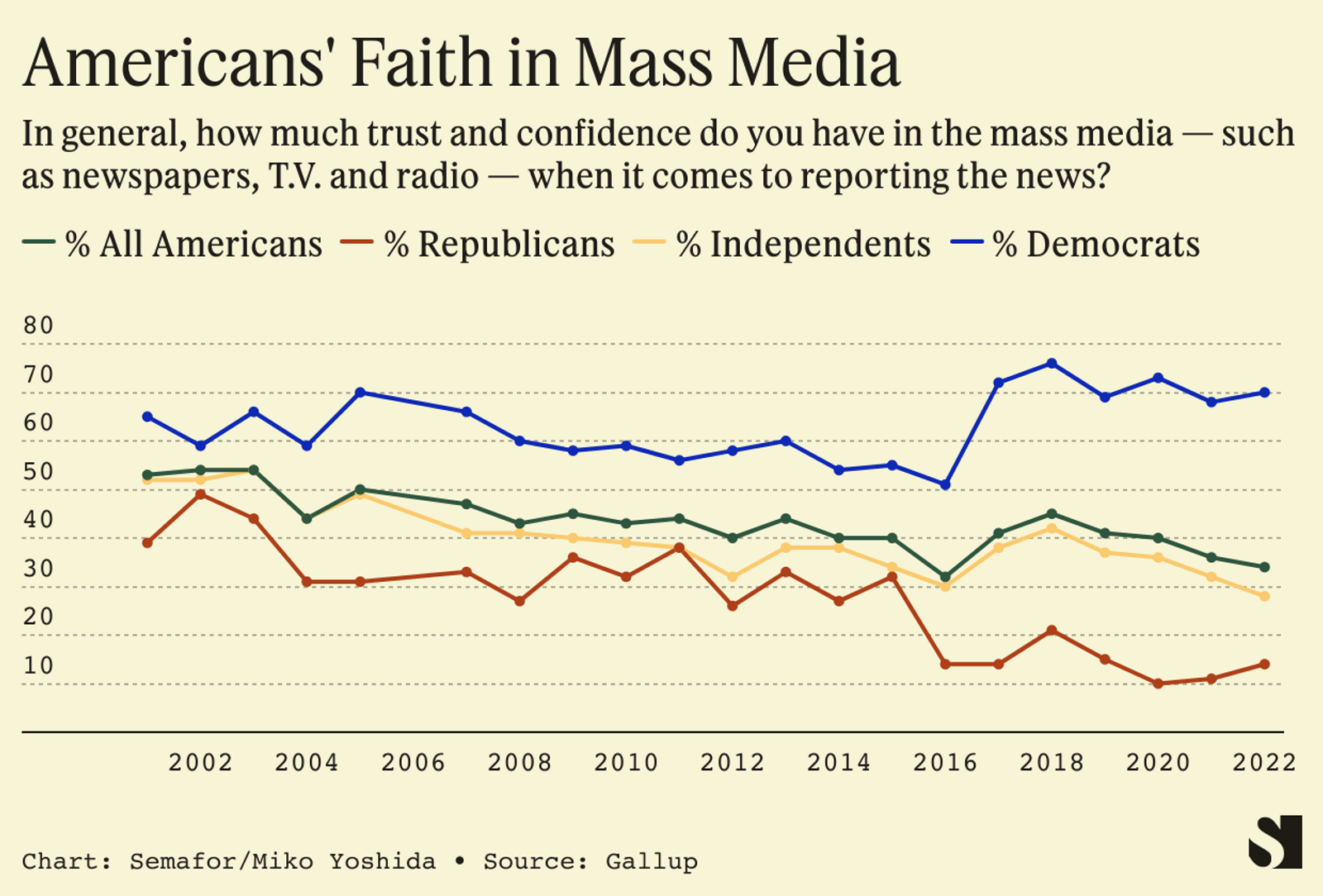 Our partners at Gallup are releasing dismal numbers today on Americans' trust declining in the mass media. The new results of their longrunning poll show a deep partisan split persists — but that the numbers keep declining because independent voters' trust has slid to just 28%.
I hope you'll find our stories satisfying, and the way we tell them refreshing. Let me know what you think — ben.smith@semafor.com.