The News
Nigerian pundits and political leaders have publicly dismissed media-commissioned polls suggesting that Peter Obi, the 'third party' Nigerian presidential candidate, could be a serious contender in February's general election.
But Semafor has learned that the private polling of the two major establishment parties tell a similar story about the popularity of the former Anambra state governor with likely voters.
The natural skepticism about the public polls is driven by the fact that it's still a ways to go to the election, and some of the key poll results have been collected from smartphone apps in a country where basic feature phones dominate. Obi's Labour Party is a minnow up against president Muhammadu Buhari's All Progressives Congress (APC) in power for seven years, and the opposition People's Democratic Party (PDP), which spent 16 years in power until 2015. The Labour Party has no political machinery in large swathes of the country.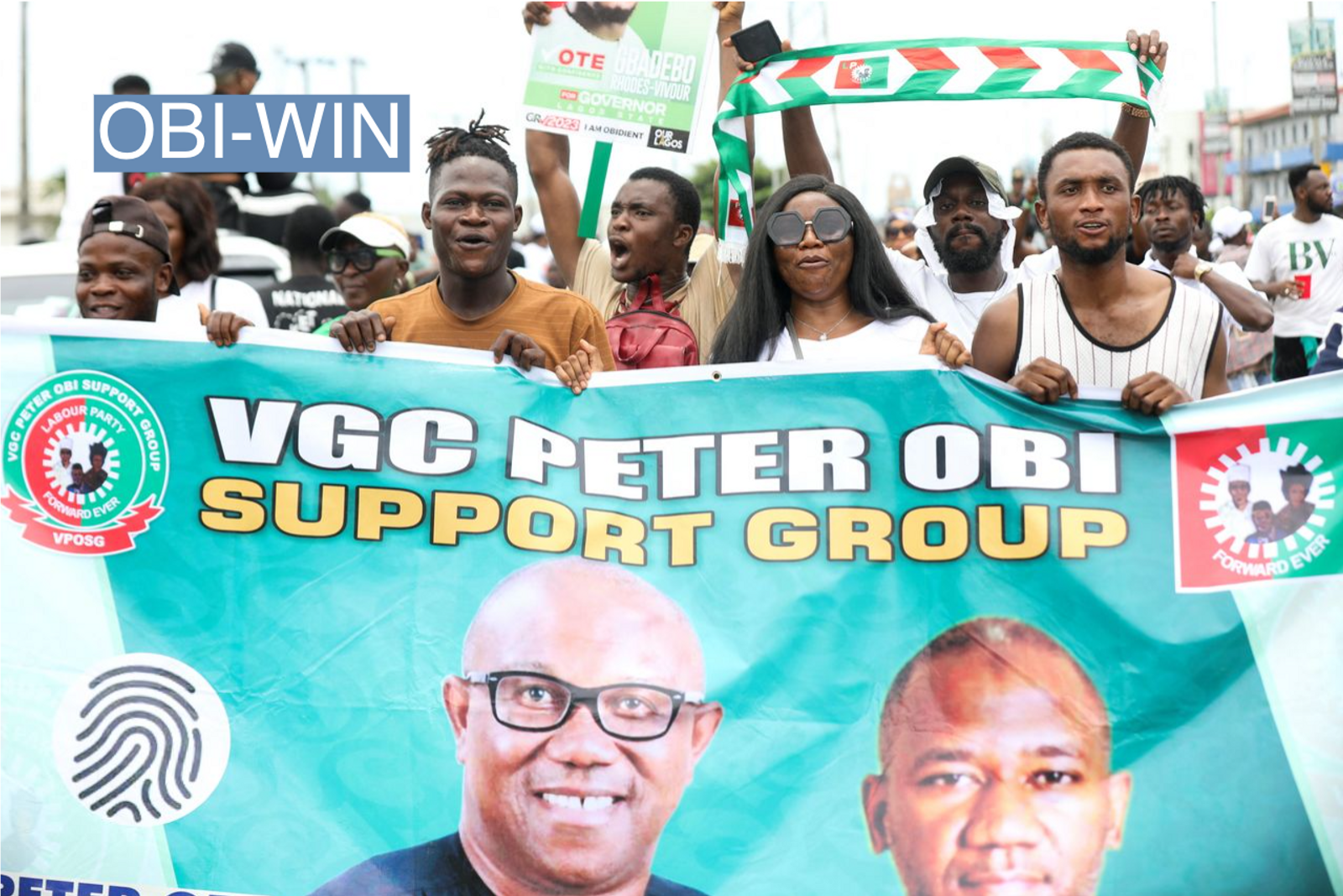 Neither party will share their numbers publicly, but one APC insider who spoke to Semafor conceded that Obi, a former PDP governor and one-time vice-presidential candidate, has so far outperformed expectations — and suggested that it might be more than a 'youth/Twitter vote'.
Obi is taking on political heavyweights in APC's Bola Ahmed Tinubu, a former Lagos state governor and political kingmaker, and the PDP's Abubakar Atiku, a former vice president who has run for president five times since 1993. Both have incredible political machinery on the ground in the country's key regions.
While political polling has long been present in Nigeria's since the country's return to democratic rule in 1999, it hasn't had significant influence in recent elections.

Yinka's view
The clear takeaway from these polls, and the concerns they have raised internally with Nigerian political operatives, is that there's going to be a closer election than ever because a third party candidate is splitting the vote. That doesn't mean Obi has a strong chance of winning. While reporting on this story, someone reminded me Atiku was ahead in all online polls in 2019 and still lost to President Buhari.
One APC insider pointed out that in many of the polling numbers, while Obi was ahead, more than half of the respondents answered that they were undecided. It suggests the narrative that the two major parties have presented well-known but flawed candidates might be true.
Both publicly and privately, APC and PDP party officials are bullish on their chances and pour scorn on the idea Obi has a chance. "You don't need any polls to know he can't win that election," said one official. But two analysts suggested Obi could realistically force a run-off if no clear winner emerged in the first round. It would be uncharted waters for a Nigerian presidential election.

Room for Disagreement
Peter Obi's supporters insist he has a strong chance of winning the whole thing, against all odds. They see a path to Aso Rock's presidential villa in Abuja through Nigeria's north, which in recent years has become increasingly politically fractured in the wake of rising poverty and terrorist attacks. "If you look at these numbers, the idea that Peter Obi is just a social media phenomenon is untrue," said the first analyst who has seen nationwide data. "The idea that he's a tribal champion and that he will not get any votes outside the southeast is also untrue."

The View From NAIROBI
In August, many Kenyan polls had veteran establishment politician Raila Odinga as the likely victor in the race for the presidency. But it was William Ruto, a former vice president who had repositioned himself as a political outsider, who ended up winning. Indeed with  relatively young multiparty democracies like Kenya's and Nigeria's there are often questions about the validity of polls. "Polling can be precise but there are factors that don't get considered when we poll voters in Africa," said Boniface Mwangi, the long-time human rights activist who ran for a seat in the Kenyan parliament in 2017. "There's voter bribery to sway votes, voter intimidation to make them vote for a certain candidate, and vote rigging by a candidate."

Notable
The Economist also acknowledges that Peter Obi's chances are a "long-shot" but its correspondent also explains part of his appeal with ordinary Nigerian voters, particularly with younger voters tired of the archetypal establishment politician even as their economic and security conditions worsen. "In a country cursed by politicians of extraordinary ego and entourage, his supporters marvel that as governor Mr Obi queued at airports holding his own luggage."
In Nigeria, a This Day profile piece digs into explaining "The Peter Obi Phenomenon" by going through his exit from the PDP before declaring his candidacy for the The Labour Party. The paper notes some of the "massive pre-campaign rallies" organized by young people in major cities across the country were "not largely influenced by monetary inducements" and have "elevated a political party without formidable structures to a mass movement."