An activist investor has a garbage plan for Coca-Cola
Liz is Semafor's Business & Finance Editor, joining us from The Wall Street Journal. Sign up for Semafor Business to get her scoops in your inbox twice a week.

The Scoop
Engine No. 1 stunned corporate America last year when it scored a major win over Big Oil, riding a climate-change campaign to three board seats at Exxon. Its next target is Big Plastic, starting with a quiet campaign to clean up Coca-Cola.
The fund, which has taken a small stake in Coca-Cola and held discussions with executives, believes the $238 billion beverage firm needs to get more serious about its goal of seeing all its cans and bottles recycled by 2030, people familiar with the matter said.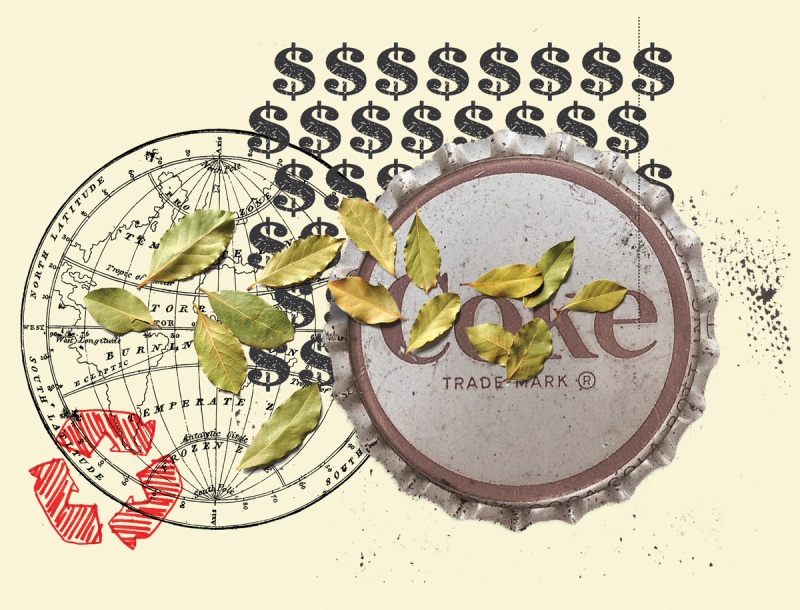 The idea: Coke should acknowledge that it is, basically, already in the garbage business by investing in, or partnering with, a waste-management company to develop the recycling capacity needed to meet its targets. Engine No. 1 has a stake in Republic Services, the second-largest garbage collector in the country, and has suggested a partnership to executives on both sides. One of the people said Coke executives had reached out to Republic to gauge its interest.
Engine No. 1 has proposed that Coke signal its seriousness with a major investment —either into Republic itself or in the form of a long-term contract pledge to buy bottles made of recycled plastic. That investment could also help pay for the complicated last-mile logistics of dealing with what Greenpeace calculates is as much as 110 billion Coke bottles discarded annually.
Three-quarters of plastics end up in landfills, according to the EPA. Those that are recycled are often "down-cycled," turned not into new bottles but into carpet fibers or lumber products.
Republic is building a plant in Las Vegas that will take in recycled bottles and churn out food-grade polymers. It's the first in the country to, in Republic's words, "enable bottle-to-bottle circularity."
The idea to target a packaged-goods company has been kicking around Engine No. 1 for more than two years; recently departed executive Charlie Penner brought the idea over from his previous firm, Jana Partners, some of the people said. They shelved it when the pandemic upended the economy, though Penner plans to pursue it independently with a more activist bent than his old firm has so far taken.
More recently, Engine No. 1 reached out to several consumer-goods companies with single-use plastic problems, including Pepsi and Danone, and found Coke the most receptive, some of the people said. It has been studying the recycling industry for more than a year; it invested this spring in a private company that produces plant-based materials for Allbirds shoes, and recently added a small stake in Republic's larger rival, Waste Management.
Coke was the world's worst plastic polluter for the fourth year in a row in 2021, according to the global coalition Break Free From Plastic.
"We believe good ideas can come from anywhere, and we look to partner with those who share common goals," a Coke spokesman said, adding that the company had made progress toward its environmental goals and is "committed to do more."
Engine No. 1 declined to comment. Republic didn't respond to a request for comment.

Liz's view
Since the hedge fund began agitating, Exxon has abandoned plans to ramp up oil production, set new targets for greenhouse gas emissions, and put its low-carbon solutions segment on equal footing with its oil and gas unit.
Coke would be smart to assume they can repeat. Investors are focused on ESG like never before, and while it might be a bit "been there, done that" to go after an energy company for it (producing oil is literally what they do), tackling a consumer company for greenwashing feels like fertile ground.

Room for Disagreement
Engine No. 1 may not pack the same punch it did at Exxon. It has publicly backed away from the "activist" label. "It's re­ally im­por­tant for us to move on from the moniker of ac­tivist," its founder, Chris James, told The Wall Street Journal in July. Without the threat of a boardroom fight, Coke may have less to lose by going it alone. (Engine No. 1's stake in Coke is in its index fund, which more or less tracks the S&P 500, not its hedge fund, though it actively votes its shares in all its portfolios.)
And given stubbornly high inflation and a likely recession, Coke might defensibly decide this isn't the time to be spending money on a recycler, even if that's better for the environment. The economic picture has darkened considerably since July, when executives said, after a quarter in which revenues rose but profits fell, that the company hadn't seen much evidence of shoppers switching to cheaper products.

The View From The Right
There's a growing set of investors that are decidedly anti-environmentalism, and they want companies making economic decisions, not moral ones. The loudest is Strive Capital Management, which was founded earlier this year and wants to be a counterweight to investors pushing do-gooder agendas at big companies.
In a recent letter to Chevron CEO Mike Wirth, Strive's chairman and author of "Woke, Inc.," a book that rails against creeping progressivism in corporate America, Vivek Ramaswamy, urged him to ignore liberal-minded investors. "Chevron must produce and distribute more fuel to customers around the world – proudly, publicly, and without apology," he wrote.

Notable
Speaking of right-wing crusaders, the New York Times's Kenneth Vogel dug into shadowy PR campaigns against companies including BlackRock and American Airlines and found Leonard Leo, a conservative activist best known for pushing appointments of conservative judges.