Principals

with Steve Clemons
I can't quite believe I'm writing that one of the biggest American music and social media stars has publicly embraced Adolf Hitler. That would be Ye, previously known as Kanye West. He's currently suspended from Twitter for posting a disturbing swastika image, the capper to a long day of pro-Nazi rants. Shelby Talcott has the latest.
The night before last, I met former Senator and Republican Jewish Coalition Chairman Norm Coleman, who has strongly condemned Ye, at the National Day party of the United Arab Emirates. Norm joked that there were more Jews there than Arabs, and that that was a testament to emotional and psychological growth on both sides. Even Israeli Ambassador to the US Michael Herzog was at the UAE gathering. The progress in tamping down hate in some parts of the world needs to be noted alongside the uptick in hate that Ye and Trump dinner guest Nick Fuentes are stirring.
Meanwhile, the crypto backlash is spreading on Capitol Hill, Joseph Zeballos-Roig reports. And Jordan Weissmann found just the right person to ask about it — actor and longtime anti-crypto activist Ben McKenzie.
PLUS: A sitdown with Sen. Michal Bennet, D-Colo. who is trying to revive the expanded Child Tax Credit and has a theory about why it failed to catch on the first time.

☞ White House: Biden hosted French President Emmanuel Macron for a lavish state dinner Thursday evening that was attended by lawmakers, prominent Democrats, and celebrities. "Jon Baptiste capped the evening with a call for unity and an ethereal jazz sequence that, in the words of President Biden, liberated the emotions in the room," dinner guest Lawrence Yanovitch told Semafor.
☞ Chuck Schumer: The majority leader believes the law is on Democrats' side as Biden's student loan forgiveness plan heads to the Supreme Court, which will hear arguments in February.
☞ Mitch McConnell: The Senate minority leader isn't a fan of the new House Democratic leader. He called Hakeem Jeffries a "past election denier" in a floor speech yesterday.
☞ Nancy Pelosi: The Speaker hosted Macron last night in the Rayburn Room on the House side of the Capitol. Republican House and Senate leaders as well as committee chairs from both chambers.
☞ Kevin McCarthy: The Republican leader (who also attended the state dinner at the White House last night) will continue his whipping operation by meeting with members across the conference in an effort to unify everyone ahead of the Jan 3. 2023 Speaker's vote.
Biden will sign legislation imposing an agreement on railroads and unions as soon as today, averting a strike and sidestepping economic disaster. The Senate vote on the bill and an accompanying measure created some strange political bedfellows: Six Republicans voted with all but one of the Democrats in the Senate to raise the number of paid sick days for rail workers, but it wasn't enough to pass. Biden's decision to press Congress to take the rare step of imposing the arrangement on rail workers also spurred backlash among some unions. But some say the president isn't to blame. "There's a lot of just anger out there right now specifically about the lack of leave," Greg Regan, president of the Transportation Trades Department of the AFL-CIO, told Semafor. "I think the anger needs to be channeled where it belongs, which is the railroads."
A federal appeals court struck down the special master review demanded by Trump in the federal case involving his handling of secret documents. "To create a special exception here would defy our Nation's foundational principle that our law applies 'to all without regard to numbers, wealth, or rank,'" read the opinion from the panel full of Republican-appointed judges. Trump could still appeal the decision but he's not likely to succeed.
Goodbye, Des Moines. Hello, Charleston. There's some drama building in the Democratic Party after Biden recommended a major shuffle to the DNC's nominating process, requesting South Carolina come first in the nation's primary contests followed by New Hampshire and Nevada, and then Georgia and Michigan. Democrats seem ready to ditch first-in-the-nation Iowa, especially after its complicated caucus procedures led to a slow and contentious count in 2020. In a letter to the DNC, Biden said Democrats "must ensure that voters of color have a voice in choosing our nominee much earlier in the process."
New Hampshire officials, including the state's two Democratic senators, protested angrily and insisted state law would ensure that the party's primary came first. Sen. Maggie Hassan, D-N.H. called Biden's proposal "deeply misguided." Biden is also recommending that the DNC review its calendar every four years.
House Armed Services Chairman Rep. Adam Smith, D-Wash. told Semafor that lawmakers would likely file the compromise version of the mammoth defense policy bill, the NDAA, today or Monday and that the House would put it on the floor for a vote next week.
— Morgan Chalfant
Punchbowl News: House Ways and Means Committee chairman Richie Neal, D-Mass. hasn't divulged what he plans to do with Trump's tax returns, beyond saying he's tapped staff members as "agents" who can review them.
Playbook: Republicans in Pennsylvania are reconsidering their efforts to roll back mail-in voting in the crucial battleground state.
Axios: Newt Gingrich on his recent piece telling the GOP not to underestimate Biden: "I was thinking about football and the clarity of winning and losing. It hit me that, measured by his goals, Biden has been much more successful than we have been willing to credit."
Ye went full Nazi. Here's who is caught in the fallout.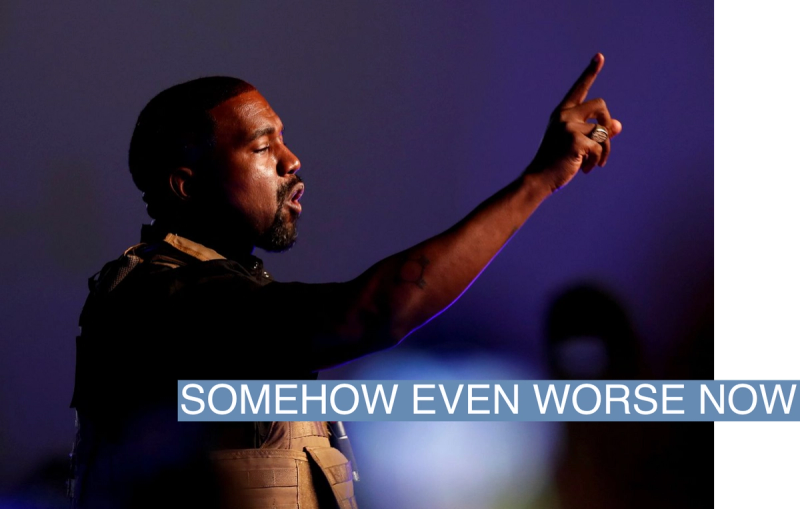 REUTERS/Randall Hill
THE NEWS
We're not going to quote from Ye's appearance on Alex Jones, in which the rapper formerly known as Kanye West praised the Third Reich, Nazism, and Adolf Hitler at length, while denying the Holocaust occurred.
The diatribe qualified as an international incident. Israel's Ambassador to the U.S. Michael Herzog said in a statement that "it is alarming that such vile rhetoric is given a platform and legitimized" and warned it could lead to violence.
Ye's gradual, then sudden, plunge into full-blown Nazism is having spillover effects through the political, media, and business landscape. Let's review the latest.
TRUMP
Donald Trump has still not condemned the hate tour by Ye and white nationalist sidekick Nick Fuentes, who accompanied Ye in his Thursday interview, after hosting them for dinner just ten days ago. He faces a renewed push to do so.
"Given his praise of Hitler, it can't be overstated that Kanye West is a vile, repellent bigot who has targeted the Jewish community with threats and Nazi-style defamation," the Republican Jewish Coalition, normally a staunch Trump ally, wrote in a statement. "Conservatives who have mistakenly indulged Kanye West must make it clear that he is a pariah. Enough is enough."
Trump did weigh in on the dinner shortly before the Alex Jones interview, but only to hug Ye tighter.
On Truth Social, he trashed reports about Mar-a-Lago and his campaign weighing changes to how visitors are vetted. The former president called it "Fake News" and appeared to defend Ye's presence at his home, writing: "When I know someone, as I did Ye, we're not going to have my guests strip searched, thrown against walls, and otherwise physically beaten." (The reporting made no mention of the actions Trump described).
After prior run-ins with extremists, Trump sometimes was able to buy space with a carefully worded statement that broadly denounced hate groups. This time, allies have been left with little to hold on to, even as one person close to Trumpworld told Semafor that they "know nobody who's advising him to stay close to" Ye.
HOUSE REPUBLICANS
While many Senate Republicans, including Mitch McConnell, have spoken out about Trump's behavior, House Minority Leader Kevin McCarthy condemned Fuentes earlier this week while falsely claiming that Trump had done so as well.
On Thursday, McCarthy called the Ye interview "disgusting" while avoiding name-dropping Trump. Speaking to NBC News, he broadly called on "the entire nation" to condemn the antisemitic comments, but no one person in particular.
Some Republicans who had embraced Ye earlier in his meltdown tiptoed away. On Thursday, the House Judiciary Republicans' Twitter account, whose October tweet "Kanye. Elon. Trump." remained conspicuously up for months even after the rapper threatened to go "death con 3 on JEWISH PEOPLE," quietly deleted the message.
ELON MUSK
Finally on Twitter, new owner Elon Musk had welcomed "my friend" Ye back to Twitter in October after a suspension for antisemitic remarks and even tweeted memes of them teaming up. Facing criticism after Ye soon followed with his "death con 3" tweet, he later said he called Ye up to dissuade him from his views.
It didn't work.
Musk's first response to Yes Nazi turn on Thursday was to reply to a Ye tweet mentioning him and Jesus by saying "Jesus taught love, kindness and forgiveness" and to "turn the other cheek."
Ye went on to tweet an image mocking Musk ("That is fine," Musk replied) and one that appeared to be a swastika inside a Star of David ("This is not," Musk replied). The swastika post was blocked by Twitter, and Ye's account was soon suspended, which Musk confirmed was "for incitement to violence."
"I tried my best," Musk tweeted.
TUCKER CARLSON
Fox News' Tucker Carlson, whose show edited out bizarre and inflammatory comments about Jews from a pre-taped interview with Ye back in October that later leaked to Vice, has stayed under the radar regarding the latest incidents. Carlson said in a segment showcasing the interview at the time that the rapper was "not crazy" and "worth listening to."
Michael Bennet hasn't given up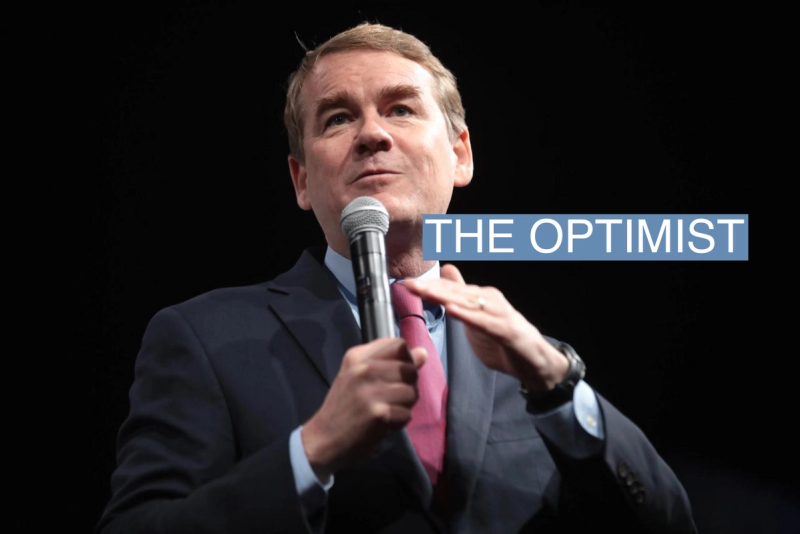 Democrats missed their chance last year to permanently cement Joe Biden's massive, temporary expansion of the Child Tax Credit. But at least one key senator thinks it's still possible Congress might agree on smaller, more targeted upgrades to the program during this busy lame duck session.
That would be Sen. Michael Bennet, the mild-mannered Democrat from Colorado who was a chief architect of the original expansion. "I think there is space for a deal to restore some version," he told Semafor during a recent sitdown.
Capitol Hill may have its hands full this month, but Bennet says he and his staff have been talking to Republicans — Sen. Mitt Romney, R-Utah in particular — and there might be room to make a trade that would see certain expiring business tax cuts extended in return for beefing up the CTC.
Romney seems less sure. "It's not something we've talked about in the last month or so," he told Semafor. "Right now the calendar is filled with items you're familiar with, it's probably not going to be until next year that we consider new legislation."
Still, Bennet has hope. He said he has chatted with Sen Joe Manchin, D-WV about the topic as well. The West Virginian's opposition more or less single-handedly squashed efforts to extend Biden's version of the program. But if the Senate can broker a bipartisan agreement on a narrower expansion, Bennet said he is "cautiously optimistic" that Manchin might get on board.
But Bennet is also vague about what exactly a deal might look like. Biden's expansion massively slashed child poverty — roughly in half, by some studies — by making parents eligible for up to $300 per month per child even if they had no job or other income, a feature known as "full refundability." Manchin vehemently opposed that aspect of the program.
For now, Bennet said his goal is to make sure the maximum number of low-income kids receive the credit. But full-refundability? "That's what I've fought for, and that's what I'll continue to fight for," he said. "But we'll have to see what other ideas people bring to the table."
When Biden's expansion expired earlier this year, many were surprised at the lack of a public outcry, given how many families the program had helped. Even Republicans were worried when it passed that it might become a permanent fixture, but it rarely came up in midterm campaigns.
Bennet said the problem was that people saw it as part of a temporary COVID relief package, even though it was a policy idea years in the making.
"People wanted to be done with COVID," he said. "And so they wanted to be done with COVID relief."
While Bennet is "grateful that we did it," he thought there "wasn't a developed constituency to fight for it at the end" with that backdrop.
—Joseph Zeballos-Roig
A Republican crypto critic emerges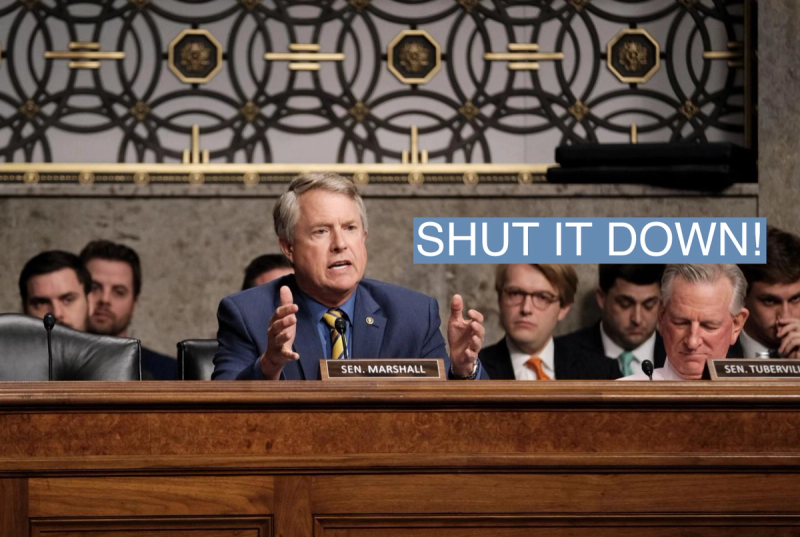 REUTERS/Michael McCoy
Is there a crypto backlash brewing in Congress after the collapse of FTX? Among Democrats, it sure sounds like it—Sen. Jon Tester, D-Mont. recently described the whole industry as "bullshit," for instance, and he's not alone. But Republicans may be a different story. (FTX founder Sam Bankman-Fried is an investor in Semafor).
Semafor interviewed a half-dozen GOP senators about crypto on Thursday and only one voiced some criticism of the sector. It was a good day to check in since the Senate Agriculture Committee, which oversees commodities issues and is considering a crypto regulation bill, was holding a hearing on FTX's downfall.
The lone naysayer was Sen. Roger Marshall, R-Kan., a member of the agriculture panel who assailed crypto as "a national security threat" in a brief interview. He went as far to suggest the Securities and Exchange Commission or the Commodity Futures Trading Commission should be allowed to step in and shut down all crypto use.
"Right now, we're not even close to having our arms around it," he told Semafor. "We should be considering a pause using this as a currency."
Other Republicans are still believers in its potential, however. Sen. Tommy Tuberville, R-Ala., another GOP member of the agriculture panel, said the collapse of FTX was "a black eye" for the industry. He said he favors additional regulations, but sounded eager for the industry to bounce back. (He also disclosed that he owns some crypto assets of his own.)
"We gotta get confidence back in people that were in it and want to get in. And once we do that, it'll jump back up," he told Semafor.
— Joseph Zeballos-Roig
To share this story, click here.
It's always important to balance hugs for the French with hugs for the British. That's what President Biden is doing after butter-poached lobster and culotte of beef with French President Macron and hundreds of guests at the White House last night. Today he's shipping up to Boston to meet the UK's Prince William, whose charity is awarding $6 million in Earthshot Prizes to five entrepreneurs who have achieved breakthroughs in climate science and solutions. Why there? Well, Senator Ed Markey, D-Mass. told me that the Prince was inspired by JFK's Moonshot and wanted to do it at the Kennedy Library in tribute to big leaps inspired by the late President.
— Steve Clemons
WHAT THE LEFT ISN'T READING: A former Twitter exec said the platform erred by censoring the New York Post's Hunter Biden laptop story in the runup to the 2020 election. The exchange was with tech journalist Kara Swisher, but widely aggregated on the right.
WHAT THE RIGHT ISN'T READING: Benjamin Netanyahu struck a deal with the far-right Religious Zionism party that would give the party power over construction of settlements in the West Bank.
— with our partners at Ground News
If the North Carolina Republicans behind an upcoming Supreme Court case on redistricting get their way, it may end up being a boon for the Democrats, Princeton professor Sam Wang argues at the Washington Post. The plaintiffs are test-driving a radical legal theory that in essence says state courts cannot stop their legislatures from gerrymandering electoral maps. The issue? Outside of North Carolina, gerrymandering is only banned in blue and purple states. If the Justices accept the argument, it would mostly give Democrats in places like New York and California a chance to wipe Republicans off the map.
Kari Lake, the former local news anchor who lost Arizona's gubernatorial race last month  after going all-in on 2020 election conspiracies, says her defeat is a "sham" and is vowing to challenge the results in court. In response, The Wall Street Journal has served up an editorial picking apart her complaints about election day irregularities while pointing out that she badly underperformed many down-ballot Republicans. The paper's conclusion: She's a sore loser.
If you weren't too busy yesterday gawking in dizzy horror at Ye's Infowars performance, you might have caught the new trailer for the upcoming film "Cocaine Bear" floating around Twitter. Two things: First, this is an example of what people in the movie biz refer to as a "high concept" picture, meaning you can more or less figure the whole plot based on the title (see also: Snakes on a Plane). Second, Cocaine Bear is based very, very loosely on a true story, which Matthew Dessem masterfully explained at Slate when the movie was first announced back in 2021.
If you're liking Semafor Principals, consider sharing with your family, friends and colleagues. It will make their day.
To make sure this newsletter reaches your inbox, add steve.clemons@semafor.com to your contacts. If you use Gmail, drag this newsletter over to your 'Primary' tab. And please send any feedback our way, we want to hear from you.
Thanks for getting up early with us. For more Semafor, explore all of our newsletters.
— Steve Clemons