Drama at OpenAI as founder is forced out, radical libertarian Javier Milei wins in Argentina, and th͏‌ ͏‌ ͏‌ ͏‌ ͏‌ ͏‌
| | | |
| --- | --- | --- |
| Buenos Aires | Beijing | Monrovia |

| | | |
| --- | --- | --- |
| | November 20, 2023 | |

Flagship
The World Today
OpenAI CEO to Microsoft
Milei wins in Argentina
Arab ministers go to Beijing
US reiterates Kyiv support
Liberia's Weah concedes
Taiwan election race begins
Starship launch success
Swift fan dies in record heat
E-bikes reduce oil demand
Australia ruins India's party

The London Review of Substacks, and a book about wildfires wins a prestigious nonfiction award.
OpenAI chief heads to Microsoft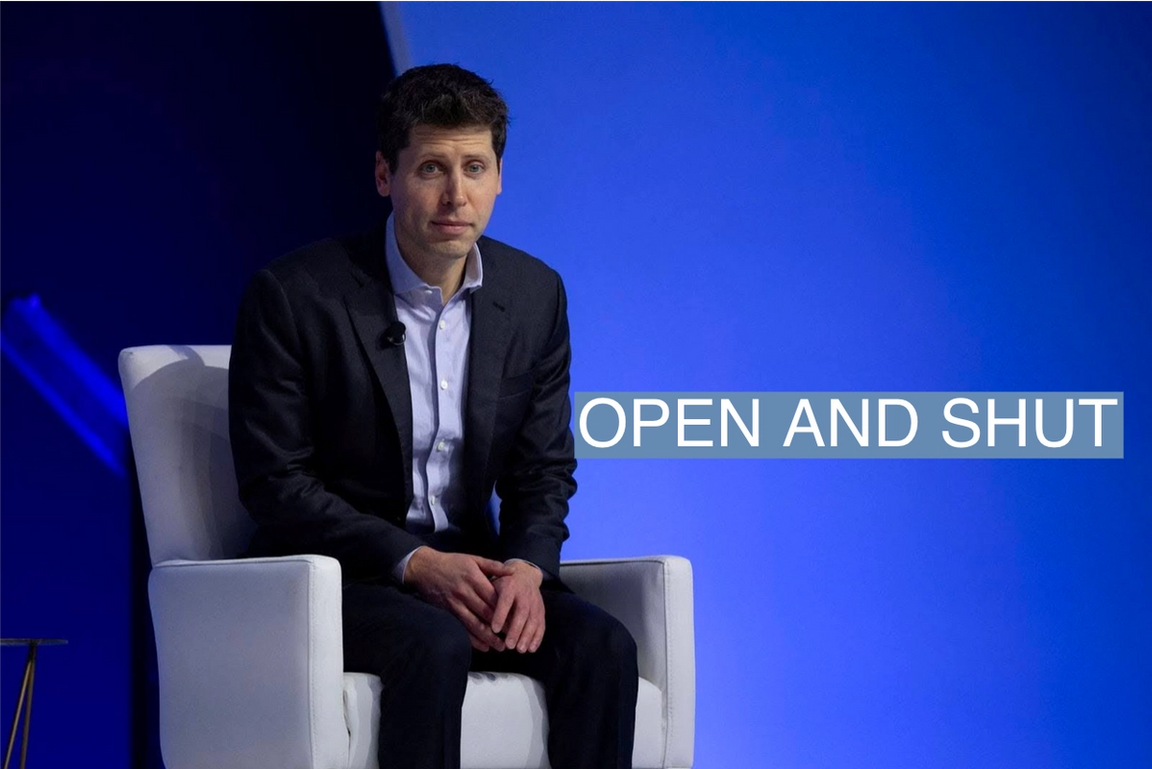 REUTERS/Carlos Barria
Sam Altman joined Microsoft in a shock move after being forced out of OpenAI — the startup he co-founded and ultimately turned into the poster-child of the growing power and potential of artificial intelligence. OpenAI's board fired Altman on Friday, saying only that he had not been "consistently candid," leading to several high-profile resignations and an effort by investors, including Microsoft, and senior OpenAI staff, to reverse the decision. But despite Altman returning to the office, talks broke down and Emmett Shear, formerly the CEO of Twitch, was given the job.
The background appears to have been partly classic boardroom machinations — Altman had been trying to change the board, Semafor's Reed Albergotti reported — and partly fear over the threat of AI: OpenAI was formed in 2015 as a nonprofit, with the explicit goal of making AI safe and beneficial to humanity. But under Altman it became for-profit, albeit governed by a nonprofit board with a duty to uphold its original ideal. Shear, the new CEO, seems more aligned with the OpenAI board on the matter of existential risk: He has said that AI risk should make you "shit your pants" and called for a slowdown in the development of superintelligent AI.
— For more breaking news on Altman's ouster, and its implications for the world of AI, subscribe to Semafor's tech newsletter. Sign up here.
Radical Milei wins in Argentina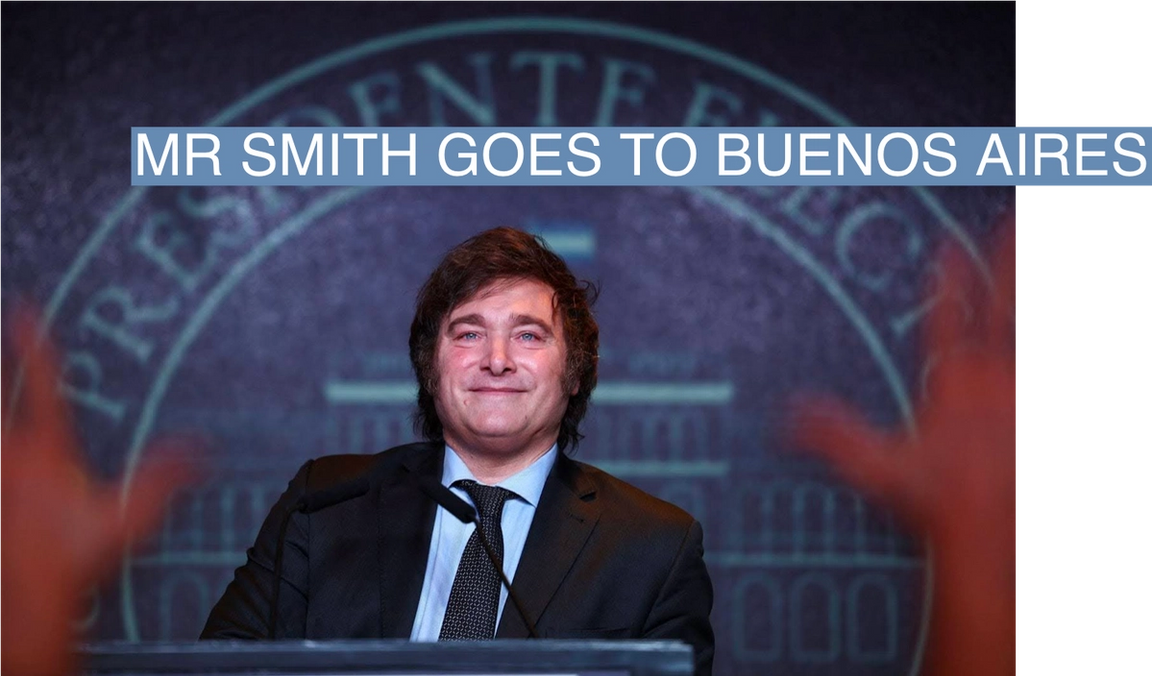 REUTERS/Agustin Marcarian
Javier Milei swept to victory in Argentina's presidential runoff, beating Sergio Massa, the country's economy minister. The radical libertarian, whose proposals include dollarizing the economy and doing away with most of the country's ministries, won by 11 percentage points, shocking most pollsters. Years of economic mismanagement — inflation stands at over 140% — pushed many to vote for the inexperienced Milei, who became a congressman only in 2021. He and his fractious coalition will find it hard to govern, La Nación reported. "He has very little experience, not much of a team, and looks psychologically fragile," an expert on Latin America wrote.
Arab leaders visit China over war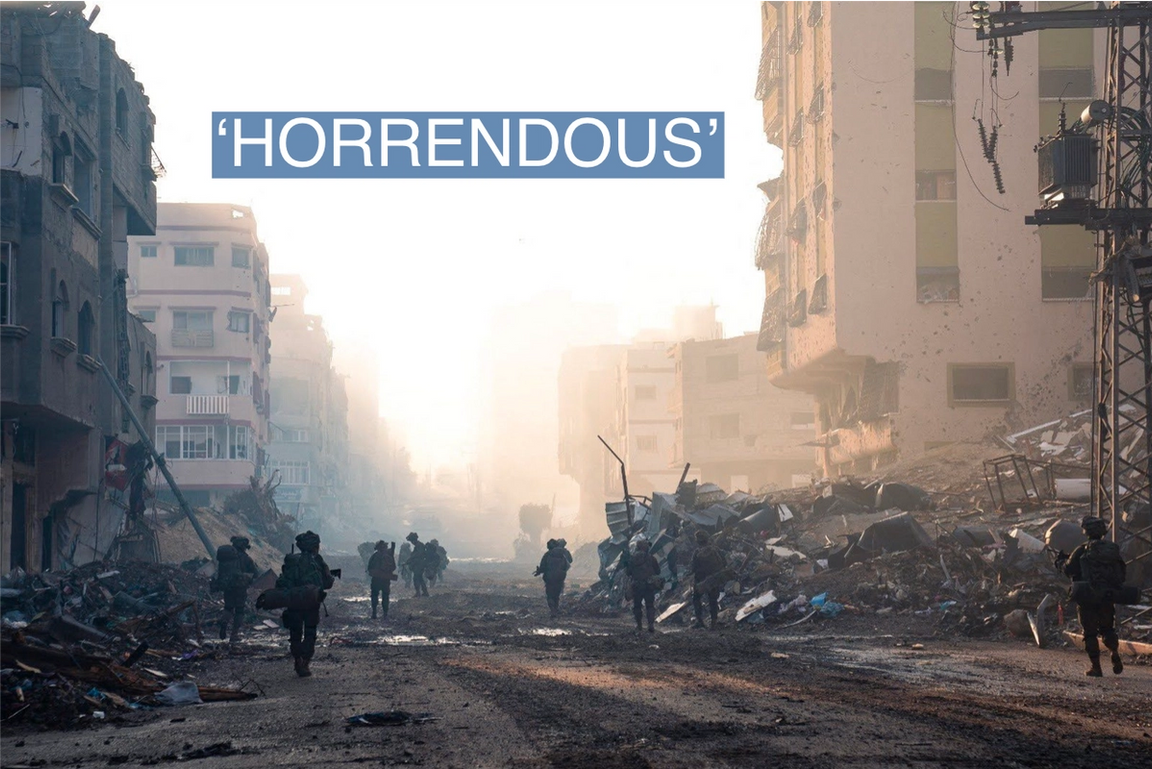 Israel Defense Forces/Handout via REUTERS
Several Arab and Muslim foreign ministers are visiting Beijing to pressure Israel to stop its military operations in Gaza. The talks signal growing Chinese influence in the Middle East, months after Beijing brokered a resumption of diplomatic relations between regional rivals Saudi Arabia and Iran. They came as Israel and Hamas reportedly resumed negotiations over the release of hostages held by the militant group. The war itself showed little sign of stopping, though: Israel said it found a 55-meter tunnel under Gaza's biggest hospital, while the U.N.'s human-rights chief said Gazans had suffered a "horrendous" 48 hours, with the overall toll from Israel's offensive topping 13,000, according to the enclave's Hamas-run health ministry.
US signals Ukraine commitment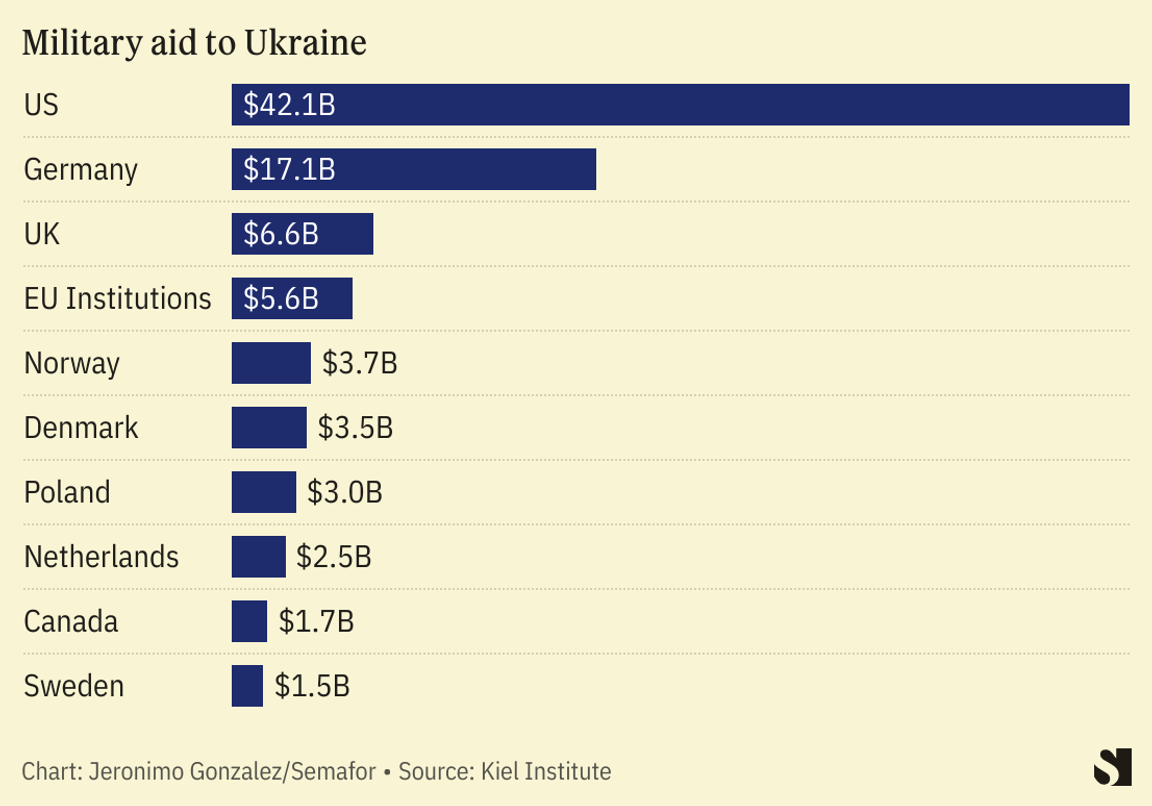 The U.S. defense secretary made a surprise visit to Kyiv, part of a renewed push by Washington to signal commitment to Ukraine despite the Israel-Hamas war. Lloyd Austin's trip came as U.S. President Joe Biden wrote in The Washington Post that his administration "won't back down from the challenge of [Russian President Vladimir] Putin and Hamas." Despite the strong language — and Kyiv's insistence that it can make progress against Russia if it receives additional materiel — support for Ukraine has waned in Washington. Major European nations are trying to fill the shortfall by supplying additional weapons systems, though The New York Times noted that Europe may nevertheless miss its target of sending a million artillery shells to Ukraine.
Rare democratic transition in Liberia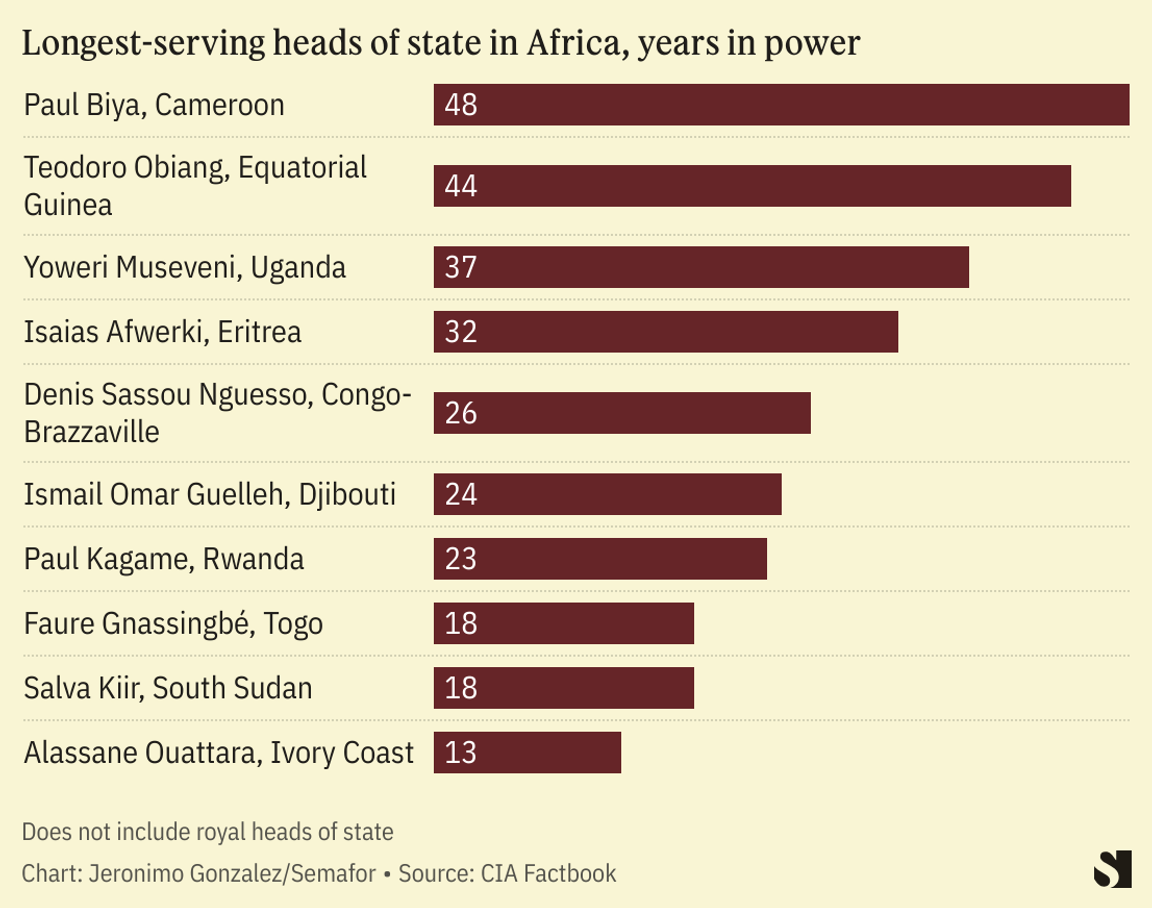 Liberian President George Weah conceded defeat following weekend polls won by a former vice president. Weah's admission triggers only the second peaceful democratic transition in more than seven decades in Liberia, winning him praise across the political spectrum and smoothing tensions in a once volatile country. Peaceful handovers remain relatively rare across the continent: Despite offering as much as $5 million to African leaders who leave power when their time is up, the Ibrahim Prize, created by a Sudanese billionaire, has only been claimed seven times since it was established 16 years ago.
Taiwan battle lines drawn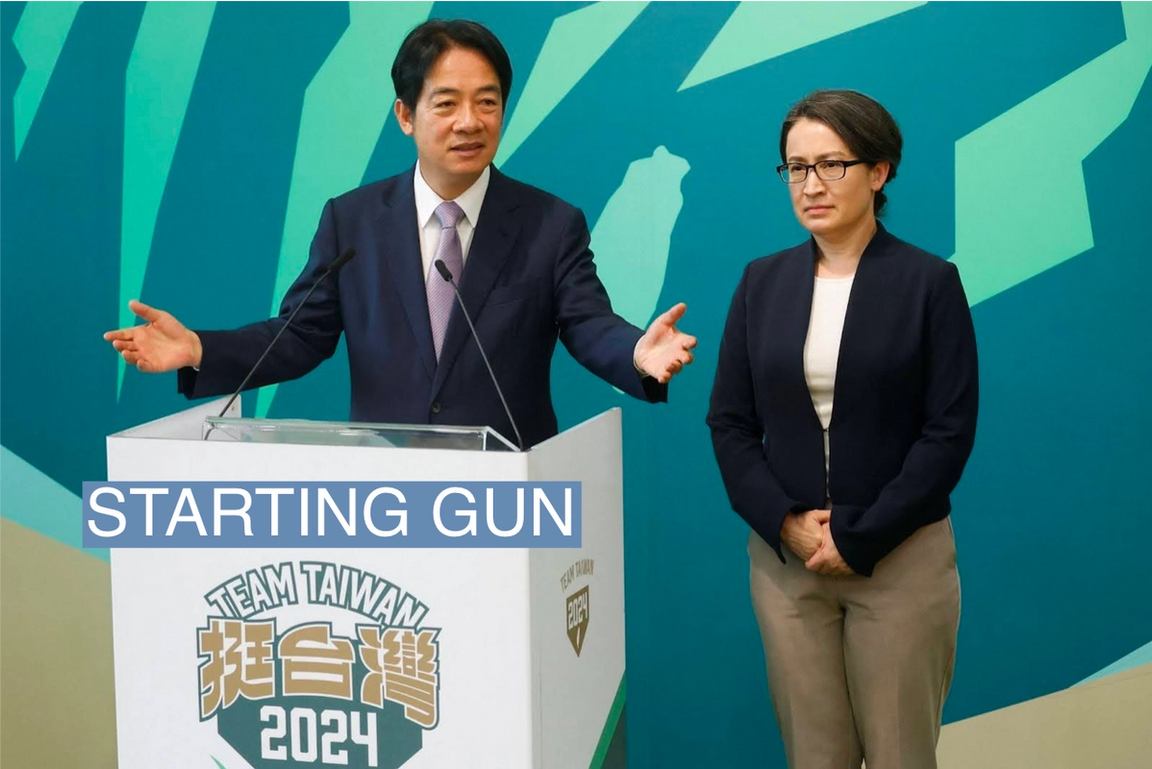 Lai Ching-te, the DPP's presidential candidate, and Hsiao Bi-khim, former envoy to the U.S. REUTERS/Carlos Garcia Rawlins
Battle lines were drawn between Taiwan's ruling party and an opposition coalition as formal nominations for January's presidential elections opened. The island's vice president, and the current favorite, named as his running mate Taiwan's recently resigned envoy to Washington, while two pro-China parties agreed last week to band together to oust the incumbent nationalist party from power. Beijing regards Taiwan as a renegade province, though during a summit last week Chinese leader Xi Jinping told U.S. President Joe Biden that he preferred to peacefully unite with the island — while nevertheless outlining conditions under which he would overrun it by force.
Starship reaches space for first time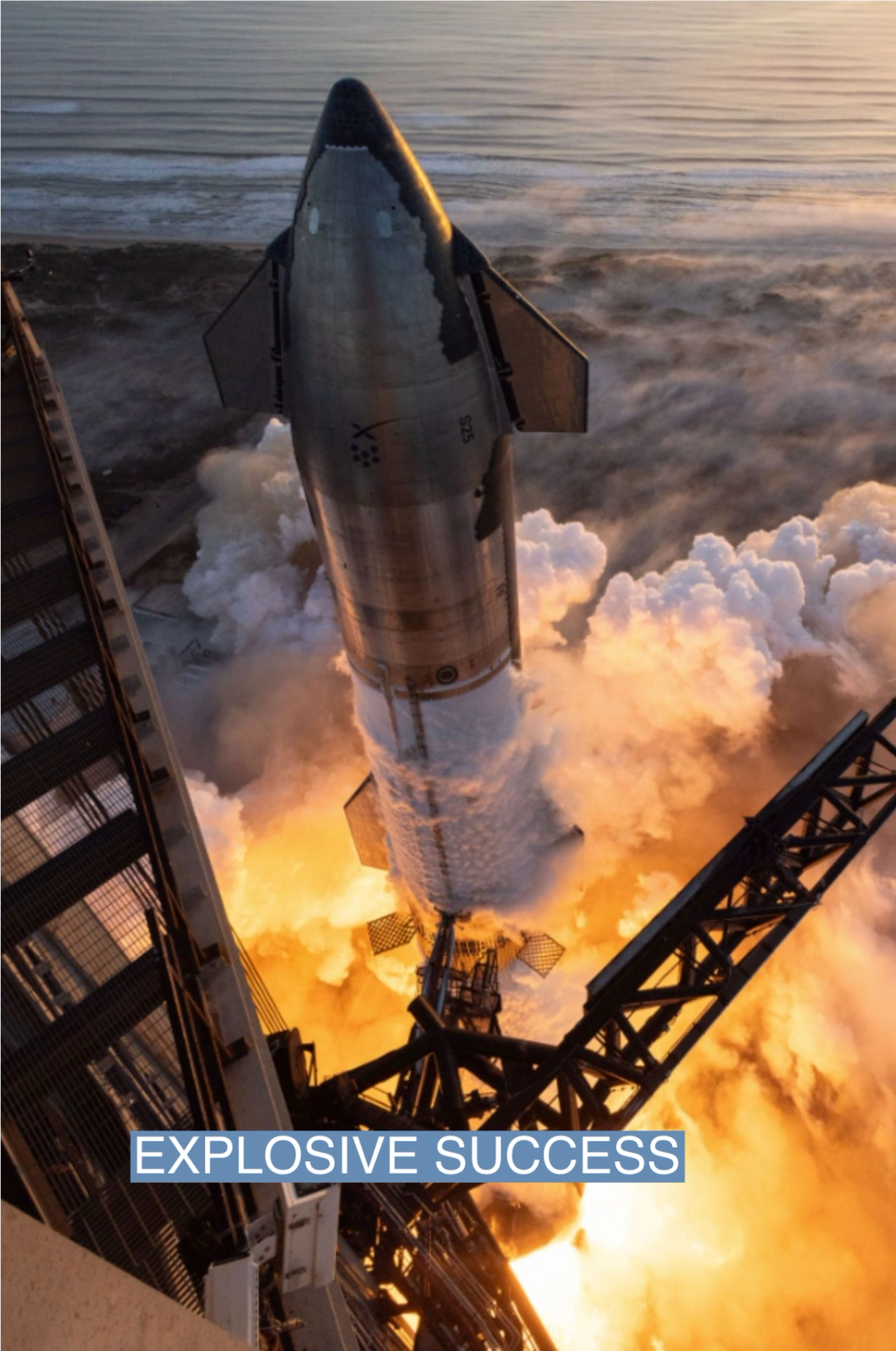 SpaceX/Twitter
SpaceX's Starship, the most powerful spacecraft ever launched, reached space for the first time, although it was lost shortly afterward. An earlier launch ended in an explosion after its first stage failed to separate: This attempt, the second, achieved that goal, flying 90 miles up — well past the accepted point where space begins. Its first-stage booster then tore itself apart, instead of landing as planned, and ground control ordered the main spacecraft to self-destruct eight minutes into the flight for an unspecified fault. But SpaceX's audio commentary called it "an incredibly successful day" despite the "rapid unscheduled disassembly." Other rocket scientists told the BBC that all 33 engines firing successfully and the two stages separating counted as a success.
Swift delays gig after fan death in heat
Taylor Swift postponed her second Rio de Janeiro concert after a fan died at her gig on Friday. Much of Brazil is experiencing a record heat wave: Temperatures reached over 100 degrees Fahrenheit in the stadium and felt much hotter due to humidity and direct sun. Fans were banned from bringing water bottles in, and firefighters said 1,000 people fainted. Swift paused the concert at one point, calling for water to be brought in and throwing a bottle to the front row. "The safety and well being of my fans, fellow performers, and crew has to and always will come first," she said in a statement, adding that she had a "shattered heart."
E-bike growth reduces oil demand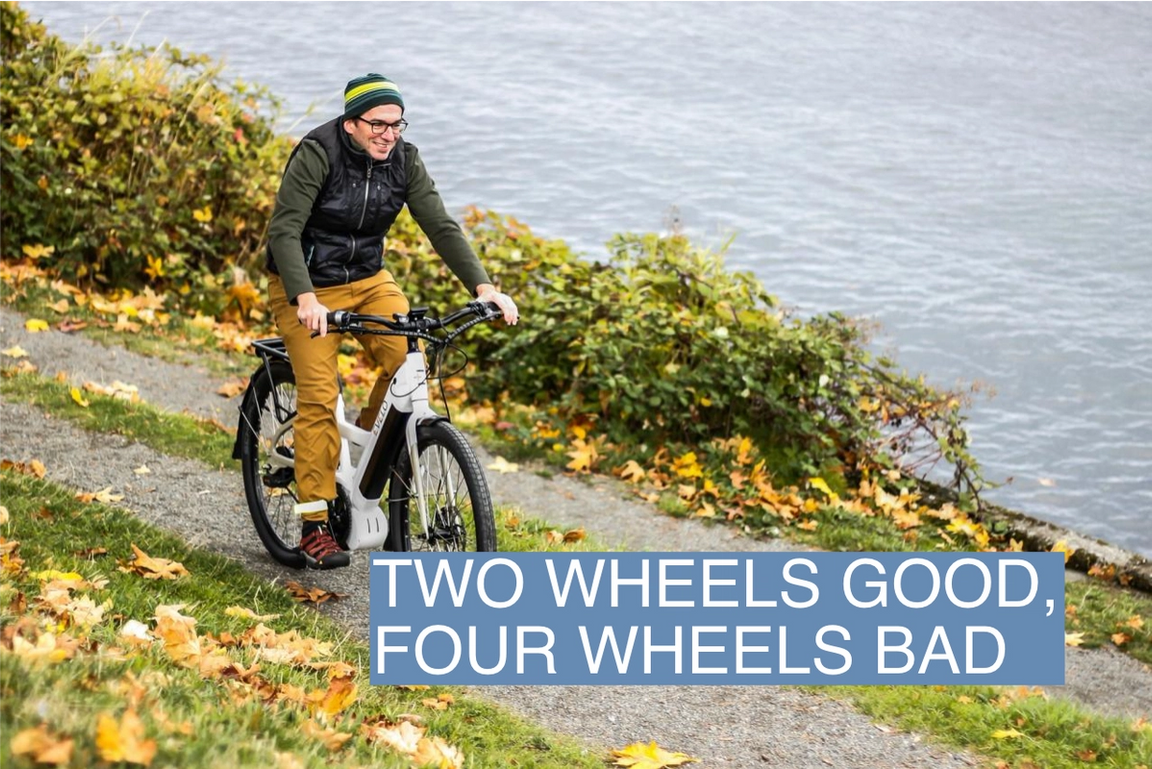 Pexels
E-bikes are reducing global climate emissions more than electric vehicles. There are roughly 20 million electric cars on the road worldwide, but 280 million electric mopeds, scooters, motorcycles, and three-wheelers. Analysis by BloombergNEF estimated that the growth of e-bikes had already reduced oil demand by a million barrels a day — around 1% of total use, and four times the impact of EVs so far. The real value of e-bikes, The Conversation reported, is in short-hop journeys: 60% of U.S. car trips are under 10 kilometers (6 miles). E-bikes, with their smaller footprint and energy demand, are ideal for those journeys.
Australia upsets India in World Cup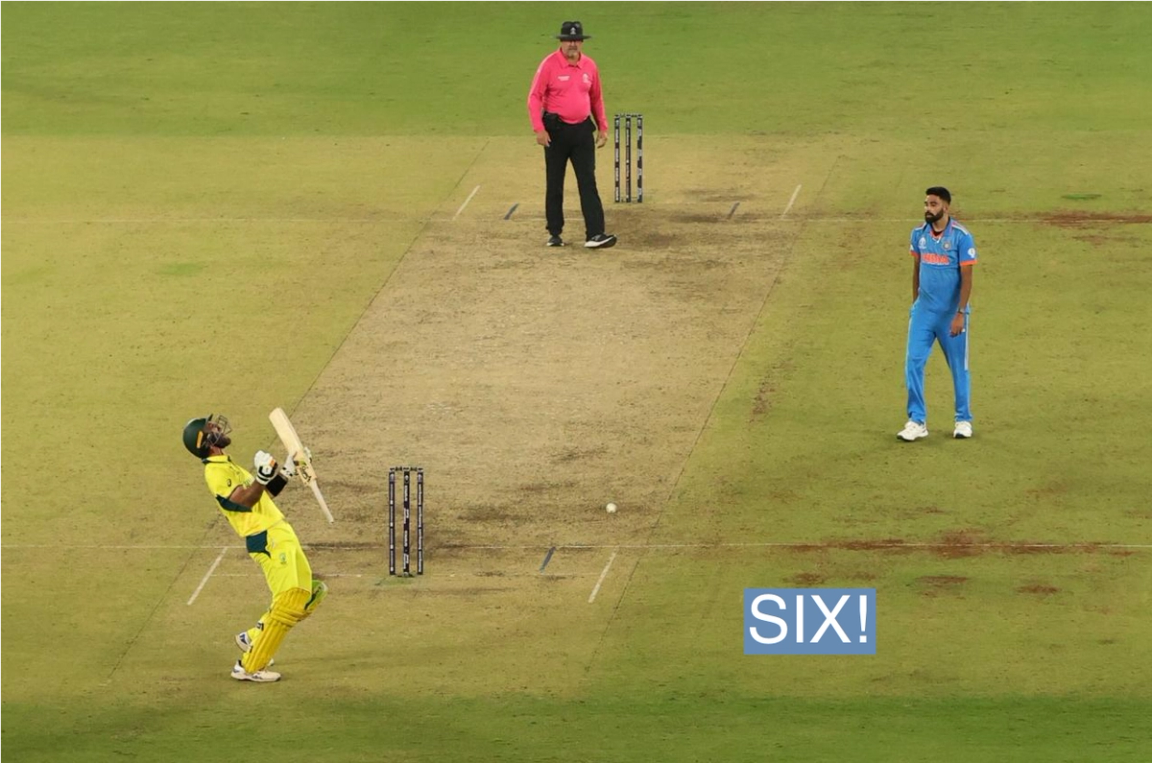 REUTERS/Andrew Boyers
Australia won the men's Cricket World Cup, defeating heavily favored India on its home turf. Batsman Travis Head rescued the visitors after a shaky start by smashing a century to carry Australia to what was ultimately a comfortable victory and the country's record-extending sixth tournament triumph. The upset left a crowd that neared 100,000 at the Narendra Modi Stadium in Ahmedabad silent, having watched India — the dominant side throughout the World Cup to that point — suffer its first defeat of the tournament. "That wasn't supposed to happen," The Guardian's chief sports writer noted. Still, "Events occur. Anyone can lose a game. A World Cup hosted by the sport's overwhelmingly dominant power can still fall the other way."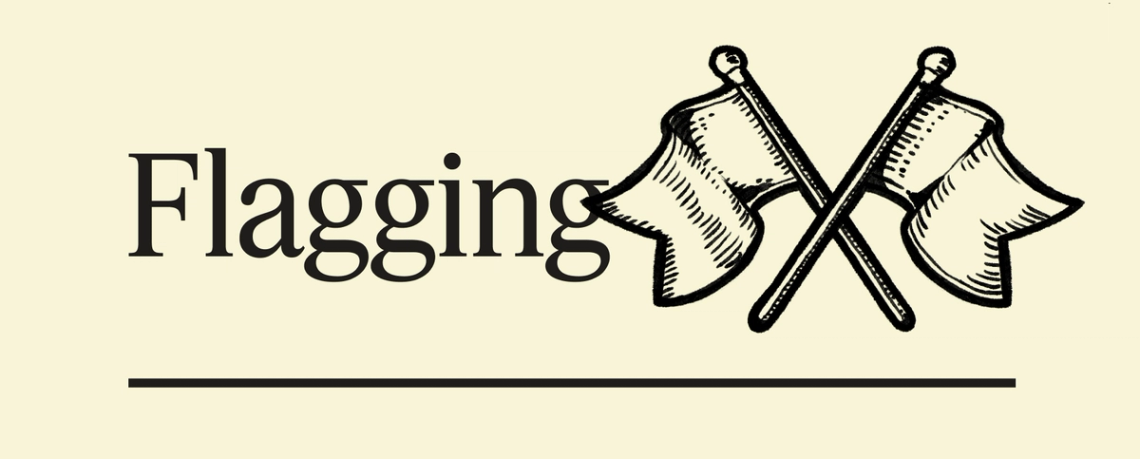 Mexico marks the 113th anniversary of the Mexican Revolution with a parade in downtown Mexico City.
U.S. President Joe Biden turns 81.
The International Emmy Awards take place in New York.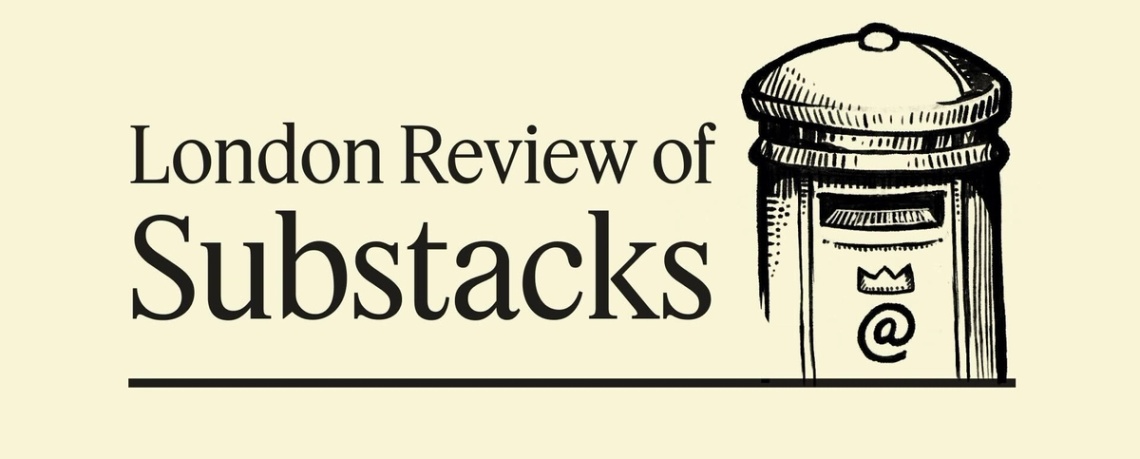 Infinite wisdom
Michael Lewis' Going Infinite: The Rise and Fall of a New Tycoon is a strange book. It tells the story of Sam Bankman-Fried, the crypto billionaire (and former Semafor backer) who, as Lewis was profiling him for the book, turned out to have been defrauding customers and is now facing decades in prison. Lewis seems to have started out by painting a sympathetic picture before being forced to veer into redrawing SBF as a villain when the fraud became known. But the quantum-computer scientist Scott Aaronson loved the book: "It was great partly because of, rather than in spite of, Lewis not knowing how the story would turn out when he entered it."
Aaronson thinks that, had a few details in his life history been different, SBF's story could have gone in a completely different direction. Single conversations — one with an effective altruist that made him an effective altruist, one with a vegan that made him a vegan — seem to have swayed him. "I find it plausible that a single conversation might've set him on the path to a less brittle, more fault-tolerant utilitarianism," says Aaronson. With relatively little having changed, Aaronson believes, "SBF could still be running a multibillion-dollar cryptocurrency empire to this day, without lying, stealing, or fraud, and without the whole thing being especially vulnerable to collapse."
Sing when you're winning
Nick Cave, lead singer of the rock band Nick Cave and the Bad Seeds, keeps a blog in which he answers fans' questions. A 17-year-old named Eugenio had one: What should he do? Eugenio is in a band which has a chance to record an EP, but he's concerned: "I know that my singing could be better and that I could wait a little bit more to create something I'm 100% proud of." Should he wait and get better, or take the chance and sing now?
Cave's answer: "If your intention is to become a singer, Eugenio, then you need to sing and sing and sing some more. Whether or not you go into the studio when you have the chance is not really up for debate. It is your duty to yourself to do so. If you do not take these opportunities to sing, you may forever be that melancholy boy peering through the window of a dream you never had the self-assurance to embody, and there is little more sorrowful in this world than one who forgoes his dreams."
A note of caution
Prometheus stole fire from the gods and was condemned to eternal torture. The story is repeated in many forms — most notably and explicitly in Mary Shelley's Frankenstein; or, The Modern Prometheus. Marc Andreessen, the tech investor and self-described techno-optimist, calls the story an expression of "the fear that technology of our own creation will rise up and destroy us," and compares it to modern fears about technology, technē, in general and artificial intelligence in particular.
But it's a complete misreading of the original myth, says Virginia Postrel. "Prometheus is not a cautionary tale," she says. "Prometheus is punished for loving humankind. He stole fire to thwart Zeus' plans to eliminate humanity and create a new subordinate species … His punishment is an indicator not of the dangers of fire but of the tyranny of Zeus." The Greeks, far from fearing fire and technē, celebrated it; the story is one of gratitude, praising Prometheus for sacrificing himself so that humanity could rise.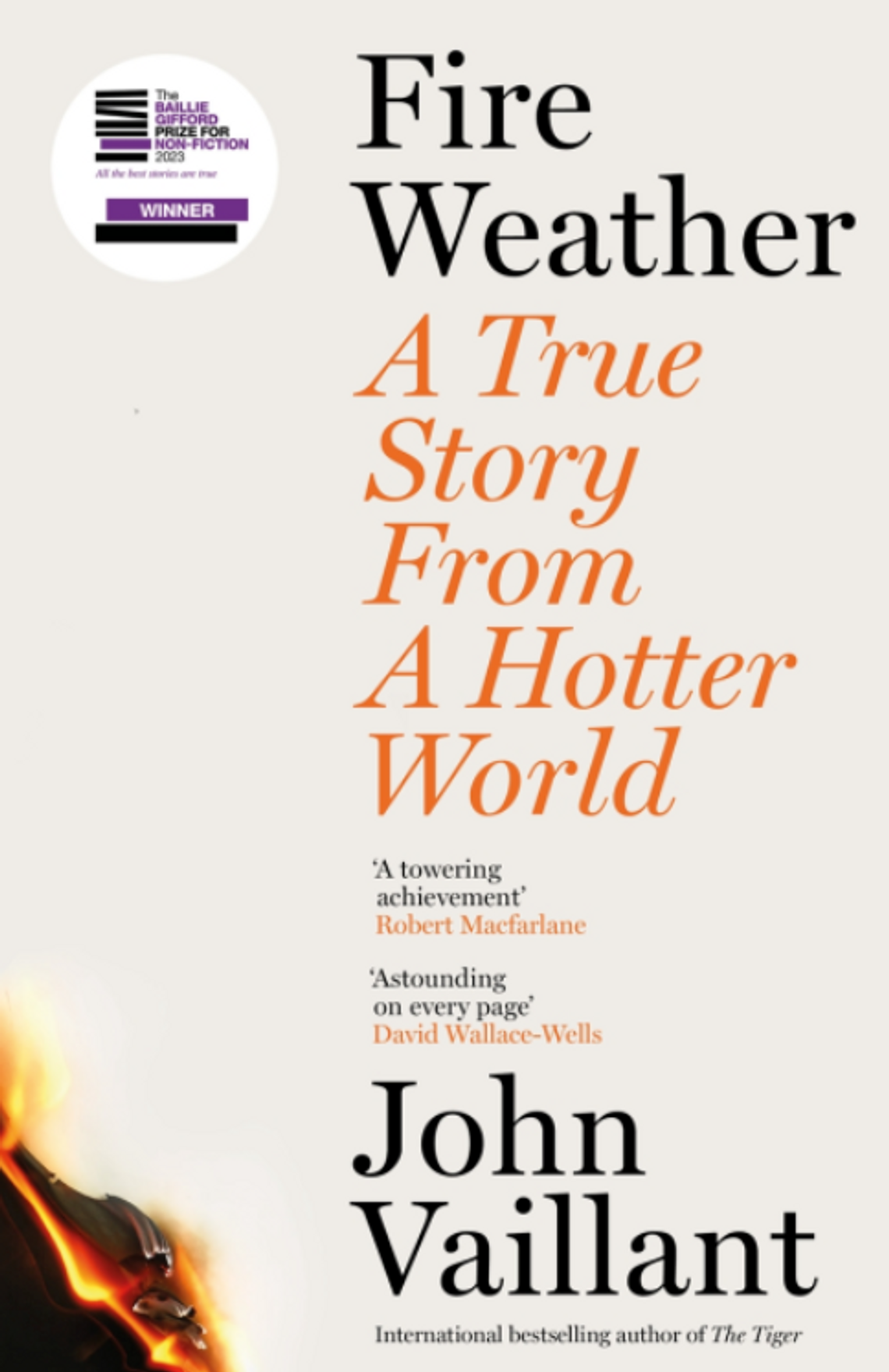 Hachette
A book about a wildfire that devastated a Canadian city won a prestigious British nonfiction award. A judge of the Baillie Gifford Prize said Fire Weather: A True Story from a Hotter World reads "almost like a thriller" as it meticulously weaves together terrifying human stories with scientific rigor, "underscoring our toxic relationship with fossil fuels." The Fort McMurray blaze in 2016 drove 90,000 people from their homes and destroyed 2,400 buildings. John Vaillant's book is viewed as one of the "most important looks at the connection between catastrophic wildfire episodes and the 'new century of fire," Publishing Perspectives noted.

Twitter's CEO has turned the service's Hail Mary bet on an imagined $100 million political advertising business over to someone she trusts: her son.
A powerful right-wing media figure sat down for a friendly interview with Ron DeSantis. He didn't disclose his family connection to the campaign.
There's a giant clock ticking until the next major city runs out of water. Our most ambitious mini-documentary yet looks to lessons from South Africa.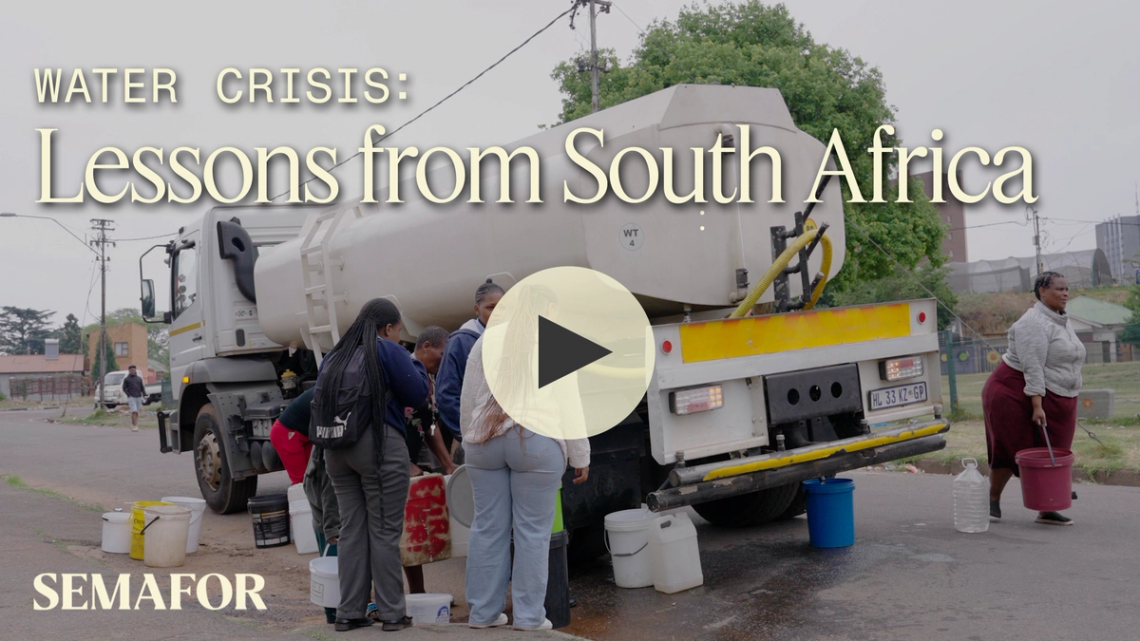 Sign up now to get Semafor in your inbox.
Semafor, Inc. 228 Park Ave S, PMB 59081, New York, NY, 10003-1502, USA