Can a China-friendly coalition oust Taiwan's nationalist party?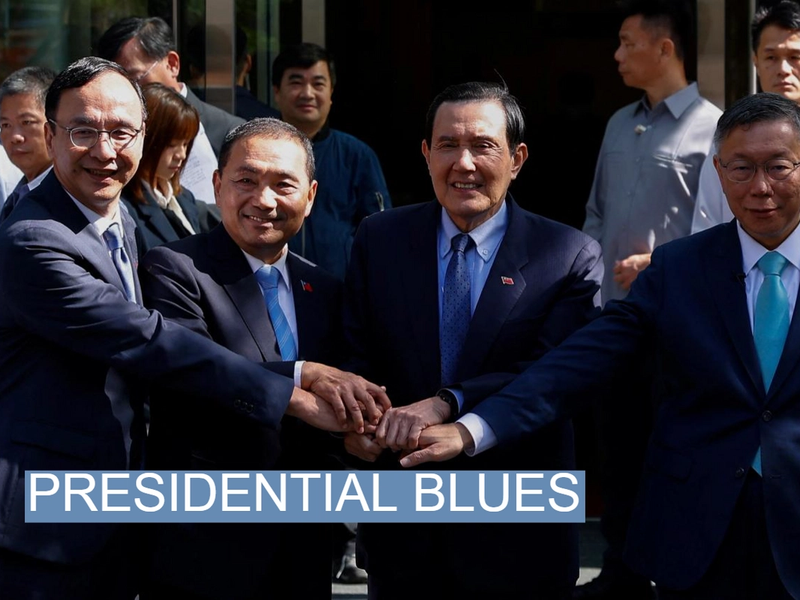 Taiwan's January election just got a lot more competitive.
The island's Kuomintang (KMT), a pro-dialogue party that advocates for closer ties to Beijing, announced on Wednesday that it was entering a "pan-blue" coalition with the centrist Taiwan's People Party (TPP), a move that aims to rally voters against Vice President William Lai, the candidate running on the nationalist and pro-sovereignty Democratic Progressive Party ticket.
The two parties said they will announce their presidential and vice presidential nominees on Saturday, and it remains unclear which of the two parties' candidates, the KMT's Hou Yu-ih and the TPP's Ko Wen-je, will lead the coalition.
The new coalition "suddenly reduced the chances of the DPP staying in power by a lot," writes journalist William Yang. Opinion polls — which have consistently shown a KMT-TPP coalition as being favored by Taiwanese voters — means that "Lai is now more of an underdog in this race," Yang argues. The key question now is whether young voters who supported the TPP's Ko will continue to support the coalition or instead switch to the DPP "due to their skepticism of the KMT." The DPP could still rebound though — Yang writes — if Lai chooses Hsiao Bi-khim, the current Taiwanese envoy to the U.S. as his running mate. As the only female candidate in the race, Hsiao could rally younger voters' support for the DPP and inject more "personality/charisma" to its campaign, he opines.
Although the U.S. has effectively used Tsai's nationalist government to contain China for years, Washington might support a KMT-TPP coalition to get "calmer waters in the Taiwan Strait," writes columnist Alex Lo for the South China Morning Post. With the U.S. dealing with two ongoing wars and China grappling with its waning economy, the two superpowers may want "a break from going at each other's throats," Lo writes. While another DPP presidency would heighten cross-strait tensions, a KMT-TPP presidency would help mitigate some of the geopolitical clashes. But the KMT and TPP still differ greatly on economic goals, and "it will be fascinating to watch how Washington and Beijing will exploit such new political divisions" under a new administration, Lo concludes.
But even KMT candidates know that more dialogue with Beijing does not guarantee China will reconsider an invasion of Taiwan. "The KMT is being very pragmatic" and some party leaders realize that "the best option [they] have is to play for time and see if [they] can outlive China's hardline leader," argue Alice Su and David Rennie for the Economist's Drum Tower podcast. The goal right now is to at least keep dialogue open and not further provoke Beijing, even though pro-dialogue parties also know that they cannot convince the Taiwanese people to trust Beijing's promise that it will respect the island's sovereignty should Taipei agree to a "one country, two systems" setup similar to that of Hong Kong's.