A new paper from Columbia will be grist for political debate.͏‌ ͏‌ ͏‌ ͏‌ ͏‌ ͏‌
| | | |
| --- | --- | --- |
| Sydney | New York | San Francisco |

| | | |
| --- | --- | --- |
| | November 13, 2023 | |

Media
| | |
| --- | --- |
| | Ben Smith |
Welcome to Semafor Media, where it isn't always about us.
We've spent the last few weeks covering the media story of the Gaza war — through the delicate balancing acts of big U.S. media, the role of social platforms and even the restrictions imposed by satellite companies.
But it's also worth acknowledging how little this conflict is about us, even as protesters and politicians in the U.S. focus their anger on the New York Times and TikTok. For instance: Is TikTok the cause of the long-term shift of younger Americans toward the Palestinian cause? Or is the profusion of pro-Palestinian TikTok videos — on a platform that serves you what you already want — the effect of a broader political shift with many causes? It seems to be at least mostly the latter.
Max and I have been asking ourselves those same questions about Donald Trump. It's become received wisdom in U.S. media that cable television and social media gave him a kind of free pass in 2016. Various executives have since repented in public. And there's a new conventional wisdom that journalists shouldn't just let Trump use his outrageous tricks to grab attention and turn us into his megaphones.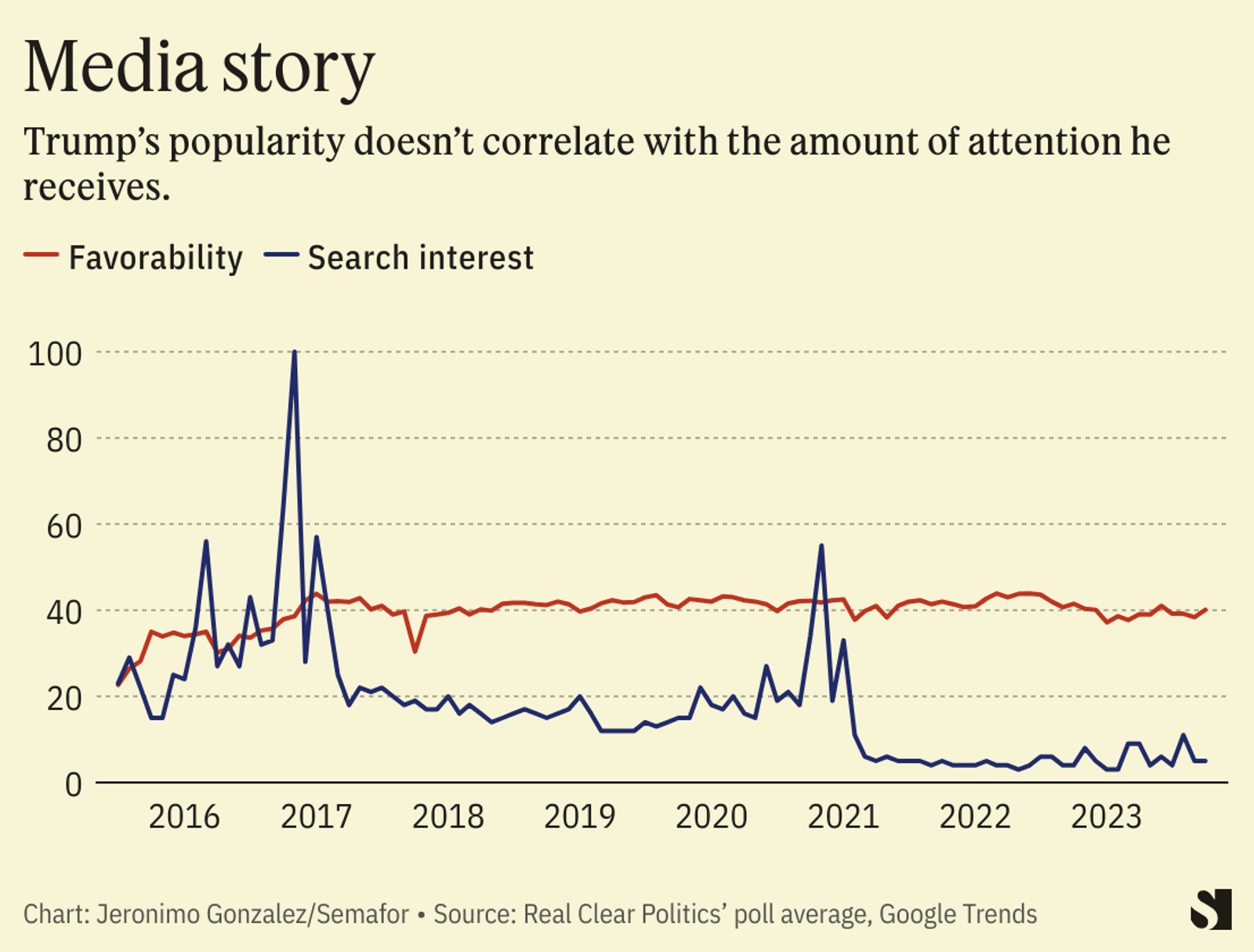 And yet — take a look at this chart. There's no correlation at all between Trump's political standing and how much attention he gets, by the rough proxy of Google Trends. In fact, you sometimes get the sense that media outlets' decisions not to let Trump speak "unfiltered" means ignoring what he says about his plans for the country, should he win again. But that chart should give journalists a little humility about our role in the story.
Also today: Publishers rejoice: A new study says Google owes you a zillion dollars. And: a booming pro-Biden newsroom, a reshuffle at Politico, unrest at the New York Post and a SiriusXM rebrand. (Scoop count: 4)
The most powerful people in the world will meet this week in San Francisco, and Morgan Chalfant will be covering the happenings for our policy-centric newsletter Principals while her rivals write predictable features about the city's "doom loop." Sign up here.

Sign up now to get Semafor in your inbox.
Semafor, Inc. 228 Park Ave S, PMB 59081, New York, NY, 10003-1502, USA