The Scoop
TikTok is currently telling advertisers that #Israel is the top trending news-related hashtag in the U.S., as it faces pressure in the country to explain why pro-Palestinian content is so popular on its platform.
While the hashtag #Palestine goes unmentioned on TikTok's list of trending news and entertainment tags, users globally have created more than twice the number of videos tagged #Palestine than those tagged #Israel over the last several weeks, according to the app's own publicly available data.
The TikTok Creative Center — a portal where marketers and influencers can get information about trending topics and top-performing ads — divides hashtags into different categories based on their related industries, such as Beauty & Personal Care or Business Services.
TikTok listed #Israel as the No. 1 hashtag in the category for News & Entertainment in both the U.S. and globally on Monday, alongside terms like #disneyplus, #1989, and #joker. #Palestine, however, doesn't make it into the top 100 hashtags that TikTok displays. (The #Israel tag disappeared from the global list on Tuesday, after Semafor reached out to TikTok for comment, though it remained on other country-specific lists.)
Over the last 30 days, TikTok users have uploaded 920,000 videos with the #Israel hashtag, compared to 2 million videos tagged #Palestine. Each of those tags has racked up about 20 billion views, though videos tagged #Palestine have been more popular over just the last seven days, according to TikTok's data.
One possible reason for the discrepancy on the trending list is that #Israel, as well as other popular hashtags related to the war, such as #supportisrael and #standwithisrael, are categorized as "News and Entertainment" in TikTok's system, whereas their Palestine-related counterparts #Palestine, #supportpalestine, and #standwithpalestine have no category, meaning they don't show up in TikTok's category-specific "trending" roundups. #Gaza and #freepalestine, two other popular tags, also aren't categorized.
Some pro-Palestine hashtags, however, are categorized as News & Entertainment, including #palestineresists and #palestinewillneverdie, though they have a relatively low number of posts and views associated with them.
TikTok told Semafor that its trending hashtag lists are governed by an algorithm that takes into consideration the number of videos and views associated with a hashtag, as well as other factors. The company declined to comment on how it categorizes hashtags and why several of the popular Palestine-related tags were not labeled as News and Entertainment.
The trending hashtag lists do not have any influence on what users see on their For You pages or other parts of the platform, according to TikTok. The Creative Center where the lists are housed is not marketed as a transparency tool, but as a set of signals that TikTok's multibillion-dollar advertising ecosystem can use to get inspiration and "leverage trends" in their "organic and paid messaging strategies."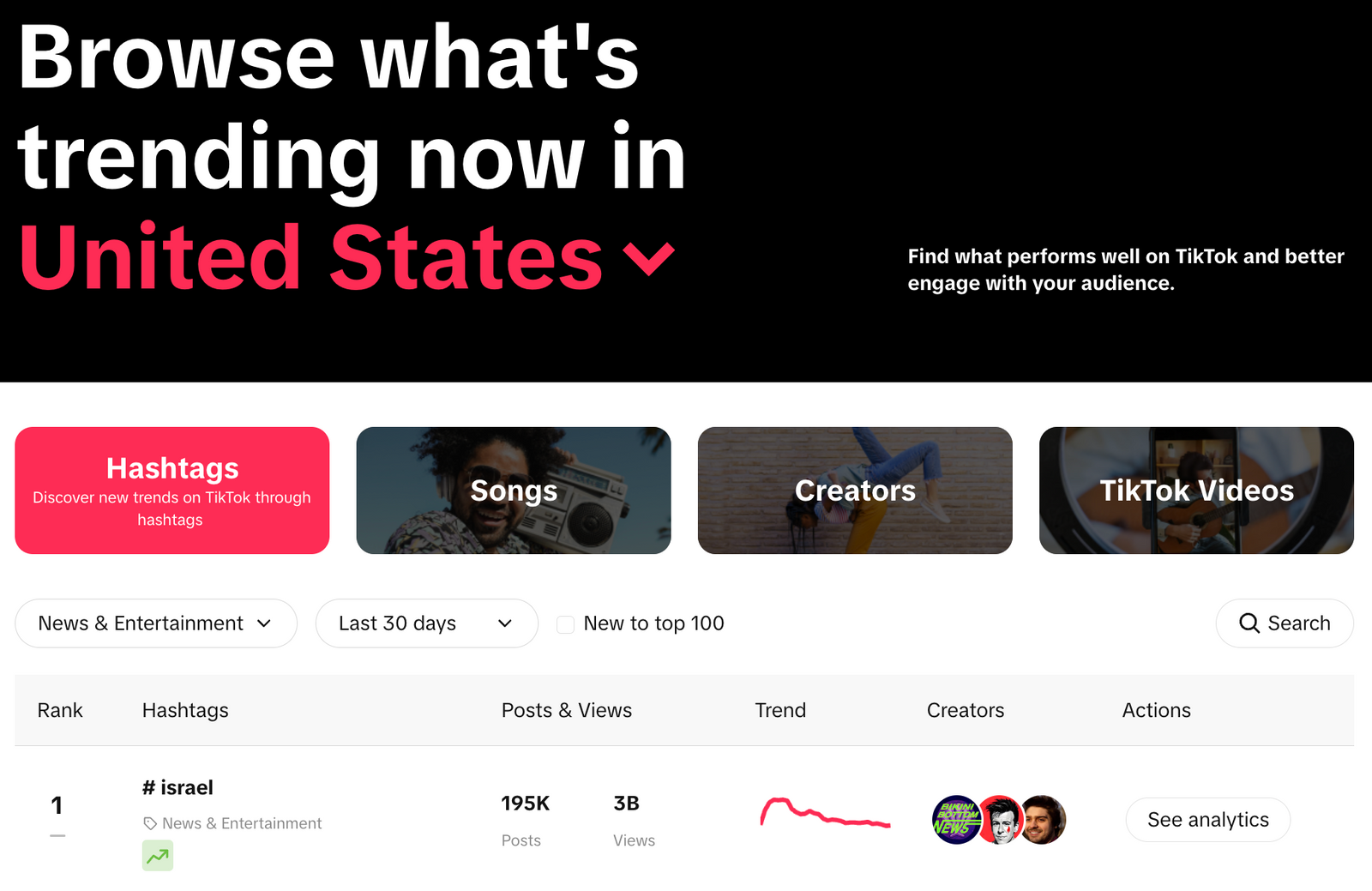 Know More
Since Hamas's Oct. 7 attack on Israel, TikTok has been at the center of a debate over how the conflict is being understood on social media, especially among young people. To get a glimpse into what is being consumed on the platform, a number of journalists and commentators have turned to TikTok's hashtag data.
Last week, TikTok faced allegations from some Republican lawmakers and tech investors that it was using its algorithm to promote pro-Palestine propaganda, based on global data that showed Palestine-related hashtags were more popular than Israel ones. TikTok staunchly rejected those claims. As Semafor reported last week, interest in hashtags related to the conflict is roughly split between both sides in the U.S.
Globally, content on the app may skew toward the Palestinian side because of TikTok's popularity in majority-Muslim countries and the fact that the app is blocked in India, which is largely pro-Israel. Yet in many of the countries where Palestine-related hashtags are especially popular, including Saudi Arabia, Malaysia, and Indonesia, Tiktok lists #Israel as a top trending news hashtag, while #Palestine isn't included.

Notable
TikTok CEO Shou Zi Chew is in Europe this week to meet with top European Union officials about the company's efforts to combat the spread of false information amid the Israel-Hamas war. EU internal market commissioner Thierry Breton said Monday that TikTok must "spare no effort" to fight harmful content.
The world is witnessing a "digital struggle for control of the geopolitical narrative," Rolling Stone wrote. The magazine reported that a group pushing for the return of Israeli hostages has been messaging pro-Palestine YouTube and TikTok influencers, asking them to use hashtags like #HamasisISIS and #StandWithIsrael to raise awareness for the campaign.
"Trending" products on Twitter, YouTube, and Facebook have been a source of controversy for years. Facebook's Trending Topics feature was accused of suppressing conservative news in 2016, setting the stage for "for the most tumultuous two years of Facebook's existence," according to a Wired cover story.