The News
Investors breathed a sigh of relief after U.S. banks largely sailed through the most uncertain three months in recent memory.
Bucking concerns that higher rates would hurt rather than help, interest on loans more than offset what banks had to cough up to keep depositors from fleeing for better rates elsewhere, mostly in money-market funds that better track what money really costs these days.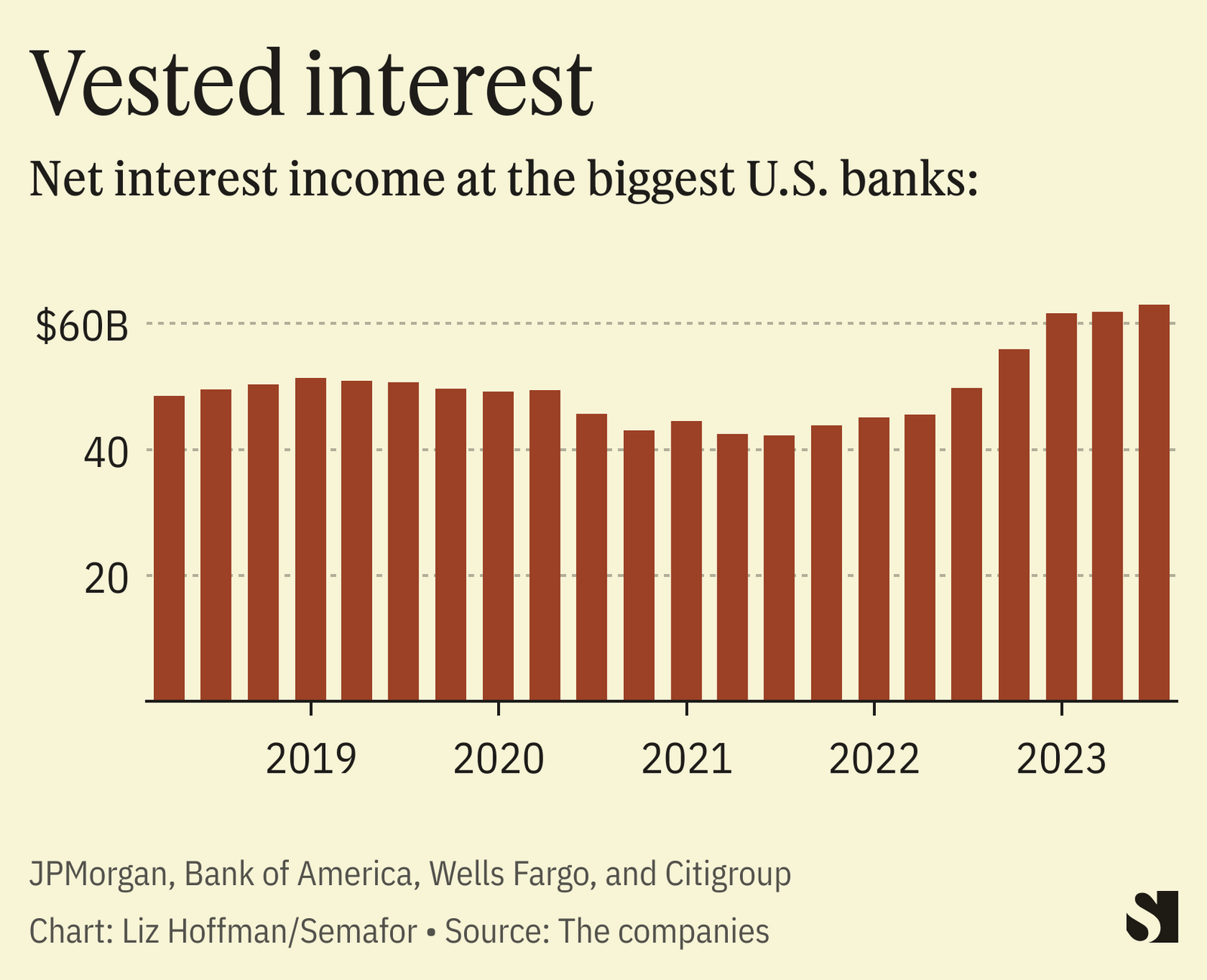 They provided answers to big questions hanging over the economy: Are companies borrowing to invest? (Yes) Are consumers finally stopping their post-pandemic spending spree? (Not really) What is everyone's tolerance to pay more for money that used to be free? (High)
That helped paper over Goldman's kitchen-sink quarter. As first reported last week by Semafor, the bank posted deep losses on its consumer-lending business and commercial real estate investments, and a return on equity of just 4%, compared to 20% at JPMorgan. Shares rose 1% Wednesday anyway.

Liz's view
Banks aren't the proxy for the economy they used to be. In the same way that "As goes GM, so goes the nation" has outlived its usefulness as a proxy, it's time to stop looking to commercial banks to understand how the country is doing.
A trillion dollars of corporate debt is held by private lenders, and so when default rates spike — which is already happening, and which S&P Global expects to peak early next year — it won't be seen on bank balance sheets.
Apollo, once a buyout firm, is basically a bank wrapped around an insurance company. Its money is locked up for longer, mostly in savings products that aren't as liquid as bank deposits, meaning it can make longer-term investments without worrying about a run.
And even if you look to banks as bellwethers, forward-looking metrics are worse than the latest earnings suggest. Standards for new loans are getting tighter at a rate not seen, except for the early days of the pandemic, since 2008.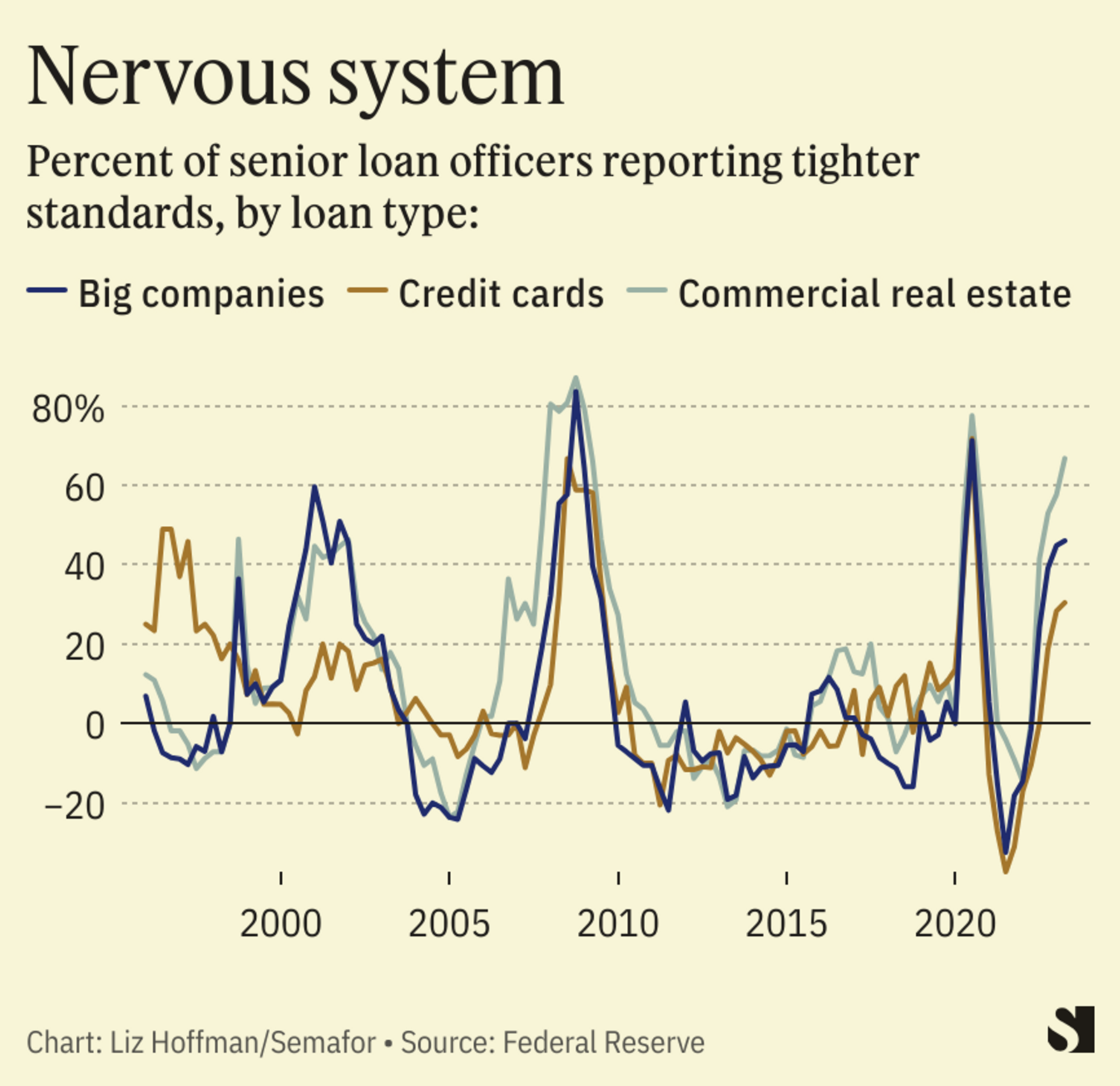 And there's likely more trouble among regional banks ahead. Deposits have stabilized, but are more expensive — Western Alliance has added $3.5 billion since March but is paying 25% more for its overall funding — which means that while midsized lenders might not have an existential crisis, they have an earnings problem that's only going to get worse.
Blind to the fact that they were getting a pittance in interest for years, customers have woken up to the pull of higher rates elsewhere, mostly in money-market funds.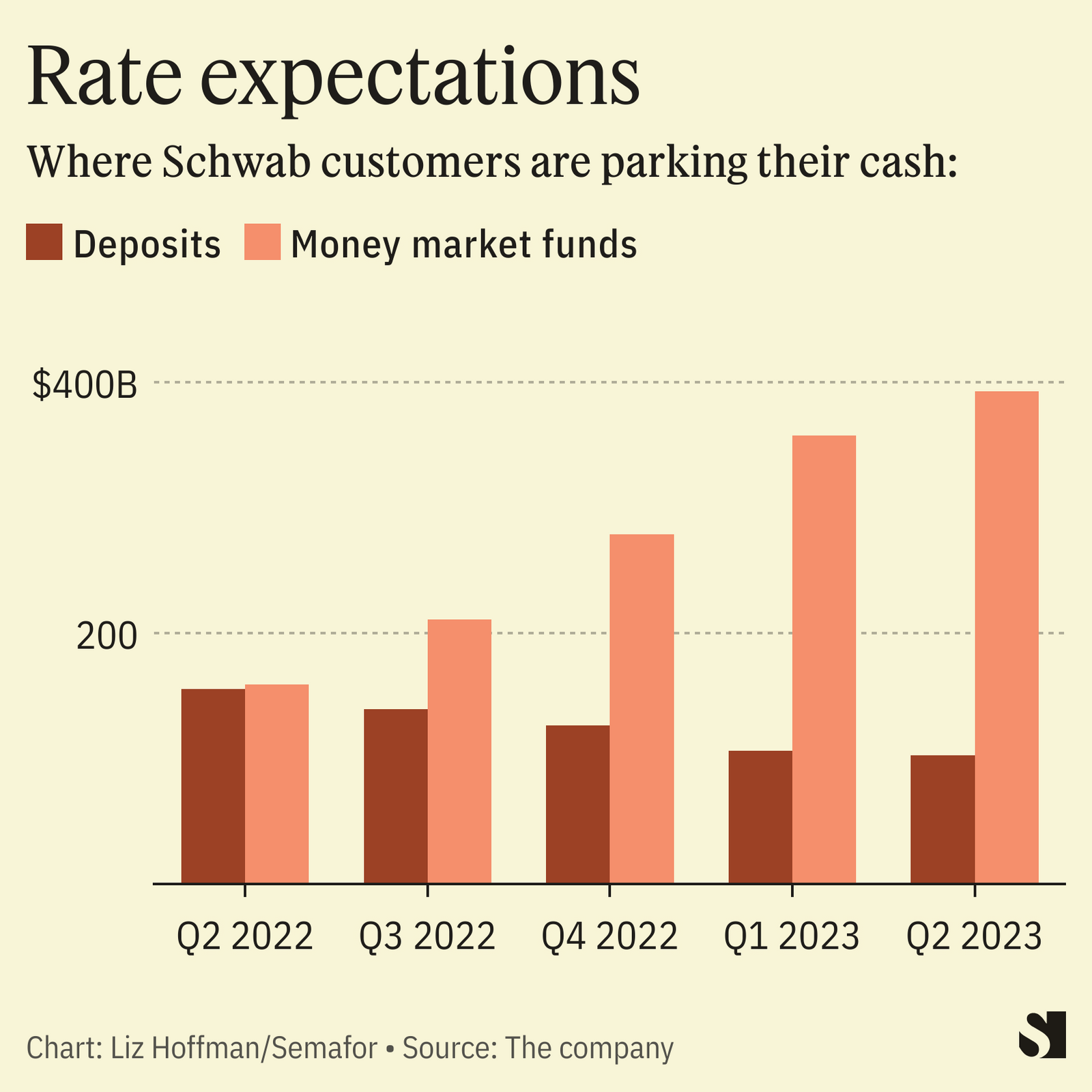 Room for Disagreement
Washington deemed midsized banks important enough to save, deciding this spring that cascading failures among lenders most Americans had never heard of posed a "systemic risk" to the U.S. economy.

Notable
Banking customers have "woken up", said Bruce Van Saun, CEO of Citizens Financial, which is paying 50 basis points more for deposits than it was a year ago
Insurance regulators are keeping a close eye on Apollo, Bloomberg reports.