The News
LAGOS, Nigeria — Tech investors have become more rigorous about due diligence, leading to a sharp slowdown in fundraising by African startups.
The trend has exposed the reliance of African tech companies on foreign capital.
The continent's tech companies announced investments totalling $1.3 billion between January and March, including money realized from exits. But it was 29% lower than the amount of the first quarter of 2022, says The Big Deal, a consultancy that tracks startup fundraising in Africa. In March, African startups announced $66 million in raised capital, the lowest since August 2020, the consultancy said.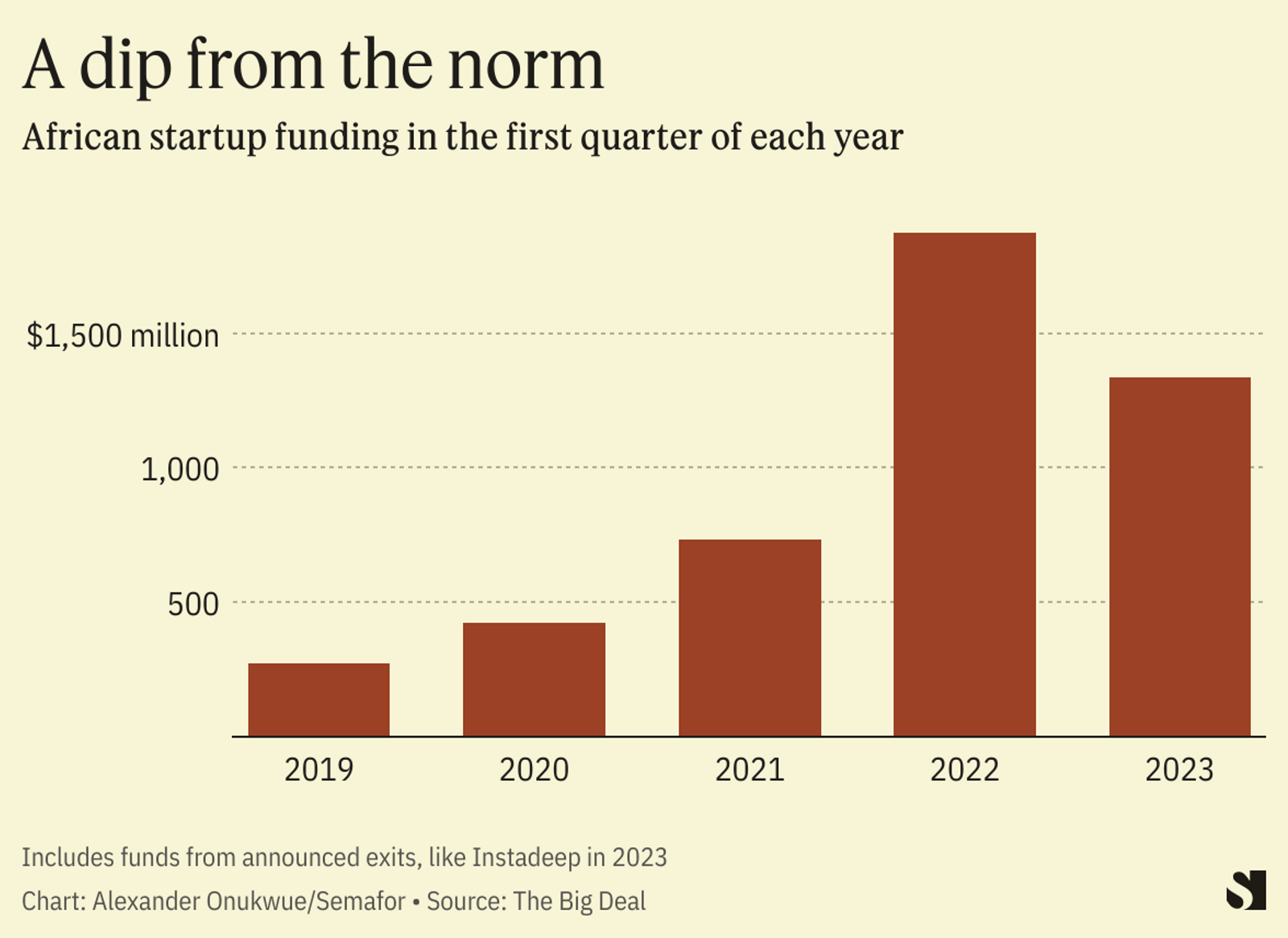 The contraction followed a slowdown in the U.S. venture capital market and a more thorough due diligence process to dealmaking across Africa over the last year, three investment firms told Semafor Africa.
"The difference is night and day. The process is more thorough," said Peter Kisadha, founder of Steward, a new Ugandan digital loans startup to private schools. Kisadha, previously an analyst at investment fund Future Africa, said early stage fundraising conversations are now "slow." He added that investors are now demanding more information about business models and revenue generation plans, plus board rights.

Alexander's view
Due diligence changes are part of an ecosystem correction that started months ago as dealmaking in the U.S. venture capital market started slowing down. American investors are on course to raise their lowest capital since 2017, according to the data tracker Pitchbook, based on this year's first quarter. For Africa, there is "definitely some knock-on effect kicking in from the global slowdown," said Justin Stanford, co-founder and general partner at 4Di Capital in South Africa.
When ten African startups each raised $100 million or more two years ago, nine of their deals were led by firms of the size of Tiger Global and SoftBank. Two financiers from that frothy year — SVB Capital, and the failed cryptocurrency exchange FTX  — have since hit hard times.
African investors, for better or worse, look to these bigger names for signals. "If later stage investors are not investing, early-stage players will cut down on their activity," said Dayo Koleowo, partner at investment company Microtraction in Nigeria. The consequences for startups heavily dependent on cash range from layoffs to seeking new ownership and in some cases shutdown, Koleowo said.
Alerzo, a Nigerian consumer goods distributor, is an example of how a funding crunch is unfolding. It set up 40 warehouses and hired rapidly after raising $10 million  in 2021. However, the company, which previously planned to raise $100 million for expansion, temporarily closed a third of its warehouses in February and laid off 600 workers.

Room for Disagreement
Dario Giuliani, whose Briter Bridges consultancy reported a 16% year-on-year reduction in the number of deals by African startups in the first quarter, said months-long lags between deal closures and announcements make it difficult to make broad statements about a funding decline.
"It's evident that activity tends to increase later in the year, and it will be key to monitor trends as we enter the second quarter to see whether the continent is headed towards funding slowdown or decline," Giuliani said.

The View From Washington
The U.S. set up the International Development Finance Corporation (DFC) in 2019 to provide finance in the developing world and counter Chinese investment. At a time of slowing activity among private investors, government-owned firms like DFC could provide alternative funding options.
In March, DFC announced a $25 million equity investment to fund climate change and agriculture solutions in sub-Saharan Africa, to be managed by Novastar Ventures, an experienced Africa investor. Andrew Carruthers, the firm's managing partner, said its interest in climate and agriculture investing is based on "immense population growth, rapid urbanization and the vast amount of arable land on the continent."

Notable
Funding in African tech startups fell by 57% in the first quarter compared with the same period last year, according to Disrupt Africa, a publication focused on that sector. Its findings support the overall trend of lower funds raised identified by The Big Deal and Giuliani, however it included a smaller range of deals.
French investor Partech raised $263 million for the first close of its fund to continue investing in African startups. It is by some estimates the largest fund of its type.