The News
Nearly 20,000 people have been killed and thousands more injured in Turkey and Syria, after two powerful earthquakes struck southern Turkey on Monday. The earthquakes are considered to be world's deadliest in more than a decade.
Turkish President Recep Tayyip Erdogan, who visited the epicenter of the quake for the first time on Wednesday, called the situation "the disaster of the century." He urged people to "show patience" amid mounting criticism of the government's slow response to the tragedy.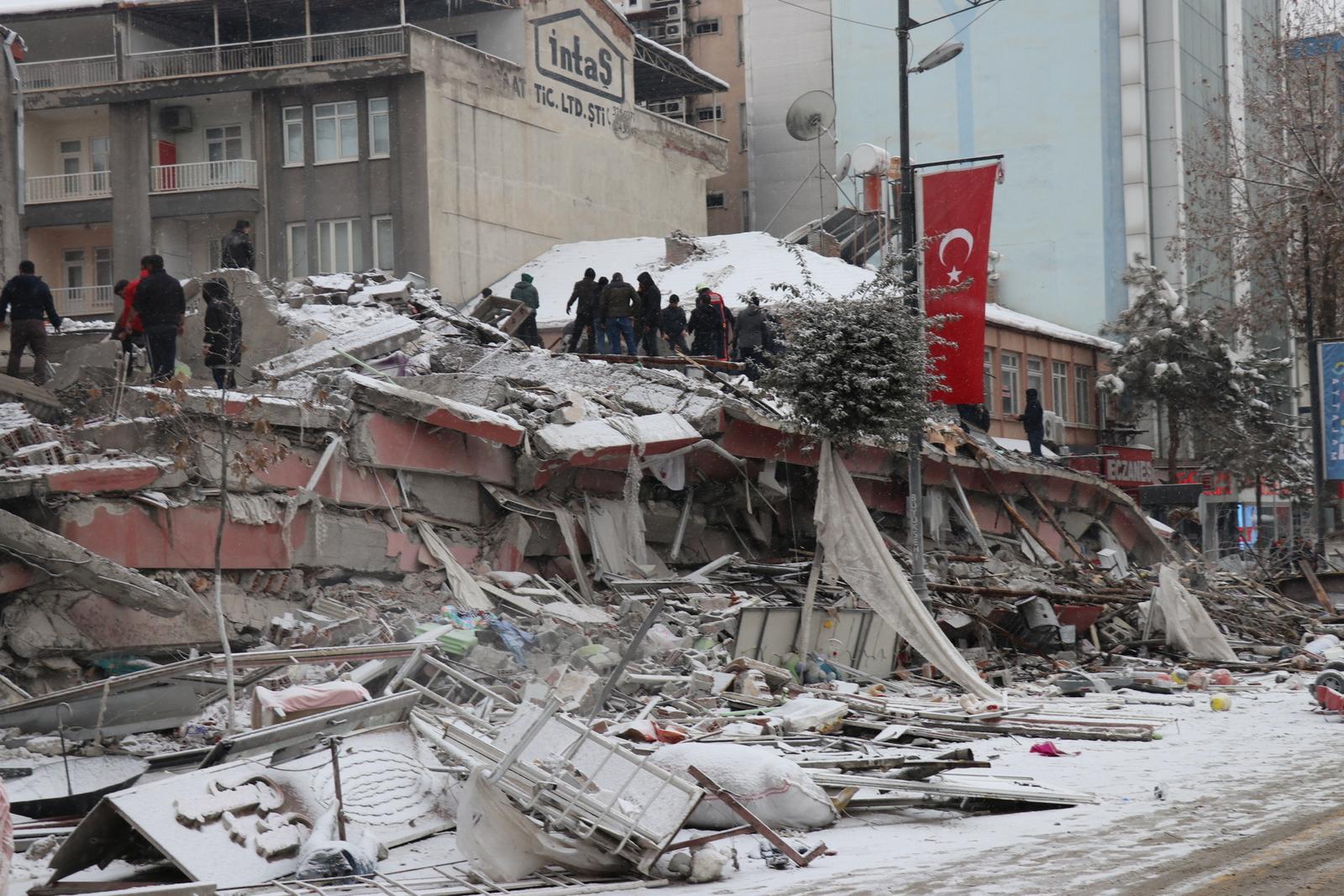 Freezing temperatures have hindered search and rescue missions for the past three days, while efforts to deliver aid from southern Turkey to northern Syria were disrupted by infrastructure damage, political disputes, and a brief social media outage.
On Thursday, a U.N. aid convoy crossed the border from Turkey to Syria carrying hygiene supplies and tents. However, the White Helmets — Syria's Civil Defense — said they were "disappointed" that the convoy did not contain "special aid and equipment" for search and rescue efforts.
According to the latest death toll, more than 16,000 people have died in Turkey, while at least 3,000 people were killed in Syria. The World Health Organization estimated that the death toll will increase "eight fold" on the initial count over the next few days.
The first 7.8 magnitude quake struck near the Turkish city of Gaziantep early in the morning when people were asleep, with a second 7.5 magnitude quake striking some 80 miles north of the epicenter, at around 1.30 p.m. local time.
Rescue teams from across the world, including Britain, India, and Japan, have been deployed to assist the two countries.
On Wednesday, the Syrian government called upon the EU for assistance. However Brussels, which doesn't recognize Bashar Assad as Syria's head of state, said aid must go to both government and rebel-controlled areas.

Updates
16,546 people have died in Turkey, the Wall Street Journal reported, a figure expected to rise.
At least 3,162 have died in Syria, according to the White Helmets.
More than 49,133 people are wounded in Turkey. Syrian authorities say more than 2,700 people are injured.
Up to 23,000,000 people could be affected, including 5,000,000 in vulnerable populations, the World Health Organization warned.
Nearly 6,000 buildings in Turkey have been destroyed.
Tremors were felt in Turkey, Syria, Lebanon, Cyprus, and Israel.
There have been more than 1,117 aftershocks, Turkey authorities said.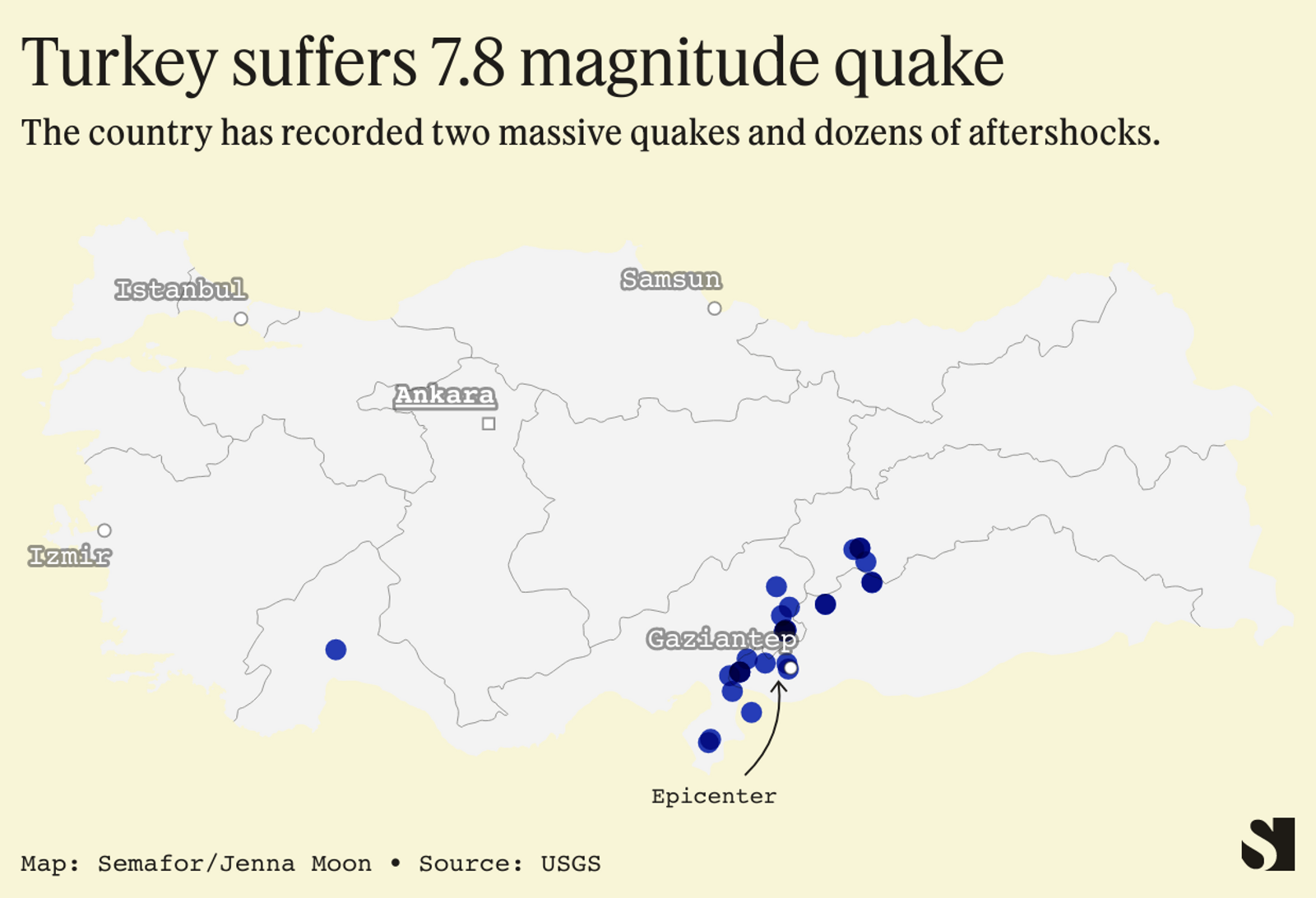 Know More
The first quake's epicenter was near the southeastern Turkish city of Gaziantep, home to around two million people, including one of the highest concentrations of Syrian refugees in Turkey. As of data collected in 2021, nearly 500,000 refugees had resettled in the province.
Drone footage from earlier in the week shows captured the utter devastation of the earthquakes.
Syria's White Helmets — a group consisting of 3,000 volunteers — have reported that the northwestern part of Syria is in a state of "catastrophe" following the quake as they try to rescue people still trapped under the rubble.
Several heartbreaking photos and videos of survivors and the efforts of search-and-rescue teams were widely shared online.
Many shared this gut-wrenching photo of a father, Mesut Hancer, holding his 15-year-old daughter Irmak's hand, while she was crushed to death under rubble.

International Response
Turkey called on the international community to offer assistance following the quakes, and multiple world leaders have pledged support.
Rescue teams have been dispatched to Turkey from several European countries, including Bulgaria, Croatia, France, and the Netherlands.
On Thursday, the U.S. announced an initial $85 million package for emergency relief, including food, winter supplies, safe drinking water, and sanitation assistance to those affected in Turkey and Syria.
The United States Agency for International Development's Disaster Assistance Response Team (DART) was also dispatched hours after the earthquakes, and has been assisting in search and rescue missions in affected areas in Turkey.
Despite tense relations between Turkey and Greece, Athens has also offered to send a transport aircraft to the affected region, along with dozens of members from the Greek fire service's special disaster management unit.
On Wednesday, Syrian state media reported that rescue flights carrying aid from Iraq, Iran, Jordan, UAE, and Egypt were arriving in the country.
Ten units comprised of 300 people from the Russian military have been sent to Syria to help search for survivors among the rubble. The Kremlin has also set up stations to distribute humanitarian assistance. Russia, one of Turkey's largest trading partners, has also offered to help the country.
India's Prime Minister Narendra Modi said that his country would send medical squads and search and rescue teams to Turkey, while Japan will send 75 of its rescue workers.
On Thursday the World Bank announced that it would send $1.78 billion in aid to Turkey.