The News
Countries around the world have dispatched more than 24,400 emergency personnel to assist in rescue efforts in Turkey. But in northern Syria, receiving aid is complicated by politics and logistics.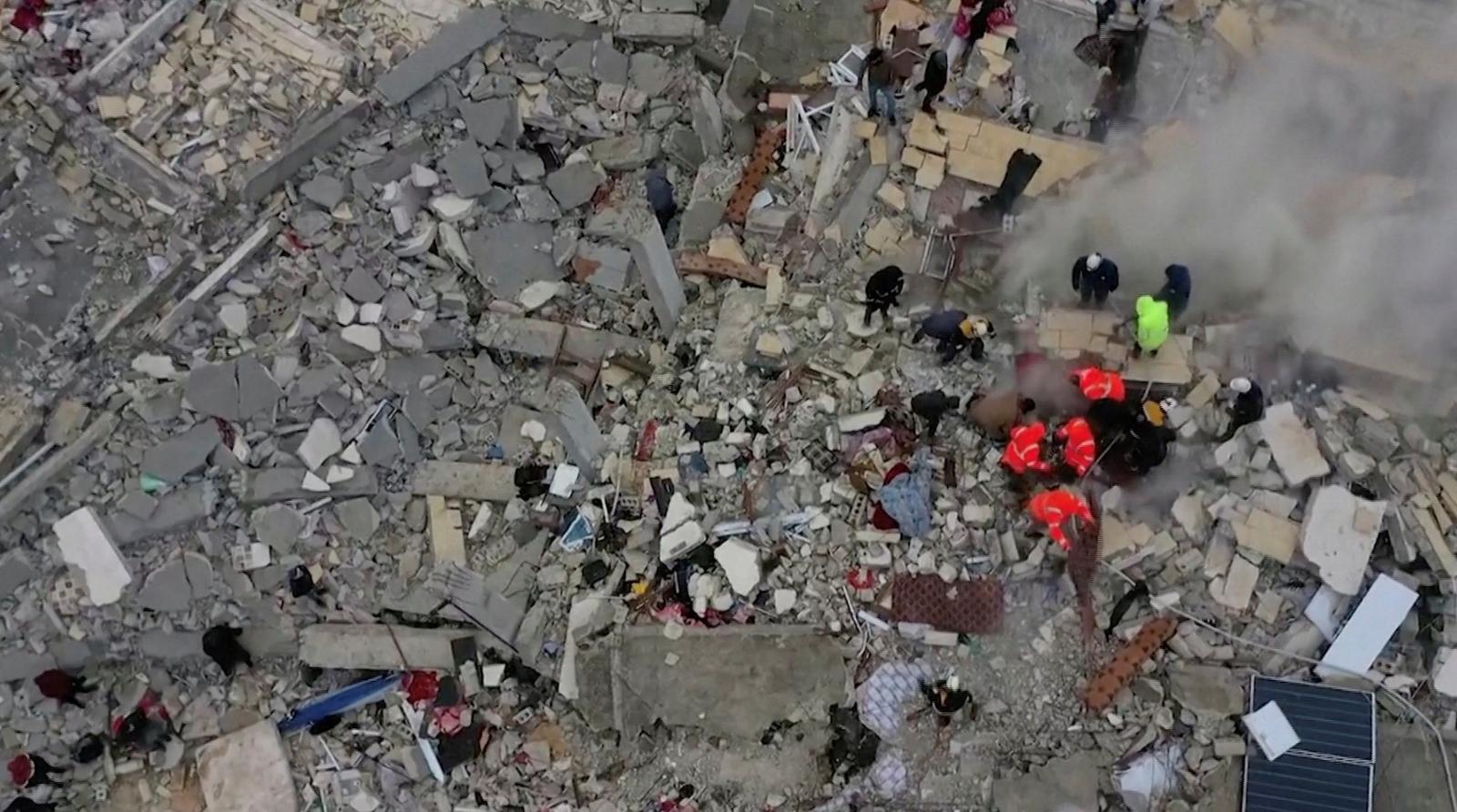 Areas in northern Syria hit hard by Monday's earthquake are divided between the remaining rebel-held enclave and some government-controlled territory. Consisting of roughly 4.5 million people, this population lives in extreme poverty — in tents or buildings already damaged by more than a decade of civil war.
As of Tuesday, at least 790 people have died in northern Syria, according to the White Helmets volunteer rescue group. In one instance, a newborn girl was found alive beneath the rubble, with her umbilical cord still connected to her mother, who didn't survive.
The White Helmets — officially Syria Civil Defense — said that there are likely to be thousands more families buried underneath. But with only 3,000 volunteers, they need more resources.
"No one has contacted us to offer help," one White Helmets volunteer told Al Jazeera.

Know More
According to the United Nations, people living in northern Syria rely on daily humanitarian aid to survive — largely sent from the southern Turkish city of Gaziantep, a crucial U.N. aid hub which was also devastated by the earthquake.
Though the Syrian government has allowed aid to enter the northern part of the country through one border crossing, the Syrian Association for Citizen's Dignity, a civil rights group, says that more border crossings need to open urgently.
They also urged the international community to put pressure on Syria's president, Bashar al-Assad, and his Russian allies, to ensure that there are no bombings in the devastated areas.
Damascus has been reluctant to allow international aid to flow into the region because it sees the assistance as "undermining Syrian sovereignty" and inhibiting the government's chances of regaining control in rebel-held territory. Assad has previously been accused of depriving rebel territories of services as a way to punish residents.
Speaking to The Guardian, Mark Lowcock, the former head of U.N. humanitarian affairs said that because the worst hit areas in Syria are run by Turkish-controlled opposition, there is added pressure on the Turkish government to get aid into those places.
"It is unlikely the Syrian government will do much to help," he said.
On Tuesday, Syria was accused of "playing politics" with aid after Syria's ambassador to the U.N. Bassam Sabbagh claimed that Damascus should carry the sole responsibility of delivering aid to all affected areas in the country — even rebel-held territories.

The View From Washington
U.S. State Department spokesman Ned Price ruled out the possibility of sending aid directly to the Syrian government, saying that it would be "ironic, if not even counterproductive" to reach out to a government that has "brutalized" its people for over a decade.
The United States Agency for International Development's (USAID) Administrator Samantha Power said in a statement that a Disaster Assistance Response Team had been deployed and was assisting Turkish authorities on the frontline.
On Tuesday, a U.S. government official told Semafor that U.S. is currently focused on "life-saving efforts" and accessing places "based on need." The official added that aid sent to northern Syria typically passes through the Bab al-Hawa border crossing, but that infrastructure damages have hindered the transfer of resources.