The News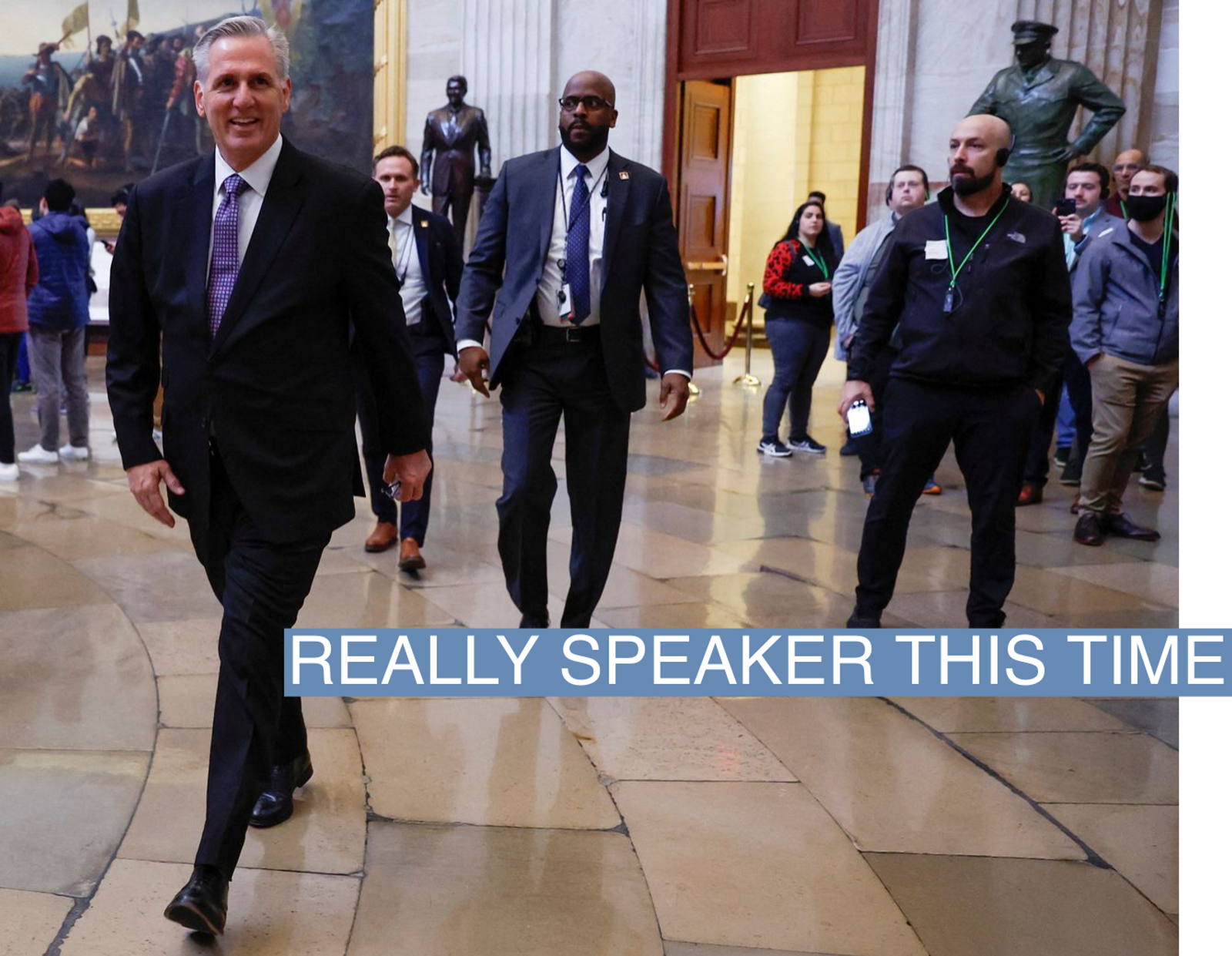 It took four days and fifteen ballots, but Kevin McCarthy was elected Speaker of the House after securing a truce with conservative holdouts who had threatened to tank his nomination.
But not without one more descent into complete and utter chaos to cap the longest speaker standoff since 1860. And much like the run-up to the American Civil War, it almost culminated in a physical confrontation between lawmakers in the Capitol.
Here's how it went down.
McCarthy and his allies confidently predicted he would be elected Speaker of the House Friday night after a breakthrough in negotiations earlier in the day that saw 15 holdouts abandon their opposition.
The expectation was a critical mass of remaining holdouts would switch sides or vote present to seal his inevitable election as speaker.
Rep. Lauren Boebert, R-Colo. earned wild applause when she voted "present" for the first time, helping lower the threshold for a McCarthy win — just as his team had hoped would happen.
Members did the same for Rep. Wesley Hunt, R-Texas, who had flown back from tending to his wife and newborn premature baby in order to attend the crucial vote, and Ken Buck, R-Colo., who had rushed back from Colorado after undergoing a medical procedure.
But four holdouts, including a freshman from Arizona, Eli Crane, voted for other candidates. Then, after deliberately skipping his initial vote, Gaetz waited to the end of the roll call to vote "present" — leaving McCarthy one vote short.
Pandemonium ensued. An enraged Rep. Mike Rogers, R-Ala. had to be physically restrained as he charged to confront Gaetz with the C-SPAN cameras rolling.
Afterwards, a stunned Rep. Patrick McHenry, R-N.C., who had just nominated McCarthy and was seen animatedly working Gaetz over during the vote, took to the podium to ask that the House be allowed to adjourn until Monday.
As members tried to get their bearings, President Trump placed quick calls ahead of the 15th ballot — just before midnight — to Reps. Andy Biggs, who had voted for Rep. Jim Jordan, and Gaetz, a source familiar with the situation told Semafor.
Another photo from earlier showed Marjorie Taylor Greene trying to reach a holdout after the failed vote, Rep. Matt Rosendale, R-Montana with a phone call from a "DT" as Rosendale appeared to rebuff her.
In the next ballot, more holdouts voted "present" and McCarthy was finally elected to thunderous applause and deep sighs of relief, completing his long rise through leadership across three presidential administrations.
"And now the hard work begins," McCarthy said in his opening speech. "What we do here today, next week, next month, next year, will set the tone for everything that follows."

Know More
The vote capped a historically dysfunctional week in which members — who were not even allowed to be sworn in before choosing a speaker — sat through vote after vote with the world watching. McCarthy was the first party leader in a century whose race even went past the first ballot.
He'd fumbled a previous bid for speaker in 2015 before it came to a vote and some of his initial backers openly questioned whether it was possible for him to succeed this week given the strength of his opposition.
But McCarthy's victory also came at a steep price: In exchange for the rebels' support, he agreed to various concessions (the details of which are still not fully known) that would give conservatives more power to set the agenda, block legislation they dislike, and quickly call a vote to remove McCarthy if he pushes back.
With at least four members still in the "Never Kevin" camp, and the possibility of the majority shrinking through resignations or acts of God, he'll remain a vote or two away from the brink at all times.
He will have to manage expectations and deliver results in high-stakes battles over issues like spending, reauthorizing the farm bill, and, most especially, raising the debt ceiling. One wrong move could lead to a shutdown, financial crisis, or his ouster as speaker, none of which are mutually exclusive.
But for now, the Congress can adopt rules, set up committees, hold hearings, and begin to at least outwardly resemble a normal functioning institution. That's a victory no one should take for granted anymore.