The News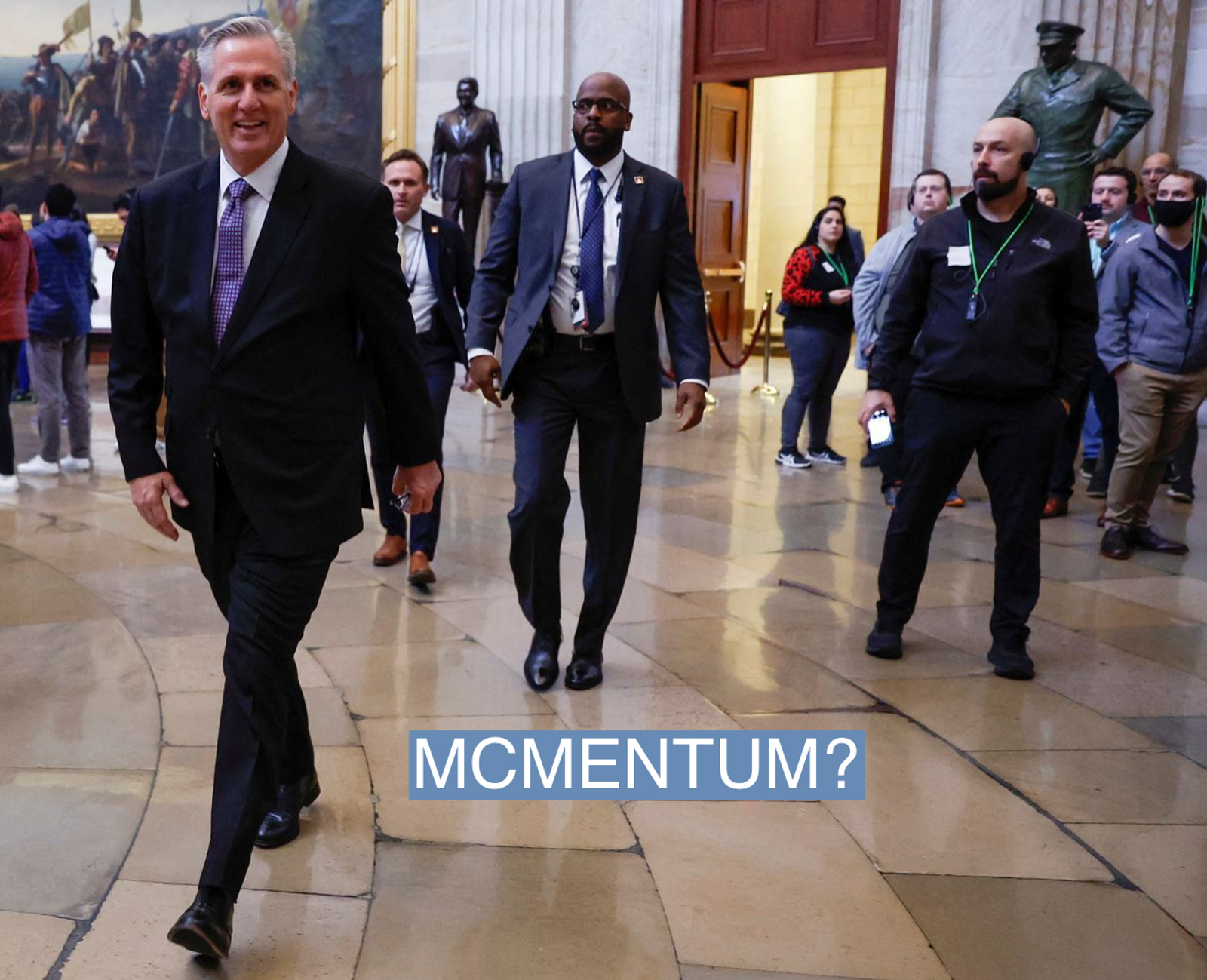 Kevin McCarthy was rejected for a twelfth and thirteenth time as Speaker of the House on Friday, but he lost by significantly less after offering new concessions to holdouts. Momentum!
McCarthy picked up 14 new "yes" votes on the twelfth ballot out of the 21 Republicans who had declined to back him on previous votes. He added another on the thirteenth. He can only afford to lose four votes and there are still six holdouts.
The 15 who flipped were:
Republican Reps. Dan Bishop of North Carolina, Josh Brecheen of Oklahoma, Michael Cloud of Texas, Andrew Clyde of Georgia, Byron Donalds of Florida, Andy Harris of Maryland, Anna Paulina Luna of Florida, Paul Gosar of Arizona, Mary Miller of Illinois, Ralph Norman of South Carolina, Andy Ogles of Tennessee, Chip Roy of Texas, Scott Perry of Pennsylvania, Keith Self of Texas. Victoria Spartz, R-Ind., who had previously voted "present," also backed McCarthy.
The remaining 6 holdouts are:
Republican Reps. Matt Gaetz of Florida, Lauren Boebert of Colorado, Matt Rosendale of Montana, Eli Crane of Arizona, Bob Good of Virginia, and Andy Biggs of Arizona.
The House is adjourned until 10 PM, when leadership is hoping they'll be able to close the deal and end the standoff, the longest of its kind since before the Civil War.

Know More
The first vote of the day came shortly after McCarthy briefed his caucus on a potential deal with Roy that could bring some holdouts to his side. Leadership presented it to "no" votes last night in writing, with some responding favorably, if not indicating a change in position.
Miller said on the floor her vote was "based on negotiations." Self said "we are making progress" in announcing his own.
The details were still not public. But topics under discussion include the House Freedom Caucus's influence on committees (an area where McCarthy allies say they're especially loath to cede too much power), how to approach budget negotiations around the debt ceiling, rules addressing earmarks, and a vote on 12-year term limits (it wouldn't become law).
Roy, who has helped negotiate on behalf of conservatives, told reporters his faction wanted "specific concrete limits on spending attached to a debt ceiling increase" but did not say if the deal committed leadership to opposing any increase without concessions.
"I'm not gonna say specifically about that yet, I'm gonna say that the debt ceiling is going to require some specific spending constraints," he said.
Rep. French Hill, R-Ark. also described commitments to aim for certain levels of domestic discretionary spending as an "aspirational goal."
There's also a much-discussed motion that would allow any Republican member to bring a vote to remove the speaker, giving them more power to enforce their agreement.
The new package builds on previous concessions holdouts say interest them, including a 72-hour waiting period before legislation and the Holman Rule, which would allow them to zero out funding for individual federal employees and programs.
"I think that leadership is earned and I think that through this process he's earned that from me and we're going to continue to work hard to ensure that what we have agreed upon is actually implemented and executed in the 180 Congress," Donalds told reporters.
The question now is how to lock down the final votes McCarthy needs. More flamboyant MAGA-style populists like Gatez and Boebert still sound dug in against McCarthy. Good said Thursday he would never vote for McCarthy under any circumstances. Crane, a freshman, told Politico he was "not looking for a deal."
"You only earn the position of the speaker of the House if you can get the votes," Gaetz said in a floor speech before Friday's twelfth ballot. "Mr. McCarthy doesn't have the votes today. He will not have the votes tomorrow, and he will not have the votes next week, next month, next year. You have to ask — is this an exercise in vanity?"
That last line drew jeers from McCarthy supporters, some of whom tried to invoke rules against maligning colleagues by name.
Winnowing down the opposition and showing some momentum could help McCarthy keep Republicans from drifting toward other potential speakers for now, like his top deputy Steve Scalise, and make it easier to pressure the remaining rebels.
In the meantime, the vote is now close enough that absences might become a factor. Reps. David Trone, D-Md. and Ken Buck, R-Colo. each missed the most recent vote due to a scheduled medical procedure. Rep. Wesley Hunt, R-Texas was busy attending to his wife, who gave birth prematurely this week.
Depending on how many in each party are gone when a vote is held, it could lower the threshold of victory for McCarthy. Trone returned this afternoon, however, and the others are expected to be in the House by tonight.
One route for McCarthy's team might be convincing some of the holdouts to merely vote "present," which would also lower the threshold for a majority while allowing them to still register a protest.
If the issue is that a critical mass of votes fundamentally opposes McCarthy himself, however, today's breakthrough might only delay the inevitable.
—Shelby Talcott contributed to this story.