The News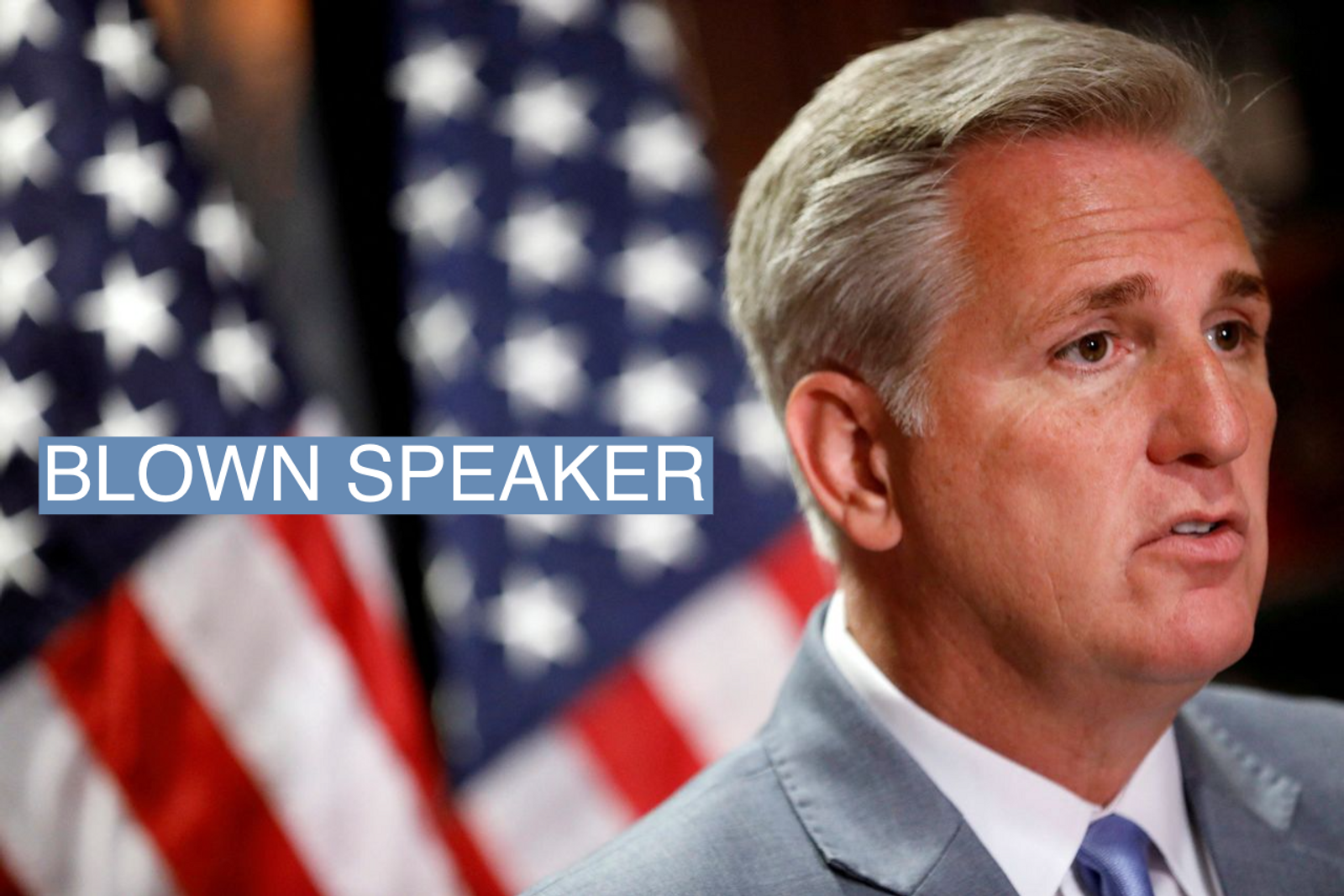 Republican leader Kevin McCarthy failed to obtain enough votes to become Speaker of the House after three ballots, setting up a standoff with his own Republican caucus with no obvious end in sight.
The House, which eventually adjourned until Wednesday, is essentially paralyzed until the speaker situation is resolved as it's a prerequisite to setting up rules, assigning members to committees, and voting on legislation.

Know More
Some 19 Republicans voted for members other than McCarthy on the first ballot. The vote marked the first time since 1923 that Congress did not elect a speaker on the first try. Republicans won 222 seats in the midterm elections and McCarthy cannot lose more than four votes.
McCarthy, who faces a rebellion from conservatives suspicious of his commitment to their cause, has vowed to continue holding votes until opposition cracks.
"No matter how many times it takes, Kevin McCarthy," Nicole Malliotakis, R-N.Y. said as she cast her vote.
A second ballot did little to resolve the situation. Conservative Rep. Jim Jordan, R-Ohio gave a speech nominating McCarthy on the House floor minutes before that vote, citing the need to unite against Democratic policies and clamp down on spending.
But Rep. Matt Gaetz, R-Fla. followed up by nominating Jordan as speaker — and all 19 of the prior anti-McCarthy holdouts proceeded to vote for him.
A third ballot produced the first new vote for the rebels: Rep. Byron Donalds, R-Fla. who switched to Jordan.
"The reality is Rep. Kevin McCarthy doesn't have the votes," Donalds tweeted, adding that the House should recess so members could plan their next steps.
Holdouts are demanding concessions on rules, committee assignments, and policy demands that would give the more influence, which McCarthy allies worry will give the speaker — whoever they are —too little flexibility to govern.
"We're just not going to allow the tail to wag the dog in this," Rep. Michael McCaul, R-Texas, a McCarthy backer, said before the vote. "We're going to move forward — as many votes as it takes."
It's possible that the procedural details matter less than the people involved, though, and that a critical mass of conservatives do not trust McCarthy to lead them and confront President Biden's administration, full stop.
"Kevin McCarthy is not the right candidate to be Speaker," Rep. Dan Bishop, R-N.C. said in a statement explaining his vote for Rep. Andy Biggs, R-Ariz.
If it becomes clear McCarthy lacks support, Republicans may be tempted to turn to a backup nominee to unify the party, with Rep. Steve Scalise, R-La. the most frequently discussed option.
Some McCarthy allies have also warned conservatives that they might look across the aisle to find a compromise speaker who could garner Democratic votes, though so far there's little sign Democrats are interested in playing ball.
If any Democrats exit the chamber for a vote, it would lower the threshold for a majority and potentially give McCarthy a path to victory, but members indicated they were in it for the long haul.
Rep. Alexandria Ocasio-Cortez, D-N.Y. told Semafor that Gaetz and Rep. Paul Gosar, R-Ariz. approached her separately to ask if Democrats were considering leaving to clear the way for McCarthy.
"Some of the Republicans who are holding out were wondering if that was true," she said. "And I said absolutely not."
Gosar, who Democrats stripped of his committee seats in 2021 after he posted an animated video in which he murdered Ocasio-Cortez, did not apologize to her for his behavior in their exchange, she said.
The House is set to reconvene tomorrow at 12 PM ET.

The View From Democrats
There's little drama on the Democratic side — they voted repeatedly for expected Minority Leader Hakeem Jeffries as speaker, the first Black member to lead either party. He's taking over for Rep. Nancy Pelosi, D-Calif., who stepped down from her longtime leadership post to become a rank-and-file member.
Some Democrats seem to be enjoying the show on the Republican side, though.
During the break between the second and third ballots, Rep. Jamaal Bowman, D-N.Y. spotted Donalds, who is Black, and gave his Republican colleague some advice.
"Vote for a brother!" said Bowman. "Reparations!"
Bowman was joking, but he and other Democrats were amazed by the GOP's pile-up. "The American people already don't trust the government," said Bowman. "They already think we don't get anything done. This is an example of their dysfunction, but also an example of how government doesn't function for the people."
— Kadia Goba, Morgan Chalfant, and David Weigel contributed to this story.