The News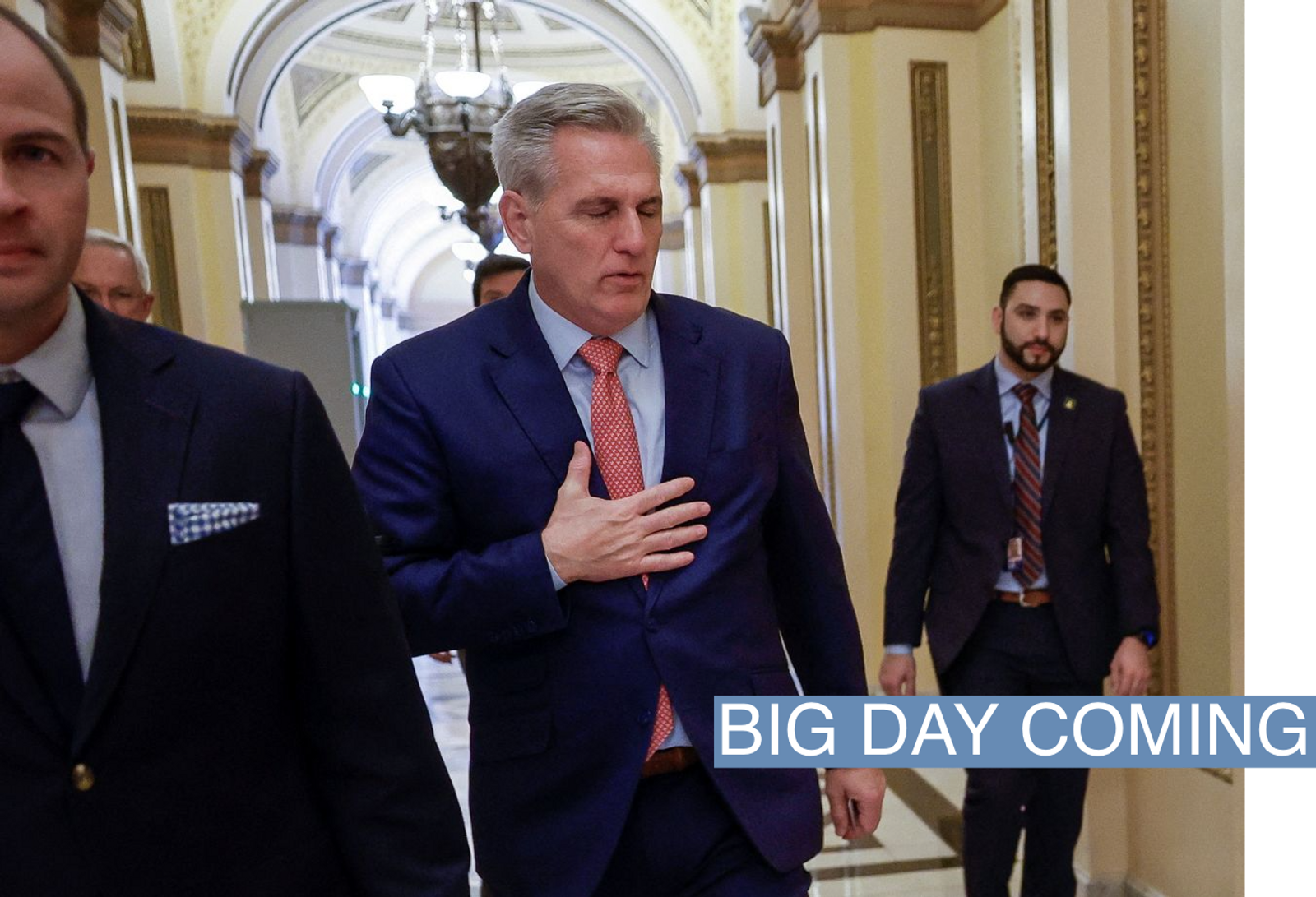 How many rounds would you go for Kevin McCarthy?
The California Congressman's quest to become House Speaker is being held up by a handful of conservative rebels.
But another problem could be that his loyalists aren't all that loyal.
If McCarthy can't secure the gavel after the first ballot, House members will have to keep voting until they've picked somebody as speaker. His backers are promising to put up a fight. In a letter dated Friday, leaders of the 70-member Republican Main Street Caucus said their group was "prepared to vote for him for as long as it takes."
Some backers say they have limits, however. One relatively ardent McCarthy supporter told Semafor that they would probably be willing to go up to 12 rounds of voting, which would likely last between 3 and 4 days. The aide to another, slightly less ardent supporter said their member would be willing to sit through 3 to 4 rounds, or about a day's worth of action.
Meanwhile, a senior Republican staffer said aides were whispering that members might only tolerate just one or two rounds of voting before sitting down to try and strike a backroom deal on a compromise candidate. Right now, the leading alternative to McCarthy appears to be Rep. Steve Scalise.
The last time a Congress couldn't pick a speaker after one vote was all the way back in 1923, when it took Republicans nine rounds to settle on Frederick Huntington Gillet. The longest speaker showdown took place in 1855, spanning 2 months and 133 rounds of votes.

Kadia's view
Exciting as it would be to the Capitol Hill press corps to witness a once-a-century event, it doesn't seem like congressional Republicans are hungry for an endless floor fight that makes it look as if their party has been paralyzed by dysfunction.
Aside from the political optics, there are also extremely mundane reasons members wouldn't want to spend their day locking horns. Members host family in the Capitol on opening day to show off their new offices or take a coveted photo with the incoming speaker. There are dozens of members' open houses already scheduled and tethering a lawmaker to endure a rinse-and-repeat cycle of the speaker's race is, at best, inconvenient.
"I don't think in the modern age you're going to see sort of a 19th-century style of deadlock where you have hundreds of ballots over the course of months," said Matthew Glassman, a senior fellow at the Government Affairs Institute at Georgetown University. "Too many people are gonna want to get Congress doing things. And that will force somebody to give in."

Room for Disagreement
"We don't want a very small number to keep a gun to the future Speaker's head on every tough vote," Rep. Don Bacon, R-Neb., who is viewed as a moderate, told Semafor, referring to rules changes his party's hardliners have demanded from McCarthy. "It makes the majority weaker and easily held hostage by a handful of people." Bacon has said that if McCarthy's bid does fail, Republicans might team with Democrats to find a compromise speaker.

The View From George Santos
"I'm supporting McCarthy on all votes. He deserves it. He raised the money and put the agenda together for candidates to take the majority," Rep.-elect George Santos told Semafor.