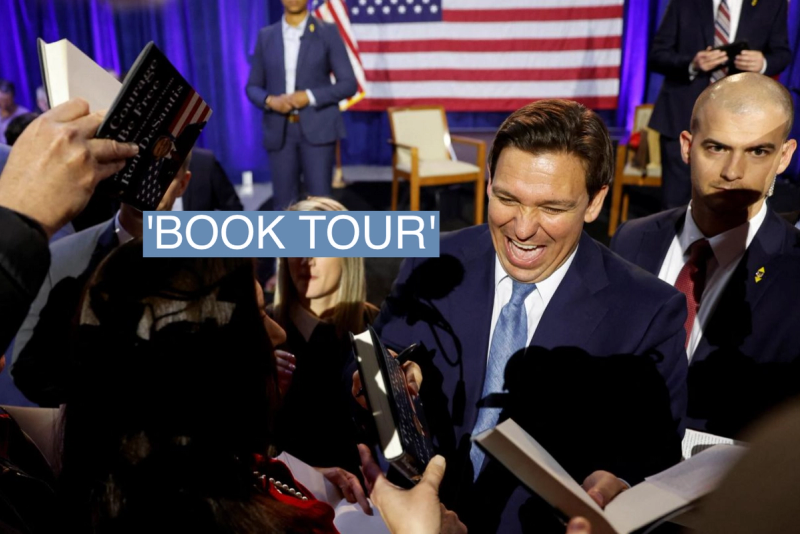 REUTERS/Jonathan Ernst
THE NEWS
DES MOINES, IA – Florida Governor Ron DeSantis hasn't publicly confirmed his plans to jump into the 2024 presidential race, but he's increasingly looking like a candidate already. That includes quietly staffing up inside his orbit.
The RNC's rapid response deputy director, Kyle Martinsen was recently hired to work for the Republican Party of Florida's communications team, two people familiar with the hiring told Semafor. Nate Hochman, until now a writer at National Review, is heading to the communications team as well. DeSantis has firm control over the party; Helen Aguirre Ferré, its executive director since 2020, came from his office.
There's also been recent buzz around Republican circles that Jeff Roe, who managed Ted Cruz's 2016 presidential run, has been in talks about a possible role. (Though a member of DeSantis' team shot down this speculation, telling Semafor the rumors were "not true.")
DeSantis recently released a book detailing "Florida's Blueprint for America's Revival," and has been criss-crossing the country on a book tour that includes stops in early primary states — like Iowa, where he spoke in Davenport and Des Moines to packed houses on Friday alongside Gov. Kim Reynolds and met with Republican officials in the state.
"You look at the results from our election in 2022 — we did better with every single demographic, except woke, left Democrats," DeSantis told the Davenport crowd Friday morning. "That's the only one."
SHELBY'S VIEW
DeSantis' showing in Iowa was well received, with potential voters lining up down the block in Des Moines and lines snaking through the casino in Davenport.
It also contained, at least indirectly, some of his first contrast messaging with Donald Trump. Amid hand-wringing over the GOP's midterm results, he played up his 19-point re-election victory. And, as Trump is yet again surrounded by headlines about legal investigations and January 6th, he emphasized the lack of noise that's followed him along the way to success.
"If you look at my administration, part of the reason we do well — they're not leaking to the media, we don't have palace intrigue, we don't have any drama. It's just execution every single day, and we end up beating the left every single day for four years," DeSantis said in Des Moines.
During both events, the crowd booed as he mentioned Dr. Anthony Fauci, and cheered as he said "Florida stood as a refuge of sanity" and "citadel of freedom" during the pandemic.
In Des Moines, he received thunderous applause while discussing Florida's response to the pandemic, the state's education and "anti-woke" policies, and his decision to send migrants to Martha's Vineyard back in September.
The topics — and DeSantis' record in Florida — convinced at least a few voters, like 70-year-old Joseph Cassis, an author and illustrator, who said his vote was solidly for DeSantis should he jump into the race.
"He's proved himself under stress, he still identifies with all Americans, not a select few, and he has that determination to get it done," Cassis, cradling DeSantis' new book that was given out at both events, said.
While Iowa voters appeared by and large enthusiastic to welcome the Florida governor to the state, they also enjoy being courted — many told Semafor they plan to entertain multiple options before committing to any one candidate. But unlike Haley, where potential voters arrived at her town hall in the state earlier this month eager to learn more about her, Iowans attending DeSantis's events appeared more knowledgeable of his Florida policies.
"I think he treated his state with common sense and respect, and he's a good leader in Florida," Dave Eel, a 70-year-old retiree from Iowa, told Semafor. "So that's all good on the national level, and his background in the military and so forth was excellent."
The event even brought in at least one curious Trump voter, who told Semafor that DeSantis "seems to be doing a good job in Florida" but his vote has long been decided for Trump because "he's proven himself" and is "what this country needs."
THE VIEW FROM MAR-A-LAGO
Trump took to Truth Social over the weekend to repeatedly criticize "Ron DeSanctimonious," telling Iowans to "tell him to go home!" Both he and his campaign team pointed to DeSantis' past opposition to ethanol mandates (which boost Iowa corn) and his votes for benefit changes to Medicare and Social Security in Congress.