Principals

with Steve Clemons
It looks like Joe Biden is going to make protecting Medicare and Social Security a core theme of his reelection campaign. Sure, Speaker Kevin McCarthy and plenty of House Republicans swear they don't want to slice the programs. But back in the heady days of the Tea Party, many of the party's potential 2024 contenders voted for major entitlement cuts, and Democrats don't plan to let voters forget it. The twist, as Shelby Talcott and Jordan Weissmann write today, is that Donald Trump could end up using the same attacks in the GOP primary.
The House Oversight and Accountability Committee held its first hearing Thursday on Twitter's decision to suppress the New York Post's 2020 scoop on Hunter Biden's laptop. But as Morgan Chalfant and Benjy Sarlin report, it didn't quite go as planned, and as a result the words "pussy ass bitch" have now been entered in the Congressional record.
PLUS: One Good Text with the Committee for a Responsible Federal Budget's Marc Goldwein on being a fiscal hawk out of step with both parties' take on entitlements.
Was this email forwarded to you? Sign up here!


☞ White House: Jeff Zients officially moved into the White House chief of staff's office (and into his new Twitter handle), as the West Wing bid farewell to Ron Klain.
☞ Chuck Schumer: Freshman Sen. John Fetterman, D-Pa., who suffered a stroke last year, was hospitalized after feeling "lightheaded" at the Senate Democrats' retreat, according to his office. While they said there was no initial evidence of a stroke, doctors would run more tests.
☞ Mitch McConnell: The GOP leader recently told Fox News that he didn't boot Sen. Rick Scott from the Senate Commerce Committee because the Florida Republican ran against him for the top leadership post, rebutting Scott's claims. "I had no animus toward Rick Scott at all," McConnell said.
☞ Kevin McCarthy: The House will vote on a resolution sponsored by Foreign Affairs Chairman Michael McCaul, R-Texas condemning China's use of a surveillance balloon above the U.S., which is likely to attract bipartisan support. It also calls on the Biden administration to keep Congress updated with "comprehensive briefings."
☞ Hakeem Jeffries: Democrats will spar with Republicans today in the first hearing of House Republicans' committee on "weaponization" of the federal government, where Sens. Chuck Grassley, R-Iowa and Ron Johnson, R-Wis. will appear as witnesses alongside Rep. Jamie Raskin, D-Md. and former Rep. Tulsi Gabbard, of Hawaii, who left the Democratic party last year.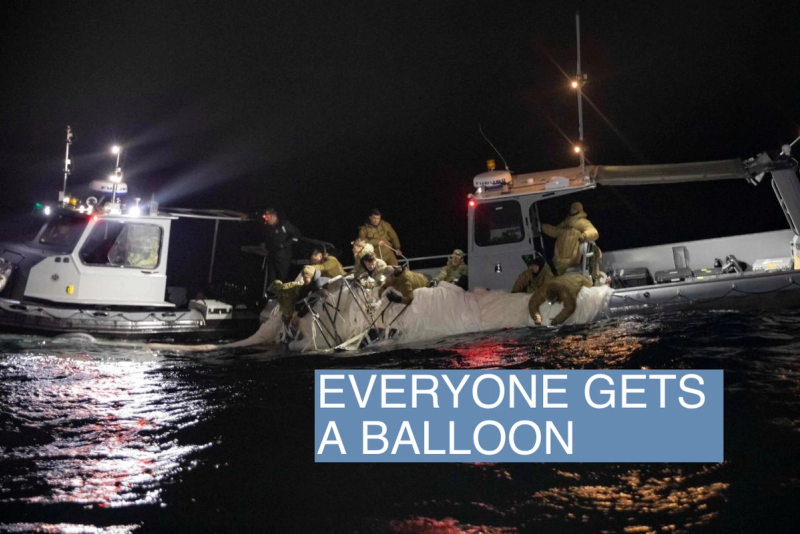 U.S. Fleet Forces/U.S. Navy photo/Handout via REUTERS
A bipartisan, bicameral group of lawmakers is reviving a push to repeal the Gulf and Iraq war authorizations, after an effort to attach the measure to must-pass defense police legislation fell short last year. Sens. Todd Young, R-Ind. and Tim Kaine, D-Va. will introduce a bill today along with Reps. Barbara Lee, D-Calif., Chip Roy, R-Texas, Abigail Spanberger, D-Va., and Tom Cole, R-Okla. to repeal the 1991 and 2002 Authorizations for Use of Military Force. "Congress must do its job and take seriously the decision to not just commit America to war, but to affirmatively say that we are no longer at war," Young said in a statement.
The Biden administration says that China has sent surveillance balloons over at least five continents in recent years as part of a broader intelligence-gathering effort. Semafor's J.D. Capelouto mapped the locations of other suspected or confirmed balloons. The administration has briefed foreign governments on the balloon situation and sent officials to Capitol Hill to brief members. Questions remain, and Deputy Secretary of State Wendy Sherman will likely field some of them today in testimony on China before the Senate Foreign Relations Committee.
The United States might have squandered $191 billion on incorrect pandemic unemployment payments, including to criminal scammers, the Labor Department's inspector general told Congress Thursday, calling it "greatest theft of taxpayer dollars in American history." The agency previously estimated that $163 billion might have been misspent.
Biden blamed staffers for mixing classified materials with his documents as he left the vice presidency. "As they packed up my offices to move them, they didn't do the kind of job that should have been done to go thoroughly through every single piece of literature that's there," Biden told PBS NewsHour.
— Morgan Chalfant and Jordan Weissmann
Punchbowl News: The relationship between House Oversight Committee Chair Jim Jordan, R-Ohio and the top Democrat on the "weaponization" panel, Rep. Stacey Plaskett, D-V.I., will be under the microscope today. "I think he's one who does follow the rules. At least, you know, within the confines of a hearing and so we'll see what happens," Plaskett told Punchbowl of Jordan.
Playbook: The Washington Press Club Foundation's annual congressional dinner took place last night, and Politico reports that Rep. Nancy Mace, R-S.C. "stole the show." One of her best lines: "Did you watch McCarthy during the speaker vote? I haven't seen someone assume that many positions to appease crazy Republicans since Stormy Daniels."
The Early 202: The Supreme Court justices have been discussing an "ethics code of conduct," but have thus far failed to reach an agreement despite years of talks.
Axios: Sen. Mitt Romney, R-Utah gave a trove of emails, texts, and "diary entries" to reporter McCay Coppins for his upcoming book.
Shelby Talcott and Jordan Weissmann
Democrats think 2024 Republicans have a tea party weak spot on entitlements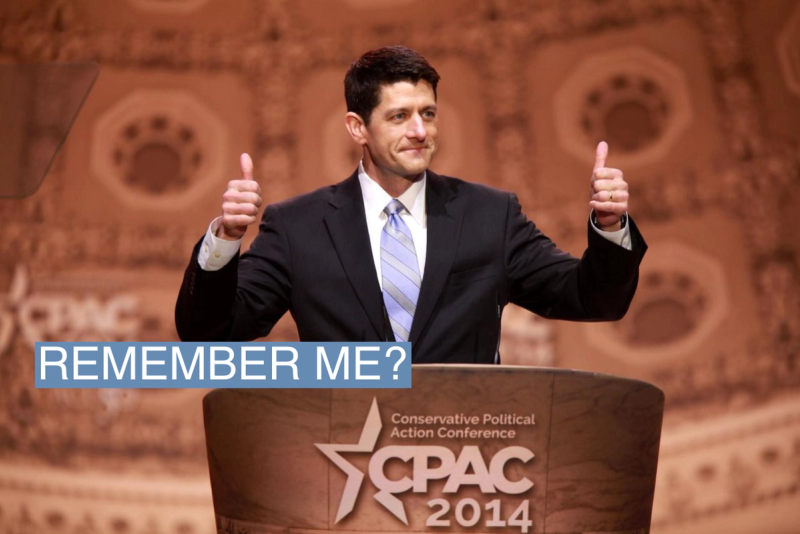 Photo: Flickr/Gage Skidmore
THE NEWS
Joe Biden wants to keep roughing up his opponents over Social Security and Medicare.
The president earned a memorable shower of boos from Republican lawmakers during this week's State of the Union, after he accused them of using the debt ceiling as leverage to wrangle cuts from the programs. On Thursday, he's headed to Tampa, Fla. for a speech the White House says will double down on the issue.
Democrats are gearing up to make it a major issue in 2024 as well, where they believe they have a critical ally: Paul Ryan.
Many of the GOP's top potential contenders voted for the former House speaker's budgets, which famously would have turned Medicare into a voucher program for private insurance to save money.
The idea fell off the political radar under President Trump, who opposed it from the start, but with Ryan-era conservatives back in the spotlight again, Democrats want to force them to account for their old positions.
"It's not just Hill Republicans," Democratic National Committee Spokesman Ammar Moussa said in a statement. "Potential 2024 Republicans have repeatedly demonstrated they are hellbent on gutting Social Security and Medicare."
Democrats note that former Vice President Mike Pence, South Carolina Sen. Tim Scott, ex-Secretary of State Mike Pompeo, and South Dakota Gov. Kristi Noem all voted for the Ryan budget while members of the House. As governor of South Carolina at the time, Nikki Haley praised the fiscal blueprint for "trying to bring common sense to this world of insanity."
During his time in Congress, meanwhile, Florida Gov. Ron DeSantis voted for a series of budget resolutions crafted by the conservative Republican Study Committee that would have voucherized Medicare for new beneficiaries, slowed Social Security cost of living increases, and raised the retirement age for both programs.
In a statement, a Pompeo spokesperson told Semafor that he "does not support cutting Medicare or Social Security benefits for those who are currently receiving them or near to receiving them."
"Only dishonest reporters would say voting for a budget means that they do," the spokesperson added. Other candidates did not respond to a request for comment or declined to comment.
THE VIEW FROM MAR-A-LAGO
Biden isn't the only candidate looking to hit his opponents with a rolled up copy of the Ryan plan: Donald Trump also looks poised to do the same during the GOP primary.
Trump famously flouted Republican orthodoxy in 2016 by promising not to touch Medicare or Social Security. He reiterated that stance recently, telling Republicans not to cut a "single penny" from Social Security or Medicare in debt ceiling talks. And while Democrats accused him of trying to cut Social Security's disability benefits and undermine its revenue in office, the attacks never stuck.
"President Trump has been clear where he stands on the issue," Trump spokesman Steven Cheung told Semafor. "Others will have to decide which side they're on. And others will have to answer to past positions they've taken."
SHELBY AND JORDAN'S VIEW
Don't expect many GOP nominees to stand up for Ryan-style fiscal conservatism. Despite Biden's recent claims, Republicans seemingly have less desire these days to cut programs for seniors since Trump gave them an off-ramp on the issue.
A handful of GOP congressmen have suggested they'd like to see major entitlement cuts in return for raising the debt ceiling, but House Speaker Kevin McCarthy has flatly said Social Security and Medicare are "off the table." And as the State of the Union's hecklers made clear, most Republicans would also like to erase all human memory of Florida Sen. Rick Scott's campaign season proposal to sunset all federal programs every five years, which Democrats including Biden have seized as a cudgel.
"I think Republicans are starting to understand that there's no politically feasible way to take on entitlement reform," Jon Schweppe, policy director at the American Principles Project, told Semafor. "It's a political loser."
Still, past votes have haunted candidates before and it could take some political dexterity for candidates to reposition themselves now. It's at least plausible that Ryan's ghost could make Trump the nominee, or give Biden a second term.
ROOM FOR DISAGREEMENT
Mike Pence isn't running from his old fiscal conservatism. Instead, he's seemingly leaning into it by talking about privatizing Social Security, an idea the party largely abandoned after a politically damaging push in 2005.
"I think the day could come where we can replace the New Deal with a Better Deal," he said during an interview in February. "Literally give younger Americans the ability to take a portion of their Social Security withholdings and put that into a private savings account that the government would oversee."
The Trump White House asked Twitter to take down a NSFW Chrissy Teigen tweet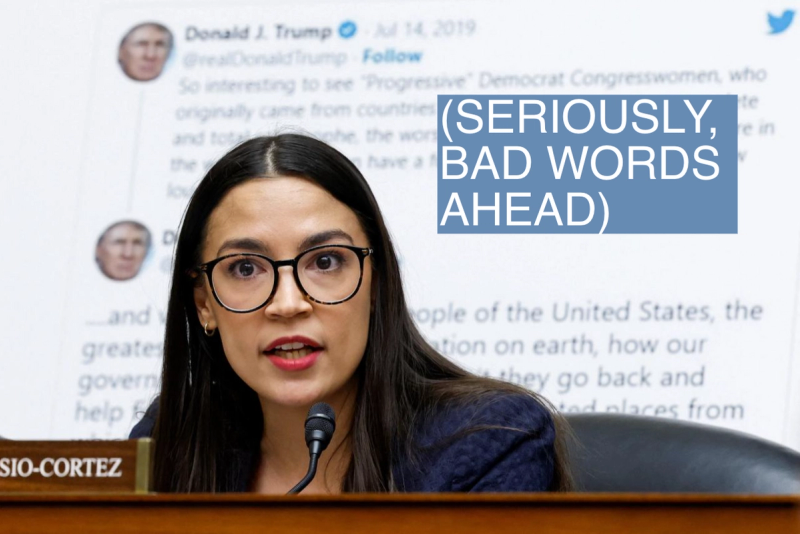 Reuters/Evelyn Hockstein
The House Oversight and Accountability Committee called up former Twitter employees on Wednesday to answer questions about the company's brief suppression of the Hunter Biden laptop story in 2020 and whether politicians and government agencies improperly pressured them to act.
But the biggest revelation of the day was that President Trump's White House apparently demanded action against a tweet. More specifically, a tweet by model Chrissy Teigen calling Trump a "pussy ass bitch" in 2019 after the then-president referred to her as John Legend's "filthy mouthed wife" on the same platform.
"From my understanding, the White House reached out to ask that this tweet be removed," Anika Collier Navaroli, a whistleblower who was formerly a member of Twitter's safety team, testified.
Navaroli said her team evaluated the Teigen tweet under a rule allowing "up to three insults" in a message, which presumably required them to consider whether "pussy ass bitch" was one combined insult, three successive insults, or two insults with "pussy-ass" being treated as a compound word.
Democrats teed off on the committee's Republicans over the revelation, which they said made a mockery of their complaints that Biden's campaign asked Twitter to take down leaked materials, including nude photos of Hunter Biden, in 2020.
"I thought that was an inappropriate action by a government official, let alone the White House, but it wasn't Joe Biden, about his son's laptop — it was Donald Trump, because he didn't like what Chrissy Teigen had to say about him," Rep. Gerry Connolly, D-Va. said.
Other highlights:
Former Twitter deputy counsel Jim Baker testified that he was "aware of no unlawful collusion with, or direction from, any government agency or political campaign on how Twitter should have handled the Hunter Biden laptop situation."
Twitter's former head of trust and safety Yoel Roth acknowledged the company erred in suppressing the story, but said "our judgment was colored by the experience of 2016" when a Russian hacking operation publicized stolen emails from Democratic officials.
Navaroli alleged that the platform changed its rules almost overnight to accommodate a 2019 tweet from former President Trump telling four Democratic members of Congress to "go back" to their home countries.
Rep. Marjorie Taylor Greene, R-Ga. lambasted the witnesses over the suspension of her Twitter account, which was recently reinstated. "I'm so glad you lost your jobs," she told them. "Thank god Elon Musk bought Twitter."
— Benjy Sarlin and Morgan Chalfant
Rick Scott to Joe Biden: No, YOU wanted to sunset Social Security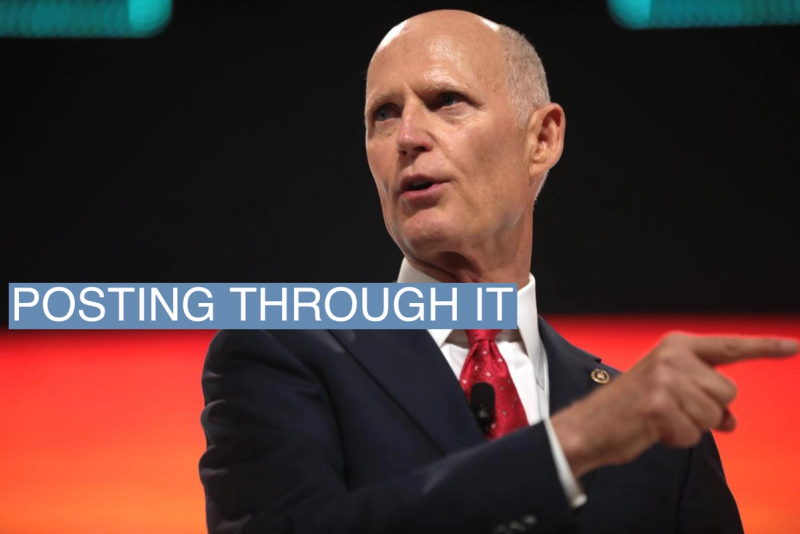 Photo: Flickr/Gage Skidmore
President Biden gave Sen. Rick Scott, R-Fla. a major uncredited cameo in his State of the Union speech, prompting boos and jeers from Republicans who objected to being associated with Scott's plan to sunset federal programs like Social Security after five years.
Now a fuming Scott is trying to regain the upper hand.
"He's a liar. Read my plan. My plan didn't say that," Scott told Semafor on Tuesday evening. (It does, and a Fox News anchor repeatedly knocked down his claims otherwise during a testy exchange in December).
Turning the spotlight back to Biden, Scott pointed out that the president previously supported a freeze on Social Security, Medicare, and Medicaid spending to balance the budget in the 1980s and entertained cuts in later decades as well.
Scott also dug up a bill Biden introduced in 1975 that he said would sunset all federal legislation every four years, including Social Security and Medicare. At the time, Biden was a freshman senator from Delaware and newly appointed to the Senate Budget Committee.
The 48-year old bill would have shortened the budget authority covering federal spending and established a regular review process, similar to fiscal commissions. Molly Reynolds, a governance expert at the Brookings Institution, said the Biden legislation was one of a spate of so-called "sunset bills" in the 1970s designed to strengthen legislative oversight over programs.
One budget expert said Biden's bill did not appear to sunset entitlement programs as Scott claims. "I think it's not written very clearly and there's inconsistencies in it," G. William Hoagland, a budget expert at the Bipartisan Policy Center, told Semafor.
Hoagland said the legislation, as written, carried conflicting goals. It appeared to exempt entitlements from periodic reviews since both were established by Congress before 1975, but another section of the legislative text did not spare them.
Scott's latest salvo isn't fazing the White House. "Rick Scott quadrupled down on his plan, which fellow Republicans and fact checkers have verified would sunset both programs," White House spokesman Andrew Bates said in a statement. "Lots of luck to him in his senior year."
— Joseph Zeballos-Roig
Marc Goldwein is the senior vice president and senior policy director for the Committee for a Responsible Federal Budget.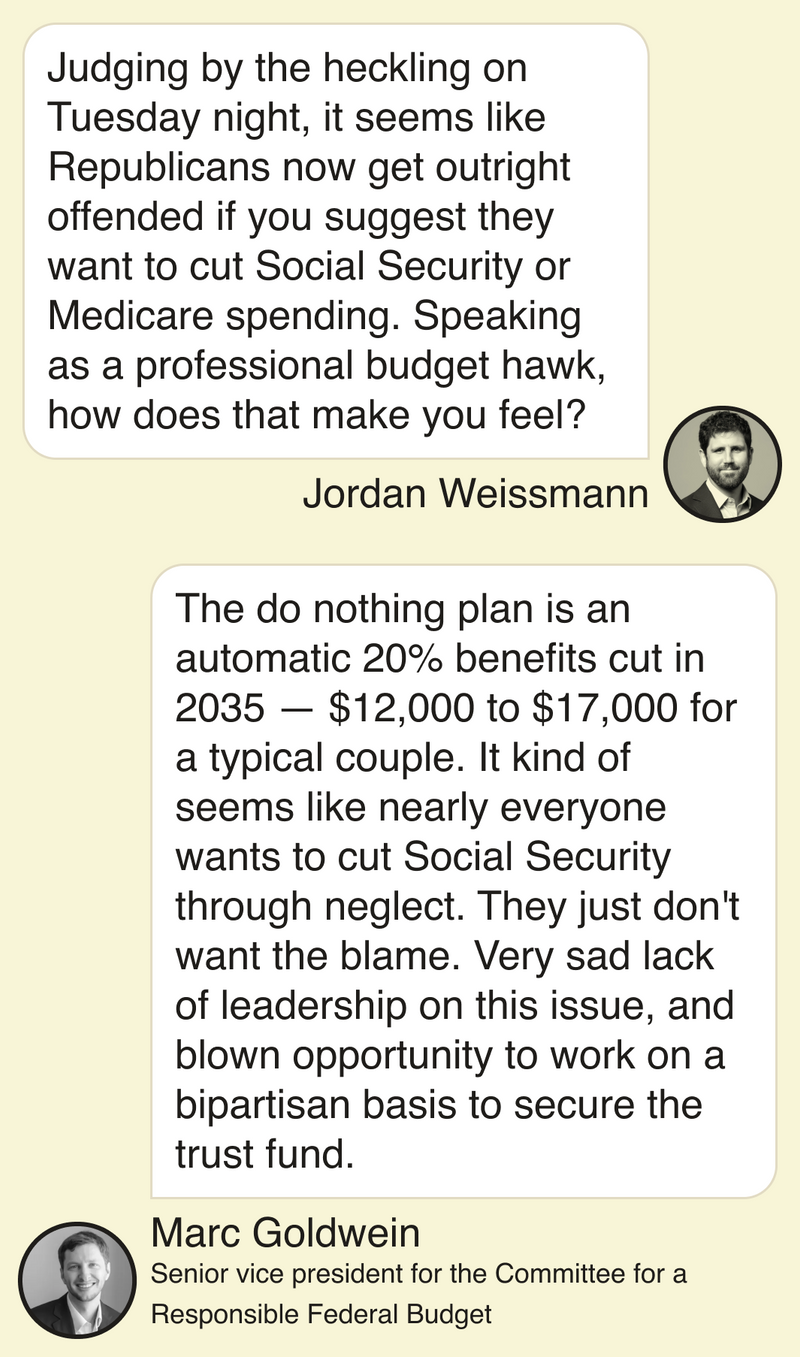 Stories that are being largely ignored by either left-leaning or right-leaning outlets, according to data from our partners at Ground News.
WHAT THE LEFT ISN'T READING: The House passed legislation on a largely party-line vote that would end the COVID-19 vaccination requirement for foreign travelers entering the U.S.
WHAT THE RIGHT ISN'T READING: Oil companies brought in record profits last year, making them a target of Biden in his State of the Union speech.
If you're liking Semafor Principals, consider sharing with your family, friends and colleagues. It will make their day.
To make sure this newsletter reaches your inbox, add principals@semafor.com to your contacts. If you use Gmail, drag this newsletter over to your 'Primary' tab. You can also reply with a hello. And please send any feedback our way, we want to hear from you.
Thanks for getting up early with us. For more Semafor, explore all of our newsletters.
— Steve Clemons