Principals

with Steve Clemons
| | | |
| --- | --- | --- |
|  Washington |  Fargo |  Sioux Falls |
George Santos is off his committees, but his influence continues to be felt in other ways around the Capitol. Rep. Jan Schakowsky, D-Ill. said at a Semafor event on e-commerce yesterday that she had started identifying herself as a "Jew" rather than "Jew-ish" to prevent confusion.
Kadia Goba has the latest on the pressure campaign against Santos, who says his decision to "recuse" from his committee work was voluntary, and the Republicans who are celebrating the news. And I have some thoughts from Rep. Darin LaHood, R-Ill. on the free trade wing of the GOP (it still exists) from our Semafor event yesterday.
PLUS: Benjy Sarlin does some One Good Texting with the Washington Post's Philip Bump on future Gen Z-Boomer mud wrestling.
Before we get to the newsletter, though, an apology. Yesterday, we accidentally referred to North Dakota's Republican Senator Kevin Cramer as representing South Dakota. We wish this were the first time, but we made a similar mistake once before.
To clear up the confusion, we asked Cramer to help us distinguish between the two states. "South Dakota destroyed a perfectly good mountain by carving faces on it. North Dakota has oil," Cramer replied.
Rep. Dusty Johnson, R-S.D. also offered us some advice: "South Dakotans run about 10 IQ points higher than North Dakotans," he said. He added, however, that "Kevin Cramer is one of the smarter North Dakotans."
Was this email forwarded to you? Sign up here!

☞ White House: Biden will meet with Kevin McCarthy at the White House this afternoon and it's shaping up to be tense.  The White House issued a memo demanding McCarthy release planned budget cuts, which led the Speaker to accuse the White House of playing "political games."
☞ Chuck Schumer: The Senate majority leader told the Associated Press he and Biden were "giddy" as they announced an infusion of cash for the Hudson River Tunnel project made possible by the infrastructure law on Tuesday. He also predicted there would have been a recession in the Northeast if it weren't for the project.
☞ Mitch McConnell: The Senate GOP leader threw his support behind a request from the bipartisan leaders of the Senate Intelligence Committee for information on the Trump and Biden classified documents cases, which the administration has thus far not satisfied. "I hope the administration will come up with a better answer than no," McConnell said at a press conference.
☞ Kevin McCarthy: House Republicans could vote as soon as today on a measure to remove Rep. Ilhan Omar, D-Minn. from the House Foreign Affairs Committee. McCarthy secured support from holdout Rep. Victoria Spartz, R-Ind. after adding a way for Omar to appeal the decision to the House Ethics Committee.
☞ Hakeem Jeffries: The minority leader met with Reps. Steve Cohen, D-Tenn. and Sheila Jackson Lee, D-Texas to discuss police reform legislation. Cohen represents Memphis, the city where Tyre Nichols was fatally beaten, and Jackson Lee will be named lead Democrat on Judiciary's Crime and Federal Government Surveillance subcommittee.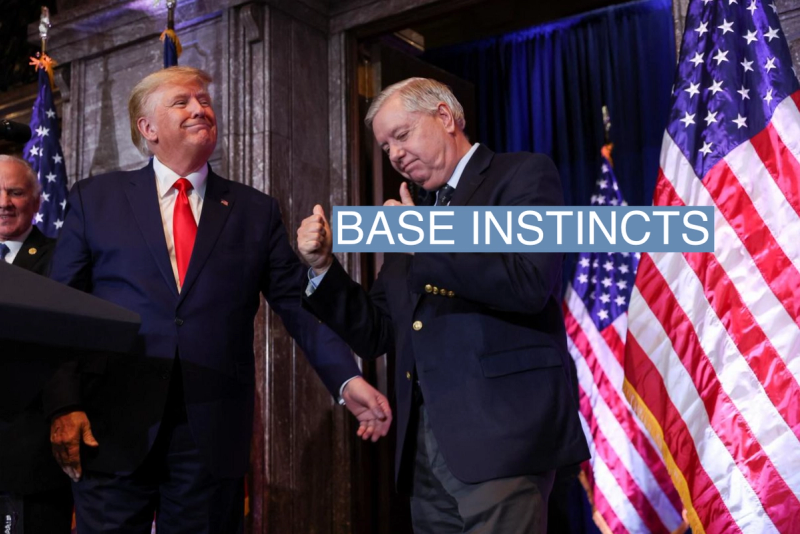 REUTERS/Shannon Stapleton
Donald Trump issued a video on Tuesday outlining his "Plan to Protect Children from Left-Wing Gender Insanity" that went much further than typical red state bills that restrict gender-affirming care for minors, including passages targeting transgender adults. Among other items, he promised to cut off Medicare and Medicaid payments to any hospital that provided treatment, and called for a national law "establishing that the only genders recognized by the United States government are male and female and they are assigned at birth."
The new policy focus on culture war issues, a source said, stems from Trump's speeches in New Hampshire and South Carolina over the weekend. His biggest applause by far came when he raised plans like eliminating federal funding for schools employing critical race theory and barring transgender women from sports. His team is treating the reaction to Trump's remarks as a real-time poll of sorts for what type of messaging resonates the most with his base. They expect to release more videos this week.
The FBI conducted a search of the Penn Biden Center in mid-November of last year, according to CBS News, a development that was not included in previous accounts provided by the Justice Department or White House. Neither the DOJ nor the White House have publicly addressed the search, which was reportedly consensual and not conducted with a warrant.
The United States says that Russia is not complying with the New START Treaty by refusing to allow onsite inspections and to participate in a bilateral meeting on its implementation, threatening the last remaining arms control agreement between the U.S. and Russia. Russia's ambassador to the U.S. said that arms control "cannot be isolated from geopolitical realities" and that inviting inspectors to its facilities now wouldn't be appropriate. Republican lawmakers called on the Pentagon to speed up efforts to "modernize" the U.S. nuclear arsenal in response, while Rep. Adam Smith, D-Wash., the top Democrat on the House Armed Services Committee, told Semafor it was a sign of the need to "reset" arms control discussions with both Russia and China. "We have to at least start the conversation because there's too much risk in ignorance," Smith said.
— Shelby Talcott and Morgan Chalfant
Punchbowl News: McCarthy heads into the meeting with Biden today hoping he can force the president to negotiate on the debt ceiling. "We're eventually going to have to dance together. So when do you want to play the music, now or later?" he told Punchbowl.
Playbook: Both sides are setting expectations low for the White House meeting. A top White House official told Politico it would be the first of "a hundred" meetings.
The Early 202: House GOP leaders will try to get members to stay on message during their own meeting this morning before the Biden-McCarthy faceoff, according to the Washington Post, which writes that the "goal is to avoid talking about cuts to Medicare and Social Security so they don't give Democrats political ammunition."
George Santos is off his committees and New York Republicans want the credit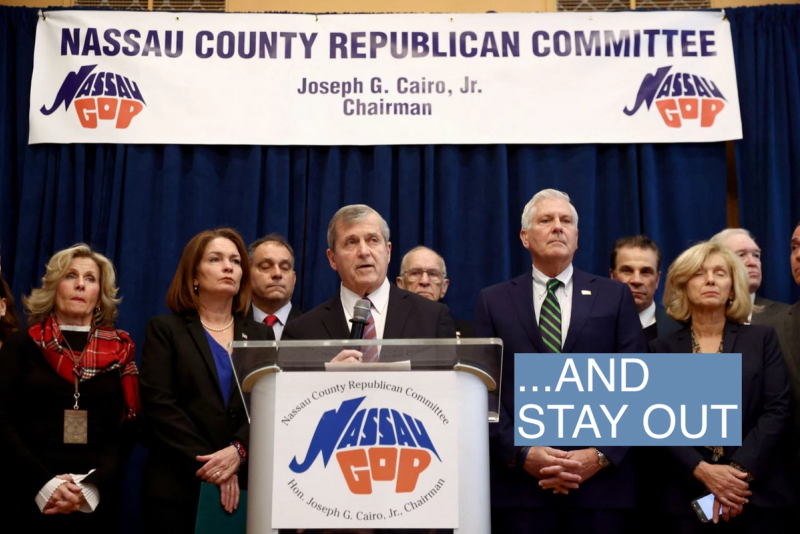 REUTERS/Andrew Kelly
THE NEWS
The House Small Business and Science, Space and Technology committees won't have George Santos to kick around anymore.
The Congressman, who faces numerous calls from within his party to resign from Congress over lies about his background and investigations into his finances, is temporarily recusing himself from his committee work.
"This was a decision that I take very seriously," Santos said in a statement on Tuesday. "The business of the 118th Congress must continue without media fanfare. It is important that I primarily focus on serving the constituents of New York's Third Congressional District and providing federal level representation without distraction."
Santos' announcement came a day after a private meeting with Speaker Kevin McCarthy, whom he thanked "for meeting with me to discuss the matter and allowing me to take time to properly clear my name before returning to my committees." McCarthy called it "an appropriate decision."
THE VIEW FROM NEW YORK
The Santos decision was music to the New York Republican delegation's ears, who have spent weeks loudly demanding his resignation while McCarthy slow-walked any action. A source said the freshman in the New York delegation had made a strong push to have Santos removed from committees and members sounded eager to take some credit on Tuesday, even if the decision was ostensibly voluntary.
"This is a classic case of someone quitting right before they were going to get fired," newly elected Republican Reps. Nick LaLota, R-N.Y. and Anthony D'Esposito, R.N.Y said in a joint statement. "While we, and the overwhelming percentage of Long Islanders we represent, are relieved to see that Santos will not be undeservedly sitting on committees, he should still do the right thing and resign. That is what is in the best interest of his constituents and House Republicans."
Freshman lawmakers representing the Rockland County and Hudson Valley regions also reignited their calls for Santos's resignation.
"As I have said repeatedly, his conduct has been embarrassing and unbecoming," Rep. Mike Lawler, R-N.Y.  told Semafor. "While I still believe he should resign, this is a first step in the right direction, with the investigations pending."
Marc Molinaro, R-N.Y echoed the same sentiment in an interview outside the House chamber.
"We all said that he should resign," he said. "We all opposed him being appointed to committees. I believe this decision is in his best interest and ours."
KADIA'S VIEW
New York Republicans have clearly determined the Santos embarrassment is a threat to the gains they made in 2022, but McCarthy has been reluctant to take action against him given his five-seat majority.
It remains to be seen whether this latest step gives the caucus enough distance for Republicans to move on without further damage. McCarthy has argued voters should decide the Congressman's fate, but there's little sign there's any particular base of support for Santos at home — a Newsday/Siena College this week found 78% of his own voters want him to resign. Meanwhile, his Long Island constituents won't be represented on committees and will be stuck with a political pariah looking after their interests.
Former U.K. prime minister Boris Johnson descended on Capitol Hill on Tuesday, meeting individually with several Republican lawmakers about aid to Ukraine.
Johnson, who resigned amid controversy last summer, met with Senate Minority Leader Mitch McConnell, House Speaker Kevin McCarthy, Sen. Rick Scott, R-Fla.,  Rep. Jim Banks, R-Ind., among others. He even made an evening appearance on Fox News. (He doesn't appear to have met with any Democrats.)
McConnell invoked his meeting with Johnson when underscoring the need for the U.S. to ensure Vladimir Putin is defeated in Ukraine to deter China, in a response to a question about threats from Beijing. "We need to have a total focus on defeating the Russians in Ukraine," McConnell said. "That's certainly not only [Johnson's] view but the view of the government in the U.K."
— Morgan Chalfant
Rep. Darin LaHood says Republicans haven't given up on free trade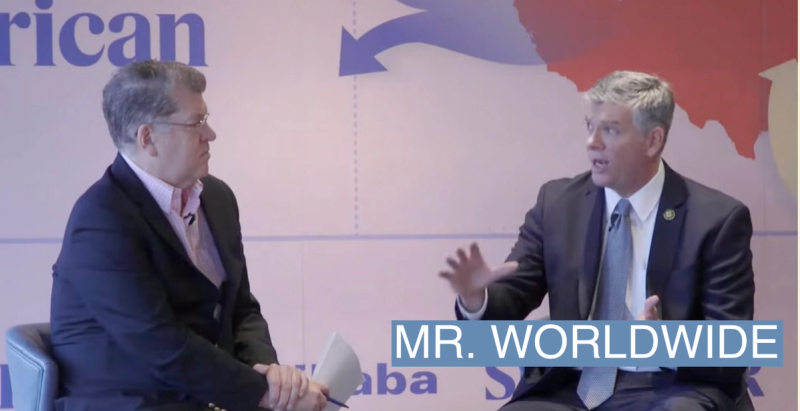 Semafor
European leaders are currently furious at the Biden administration over its marquee climate bill, the Inflation Reduction Act, which they see as a protectionist measure meant to give American companies an unfair edge on technologies like electric vehicles. The finance ministers of Germany and France are even planning a rare joint trip to Washington next week so they can vent their frustrations to senior U.S. officials.
It turns out they have at least one sympathetic ear in Congress: That would be Rep. Darin LaHood, an Illinois Republican who may be the most vocal free trader left in Congress at a moment the idea has gone decidedly out of fashion.
I interviewed LaHood Tuesday at Semafor's forum on e-commerce and the new American economy, where he told me that he too found some of the IRA's protectionist measures troubling (the legislation's green subsidies come attached to big American production requirements).
"If we want to be a true free trader, we need to work with our like-minded allies," said LaHood, who like other Republicans voted against the bill.
LaHood, who sits on the House Ways and Means Committee, which oversees bills involving trade, said he's generally been disappointed with the Biden team's approach to global commerce. "They have brought forth no new trade ideas, no new initiatives," he said. He complimented U.S. Trade Representative Katherine Tai as being smart and competent, but said she'd been hamstrung by the administration.
How does a dyed-in-the-wool free-trader see China these days? The issue requires a delicate "balance," LaHood told me. On the one hand, it's a massive, increasingly middle-class market. ("My farmers sell a lot of corn and soybeans there.") On the other, America has to be clear-eyed about Beijing. "China has a plan to replace us," he said, "and they're working at it every single day." He swiped at Biden for failing to finally strike a regional trade agreement for the Pacific that would isolate China. America's allies "are craving our leadership there," he said.
A big part of the reason we don't have such a trade agreement, of course, is Donald Trump, who campaigned against the Trans-Pacific Partnership and shattered the old GOP consensus on free trade. But LaHood told me there are more old school trade enthusiasts left in the party than you might expect, and promised a "very intentional, robust trade agenda" from Ways and Means Republicans, including proposals to overhaul that ever-rickety-looking World Trade Organization.
And what can the Europeans expect from the panel? LaHood promised that he and his colleagues will shine a spotlight on why we don't have a trade pact with Great Britain yet. "After Brexit, that should have been easy to do," he said. It'd certainly be one way of working with, rather than against, an ally.
— Steve Clemons
Stories that are being largely ignored by either left-leaning or right-leaning outlets, according to data from our partners at Ground News.
WHAT THE LEFT ISN'T READING: More Americans are falling behind on car payments now than during the financial crisis.

WHAT THE RIGHT ISN'T READING: A former colleague of the wife of Supreme Court Chief Justice John Roberts filed a complaint claiming Ms. Roberts' work as a legal recruiter poses a conflict of interest for the chief justice.
If you're liking Semafor Principals, consider sharing with your family, friends and colleagues. It will make their day.
To make sure this newsletter reaches your inbox, add principals@semafor.com to your contacts. If you use Gmail, drag this newsletter over to your 'Primary' tab. You can also reply with a hello. And please send any feedback our way, we want to hear from you.
Thanks for getting up early with us. For more Semafor, explore all of our newsletters.
— Steve Clemons