The News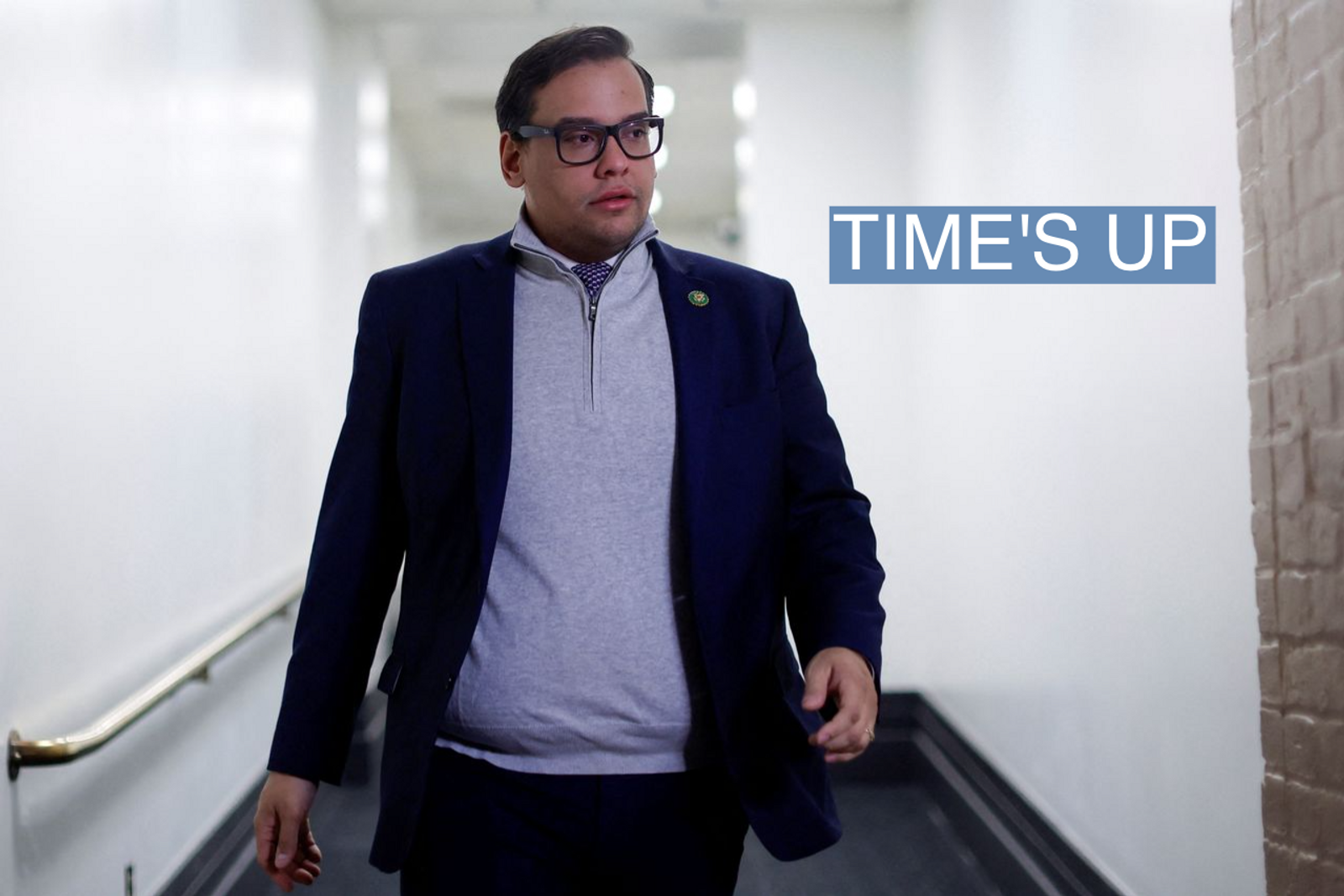 It's time for Congressman George Santos, R-N.Y to resign, according to his fellow Long Island Republicans.
"He has no place in the Nassau County Republican Committee, nor should he serve in public service or as an elected official," Joseph Cairo, Nassau County GOP chair, said at a press conference packed with party leaders and local Republican politicians from the state legislature and Congress.
It didn't work, at least not immediately. Santos responded shortly afterwards on Twitter, saying "I will NOT resign!"
The message from his fellow Republicans was not gentle — speakers made clear Santos had committed egregious violations of their trust and would be persona non grata across Long Island.
"My office will have no interaction with George Santos or his staff until he resigns," Bruce Blakeman, the Republican Nassau County Executive, said. He singled out Santos' "outrageous" false claim to have had relatives who survived the Holocaust as especially offensive.
"He needs help. This is not a normal person," Blakeman added later.
"Mr Santos, haven't you done enough harm?" Jennifer DeSena, the supervisor of the town of North Hempstead, said.
The speakers included Santos' fellow House freshman Anthony D'Esposito, who participated remotely and became the first Republican in Congress to explicitly call for Santos to resign.
"It has become clear that Congressman George Santos' many hurtful lies and mistruths surrounding his history have irreparably broken the trust of the people he is sworn to serve," D'Esposito said. "For his betrayal of the public's trust I call on Congressman George Santos to resign."
The Long Island Republicans cast themselves as victims of Santos' deceit along with the broader public, saying they were largely unfamiliar with him before his run and that his falsehoods extended to their private interactions as well.
Cairo said the Congressman had told him at one point that he had been a star volleyball player at Baruch College who led the team to a "league championship" — in fact, Santos never even attended the school.
New York State Republican Committee chairman Nick Langworthy said he supported calls for Santos to resign in a statement later in the afternoon.
Former Long Island Republican Congressman Pete King also told Semafor he was joining calls for Santos to leave office.
Jack Martins, a newly-elected state senator whose district sits within the third congressional district also called for Santos to resign.
"These aren't embellishments, these are lies and George Santos is a fraud," he said.
Sources have told Semafor that Martins has some institutional backing within the local GOP should there be a special election.

Know More
Santos has had few defenders within the GOP since reporting by multiple outlets revealed he had allegedly faked his education, work, finances, and even religious background, drawing interest from local, state, and federal prosecutors in the process.
But the pressure on him to resign within the party was also relatively light until now, as the House GOP dealt with a contentious speaker fight that made every vote critical and provided an easy distraction. Speaker Kevin McCarthy only weighed in for the first time this week, saying it would be handled "internally," even as some individual members suggested he consider stepping down or backed investigations.
The Nassau County GOP has fewer reasons to stay quiet, however, as they look to build on their very successful midterm results led by Long Islander Lee Zeldin's closer-than-expected campaign for governor. Local party officials began distancing themselves from Santos early on and previously announced they would not back him in 2024. Santos has also said he will not run.
Rep. Nick LaLota, R-N.Y., who represents parts of Long Island, called for House and law enforcement investigations weeks ago, telling the local Suffolk Times "his conduct falls so far below the minimum standard."
Still, the Nassau County Republicans faced numerous questions from reporters as to why they did not act sooner. Participants gave various answers, with some saying they had wanted to give him time to respond to the initial accusations and were unsatisfied with his answers and ongoing revelations.