The News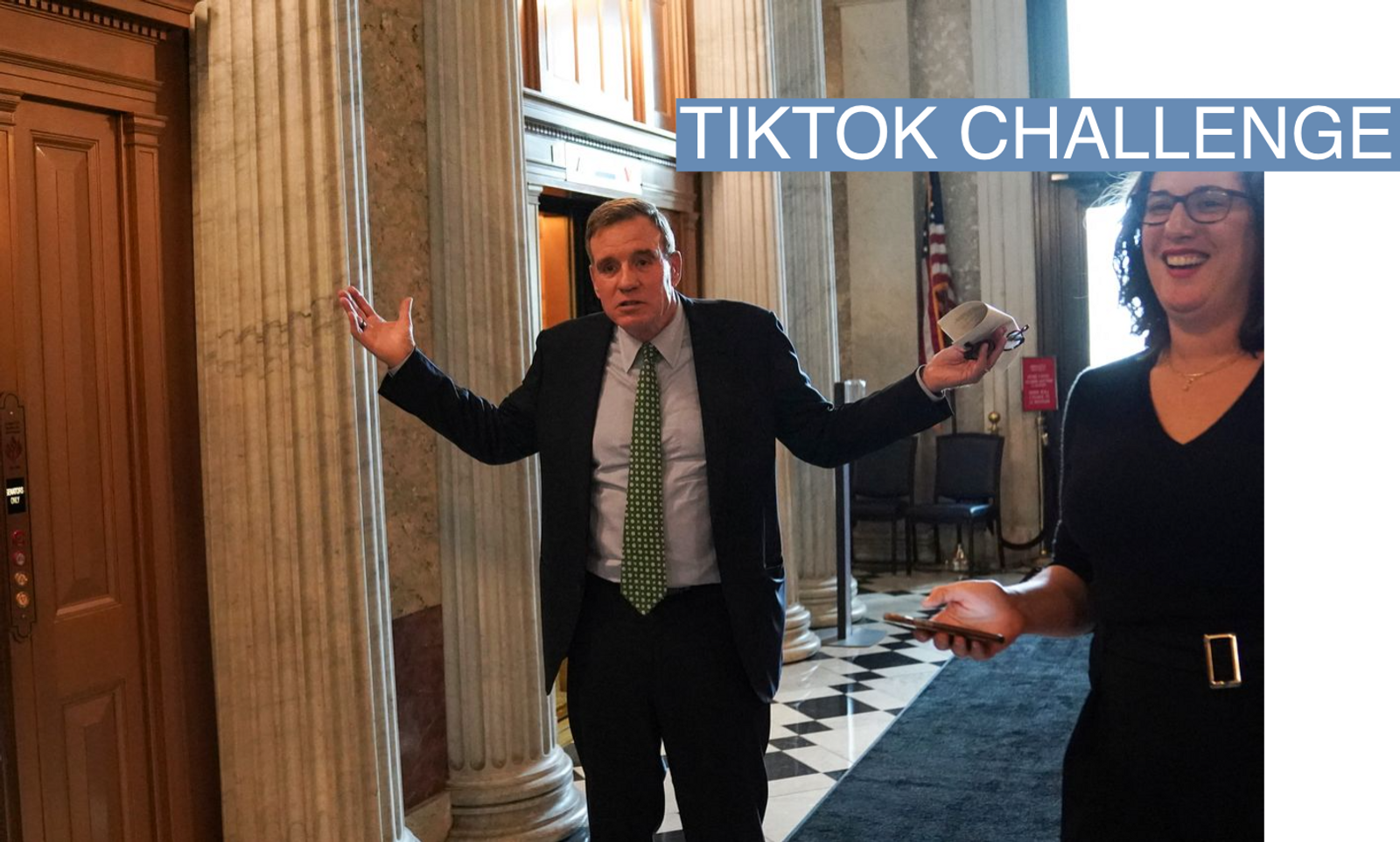 Senator Mark Warner, D- Va. isn't quite ready to ban TikTok, the ultra-popular Chinese social media app. But he also had a message to the Biden administration, which is currently reviewing it for national security concerns: Hurry up.
"I figured I wanted to give them the chance to make their case first," Warner told Semafor. But his patience for action, he said, was "running out."
Warner is one of several key Senate Democrats who say they're at least open to a blanket ban on TikTok in the U.S., which keeps lawmakers up at night worrying about Chinese agents scraping data and their children up at night watching lava fail to melt ice.
For now, they're not rushing to cosponsor a bill by Sen. Marco Rubio, R-Fla. that would do just that. But they also think Rubio is onto something.
Semafor spoke to six of the eight senators on the Democratic side of the Senate Intelligence Committee, none of whom ruled out supporting the bill.
One, Sen. Angus King, I-Me., an independent who caucuses with the Democrats, told Semafor he is "sympathetic" to the idea of a ban but that he needed to study the legislation further.
"I am uncomfortable about censorship but this has national security ramifications and it's a foreign intervention in our society," he said. "I am sympathetic, but not fully on board."
Sen. Michael Bennet, D-Colo. told Semafor Rubio is "raising very important questions about TikTok and Beijing's control of that platform and concerns about our privacy."
And while Sen. Bob Casey, D-Pa. wanted more time to review the bill, he suggested lawmakers should be prepared to get out of their comfort zone with more aggressive legislation.
"We've got to undertake measures that either have not been contemplated before or … deal with issues we have not dealt with before because of the threat posed by China," he told Semafor.
The idea of banning TikTok, which is owned by Chinese parent company ByteDance, was born during the Trump administration, when the former president tried to muzzle the social media app by executive order. A court halted it and Biden ultimately revoked the executive order when he took office, instead conducting talks with TikTok about a potential deal to address their concerns.
Lawmakers in both parties still fret that data belonging to American TikTok users could end up in the hands of Chinese officials and potentially be used in surveillance or propaganda efforts. Detractors worry they could be compelled by China's government to hand over U.S. information under a data security law.
Rubio's bill has a Democratic sponsor in the House, Rep. Raja Krishnamoorthi, D-Ill., but not in the Senate. There's an effort behind the scenes afoot to acquire bipartisan support in the upper chamber, however. "We've had conversations, but nothing to share," a Rubio spokesperson said.

Morgan's view
You can hold off on breaking the sad news to the Gen Zers in your life, a full TikTok ban is still unlikely, in part because it would spur substantial pushback from Americans among whom the app is very popular. It's not just younger people on the app, either: 10% of Americans aged 30-49 regularly get their news from the platform, according to Pew Research Center, and the number is trending upward.
That gives the White House plenty of motivation to secure a deal that would satisfy both sides. Though it has run into delays due to a range of U.S. concerns, the White House is still attempting to reach an agreement with the company aimed at securing U.S. data, and Democrats seem like they'll hesitate before torpedoing those talks.
"It's troubling that rather than encouraging the Administration to conclude its national security review of TikTok, some members of Congress have decided to push for a politically-motivated ban that will do nothing to advance the national security of the United States," a TikTok spokesperson said in a statement.
Of course, it's TikTok's extreme popularity that is contributing to the calls to ban it — Rep. Mike Gallagher, R-Wisc., a co-sponsor of Rubio's bill, calls it "digital fentanyl that's addicting Americans." And the fact that influential Democrats aren't ruling out a total ban does highlight the depth of their concerns about the app, which could push them toward drastic action if the White House's negotiations fail.
But lawmakers worried about TikTok may find it more palatable to support narrower bans, like a bill sponsored by Sen. Josh Hawley, R-Mo. that would prohibit the use of TikTok on government devices. (Agencies including the State Department and White House already bar it on their devices). It passed the Senate through unanimous consent on Wednesday evening, but faces a more uncertain path in the House as lawmakers rush to finish work on major spending bills before leaving town for the holiday.
Punchbowl News reported Friday that House Speaker Nancy Pelosi, D-Calif. is pushing for Hawley's bill to be added to the omnibus spending package.

The View From China
Chinese Embassy spokesperson Liu Pengyu criticized efforts to constrain TikTok in the U.S., accusing lawmakers of using concerns about national security as an "excuse to suppress relevant Chinese companies."
"We have learned that TikTok has sought to work in good faith with the US government to provide constructive solutions to the so-called 'national security concerns,'" he said. "The US should take a responsible approach and respect and abide by international rules that are fair, open and non-discriminatory."

Room for Disagreement
Some see the recent action on Capitol Hill and elsewhere as a sign of the tide definitively turning against TikTok.
"The end-game is finally coming into sight in TikTok's long-running attempt to escape being banned in the US," Richard Waters wrote in the Financial Times, adding that the legislative efforts represent "a shot across the bows of the White House."

Notable
The FBI has been especially critical of TikTok and is seen as a major hurdle to a deal, Bloomberg reports.
TikTok is looking at expanding into shopping livestreams in the U.S., Semafor's Louise Matsakis reports.