The News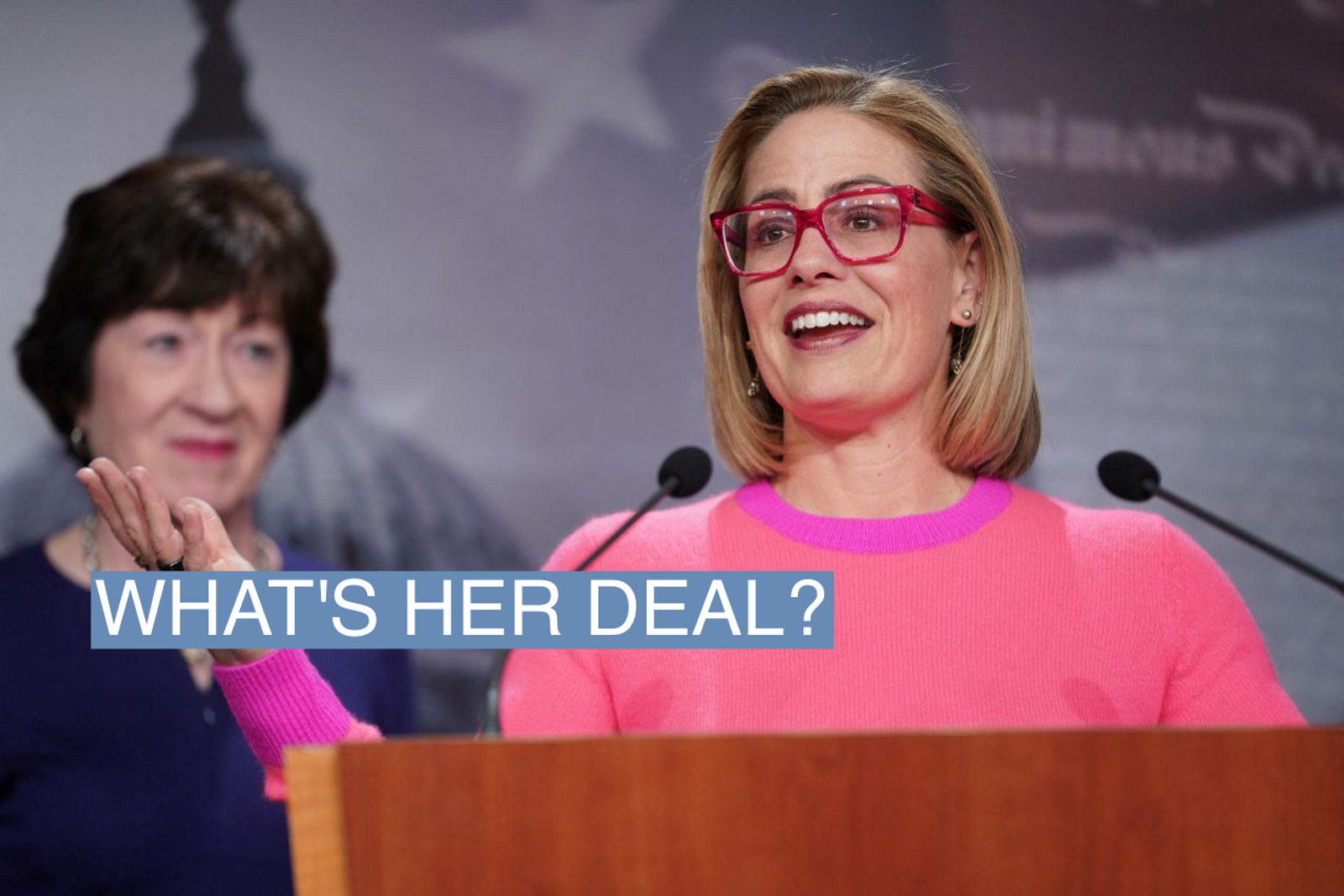 The Senate was abuzz on Monday about a potential bipartisan deal on immigration, revealed yesterday, that would trade stricter border controls for a pathway to citizenship for up to 2 million young undocumented immigrants.
The tentative framework, negotiated between Sens. Kyrsten Sinema, D-Ariz. and Thom Tillis, R-N.C. and first reported by the Washington Post's Greg Sargent, would feature a version of the DREAM Act alongside a temporary legislative version of Title 42, the pandemic emergency order that allows border agents to rapidly remove many asylum seekers crossing the border. There would also be a $25 billion surge in resources to more quickly process immigration cases once they're in the system, as well as an increase in border patrol staffing and pay.
While the details were "very much in flux," a Senate aide said talks could also incorporate elements of a bipartisan bill backed by Sen. John Cornyn, R-Texas, that would stand up short-term detention centers to process migrants more quickly.
Tillis told reporters that border patrol agents "will be overwhelmed if we don't act before the end of Congress," providing a strong motivation for both sides to get to a deal.

Our View
This Congress has already seen bipartisan breakthroughs on infrastructure, guns, and same-sex marriage, but immigration may be a stretch.
Senator after Senator who talked to Semafor on Monday stressed that they'd still seen few details, making it hard to judge how seriously to take talks.
"We don't have any final language whatsoever," said Sen. Bob Menendez, D-N.J., a key player on immigration issues. He said he'd spoken to Sinema, but had only seen "snippets" of a bill.
"When they actually come together with the document, then I'll be able to form a judgment," Sen. Mitt Romney, R-Utah, a frequent Sinema collaborator, said.
"I've never seen it, I don't know what they're talking about," Sen. Lindsey Graham, R-S.C., a longtime immigration negotiator, said. He added any deal would have to "fundamentally change the asylum program" to win his support.
Sen. Mike Rounds, R-S.D. said he had discussed the issue with Sinema last week and that "there's a number of us who recognize that we have challenges with DACA" that might be addressed alongside border security.
But he also said he had yet to see a detailed proposal and that "it's not something you can airdrop" into a larger bill, like the NDAA or an omnibus spending deal, without extensive talks beforehand.
With time running out in the lame duck session skepticism is high there's time for that level of discussion on a historically thorny policy issue.
"I don't see any space for it," Sen. James Lankford, R-Okla. said.

Room for Disagreement
Outside supporters of a deal say this isn't a drill: Conditions are riper for talks on both sides than they've been in years.
Both DACA and Title 42 are under imminent threat from the courts and neither side particularly wants to own the political consequences if they're shut down. Democrats don't want to look soft on the border; Republicans know Dreamers enjoy broad sympathy among voters. It's unlikely the incoming Republican House could find a similar deal next year without their right flank rebelling, so Senators may decide this is the time to nip both issues in the bud.
"Everyone is willing to bend a lot further than they were before," one immigration advocate told Semafor. "This is your last chance to have any impact on immigration policy."

Notable
The Biden administration may make it harder to seek asylum at the border with or without Congress, the New York Times reports. If Title 42 expires, they're considering reinstating Trump era policies that would require migrants to first try to stay in countries they pass along the way to the U.S. border.