Israel military campaign now eyes south Gaza where thousands have fled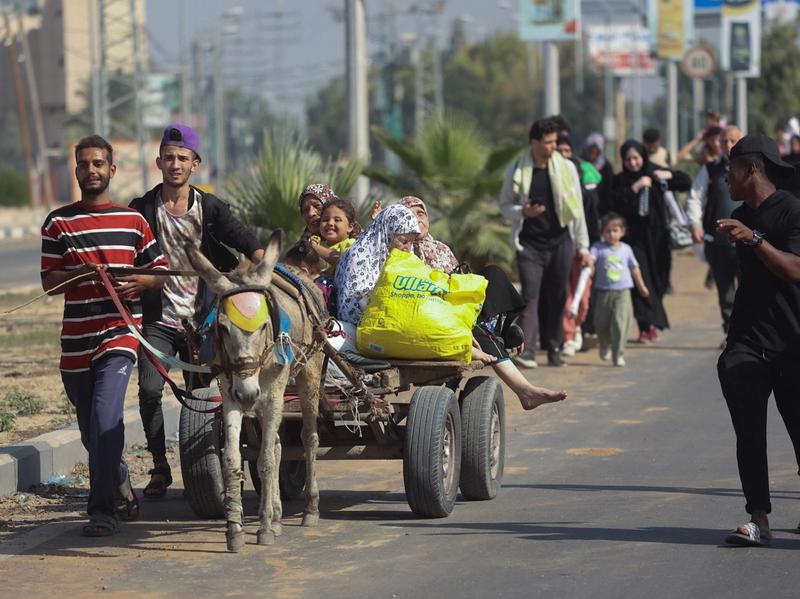 Israel says that it's planning to expand its military operations in southern Gaza — raising the alarm for nearly one million Palestinians who have fled to escape fighting and bombardment in the north.
Western officials who spoke with the Financial Times said Israel believes that several Hamas leaders have moved south to the city of Khan Younis. Residents in four neighborhoods in the city were warned to evacuate their homes and go to shelters Thursday.
"Whoever is present near terrorists or their installations will be exposing their life to danger," read leaflets that were reportedly dropped into Khan Younis. The IDF has not commented on the leaflets.
Rights groups have warned of a "humanitarian catastrophe" in the densely packed south, where now a swollen population of Gazans face severely restricted supplies of food, water, and electricity. Khan Younis was previously home to at least 100,000 Palestinians, and cramped conditions in the city make outbreaks of infectious disease and starvation an "immediate possibility," advocates said. With only one operational border crossing (the Rafah crossing) the United Nations has been struggling to meet the needs of the internally displaced population of more than 800,000 people. UN officials have warned that no part of Gaza is currently safe for anyone. "No 'safe zone' is truly safe when it is declared unilaterally or enforced by the presence of armed forces," heads of UN agencies said in a statement.
While blocs like the UN Security Council and ASEAN have called for a truce between Israel and Hamas, U.S. President Joe Biden's statements seem to suggest there is no timeline for Israel to end its military campaign in Gaza. In recent remarks, Biden backed Israel's contentious raid of Gaza's largest hospital, al-Shifa, and said that the IDF will only cease its bombardment "when Hamas no longer maintains the capacity to murder, abuse and just do horrific things" to Israel. He added: "Hamas has already said publicly that they plan on attacking Israel again, like they did before — cutting babies' heads off and burning women and children alive. And so the idea that they're [Israel] gonna just stop and not do anything is not realistic."
There has been more effort from the U.S. in recent weeks to "recalibrate the messaging" around concerns over aspects of Israel's military operation, but it doesn't seem to translate to changes in Israel's policy or U.S' financial support for the war, Ben Rhodes, former White House staffer, said on Pod Save the World. Although the Biden administration has urged Israel to exercise some restraint in its bombardment of Gaza, the U.S. president has also urged to Congress to approve billions in emergency funding to support Israel's military campaign. "It begs the question from the rest of the world looking at this — what's the point of this type of recalibration if it doesn't lead to any changes in Israeli policy, or frankly, in terms of U.S. support?" Rhodes said.