The Scoop
Starbucks "has overexposed itself to the risks of doing business in China," Strive Asset Management, founded by Republican presidential candidate Vivek Ramaswamy, told the company's CEO and board chair.
In a letter sent Wednesday and viewed by Semafor, the conservative-leaning firm says the company's "bet-it-all-on-China strategy," which includes 6,500 stores on the mainland, is vulnerable to an invasion of Taiwan or other provocations that could force Starbucks out of the country.
Former CEO Howard Schultz kept tight control of Starbucks' network in China. His departure may open the door to a franchise model, which would cede more control to local partners. (His board seat will be filled by a former Alibaba executive, an appointment that Yahoo Finance's Brooke DiPalma said "reemphasiz[ed] the company's commitment to China.")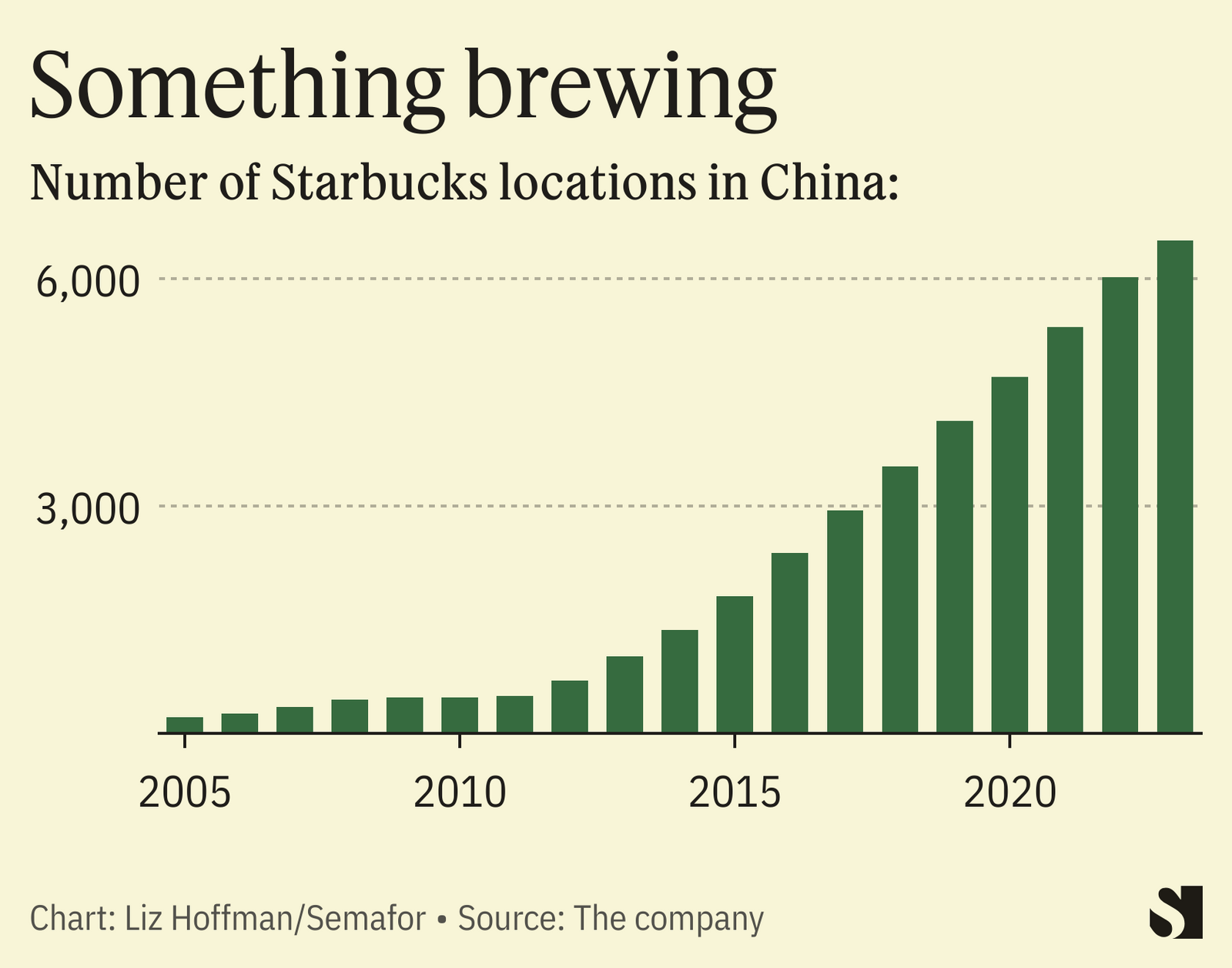 Strive executive Justin Danhof told Semafor: "Starbucks' China strategy appears to be a major gamble with a hostile partner," one that "regularly props up local businesses over foreign companies."
Starbucks didn't respond to a request for comment.

Liz's view
Strive notes that Starbucks' three biggest investors, BlackRock, Vanguard, and State Street, "are not the actual owners of Starbucks, their clients are." Of course that's true of Strive, too, which owns just a token stake in Starbucks — about $1.4 million, according to the latest disclosures — through its ETFs.
Strive, which launched in 2022, has punched above the $1 billion it manages, needling executives it feels have tilted their companies too far toward environmental or social causes. It has criticized BlackRock in particular for championing progressive ideas in corporate boardrooms, though it has been dialing back its "anti-woke" rhetoric, Semafor reported in July.
But China hawkishness is increasingly a bipartisan issue, and Russia's invasion of Ukraine showed how quick Western companies are to retreat from geopolitical hot zones. Leaving Russia was an easy call because most companies do little direct business there. That's not true of China.

Room for Disagreement
It's worth noting that Starbucks asked investors last year whether they wanted a report on the company's exposure to China and related risks. They said no by a margin of 20:1. Its three biggest shareholders all voted no, according to their annual disclosures.