The News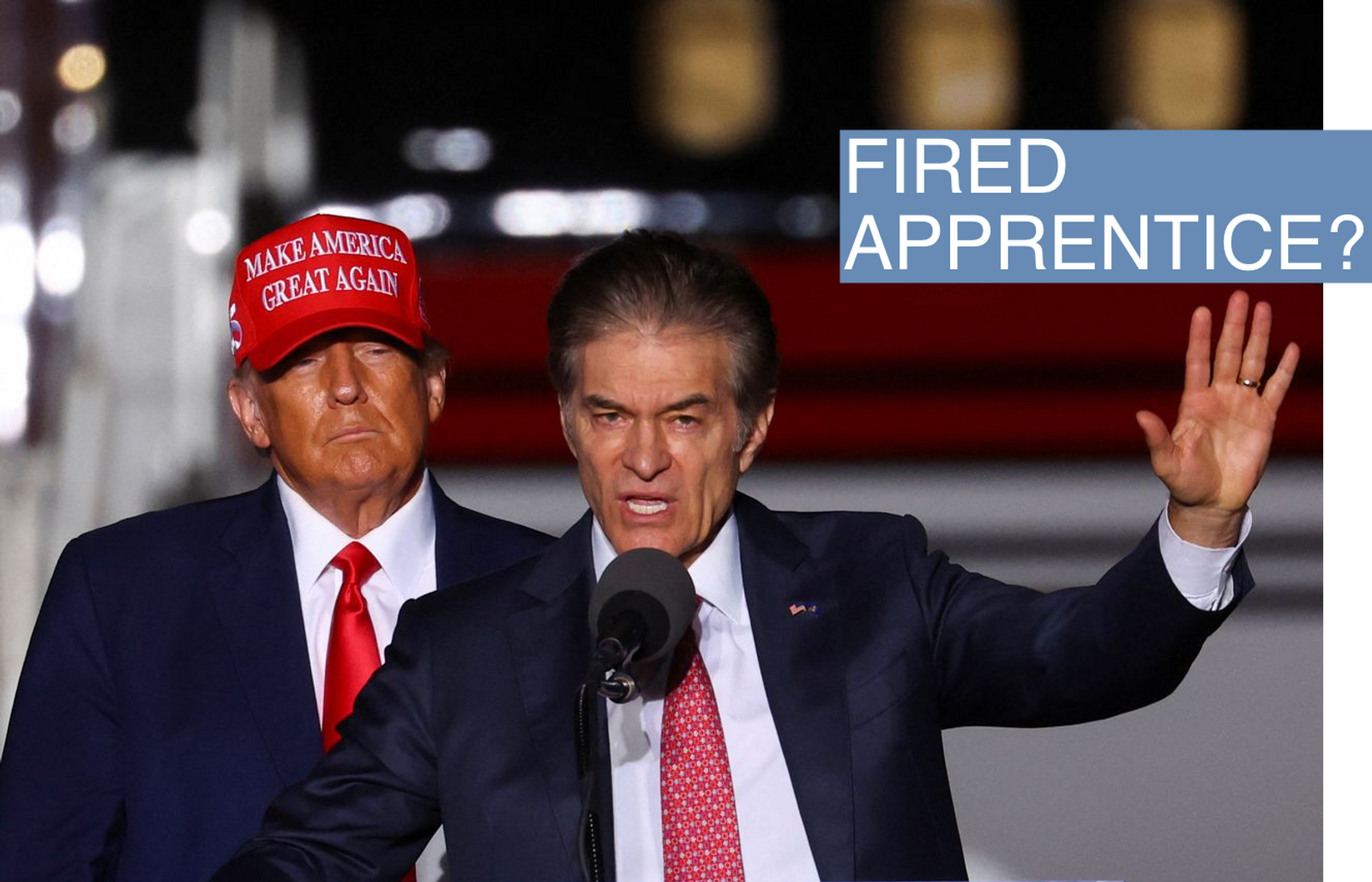 It was a rough night for Republicans on Tuesday, but especially for prominent candidates who scored Donald Trump's early endorsement or mimicked his style of politics and echoed his false claims about the 2020 election.
Trump, who spent the early Wednesday morning hours defending his record on Truth Social, awoke the day after his viewing party at Mar a Lago in a particularly angry mood, in part over Republican Senate nominee Dr. Mehmet Oz, who lost to Democrat John Fetterman.
Trump's anger, two people close to Trump told Semafor, was widespread — ranging from frustration at donors to being upset with Fox News host Sean Hannity. The former president even blamed his wife, Melania, over her push to bolster Oz, according to New York Times reporter Maggie Haberman.
"He's frustrated," one person said. "The Oz thing has really irked him."
Trump, on his social media platform Thursday, denied claims that he was mad at Hannity and Melania, accusing "the Fake News Media" of being "'Crazed' and totally out of control." Trump also denied reports that he was mad about the midterm results in general, writing that he "did a great job."
Still, even as conservatives openly rebuke Trump over the midterms and Republicans struggle to grasp what, exactly, happened to their big momentum, he's likely to remain unmoved from his current plan to regain control of the party and the presidency.
If he pushes back after very publicly teasing what many expect will be a presidential announcement on November 15, he'd be conceding some version of defeat over the midterms, one person close to Trump pointed out. That's almost never an option for him.
Another person close to Trump thought there might be a way to hedge. "I think he's committed to making an announcement on the 15th," they said, suggesting that it could be something short of a presidential campaign launch.
Candidates who'd won tough primaries with Trump's support under-performed in races around the country, with some losing seats that the party expected to win. In places President Joe Biden had won by single digits, they did no better than Trump had two years ago.
Bo Hines, a former Yale football player who shopped around for a North Carolina district to run in, lost to Democratic state Sen. Wiley Nickel in a seat Biden carried by just 2 points. In Michigan, ex-Trump administration official John Gibbs successfully primaried one of the Republicans who'd impeached Trump, Peter Meijer. Gibbs lost his Grand Rapids district by 13 points, running well behind Trump's own 2020 margin.
In Ohio, Trump-backed candidates J.R. Majewski, who was plagued by reports that he misrepresented his military service, and Madison Gesiotto Gilbert, lost House seats that had been drawn to go Republican in a decent year for the party.
"She has been a supporter of mine for many years," Trump said in March when he endorsed Gilbert, who lost by 5 points in a northeast Ohio district Trump had only lost by 3 points.
In New Hampshire, where U.S. Senate nominee Don Bolduc and House candidate Karoline Leavitt had claimed the 2020 election was stolen, both did far worse than expected, struggling in reliably Republican towns like Derry and Rochester where more moderate candidates, like Governor Chris Sununu, had won easily.
"They repeated Trump's lies so much that not only did they believe them, they accepted the same level of conspiracy around themselves," New Hampshire Democratic Party chairman Ray Buckley told Semafor. "They believed they were winning when they never were winning."
Other defeats were less surprising. Republican governors in Maryland and Massachusetts refused to endorse the Trump-backed candidates nominated to succeed them. Both of them — Dan Cox and Geoff Diehl — lost by landslide margins. In Michigan and Pennsylvania, where Trump endorsed candidates who falsely claimed he'd won the 2020 election, both were handily defeated, and Democrats gained seats in the state legislature.
Trump-aligned candidates for state election offices failed in those states, too, and struggled elsewhere. As of Wednesday morning, Republican candidates for Secretary of State had lost in Michigan, Colorado, New Mexico, and Minnesota. They were running behind the top of the GOP ticket in Arizona and Nevada, where neither party expected clarity on the results until later this week.

Shelby and David's View
The results could have significant implications going forward, both for Trump's standing with Republicans, and for elections in 2024 and beyond, which might otherwise have been overseen by officials who supported his attempts to overturn his 2020 loss to President Joe Biden.
Almost immediately, many conservative commentators pointed to the disappointing results — which they contrasted with Governor Ron DeSantis's blowout victory in Florida — to argue Trump was dragging down the party with his personal feuds and party infighting. This is likely to become a critical argument in any campaign to defeat Trump in the primaries.

Room for Disagreement
At least publicly, many of Trump's advisors have tried to play up his more successful endorsements and downplay the shock of a disappearing "red wave." And one top Republican strategist argued that Trump wasn't the only one to blame — Senate Minority Leader Mitch McConnell and Sen. Rick Scott, R-Fla. experienced an equally bad night.
"There already is anger against all three," the Republican strategist told Semafor. "Just people who hate Trump using it as an excuse to try to rip him. Worth noting that it's silly to think this will affect anything primary wise though it won't stop folks from trying/wishing."