The Scoop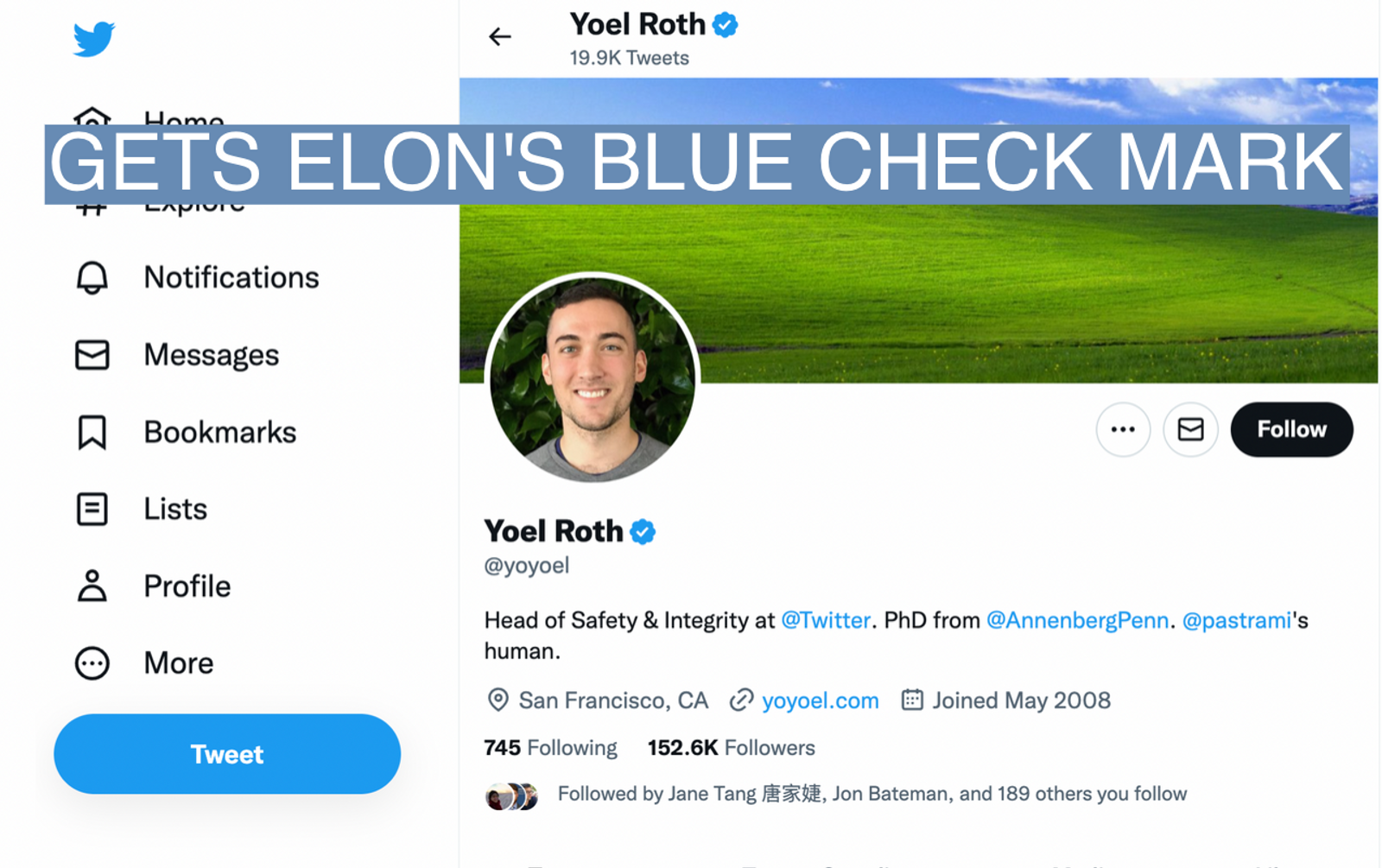 Early Sunday morning in California, Elon Musk followed the Twitter account of a veteran employee at the social network, Yoel Roth, adding him to the short list of fewer than 130 people Musk follows. Twitter's global head of safety and integrity joined the company in 2015, and in recent days, has become one of few executives to gain the new boss's public support.
Seven people who have worked with Roth described him as thoughtful, hard-working, and having the kind of technical know-how that Musk usually favors. His "nerdy" disposition is "right up Elon's alley," said one of the people, who asked to remain anonymous. "It seems like he's won him over pretty quickly."
On Friday, about half of Twitter's 7,500 employees are set to be laid off, but Roth is expected to remain at the company, another person said. And Musk has defended and complimented him since taking over the social network after a months-long legal battle in which the Tesla CEO tried to get out of the $44 billion deal.
"I recommend following @yoyoel for the most accurate understanding of what's happening with trust & safety at Twitter," Musk tweeted Monday. Since then, Roth has gained nearly 100,000 followers, catapulting his work into the spotlight for the second time in the last few years.
In 2020, Roth landed on the front page of the New York Post for tweets he sent in 2016 and 2017, referring to former President Donald Trump as a "racist tangerine," and calling Senate Minority Leader Mitch McConnell a "personality-free bag of farts."
Roth and his family received death threats after the article was published, prompting Twitter to provide security protection at his home, according to people who worked with him at the time. Roth regretted the tweets, those people said.
Some right-wing voices on Twitter began circulating Roth's old tweets again this week, calling on Musk to get rid of him. But despite having already fired much of Twitter's senior leadership, including the CEO, CFO, and head of policy, Musk has continued to defend the safety and integrity lead.
"We've all made some questionable tweets, me more than most, but I want to be clear that I support Yoel," Musk tweeted Sunday. "My sense is that he has high integrity, and we are all entitled to our political beliefs."
Roth, who did not respond to requests for comment, has devoted his career to studying online behavior, and earned his PhD in communications from the University of Pennsylvania. Much of the research he has published concerns the experiences of gay communities on the internet, including a dissertation on Grindr that argued the dating app and similar platforms "constitute an important site for examining how bodies, identities, and communities are translated into data."
Over the past few days, Roth has tried to assure Twitter users that the platform still cares about fighting abuse and disinformation. Earlier this week, he shared research showing Twitter had taken down several networks of accounts in China and Iran that tried to influence American politics. "We're staying vigilant against attempts to manipulate conversations about the 2022 US midterms," he tweeted.
He also explained how Twitter was contending with a "surge in hateful conduct" on the platform, disclosing it had suspended more than 1,500 accounts. "You'll hear more from me and our teams in the days to come as we make progress," he wrote. "Talk is cheap; expect the data that proves we're making meaningful improvements."
"Yoel has a rare gift for explaining complex trust and safety concepts to outside audiences, and I suspect he's doing a lot of that this week," said Nu Wexler, a former associate communications director at Twitter who worked closely with Roth. "It's easy to endorse absolute free expression in the abstract, but harder when your company has to please government regulators and risk-averse advertisers."

Reed and Louise's View
The chief fear among people critical of Musk's takeover of Twitter is that he will choose to relax content moderation standards on the platform, turning it into a haven for vitriol and manipulation by state actors around the world.
But his willingness to publicly defend someone who has angered conservatives, risking his credibility with the right, is a sign that those concerns may be overblown. Musk has spent his career as a mercurial entrepreneur, not a committed ideologue. Twitter's policies could still certainly change extensively, but it won't be a free-for-all if Roth and other leaders like him on the trust and safety team remain in place.
"Yoel has been at Twitter doing this work for years; he's not some new face on the scene," said Del Harvey, who hired Roth when she was previously Twitter's vice president of trust and safety. "He has always done his best to make sure we are making the informed, best, and least-bad choice in terms of trying to make sure we are mitigating potential negative impact."
Roth works long hours and cooks and bakes bread in his limited free time, according to people who know him. His work only came into public view two years ago when he became embroiled in conservatives' years-long crusade against social media companies, which they allege are discriminating against ring-wing viewpoints.
People who know Roth said the death threats he and family received in 2020 had an impact on him, as did personal attacks he received related to his identity—he is openly gay and Jewish.
"He has shown great strength even when a very powerful and unscrupulous figure (Donald Trump) went after him," said Susan Benesch, a professor at American University and the founder of the Dangerous Speech Project, where Roth worked before joining Twitter.
Alex Stamos, the former chief security officer at Facebook, said Roth is motivated by high-impact work. "There are very few jobs where you have the ability to completely frustrate a campaign by the People's Republic of China. It really is a national security job, except you don't have to live in a windowless basement in Baltimore," said Stamos, who worked with Roth during the aftermath of the 2016 U.S. presidential election. "You get to have free snacks and make the country safer."

Room for Disagreement
The U.S. right-wing is disappointed that Musk has thrown his support behind Roth and seemingly forgiven him for his past tweets. "I'm glad that @elonmusk set out to make much-needed changes at Twitter. However, as long as radical leftists like Yoel Roth get to decide what speech should and shouldn't be censored, Twitter will never be fair for both sides," tweeted Congressman Paul Gosar, a Republican from Arizona.
One of the things conservatives have pointed to as evidence of Twitter's bias is the company's 2020 decision to temporarily block a New York Post article on the contents of Hunter Biden's laptop, a move that Musk said was "obviously incredibly inappropriate."

The View From India
One of the most challenging countries for Twitter when it comes to free speech is India, its fourth largest market with more than 38 million estimated users. Starting during the farmers' protests in the country last year, Twitter has been repeatedly pressured by Indian officials to censor posts by journalists, opposition leaders, and people criticizing the government. The police have even showed up at Twitter's offices in New Delhi.
Twitter has done more than some companies to resist government pressure in India, but it's not clear whether that will continue under Musk's ownership. Harvey said she was confident Roth was thinking about challenges in different countries. "I am absolutely confident that he's not zoned in on and focused on the United States," she said.
The Indian government, meanwhile, has signaled its expectations for the social media site remain the same. Rajeev Chandrasekhar, India's minister of state for electronics and information technology, told Reuters last week that the country's rules still apply "regardless of who owns the platforms."

Notable
Twitter has limited the number of employees who can access trust and safety tools during the transition to Musk's ownership, according to Bloomberg. Musk is also reportedly reviewing some of the company's content moderation policies, including ones on hateful conduct and misinformation.
Some people are upset that Elon Musk may start charging people for the little verification check marks given to prominent users as well as most reporters. Katie Notopoulos makes a good point in this column that those check marks are a fairly antiquated way of verifying someone's identity. Let's hope Musk has some ideas up his sleeve or Twitter's going to be overrun by impersonators pretty quickly.
In June, Twitter sued the Indian government over a takedown order it received. The outcome of the dispute could have "massive ripple effects" and set a precedent across the region, Wired reported, since India often serves as a model for its neighbors when crafting legislation.

Contact
Want to pass along a tip or feedback? Write to us at reed@semafor.com and lmatsakis@semafor.com.