How auto workers won their fight for better pay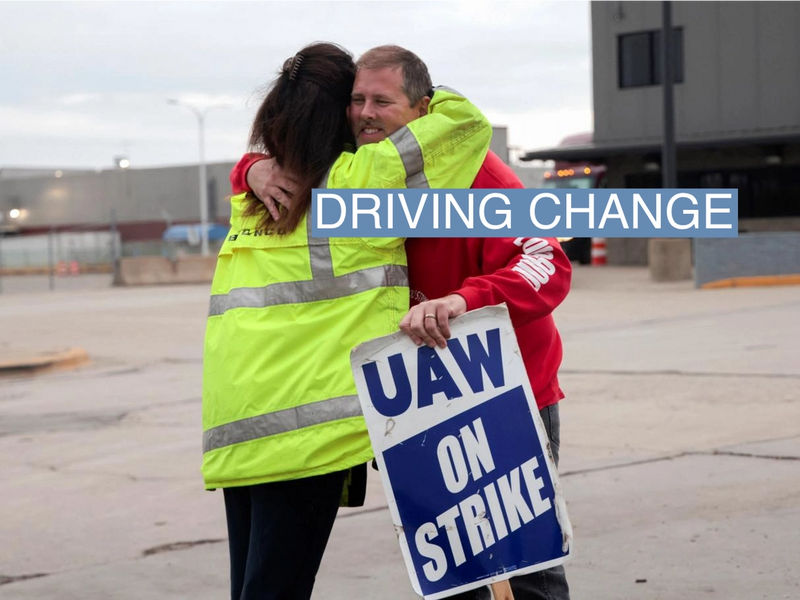 The United Auto Workers union and General Motors have reached a tentative labor agreement to end a strike that has lasted over a month, according to multiple reports.
GM is the last of the "Big Three" Detroit automakers to reach an agreement with the union; Ford and Chrysler parent company Stellantis struck deals in the last week. The news follows weeks of negotiations after thousands of auto workers simultaneously went on strike against the three companies in September amid disagreements over pay.
The terms of the GM agreement that cover pay are broadly similar to the deal the union reached with Ford, Bloomberg reported. That included a 25% general raise for autoworkers, cost-of-living increases, and a $5,000 ratification bonus. Union leaders hailed the Ford contract as a big win, with President Shawn Fain saying they had "a goal of not leaving a dime on the table and we accomplished that," and Vice President Chuck Browning declaring, "We have won things we haven't seen in years." It's part of a trend of higher wage earnings for union members across industries in the U.S. over the past year, from airlines to railroads, the Financial Times reported last week.
President Joe Biden became the first sitting president in modern times to visit a picket line when he traveled to Michigan in September to show support for the workers. It was seen as a political risk, and some Democrats criticized him for not staying neutral. But that political danger is receding, Politico reported, with Biden soon able to "lay claim to a victory for his pro-union stance." The union likely could've won the better contracts without Biden's help, but was still bolstered by "the most dramatic presidential intervention in a private-sector strike since … well, if there was a precedent for it, I can't recall it, Michael Tomasky writes in The New Republic.
The historic strike impacted businesses globally, and threatened to further hit the economy the longer it lasted. A French car parts maker had warned of possible temporary layoffs, while a Swedish company that's the world's largest producer of airbags and seatbelts said "these kind of disturbances" can become major risks the longer they go on for. And the head of Aisin, a Japanese company and the world's largest transmission manufacturer, was also worried about the "ripple effects" of a work stoppage in Detroit.