The News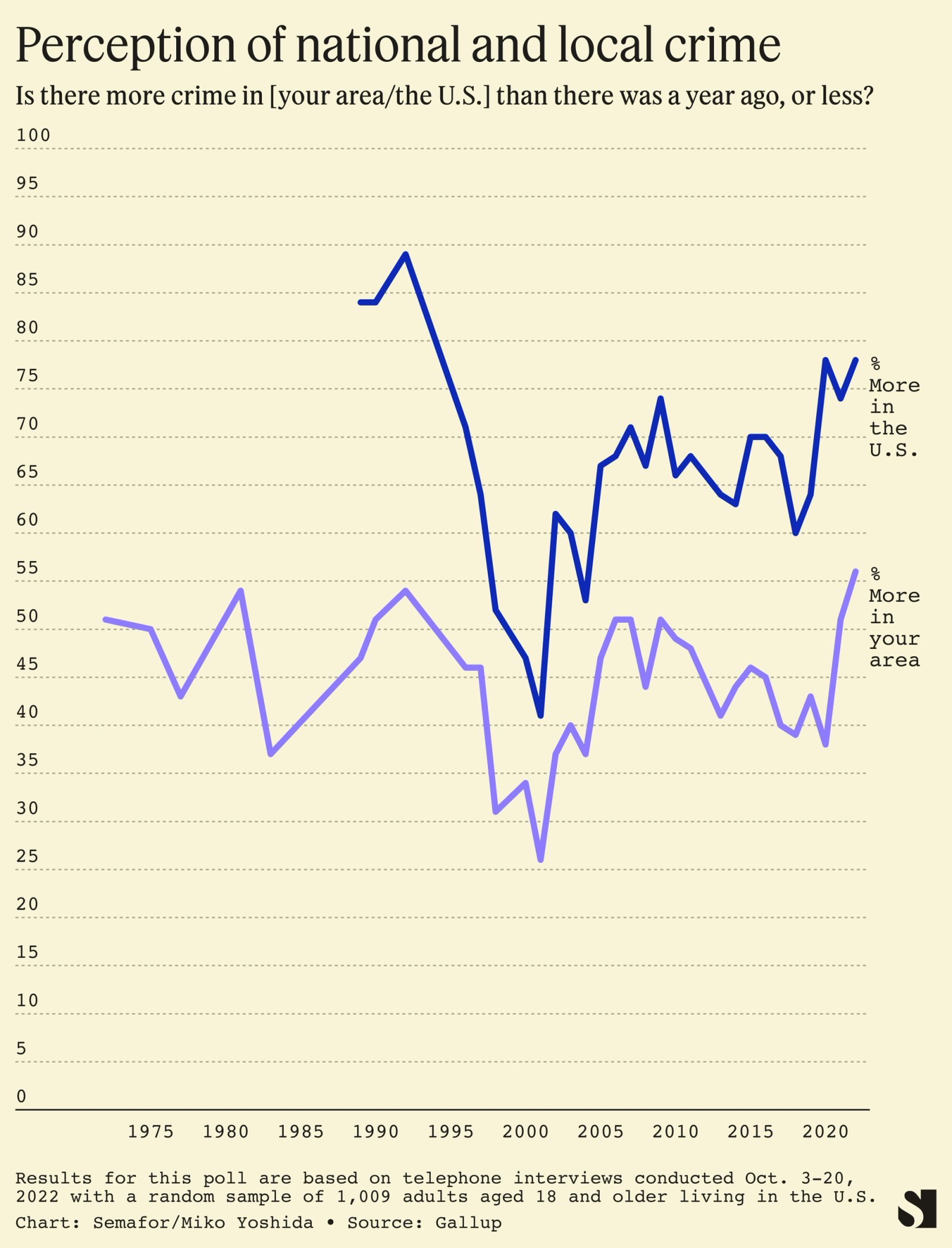 More Americans say crime is up in their area than at any point over the last five decades, according to new polling from Gallup.
The survey, conducted in October, found 56% of respondents reported crime has increased over the last year in their neighborhood, up from 51% in 2021, and just 38% in 2020. 78% say there's more crime in the country overall, similar to last year.
Public safety is playing a starring role in the midterms as Republicans highlight crime in campaigns and promising a tougher approach.
Not coincidentally, Gallup found the increase in perceived crime was driven by a major shift among Republicans —73% said local crime was up last year, versus 51% of independents and 42% of Democrats, whose views have barely moved over the last two years.

Benjy's view
Perception doesn't always match reality. Americans tend to tell pollsters crime rates have gone up nationally every year, even as crime has dropped far from its peak three decades ago.
But voters are also not imagining the recent increase, even as the picture differs significantly from place to place and national crime statistics are often marred by lagging and incomplete data. An FBI report found murders leveled off this year, but only after spiking 29% in 2020 amid COVID-19 interruptions, nationwide protests against police brutality, and record gun sales. Major cities are still seeing increased crime. It will take time to sort out what was temporary and what's part of a trend.
"We don't view this as a highly sensitive measure, but one that can capture major shifts in crime — or shifts that are getting a lot of media attention," Gallup Director of U.S. Social Research Lydia Saad told Semafor.
What's clear in the meantime is that the rise in violent crime has transformed the politics of the issue — and once that bell is rung, it can be hard to un-ring. It took decades of plummeting crime rates to make politicians in both parties comfortable with the kinds of police, prison, and sentencing reforms now under attack by Republicans and some Democrats in race after race. Trump ran on a bipartisan criminal justice reform law he signed in 2020, but now there's little appetite within the party for similar legislation and the former president is leading rallies with calls to execute drug dealers. Even in deep blue territory like Oregon, Democrats fear they're becoming branded as the party that's permissive of crime and disorder.
There are potential consequences for Republicans as well, however. Gallup's survey asked voters to rate their fears of individual crimes and the largest shift was in the prospect of a child being harmed at school, which concerned 47% of respondents, a 13-point jump that came after a horrific mass shooting in Uvalde, Texas. President Biden has campaigned for Democrats on expanding background checks and banning so-called assault weapons.

Room for Disagreement
Critics complain that Americans' perceptions of crime are skewed by media coverage and political opportunism, which exploit public fears for votes and profit by wildly overstating the danger.
Philip Bump of the Washington Post tracked a massive explosion in crime coverage over the Fall led by Fox News, but followed by other networks, as Republican campaigns pivoted to the issue in ads and messaging. A story in Bloomberg earlier this year documented a similar phenomenon in New York City, where media coverage and voter fears surged alongside high-profile attacks in subways and a crime-focused campaign by eventual Mayor Eric Adams — even as murders hovered around 2009 levels, a time when the city was widely hailed as a national model for crimefighting.
Some progressive groups say that simple crime narratives overlook that Black voters, in particular, often favor stronger public safety measures and more reforms at the same time. New polling from FWD.us, conducted among Black voters, found just 4 percent naming "crime" as their top voting issue, while 60 percent believed there were still "too many people" in prison. "Black voters roundly reject a return to the failed policies that contribute to community violence and led to mass incarceration in the first place," FWD said in a statement.