The News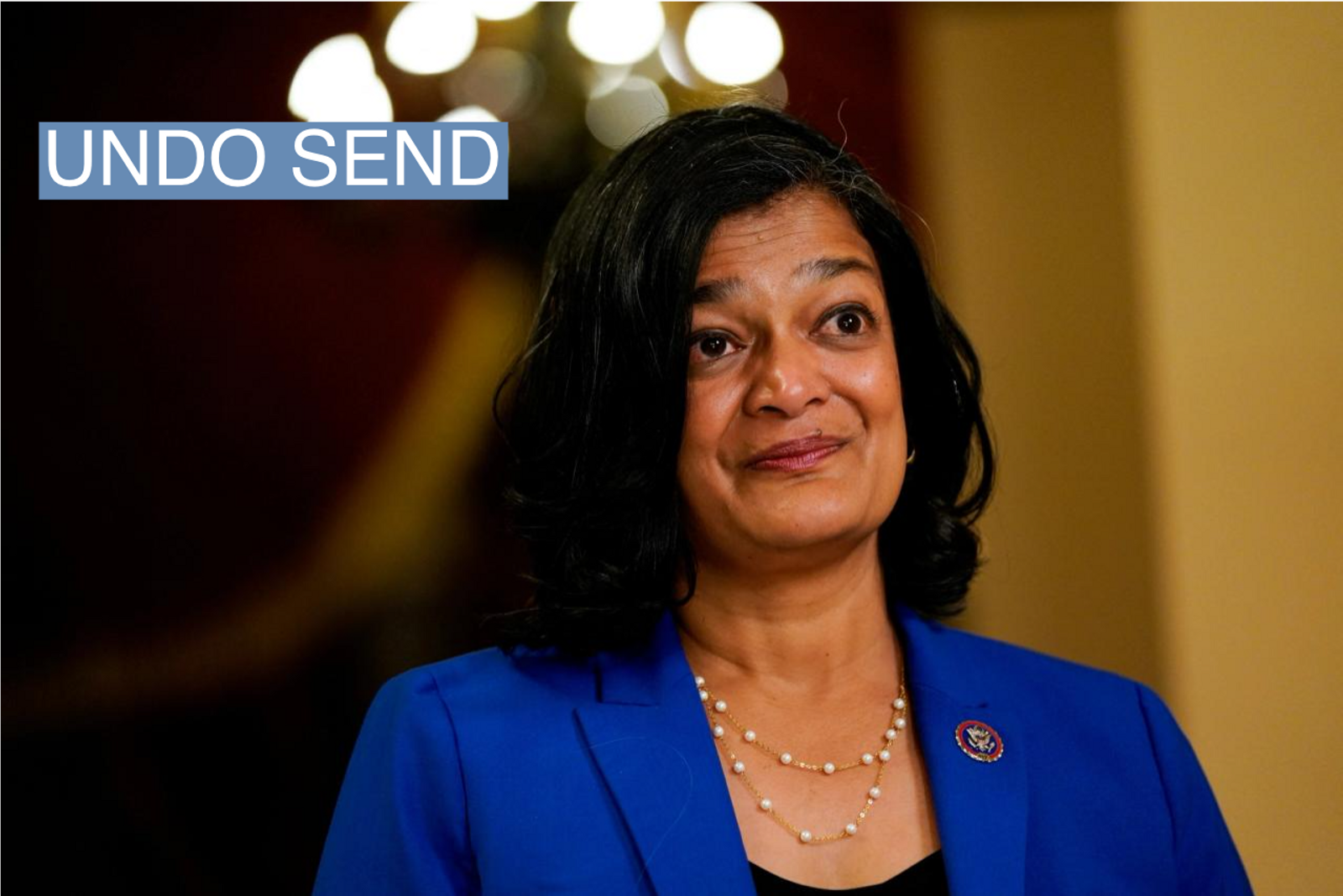 A group of House Progressives on Tuesday withdrew a controversial letter sent a day prior to President Biden pressing him to negotiate with Russia to achieve a ceasefire in Ukraine.
"It's a dumpster fire," a person familiar with internal caucus conversations over the situation told Semafor.
Congressional Progressive Caucus Chairwoman Pramila Jayapal, D-Wash., said in a statement that the letter "was drafted several months ago, but unfortunately was released by staff without vetting."
"As Chair of the Caucus, I accept responsibility for this," she continued. "Because of the timing, our message is being conflated by some as being equivalent to the recent statement by Republican Leader McCarthy threatening an end to aid to Ukraine if Republicans take over."
She added that "nothing could be further from the truth."
The original letter had generated intense backlash from some pro-Ukraine Democrats, who saw it as a boost to efforts by some Republicans to curtail military aid.
"The way to end a war? Win it quickly," Rep. Ruben Gallego, D-Ariz. tweeted on Monday. Rep. Jake Auchincloss, D-Mass. called it "an olive branch to a war criminal who's losing his war."
At the same time, some conservative Republicans celebrated its release as a sign Democratic resolve was breaking.
"Many members on both sides of the aisle are beginning to realize the devastating impact of potential 'nuclear Armageddon,' as the president privately warned his donors," Rep. Byron Donalds, R-Fla., told Semafor.
Sen. Bernie Sanders, I-Vt., told Semafor in an interview that the Congressional Progressive Caucus was right to withdraw the letter.
"I don't agree with that, and they don't agree with it, apparently," Sanders said in a phone interview. "It was withdrawn today, so it becomes a non-issue."
Jayapal had sought to clarify in a statement late Monday that the letter did not signify an erosion of support for Ukraine among House progressives. She announced plans to withdraw the letter 24 hours after the Washington Post first reported on it, and after a handful of signatories sought distance from the letter and said it had been circulated months earlier – in June and July – for signatures.
A letter obtained by Semafor showed that outside groups had been circulating the letter for signatories up until at least Sept. 16.
"Timing in diplomacy is everything. I signed this letter on June 30, but a lot has changed since then. I wouldn't sign it today," Rep. Sara Jacobs, D-Calif., tweeted earlier Tuesday before the retraction. "We have to continue supporting Ukraine economically and militarily to give them the leverage they need to end this war."
Some, like Rep. Ro Khanna, D-Calif., defended the letter. "I have voted for every defense package to Ukraine," he tweeted Monday. "Calling for exploring every diplomatic avenue to avoid nuclear war & seek a ceasefire while upholding Ukraine sovereignty is what many constituents seek. Our nation should never silence or shout down debate."

Morgan's view
Democrats are trying to show solidarity when it comes to supporting Ukraine, and the letter was the first major sign of cracks within the party over how to approach the war. Its withdrawal is a sign that whatever disagreements exist are not yet ripe enough to challenge the White House's overall strategy.
The Biden administration has thus far avoided trying to negotiate with Russia over a potential ceasefire, which critics argue could buy Russian President Vladimir Putin's bedraggled military time to re-arm without a clear path to a negotiated settlement.
"In order for diplomacy to take place, there have to be parties ready and willing to engage in diplomacy," State Department spokesman Ned Price said Monday. "Right now, we have heard from our Ukrainian partners repeatedly that this war will only end through diplomacy and dialogue. We have not heard any reciprocal statement or refrain from Moscow that they are ready in good faith to engage in that diplomacy and dialogue."

Room for Disagreement
Some on the left were happy to see progressives discussing an alternative strategy to Ukraine and disheartened by the negative reaction to the letter, which they saw as stifling an urgent and legitimate conversation over billions of dollars in U.S. spending and the risk of escalation with Russia.
"That the letter was met with fierce opposition is a measure of the space available for debate among congressional Democrats when it comes to support for the war and how it might be stopped before it turns nuclear: roughly zero," The Intercept's Ryan Grim wrote in his newsletter.