The News
JOHANNESBURG — Deep-rooted problems in South Africa's state-owned ports and rail company that threaten to plunge Africa's most industrialized economy into a crisis played a key role in prompting plans to impose strict cost-cutting measures across government departments.
Transnet, which brought in $36.4 billion in revenue in the 2022/23 fiscal year, is grappling with a shortage of freight trains and inefficient ports that has cut income from exports, particularly mining.
The sight of long lines of heavy-duty trucks has become common on the roads leading to South Africa's main ports, such as Durban, which have traditionally received export goods through trains. Gridlock at port entrances are delaying imports by several weeks.
The crisis around rail and ports compounds the problems created by rolling blackouts caused by inefficiencies at ailing electricity utility Eskom, the other major state owned enterprise. South Africa's national treasury last month advised the cabinet to roll out spending cuts in response to an economic outlook that has "worsened significantly" largely due to the problems, according to an internal memo it sent to the heads of government departments seen by Semafor Africa.
The three-page memo, dated Aug. 31, says the treasury proposes "stringent measures" in response to "a need for urgent action" that include a hiring freeze, halting the advertising of procurement for infrastructure projects, and a drastic reduction in spending on travel by government officials.
Know More
Transnet's problems cost the country 1 billion rand ($53 million) a day, according to a study by South African research consultancy GAIN Group published this month which predicts a loss to Africa's second biggest economy in 2023 equivalent to 4.9% of gross domestic product.
Public Enterprises Minister Pravin Gordhan, on Sept. 1, gave Transnet CEO Portia Derby just three weeks to come up with a turnaround plan as the company announced its 2022/23 financial results that showed a loss of 5.7 billion rand ($300 million). Three weeks have passed since then but neither Transnet nor Gordhan immediately responded to requests from Semafor Africa for comments on the next steps.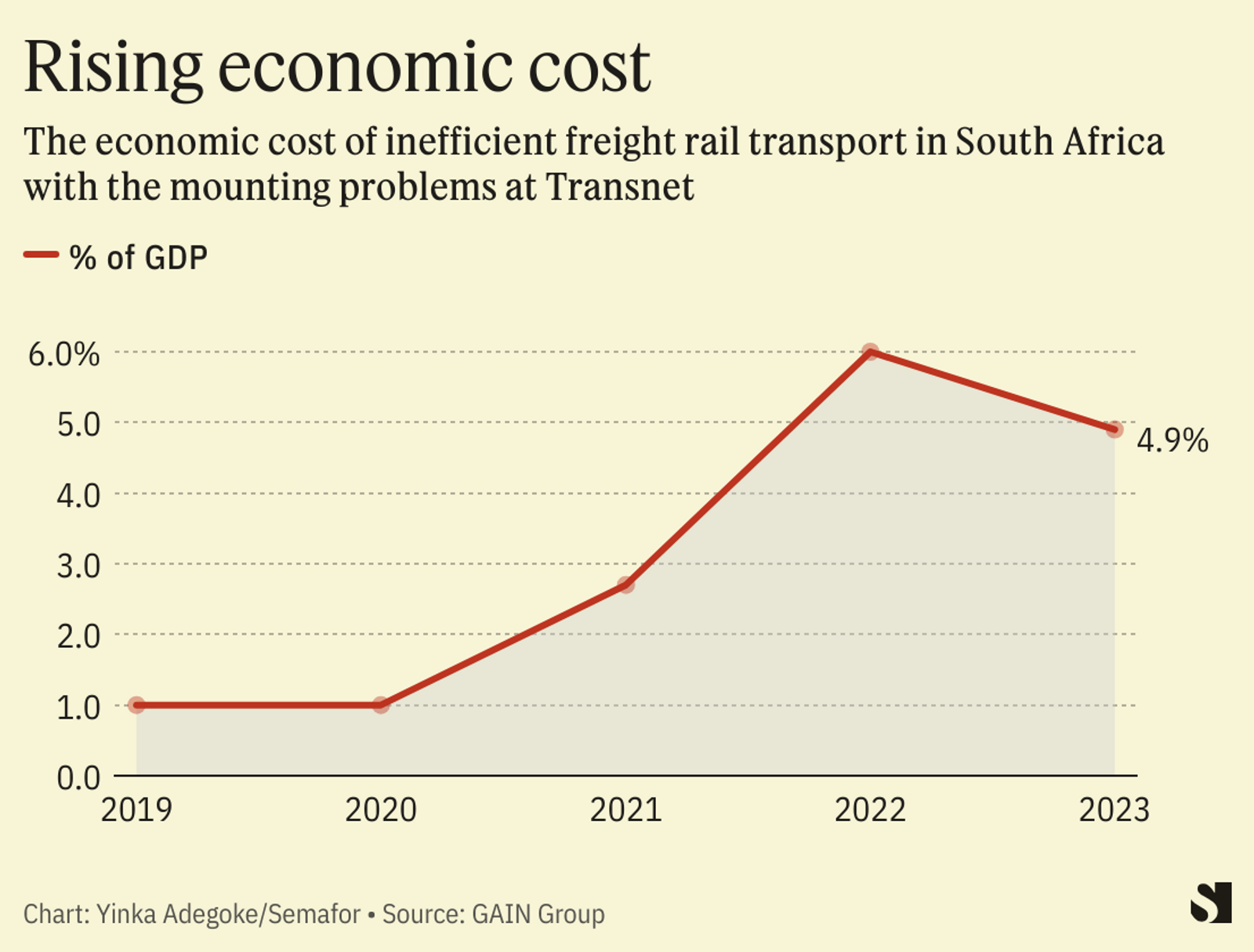 South Africa's export-oriented mining industry contributed 7.5% to the country's GDP in 2022 and was responsible for nearly half a million jobs, according to the Minerals Council of South Africa which represents the industry.

Sam's view
The logistics problems have shone the spotlight on the ruling ANC's poor management of the economy and the way in which state companies have been run into the ground in recent years. Port productivity across South Africa's ports has become "dismal", said Denys Hobson, head of logistics at Investec, an Anglo-South African bank. He said the problems stem from a lack of maintenance by Transnet on critical equipment.
Senior treasury official Ismail Momoniat recently told me Transnet currently transports less than it did in 1994, that year being significant because that was when Nelson Mandela led the ANC to power, ending apartheid. While the apartheid-era economy was much smaller, it speaks volumes that Transnet carries less now than almost 30 years ago.
The problem at the rail and ports company is a headache for the finance ministry as it struggles to manage a sharp drop in tax revenues, a large proportion of which traditionally come from the mining sector. At the same time, around 35,000 coal mining jobs are reportedly at risk because companies, unable to transport millions of tons of commodities for export to ports, are scaling down their operations.
Transnet and Eskom were both at the center of "state capture", a term used to describe the manner in which members of the prominent Gupta family allegedly used their ties with former President Jacob Zuma to influence contracts and siphon off state assets during his time in power. That connection, whereby corruption and cronyism mix with mismanagement in much the same way that we've seen at Eskom, means Transnet's problems will be associated with ANC failings in the minds of voters ahead of next year's general election.
Voters could end up punishing the ANC if they feel the impact of government cuts — particularly any to social welfare programs. South Africa's mining companies failed to exploit the recent global commodities boom because they couldn't export minerals due to bottlenecks. Now, as the country heads towards an election in which the ANC may lose its majority for the first time in the post-apartheid era, the chickens of long term mismanagement are coming home to roost.

Room for Disagreement
"There are elements of Transnet that are actually working quite well and there are elements of Transnet that are working much less well," said National Treasury Director-General Duncan Pieterse. "The government had been working closely with Transnet to improve operations and also attract private sector participation in the operation of the container terminal at Durban, on the country's east coast.

The View From Lusaka
South Africa's logistics problems are having an impact in more than a dozen countries across southern and Central Africa, according to trade and logistics consultant Mark Pearson. "A lot of cargo moves to countries like Zambia, Mozambique, Democratic Republic of the Congo through South Africa," he said.
"More people are using the port in Mozambique because Durban has been a poorly performing port for many years. Recent indicators showed that Durban was one of the worst ports in the world," said the Lusaka, Zambia-based consultant. The port in Maputo, Mozambique's capital, was seeing more volumes brought through trucks, which put more pressure on the South Africa-Mozambique border than would have been the case if the goods were moved by rail, said Person.

Notable
The chaos at Transnet is demonstrated by the existence of a network of its employees and private players who run so-called "ghost trains" which, News 24 reports, run outside of the formal schedule with no revenue flowing back to the company.
Transnet CEO Portia Derby is under pressure after a business group called for her to be fired.