The News
JOHANNESBURG — South Africa seemed to be on the verge of bringing its power crisis to an end but outages are now lasting longer again after shrinking for months. Experts now warn any improvements were unrelated to reforms aimed at generating more power to end the blackouts strangling Africa's most advanced economy.
"We will resolve loadshedding," the electricity minister, Kgosientsho Ramokgopa, told reporters at a media briefing in early July, referring to the planned outages used to ration power for the past 15 years. "I think that we will resolve it much quicker than we had anticipated," he said.
His remarks came days after the cabinet announced that energy availability had risen to nearly 70%, up from all time lows of around 50% a few months earlier. Many communities reported that outages were typically lasting around two hours rather than around 12 hours in some cases.
But, around a month since the minister's comments and data showing higher energy availability, the length of loadshedding periods has increased as South Africa entered its winter months and experienced a cold front that saw snowfall in Johannesburg for the first time in more than a decade.
Johannesburg-based independent energy analyst Tshepo Kgadima rejected suggestions that Eskom's performance has improved in recent months. "The high stages of loadshedding that was anticipated for the winter months was predicated on the misconception that the demand would reach 37,000 megawatts and Eskom is seemingly unaware that in the last eight years that demand had migrated off the grid," he said, suggesting that it had gone to privately generated renewable energy.
Other experts said the slight improvement was likely due to factors such as heavy industries using less power due to higher tariffs in the winter and the timing of maintenance work by Eskom.
Know More
South African President Cyril Ramaphosa has announced he would increase solar and wind power projects for a government program called the Renewable Energy Independent Power Producer Procurement Programme (REIPPPP), by up to 10,000 megawatts in the next two to three years.
In June last year, announcing plans to buy more renewable energy from independent producers, the president also said rules and a pricing structure would be developed to encourage the uptake of rooftop solar panels by businesses and households, and those with solar panels would be able to sell electricity they do not need to Eskom.
But energy analysts said it is too early to claim the situation is improving due to a REIPPPP, set up in 2011 to ensure a greater supply of energy from private providers.
"There are a couple of 200 megawatt stations and there are private rooftop solar projects. But these are definitely not enough to reduce the loadshedding like we have seen," said Hilton Trollip, from the University of Cape Town's Global Risk Governance programme. He said it was unlikely that any impact would be seen until the end of this year.

Jan's view
Despite the recent improvements — however big or small — more still needs to be done to steer South Africa away from its aging coal-fired power stations and towards renewable energy solutions such as solar and wind. One of the biggest hurdles to this at the moment is the lack of political will.
Ramokgopa, the energy minister, just this week bemoaned the recent closure of the coal-fired Komati power station in Mpumalanga, a province to the north of Johannesburg where most of the country's coal mines and power stations are located. The power station, built in 1961, was decommissioned late last year as part of the $8.5 billion climate finance pact with some of the world's richest nations to help fund South Africa's transition to cleaner fuels.
"If I had my way, we'd go and restart Komati," said Ramokgopa. "We closed a power station which was the best-performing station at the time, and because someone gave us money and said 'decarbonise it'," he reportedly said at a Standard Bank business conference.
Other ministers and politicians have also previously expressed resistance to initiatives that would help steer South Africa clear of the power crisis. That resistance to change is exacerbated by the mismanagement and corruption that has undermined Eskom for years.
"Eskom can do nothing if it doesn't have enough power stations, it can do nothing about the state of its power stations. It can do very little about the state of its management given the [ruling African National Congress party's] patronage network," said Trollip.
The overall power situation does seem to have improved since the start of 2023. The country experienced more loadshedding in the first four months of the year compared to the whole of 2022 with a stark warning of "a dark and cold winter" ahead. So far that doesn't seem likely to be realized. But any improvements are small and don't seem to be the fruits of long term planning.

Room for Disagreement
Ronald Chauke, Johannesburg-based managing director of KX Consulting which works in the energy sector, raised doubts about plans to expand the role of independent power producers. He said corruption and mismanagement at Eskom has undermined the confidence of private sector investors. "The flood of investment that was supposed to be there to minimize loadshedding will not actually happen," he said.

The View From South Africa's One Percent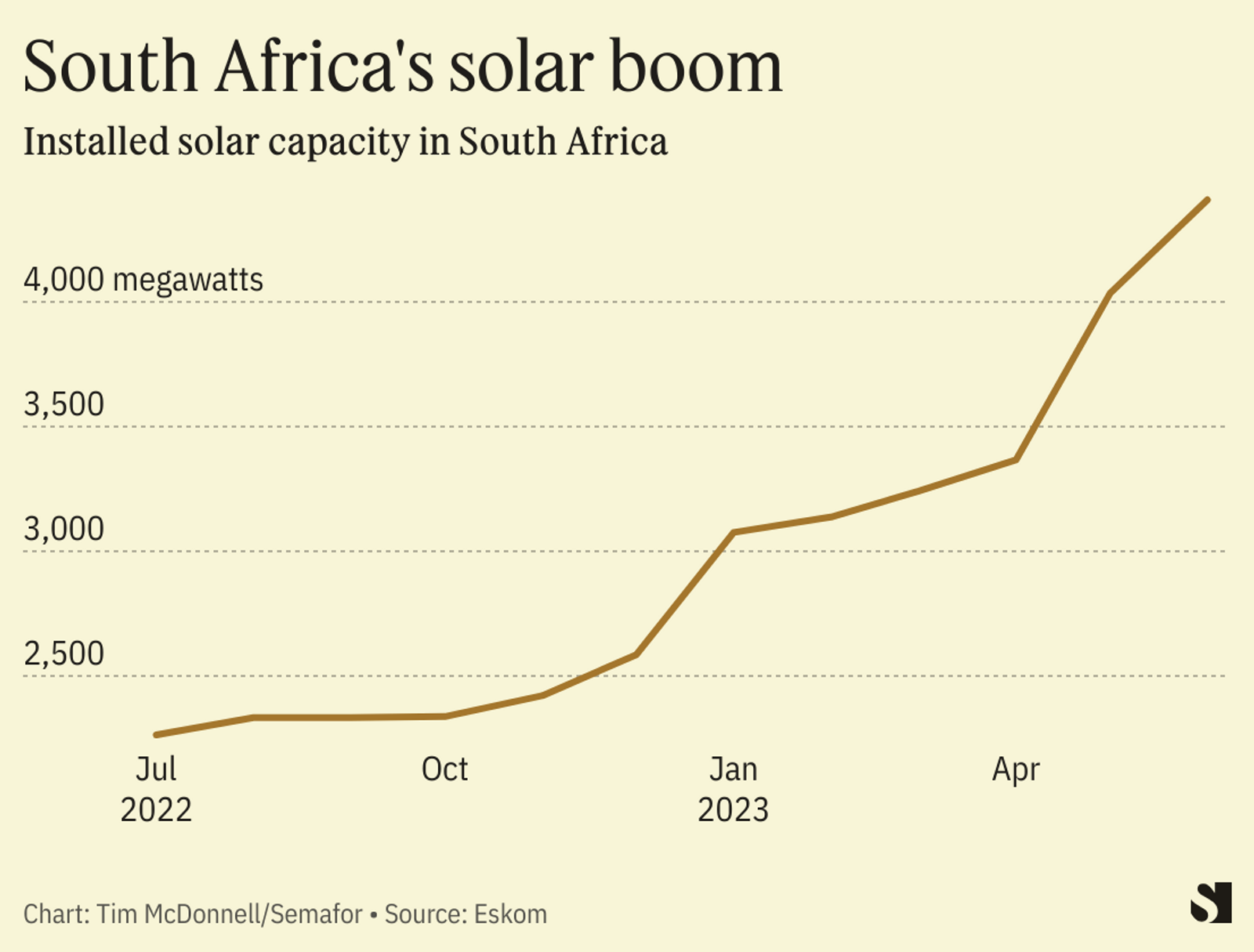 Installations of solar panels are surging in South Africa among households that can afford them, helping wealthy people to bypass loadshedding, reports Semafor's Tim McDonnell in his Net Zero newsletter.

Notable
Nearly half of the projects awarded under South Africa's relaunched renewable power purchase program have failed, Reuters reported last month.