The News
A new report estimates that gaming revenue in Africa grew by 8.7% last year and is set to grow by 16% this year — and will break the $1 billion revenue mark in 2024. The report by games market data provider Newzoo and Cape Town-based Carry1st, a games publisher, says the growth is driven by mobile gaming which dominates on the continent growing faster than gaming revenue on personal computers or consoles such as Playstations and the Xbox.
Know More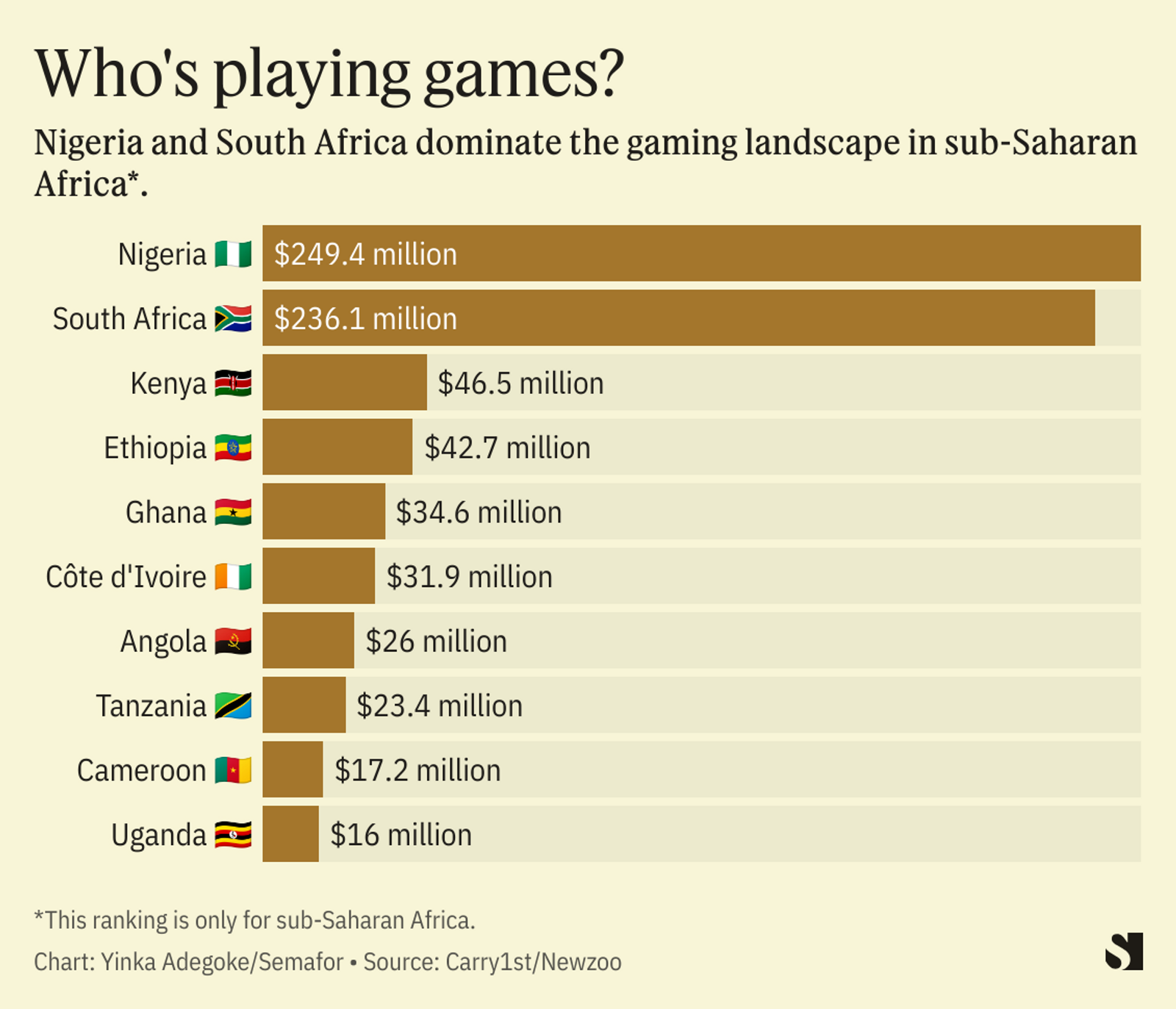 In broad terms, the ranking of countries generally tracks with the number of connected devices estimated to be in each market. The analysts said Ethiopia was the fastest growing market last year at a rate of 13%. Ethiopia, which has Africa's second largest population, has also recently opened up its telecoms market to foreign competition after years with a state-owned monopoly.
"With a massive influx of internet users and rapid adoption of digital payments, Africa is poised to follow in the footsteps of Southeast Asia and emerge as a major player in the global gaming industry," said Carry1st CEO and co-founder Cordel Robbin-Coker.

Yinka's view
Given Africa's largely youthful population, perhaps it's not surprising that there would be a huge interest in gaming. But this rapid growth will also be linked to the expansion of faster internet connections — in particular, 4G and 5G, as well as more affordable smartphones and other connected devices.
But this new report also shows that average revenue per user is likely still low relative to wealthier markets. A market like Nigeria, with 225 million connected mobile devices at the end of 2022, is estimated to have generated about $250 million — just over $1 per device.
And yet, it's a reminder of the potential of Africa's sheer market size, particularly when viewed in aggregate across 54 countries. However, there's still plenty of work to be done to really fulfill this long standing potential. A lot of that work will be unglamorous and practical. It will involve everything from laying more internet cables to subsidizing connected devices and building more data centers but it will probably also mean resisting the temptation for opportunistic taxes on digital usage or hardware.
As we've seen in the African tech and entertainment sectors, once the tools and infrastructure are in place, remarkable things will start to happen.