The News
As the country digested the Donald Trump indictment over the weekend, two clear takeaways emerged. Legally, his path to avoiding conviction has never been narrower. Politically, his path to the nomination looks wider than ever.

Benjy's view
First, the politics. Trump has been leading in polls of Republican primary voters despite months of indictments, court losses, and investigations that his 2024 rivals have largely joined him in condemning as politically motivated. So far, everything looks to be playing out the same.
A CBS/YouGov poll taken partly after the indictment showed Trump with a commanding lead among Republican primary voters, with 61% of the vote to second-place Ron DeSantis' 23%. Not only that, some 76% said they were more disturbed by fears that "the indictment was politically motivated" than that Trump's behavior was a "national security risk" (12%).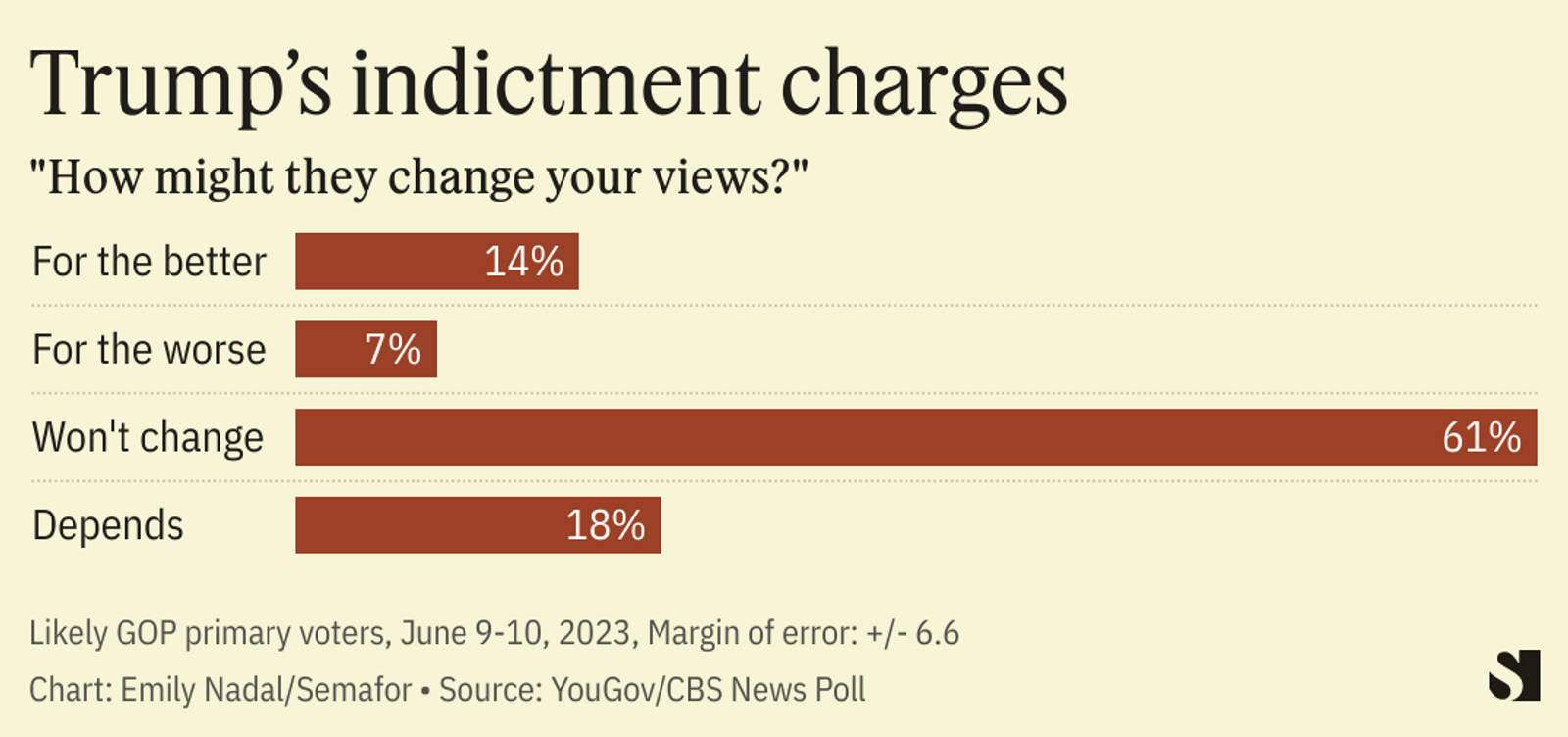 DeSantis, the only candidate able to rally any significant bloc of conservatives against Trump at the moment, complained in a speech on Friday of a "different standard" in which Hillary Clinton was not indicted, and said he saw "one faction of society weaponizing the power of the state against factions that it doesn't like."
Mike Pence, who launched his campaign just last week promising to hold Trump accountable for betraying the Constitution on January 6th, mostly pleaded for time. He called on Attorney General Merrick Garland to publicly justify the indictment, and "stop hiding behind the special counsel."
Nikki Haley condemned "prosecutorial overreach, double standards, and vendetta politics" while also promising to "move beyond the endless drama and distractions." It was an interesting two-step: Yes, there may be a vast partisan conspiracy to destroy the former president, but do we really have to dwell on it?
To the extent there was any ray of light for Trump's rivals in the CBS/YouGov poll it was that some Republican voters seemed to agree with Haley: 61% of Republicans said they'd prefer Trump not discuss the investigations against him, even as the vast majority took his side against the charges.
If any Republicans decide they did want to go on the attack, they'd have some backup. The early consensus among legal experts was that the charges were more serious for Trump, and the evidence more direct, than almost anyone expected before last week.
"If even half of it is true, then he's toast," Trump's former attorney general Bill Barr said on Fox News, characterizing suggestions that Trump is the victim of a witch hunt as "ridiculous."
It was a strong contrast from the Manhattan DA case, which many of the same legal commentators — including Barr — had dismissed as weak or overly partisan. Trump called Barr a "gutless pig" on Truth Social in response.
Trump's defenders, for now, seemed caught off guard. In some cases, their arguments referred to older talking points that the indictment had seemingly overtaken.
Rep. Jim Jordan, R-Ohio told CNN's Dana Bash that Trump had declassified the documents in question, for example, then tried to bully his way past Bash's response that the argument "doesn't make sense on its face" because prosecutors provided transcripts and accounts of Trump explicitly telling people he had not.
"Caught on tape destroying the legal argument he has been content to farm out to his loudest defenders for months: That's our Trump," wrote Jeffrey Blehar, one of several contributors for National Review who condemned Trump after the indictment.
Two conservative commentators separately suggested Trump should only have been charged if he had sold or transferred the documents to a shady source or foreign power, moving the goalposts to a new stadium several cities away.
There were hints of potential legal responses for Trump. Trump attorney Alina Habba told Fox News that his team would invoke the Presidential Records Act as part of his defense. She offered no real details on how, but conservative commentators including the Wall Street Journal's editorial board fleshed out more of what that argument might look like.
"The Presidential Record Act allows a President access to documents, both classified and unclassified, once he leaves office. It allows for good-faith negotiation with the National Archives," the paper wrote. "Yet the indictment assumes that Mr. Trump had no right to take any classified documents."
One of his until-recent attorneys, Tim Parlatore, acknowledged to CNN's Jake Tapper the charges were serious, and that there were "problematic" parts of the indictment he was "not aware of" beforehand, namely evidence Trump tried to deceive his own attorneys by ordering boxes moved before they could search them in response to a subpoena.
But he also suggested some possible defenses: Maybe it was "bluster" and Trump didn't have the classified document referred to in the smoking gun transcript; maybe a judge would throw out testimony that he argued breached attorney-client privilege; and maybe Trump's team could get somewhere arguing over a reported allegation of prosecutorial misconduct.
Most public defenses of Trump, however, rested on the purported unseemliness of a current administration charging a political opponent, and virtually all of them invoked comparisons to Hillary Clinton and Joe Biden's classified document cases. Sen. Lindsey Graham R-S.C. told ABC News' George Stephanopoulos that he was "not justifying his behavior" but thought the charges went too far, especially the use of the Espionage Act. "Most Republicans believe that the law now is a political tool," he said.