The News
Russian private military company Wagner Group remains active in Sudan, despite denials by its leader, raising the prospect of the Kremlin-backed group playing a role in the conflict engulfing the nation.
Wagner chief Yevgeniy Prigozhin, responding in April to questions by media outlets on Telegram, said none of his contractors had been in the northeast African country for two years. But videos seen by Semafor, the testimony of a Sudanese bar association and security analysts all suggest the group is operating in the northeast African country.
The presence of the Kremlin-backed force, which at points has supported both of the feuding generals since the overthrow of former dictator Omar al-Bashir in 2019, adds to the uncertainty over how the conflict may develop nearly three weeks after fighting broke out.
Know More
The northeast African country has been torn apart by fighting between forces loyal to feuding generals. The conflict, which has claimed around 500 lives and forced more than 100,000 people to flee their homes since fighting began on April 15, threatens a humanitarian crisis which could destabilize the wider region.
Wagner Group backed Sudan's military chief General Abdel Fattah al-Burhan after the removal of Bashir but analysts say he switched allegiance to General Mohamed Hamdan Dagalo, also known as Hemeti, who seized control of the country's gold mines.
Hemeti leads the ​​paramilitary Rapid Support Forces (RSF) in the ongoing power struggle with al-Buhran and his Sudanese Armed Forces (SAF). Wagner, whose mercenaries guard the gold mines, has reportedly supplied military equipment to the RSF.
Wagner fighters are active in a number of African countries affected by political instability, including Sudan's neighbor the Central African Republic and Mali.

Tanya's view
Prigozhin's repeated denials of Wagner's presence in Sudan, are undermined by mounting evidence of the group's role in arming RSF.
Two videos seen by Semafor — both published last July, one posted on Facebook and another on Telegram — appear to show Wagner operatives training Sudanese fighters, although we were unable to independently verify the veracity of the footage. The Darfur Bar Association, in a statement last June, said it had recorded the testimonies of people in the South Darfur region whose relatives were allegedly killed by Wagner mercenaries near the border with CAR, adding that the Russian fighters were also seen near artisanal gold mines in that part of the country.
"Where Wagner thrives is where there is a gap in security provision, for example where a government is not strong enough to fight rebels such as in the Central African Republic," said Ben Hunter, Africa analyst at risk intelligence company Verisk Maplecroft.
He said Wagner had worked with Hemeti's RSF to secure control of gold mines. 
"Back in January we saw an agreement between the CAR government, Wagner and the RSF where they sought to clear rebel groups out of gold mining areas in north-eastern CAR," he said. "There is at least one front company operating on behalf of Wagner."
Sudan is Africa's third leading producer of gold, which remains the country's most valuable export. Ready access to the country's gold mines explains why Wagner would remain active in Sudan throughout the turmoil. Its gold mining and smuggling operations there are important in helping to soften the impact from international sanctions imposed on Russia over its invasion of Ukraine. Russia is also keen to maintain its long held interest in gaining access to the Red Sea via Sudan.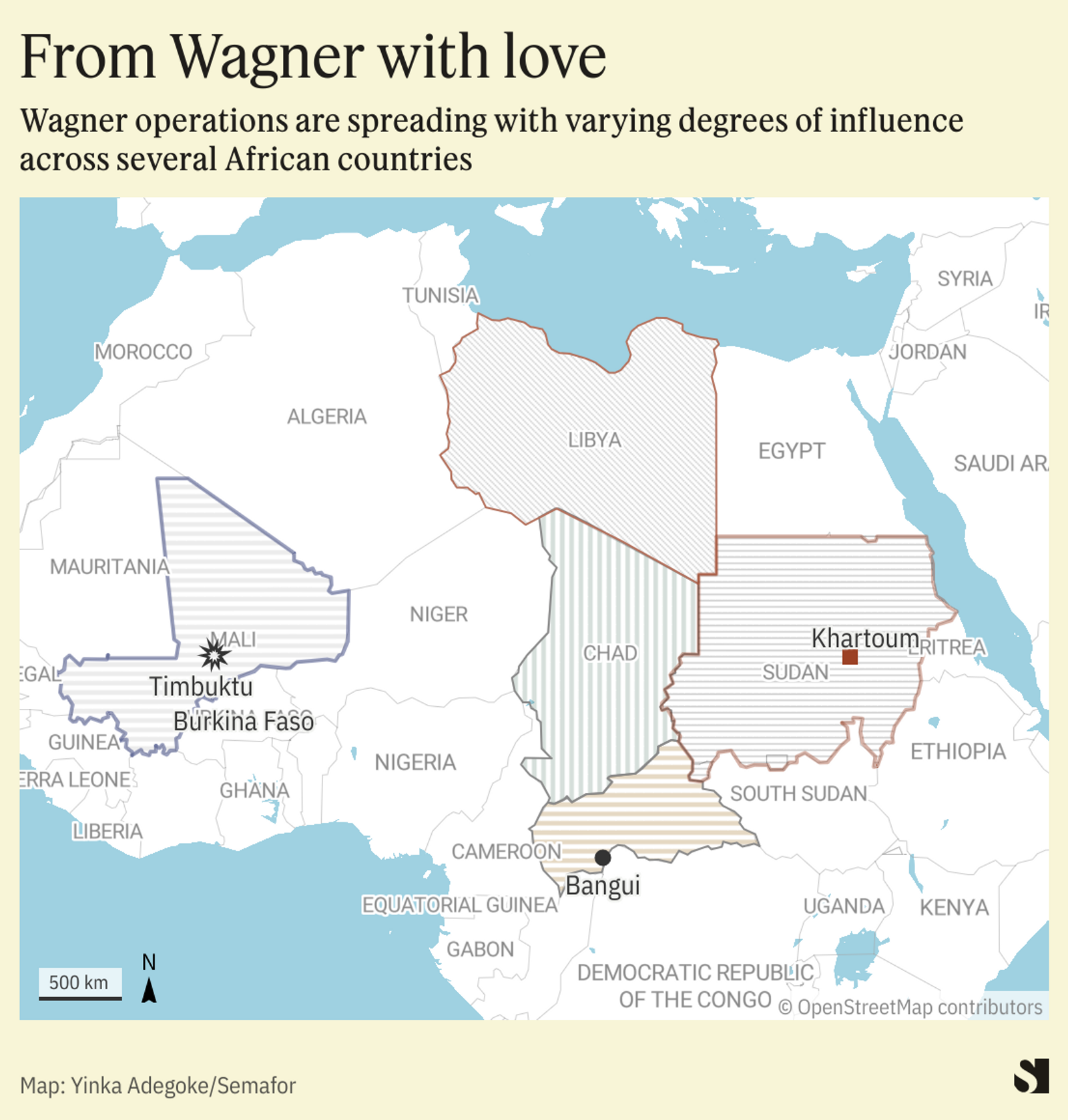 However, while Wagner is often seen as advancing the Kremlin's agenda abroad, recent history shows that Prigozhin's interests aren't always completely aligned with those of the Russian government and Putin. We've seen this in Sudan, but also most recently in Ukraine.
Wagner's leader has earned the reputation for being defiant and confrontational, sometimes acting in open and direct opposition to other Russian state actors, including the ministries of Defense and Foreign Affairs.
So, while it seems clear that Wagner is still active in Sudan, how this will play out in the conflict and its relations with Moscow is less certain.

Room for Disagreement
Late last month on his Telegram channel, Prigozhin said: "There have been no Wagner employees in Sudan for more than two years."
"We haven't maintained any contact with either Mohamed Hamdan Dagalo or Fattah al-Burhan for a long time," he wrote in a statement. "None of the companies affiliated with Yevgeny Prigozhin has a financial interest in Sudan."
He said media houses linking Wagner or himself to the  ongoing Sudan conflict were "making blind guesses or trying to defend one side of this conflict by manipulating facts."

The View From WASHINGTON DC
While the current power struggle for the control of the resource-rich North African nation is deeply rooted in Sudanese domestic politics, "it creates opportunities for foreign actors — including Russia, through Wagner—to intervene to shape a political future conducive to their own interests," noted a recent report by the Washington-based Center for Strategic and International Studies.
"Absent evidence to the contrary, Western analysts should not misconstrue Wagner as ideologically bound to either faction [in Sudan]," the CSIS report warns.

Notable
A CNN investigation found that Russia is plundering gold in Sudan to boost its war effort in Ukraine, transporting the precious metal through the Central African Republic, where Wagner remains active.
— additional reporting by Alexis Akwagyiram