The Scene
This spring, Changpeng Zhao believed he could be crypto's savior. The billionaire Binance CEO, who goes by his initials, CZ, was running the world's biggest crypto exchange, had survived the industry's crash, and was hunting through the wreckage for assets.
His team talked to the owner of media outlet CoinDesk about buying it, and sniffed around Grayscale Investments and other Digital Currency Group assets, people familiar with the matter said. After the collapse of FTX and the indictment of its founder and crypto's former golden boy, Sam Bankman-Fried, CZ positioned himself as a J. Pierpont Morgan or Warren Buffett, titans who rescued troubled sectors in the past.
But a cloud of U.S. scrutiny pushed him to the side, including out of the running to acquire CoinDesk.
As he texted one associate, now isn't the time to buy U.S.-based assets since he and Binance are "being attacked constantly." Investing in other businesses is close to impossible when regulations are in flux, another Binance executive said. The firm declined to comment.
Know More
In early March, BlockWorks reported that Binance subsidiary CoinMarketCap was in advanced talks to buy CoinDesk, a leading crypto media and events company that put itself up for sale amid the crypto crash last fall.
But the negotiations fell apart, and on March 27, the U.S. Commodity Futures and Trading Commision accused Binance of operating a "maze of corporate entities" designed to hide its ownership, obscuring the fact that it was trading for its own account opposite its customers, and offering unregulated and risky products.
CZ and Binance's former head of compliance were also personally charged in the case, which came after two years of private negotiations between the company and the CFTC, Binance later said.
Step Back
CoinDesk has chronicled crypto's yearslong rise and its Nov. 2 scoop on ties between FTX and its now-infamous sister fund, Alameda Research, pulled the first thread that eventually unraveled Bankman-Fried's empire. (Bankman-Fried is an investor in Semafor, which plans to repurchase his interest).
FTX's collapse sparked a crypto crash that pushed Genesis into bankruptcy and brought potential acquirers calling around CoinDesk. Last year, offers of $300 million were seen as too low, but liquidity problems tied to Genesis' demise have forced DCG's hand, several people close to the situation said.

Bradley's view
The aftermath of crypto's years of disdain for the traditional financial system and casual relationship with the rules hurts the entire ecosystem's credibility.
The now-sullied reputations of two industry posterboys — SBF and CZ — threaten the legitimacy of operations like Coinbase, which has Gary Gensler's Securities and Exchange Commission breathing down its neck, and USDC, which depegged from the U.S. dollar thanks to Silicon Valley Bank's implosion. Smaller players like media outlets and specialized vendors will be collateral damage through no fault of their own.
Institutional support is also waning, and banking partners Silvergate and Signature have collapsed. A calming presence at the top would help stabilize the volatile industry, and the application window is open for anyone interested in the role.
But it's a short list of candidates that's only gotten shorter.

Room for Disagreement
While banks collapsed, Bitcoin surged, "illustrating the rising significance of self-sovereign digital assets," wrote Grayscale in a new blog post. Bitcoin is up more than 70% this year, and while Washington's hostility has grown, countries across Europe, Asia, and the Middle East are pitching themselves to the industry's biggest players as relocation possibilities.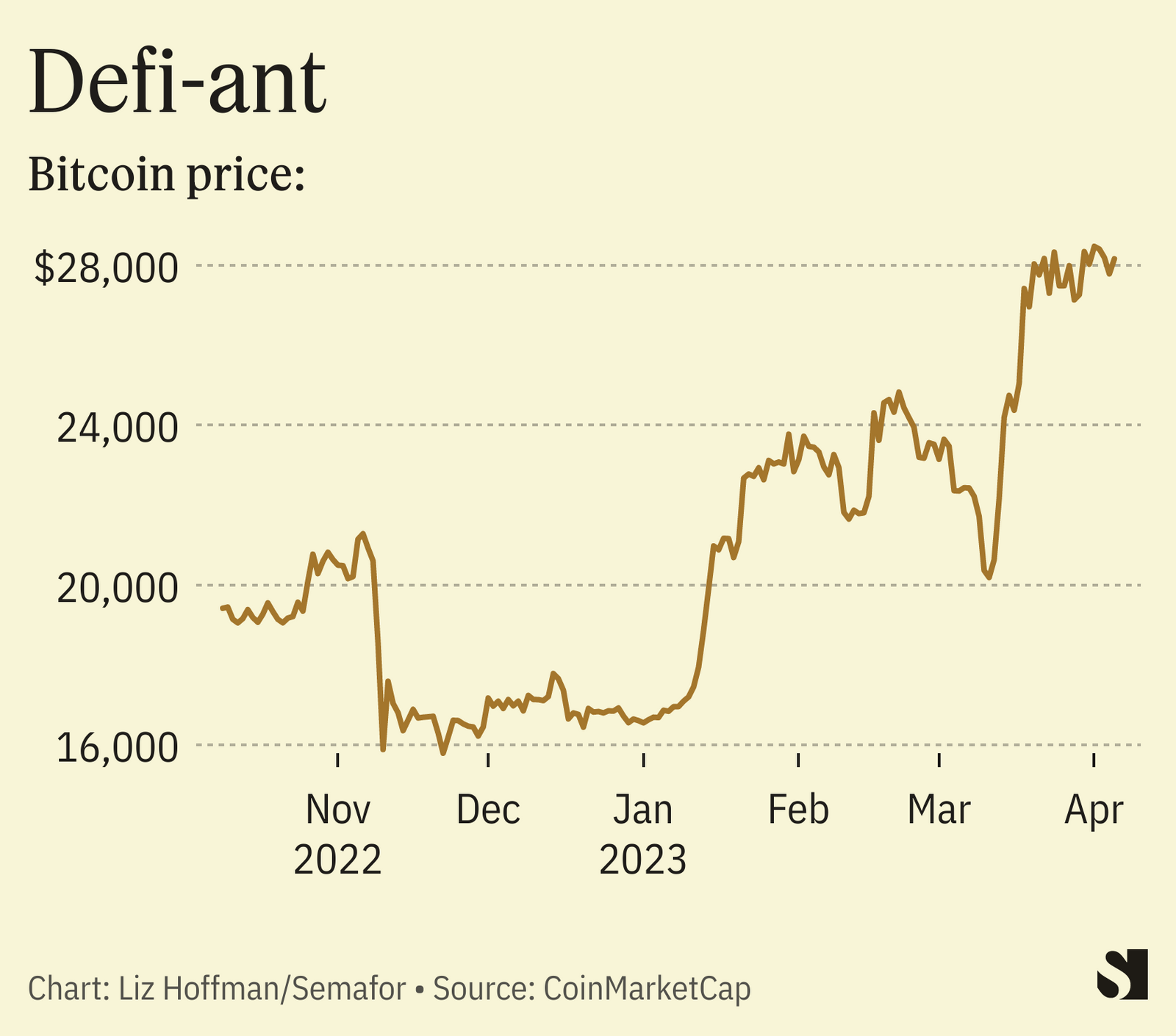 The View From Montenegro
The United States and South Korea are both trying to extradite TerraForm Labs founder Do Kwon after he was arrested in Montenegro's capital of Podgorica two weeks ago.
He's fighting charges from American authorities by arguing that his company is based in Singapore with limited connection to the U.S. — a legal strategy that could be replicated by Binance and others who have maintained headquarters outside of the U.S.

Notable
The CFTC lawsuit against CZ and Binance dove into "one of the worst-kept secrets in crypto," CNN editor Allison Morrow wrote.