The News
Genetic-sequencing company Illumina plans to appeal a U.S. regulatory order to unwind its 2021 takeover of a cancer-test developer, setting up a high-stakes court fight with implications for antitrust cops, patients, and corporate dealmaking.
Reversing an administrative law judge ruling, the Federal Trade Commission said yesterday that Illumina's $7.1 billion purchase of Grail, which screens snippets of genetic code for early warnings of cancer, would stifle innovation. Regulators worry that Illumina might make its machines exclusive to Grail, whose tests run on them, strangling any potential upstart competitors.
Illumina has made a binding promise that any startups could use its machines at the same prices and the same time as Grail. That failed to satisfy the FTC, which under Chair Lina Khan has been aggressively swatting down corporate mergers.
The uncertainty has weighed on Illumina's stock price, which is down by 37% over the past year, trailing peers like Bio-Rad and Thermo Fisher. And it has given activist investor Carl Icahn, who is waging a fight for board seats, more ammunition in his campaign.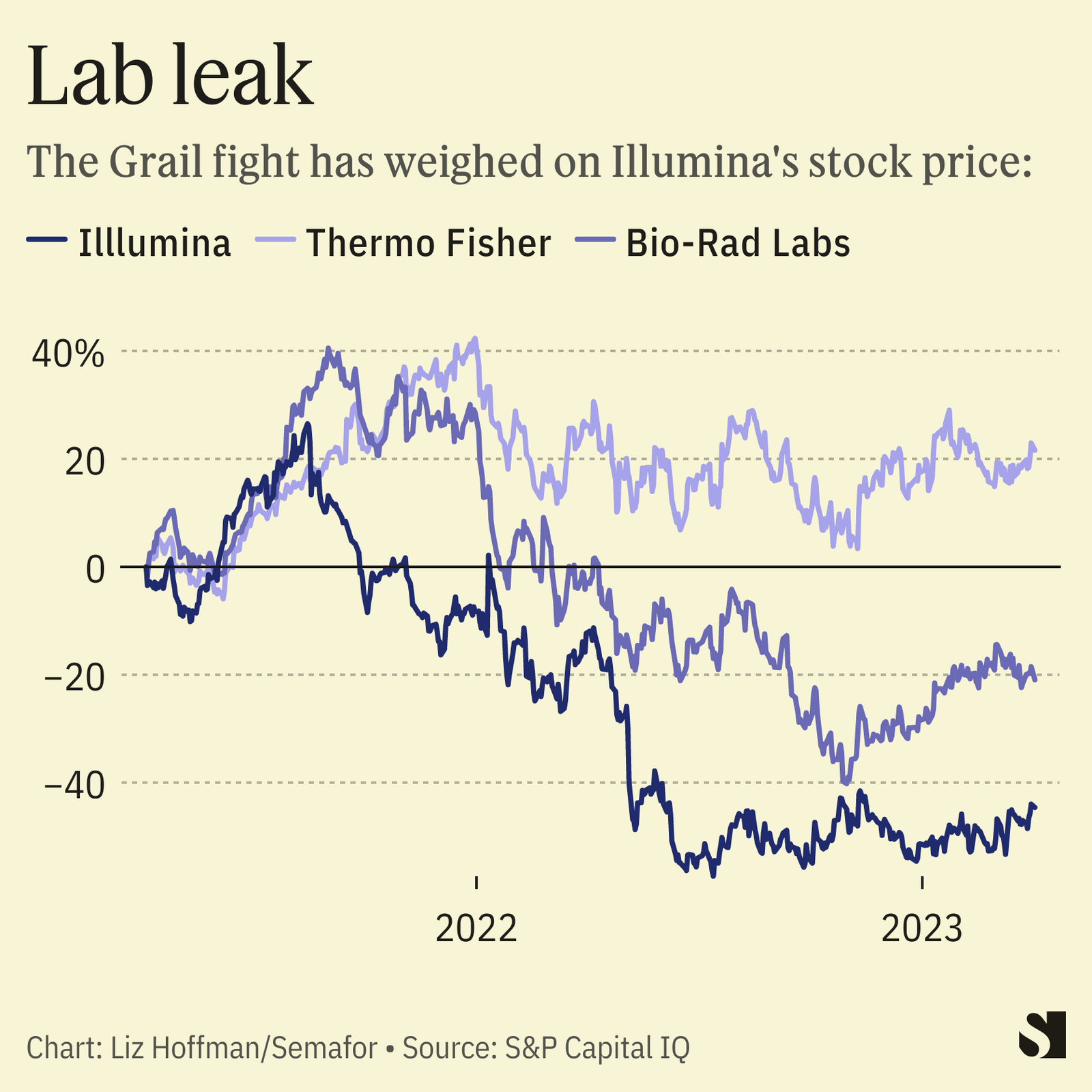 Liz's view
There's a reason most corporate mergers wait until the government signs off.
When Illumina closed the deal, it knew that regulators didn't like it. The FTC had already sued in federal court to block the transaction. European antitrust officials had signaled they would block it (and later did).
For technical reasons, delaying would have restarted a separate FTC clock and added time and costs. But fair or not, the legal deck in merger challenges is stacked in favor of regulators, and Illumina's decision to plow ahead has proven to be a costly miscalculation. If ordered to unwind the deal, Illumina would be a forced seller in a tough market, and could face up to $458 million in fines in Europe for getting ahead of competition approvals there.
The whole affair has handed fresh ammunition to Icahn, who has accused Illumina of "brazenly thumb[ing] their noses" at regulators and throwing good money after bad to defend the deal. He also seized on a nearly 90% pay bump for Illumina's CEO, which was disclosed last week in an almost comical bout of bad timing.
While not known for his deep technical analysis, the octogenarian investor is good at reading a room. The albatross of the Grail deal has been a sore spot for Illumina shareholders for a while now.

Room for Disagreement
Illumina already beat the government once, and there's reason to believe it might do so again, avoiding a costly and embarrassing unwind of an acquisition on which it had pinned its future. It can choose its appeals court, and could find sympathetic ears in the Fifth Circuit, which has become the preferred venue for critics of the Biden administration.
"The Commission's theory is totally speculative: there are no such rivals, and there won't be for years," Joshua Wright, a former Republican FTC commissioner who now teaches at George Mason University, wrote in an op-ed for Semafor.
Antitrust law assumes that companies are economic animals, driven more or less solely by a desire to make money. The argument here assumes that Illumina wouldn't have an incentive to cut off Grail rivals because it would ignore a huge source of potential revenue — namely, licensing its technology to others willing to pay for it.
It's similar to the argument the FTC is making against the sale of video-game maker Activision to Microsoft, which regulators worry would take Activision's most popular games off of a competing console, Sony's PlayStation. But PlayStation accounted for 15% of Activision's sales over the past three years, more than $1 billion a year, according to securities filings. It's hard to imagine a company turning its back on that kind of money.

Notable
Carl Icahn's blistering critique of Illumina's executives and board.
FTC ex-Commissioner Christine Wilson, an outspoken critic of Chair Lina Khan's merger crackdown whose resignation in protest was effective last week, supported the decision to block the Grail deal. She explains her reasons here.