The News
Yevgeny Prigozhin, chief of Russia's Wagner Group mercenary force confirmed Wednesday that it was recruiting U.S.-trained Afghan soldiers into its military force.
Speaking to Semafor over Telegram, Prigozhin said that a small number of Afghan soldiers who previously worked on "American artillery systems, M-777 howitzers" now make up Wagner's artillery unit. They also are trained in operating "Javelin anti-tank missile systems," he said.
Read the full exchange here: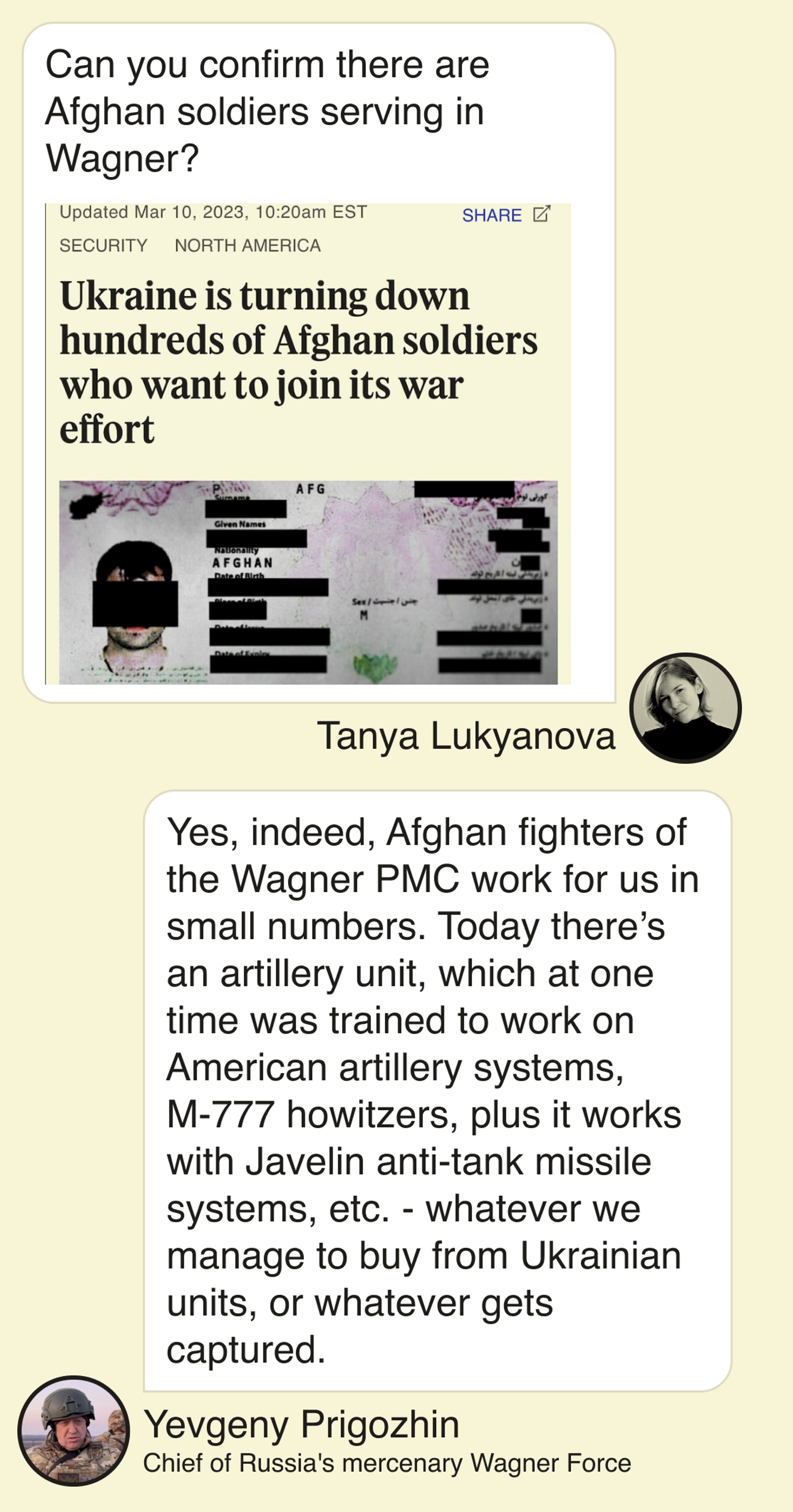 Step Back
Semafor recently reported that hundreds, if not thousands, of elite Afghan fighters have volunteered to join Ukraine's foreign legion, but have been turned away.
Speaking to Semafor, one former elite Afghan reconnaissance unit member, Sgt. Maj. Kadim, said that he went into hiding after American troops withdrew from Kabul in 2021, but with the help of international organizations, he has been trying to sign up for his new cause of fighting for Ukraine.
So far, 300 Afghan nationals have submitted applications to United Legion, a privately run website that works on behalf of Ukraine's government to vet foreigners who want to enlist. Of those, 150 were verified members of the Ktah Khas, Afghanistan's U.S.-trained national counter-terrorism unit.
The site's founder, who goes by Zulia, estimates there may be "thousands" of eager Afghan veterans waiting in the wings; many applicants mention that they have hundreds of fighters ready to join behind them, according to intake forms reviewed by Semafor.
Ukraine's Ministry of Defense did not respond to Semafor's questions about the reasons, however, a source close to the government shared that its top concern with recruiting Afghan fighters is being infiltrated by spies. Russia's Wagner Group has ongoing recruitment efforts in Kabul.