Updated Mar 7, 2023, 12:14pm EST
North America
JetBlue wants to remove 10-15% of seats from every Spirit plane: DOJ lawsuit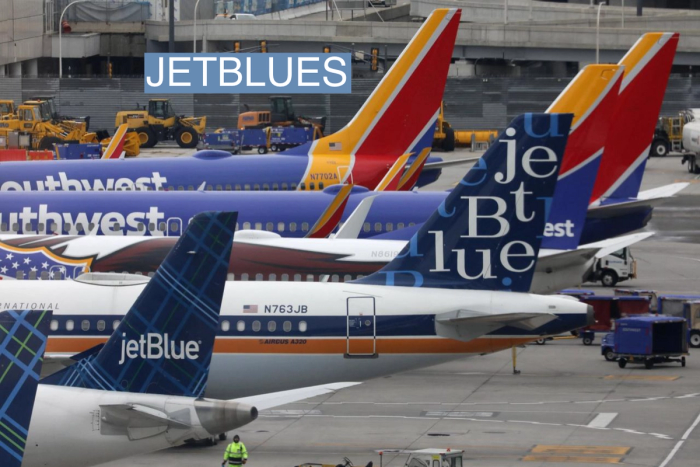 The News
The U.S. Department of Justice filed a lawsuit Tuesday to block the proposed merger between JetBlue and Spirit Airlines, saying JetBlue is seeking to remove 10% to 15% of the seats from every Spirit plane.
"Fewer seats means fewer passengers — and higher prices for those who can still afford to make their way onto the plane. This is unlikely to stop business travelers flying on corporate expense accounts, but would put travel out of reach for many cost-conscious travelers," the complaint said.
The DOJ said the deal would dampen competition in the industry and charge higher prices to Spirit's current customers.
Know More
"If allowed to proceed, this merger will limit choices and drive up ticket prices for passengers across the country," U.S. Attorney General Merrick Garland said at a press conference Tuesday.
If JetBlue is able to eliminate Spirit's business model, it would especially affect working-class Americans who rely on "ultra low-cost" airlines to travel for personal reasons, he said.
By acquiring Spirit, "JetBlue will eliminate the largest ultra low-cost carrier in the United States," Garland said.

The View From JetBlue
JetBlue executives have said they were expecting a lawsuit and would fight the deal in court if necessary.
CEO Robin Hayes told Semafor's Liz Hoffman last month that the country's four largest airlines — United, Delta, American, and Southwest — dominate about 80% of the market. By combining JetBlue and Spirit, he said, "We can create a national challenger to these four airlines and bring more low fares and better service."
Hayes said it would allow JetBlue to expand into markets "where there is simply no room for us to grow because the big 4 carriers have locked up all real estate."