The News
LAGOS — Nigeria's electoral commission on Wednesday (Mar. 1) declared Bola Tinubu the winner of the presidential election conducted on Feb. 25 in Africa's largest democracy.
Tinubu, 70, ran on the ruling All Progressives Congress (APC) platform and scored 35% of 24.97 million votes cast, beating Atiku Abubakar of the People's Democratic Party (PDP), and Peter Obi of the Labour Party (LP).
The two main opposition parties had already rejected the results on Tuesday before the final count, saying the electoral commission failed to follow its own law in transmitting and announcing results. They called for a fresh election.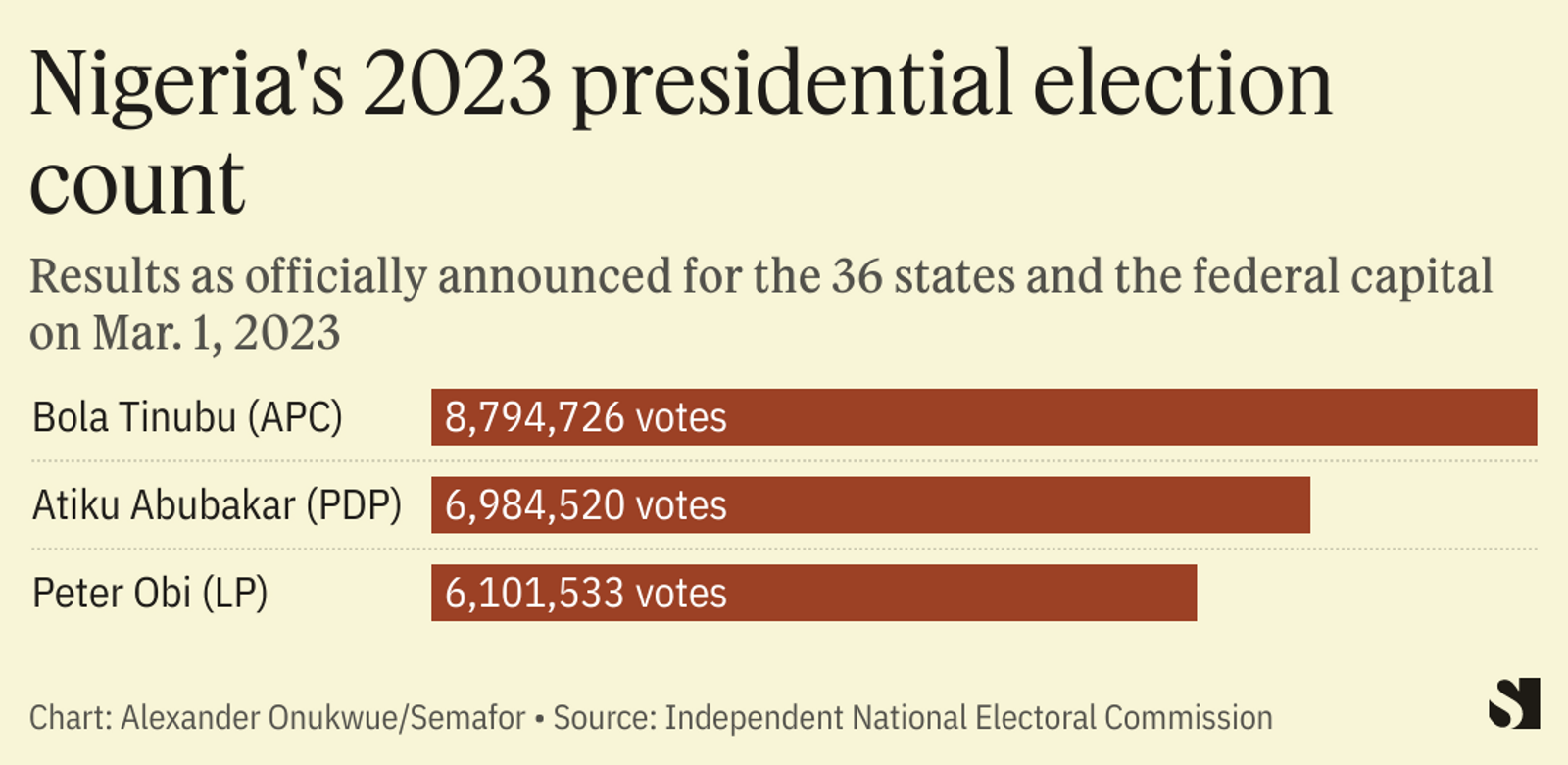 Election observers spotted flaws in the commission's conduct of the polls. "INEC's lack of efficient planning in critical stages and effective public communication reduced trust in the process, including on election day," the European Union's observer mission said, noting that technology introduced to improve election credibility failed to meet expectations.
Tinubu will be sworn-in on May 29 to succeed Muhammadu Buhari, Nigeria's president since 2015 who could not run again after serving two terms. It is only the second time that a term-limited outgoing and incoming Nigerian president will be of the same party, the last occurrence being in 2007.

Know More
Tinubu was governor of the commercially vibrant Lagos state between 1999 and 2007, and went on to build a power base that enabled him to play a kingmaking role in Nigerian politics. He led a coalition of parties that formed the APC platform with which Buhari finally became president after three failed attempts. He has been influential in picking governors in his southwest region, particularly in Lagos.
The Labour Party's Peter Obi won the presidential vote in Lagos, denting Tinubu's vaunted status as the state's godfather. Tinubu, Abubakar, and Obi each won 12 states (if the federal capital Abuja is counted as a state), an unprecedented outcome for a Nigerian election. But only Tinubu ultimately got enough votes across the country's fraught ethnic and religious lines to clinch top spot.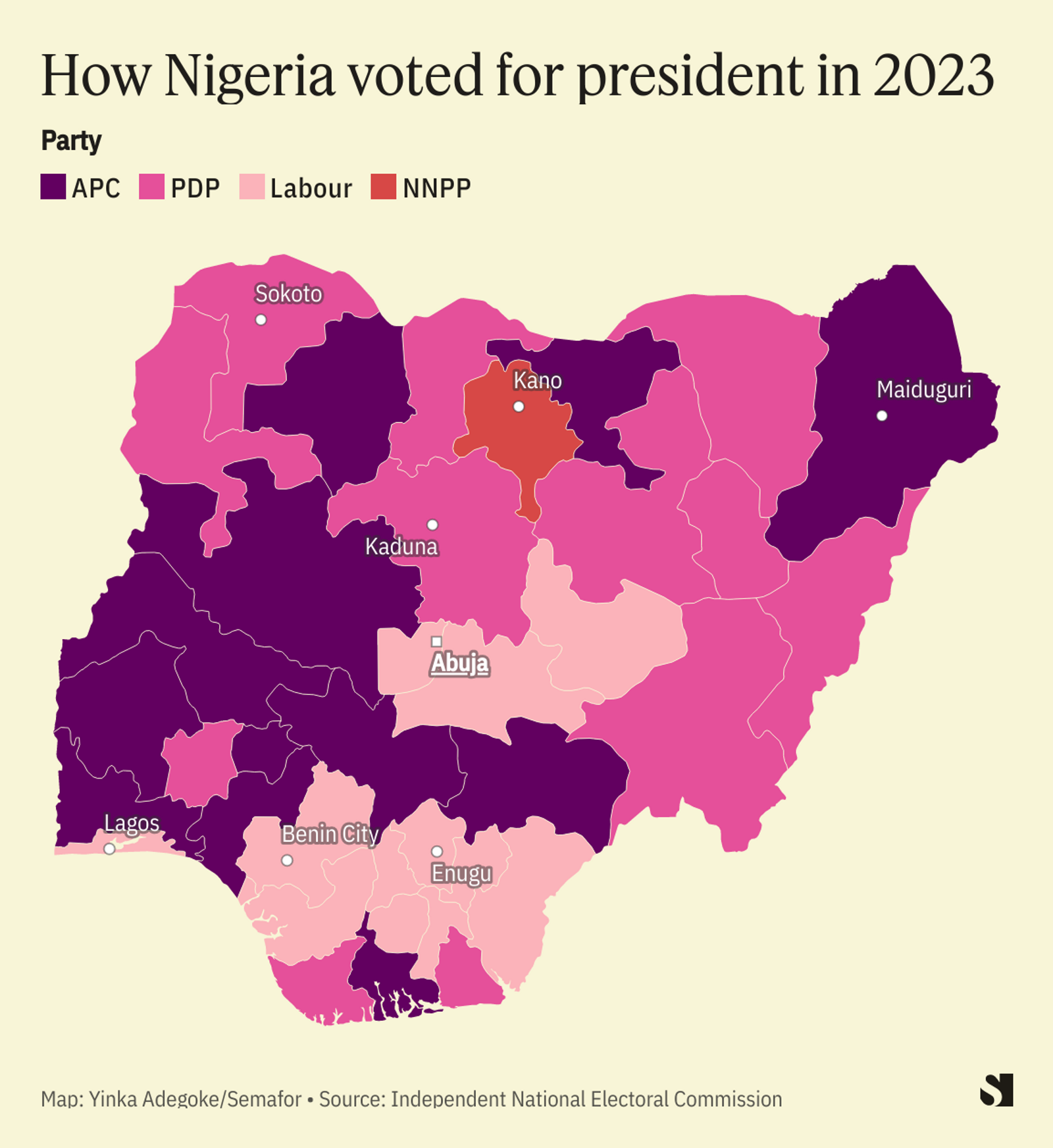 The electoral commission's declaration implies that, in addition to winning the popular vote, Tinubu scored 25% of votes in at least two-thirds of Nigeria's 36 states and the federal capital Abuja as required by the constitution.
Allegations of wrongdoing dogged Tinubu's campaign. He had forfeited $460,000 to the US government in September 1993 in a drug trafficking lawsuit but was never indicted. Brushing aside other suggestions of corruption, Buhari endorsed Tinubu to be his successor.
The president-elect will inherit the challenges facing Nigeria, a nation of 200 million people, from rising poverty and decades-high inflation to a debt burden that is being serviced by nearly all of the country's revenue. A streak of militant insurgency in Nigeria's northeast before Buhari has metastasized to include kidnappings in the southeast and banditry in the northwest.
Tinubu promised to address national security threats with an "intelligence-driven" approach and drive economic growth by basing annual budgets on expected spending, not projected oil revenue. He pledged a "Nigeria first" policy that will direct gas resources to domestic power generation.
Fixing Nigeria's problems could prove daunting. Nigeria's annual spending is financed by oil revenues but output dropped to below 1 million barrels a day last year for the first time in three decades due to theft along pipelines. Output has ticked up since but it remains below the country's 1.8 million barrels a day quota from the Organisation of the Petroleum Exporting Countries (OPEC) cartel.

Notable
The atmosphere in Nigeria has been tense in the aftermath of an election that featured a tight three-horse race for the first time since the country returned to democratic rule in 1999. The West African bloc ECOWAS and the African Union noted this tension, asking all sides to remain calm for the process to play out and "settle electoral disputes through peaceful means and dialogue, in accordance with the law."