The News
*This story is being updated as results are announced.
LAGOS — Nigeria's two main opposition parties have called for the country's electoral commission to suspend the ongoing announcement of results even as the ruling party, All Progressive Congress' presidential candidate extended his lead on Tuesday evening.
The officially declared results by INEC so far show Bola Tinubu of APC leads with 39% of votes cast for the 25 states that have been called, ahead of Atiku Abubakar (People's Democratic Party) and Peter Obi (Labour Party).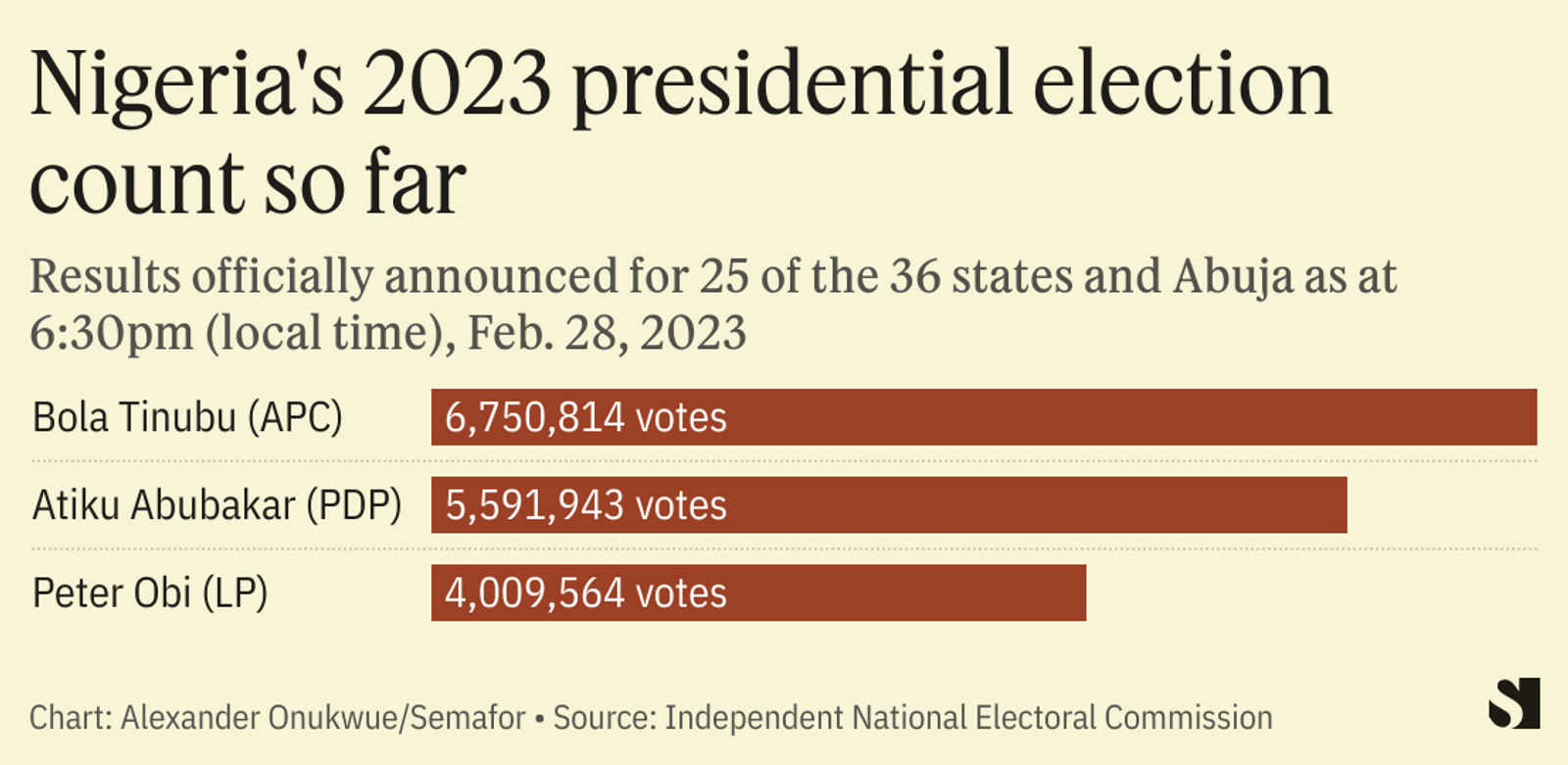 Representatives of PDP and the Labour Party held a joint press conference in Abuja, Nigeria's capital, on Tuesday in which they said the February 25 polls were flawed and called on the commission to begin the process for fresh polls.
Julius Abure, the Labour Party's chairman, said the elections were "irretrievably compromised." Debo Ologunagba, the PDP's publicity secretary, accused INEC of "aiding and abetting the rigging and manipulation of the election results in favor of the APC," the ruling All Progressives Congress party.
At a separate address to journalists also on Tuesday in Abuja, the PDP and Labour Party vice presidential candidates repeated the calls for last Saturday's polls to be canceled. They promised a more detailed briefing by their principals in the coming days.

KNOW MORE
Nigerians cast ballots in presidential and federal legislative elections on Feb. 25 but results are still being called days later.
An online website set up by the electoral body for viewing results contains only about half of the results from polling units. Some of the images of results so far uploaded are either blurred, rendering them difficult to decipher, or are self-portraits of unknown persons. Africa Check, a fact-checking organization, said at least one result of an election in the northern Sokoto state was added to results in the southern Rivers state.
Voting results are often contested in Nigerian elections. The PDP initially rejected the final result of the last elections in 2019 before eventually conceding.
But INEC's struggle to transmit results to its website, as required by a law signed in 2022, is central to the opposition parties' frustrations this time. The commission apologized for its struggles in a statement on Sunday but some analysts see foul play. "It's not a bug; it's sabotage. I was aware of the INEC dry run with civil society observers before the elections which demonstrated excellent system performance," says Adewunmi Emoruwa of the Abuja-based Gatefield consultancy.
Some international election observers have faulted Nigeria's elections process. The International Republican Institute, and the National Democratic Institute said  "the election fell well short of Nigerian citizens' reasonable expectations."

Notable
Analysts had warned that Nigeria's INEC could not rely on technology alone to build trust in its elections. Leena Koni Hoffmann and Nnenna Ifeanyi-Ajufo, in a piece for the British think tank Chatham House, cautioned that technology could be "a new frontier for election fraud amid concerns over vulnerabilities to hacking and manipulation."