The Numbers
A new report from the Physicians for Human Rights released Tuesday, documents the extent of Russia's offensive against Ukraine's health care system in 2022.
The report found that there were at least 707 violent attacks on hospitals, healthcare workers, and other medical infrastructure from Feb. 24 to Dec. 31, 2022 — an average of at least two attacks per day, including hospital bombings and torture of medics.
Here's a snapshot of the report's findings:
218 hospitals and clinics damaged or destroyed in 292 attacks
1 in 10 hospitals damaged from attacks
86 documented attacks on health care workers, killing 62 and injuring 52
65 documented attacks on ambulances
181 attacks on other health services, like pharmacies and blood centers
$1.4 billion in estimated damages to Ukraine's health sector

Know More
Ukraine's capital of Kyiv and its surrounding suburbs experienced major damage to its hospitals, but the vast majority of attacks were concentrated in the eastern oblasts (regions) of Kharkiv, Luhansk, and Donetsk.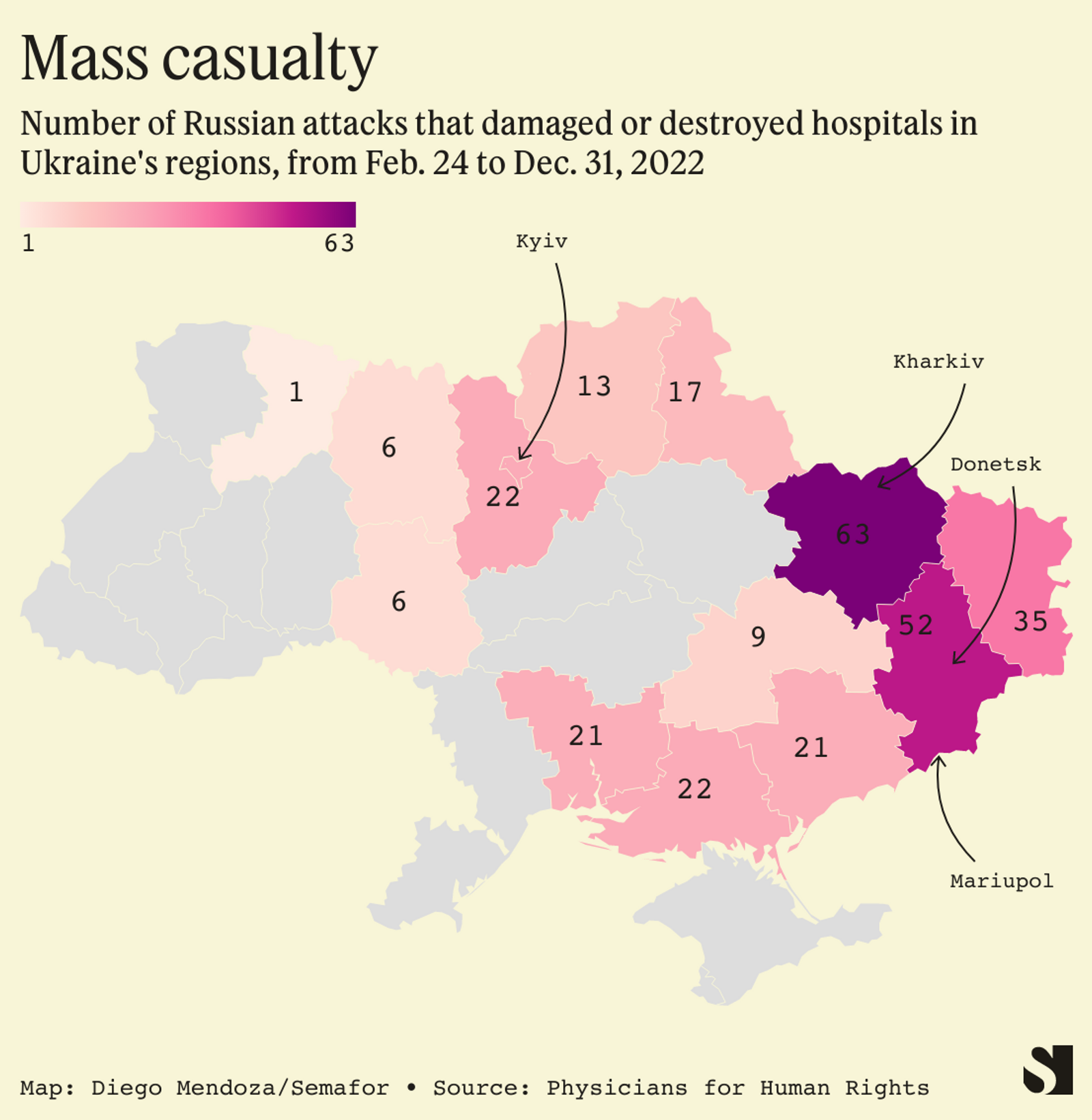 In addition to the direct attacks on health care infrastructure, the report found evidence that Russian soldiers tortured some medics, with one of the researchers saying he believes "these acts constitute war crime and a course of conduct that could potentially constitute crimes against humanity as well."
The report also found that at least 48 hospitals in 10 oblasts were struck by missiles more than once, underscoring the likelihood that these attacks were deliberate and coordinated.
The extensive damage to the country's health infrastructure, coupled with many health care workers fleeing from the war, means that about one of three Ukrainians are now experiencing a lack of medical services, the report notes.
The report also found evidence that many of the hospitals in occupied regions are now being used to treat only Russian soldiers and are not admitting Ukrainians.
One concern the report raises are falling vaccination rates as a result of limited health care services. Only 5% of Ukraine's total population has received a COVID-19 booster, and childhood vaccination rates for diseases like tuberculosis, hepatitis B, tetanus, and polio ranged between 23.1% and 33.9%, far less than what is needed to prevent an outbreak.

Step Back
Videos and photos of attacks on Ukrainian hospitals, especially maternity wards, were widely shared in the earliest days of the invasion, sparking horror and condemnation. A newborn baby was killed last November after Russian shelling struck a maternity ward in southeast Ukraine.
Russia has also accused Ukraine of attacking hospitals in Russian-held regions. In late January, Russia alleged that Ukraine used a US-supplied rocket system in a "deliberate" attack on a hospital in the Russian-held settlement of Novoaidar, which killed 14 people, Al Jazeera reported.