The News
Microsoft has incorporated a new artificial intelligence model from the creators of viral chatbot ChatGPT into its search engine Bing, the company announced Tuesday.
Called "Bing Chat," the new search service features a "chat" button that takes the user to a chat feature similar to ChatGPT. Microsoft released a "limited preview" of the feature on desktop Tuesday.
Company leaders unveiled the new services at an invite-only event at its Redmond, Washington headquarters, calling it an AI-powered "copilot for the web."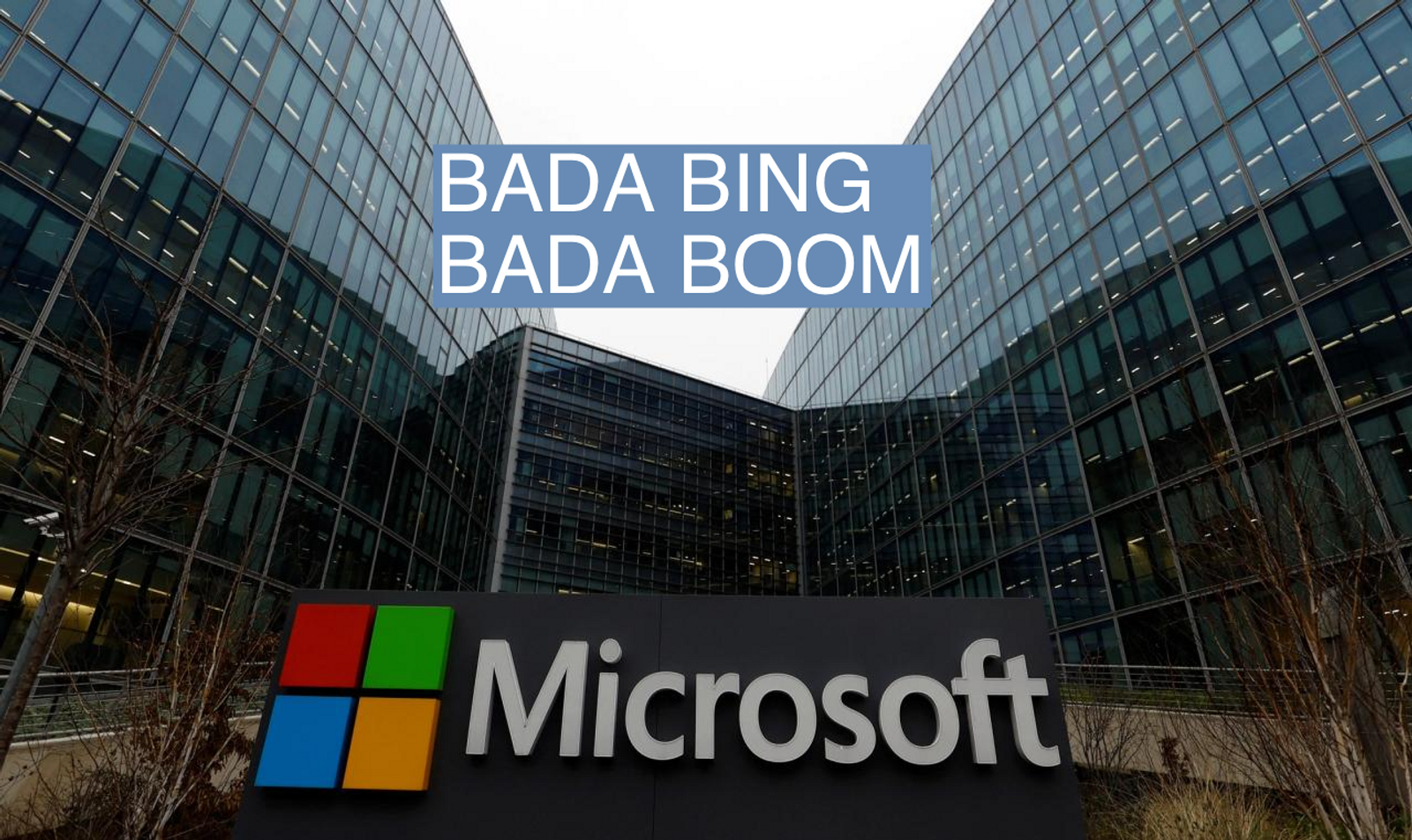 Know More
A demonstration showed the AI-powered search engine can answer questions to produce things like travel recommendations, shopping lists, and meal plans.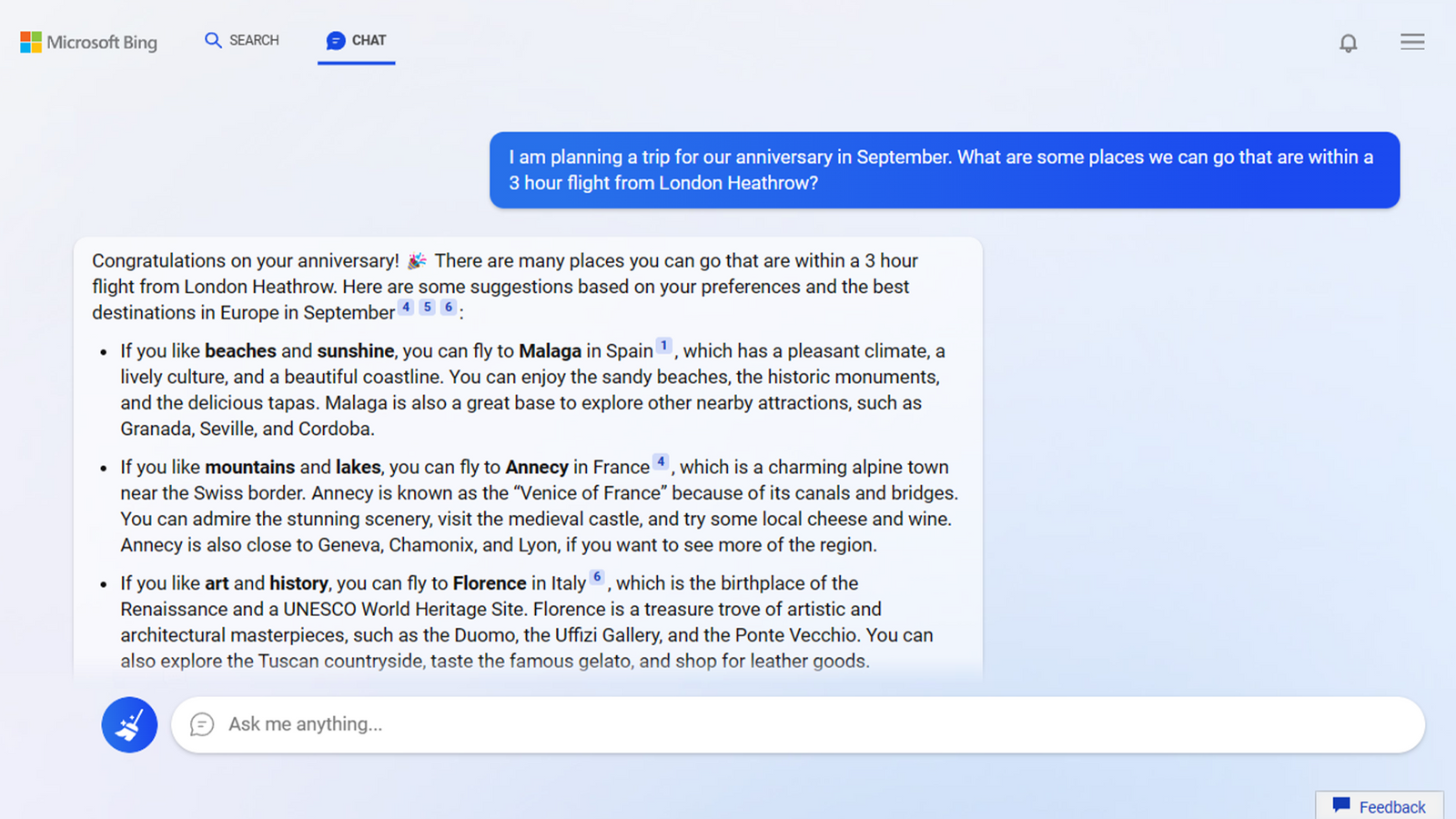 ChatGPT, built by the company OpenAI, was released late last year and quickly became a global sensation, reverberating in industries including education, media, medicine, and marketing. It also sparked conversations about bias and accuracy in AI chatbots.

Step Back
Microsoft plans to invest billions into ChatGPT, and Semafor reported last week that the company was planning to incorporate a faster and richer version of ChatGPT, known as GPT-4, into Bing in the coming weeks.
The newer software responds faster than the current version used by ChatGPT, and its replies sound more human and more detailed.
Tuesday's announcement comes just a day after Google announced that it plans to integrate its own chatbot, called "Bard," into its search function.
And Baidu, the Chinese search engine that draws comparisons to Google, said Tuesday that it plans to wrap up internal testing for its AI chat service called "Ernie Bot" in March.
The flurry of announcements shows the extent of the AI-powered competition among tech giants following the rapid success of ChatGPT.
"A race starts today," Microsoft chairman and CEO Satya Nadella said Tuesday.
The Microsoft demonstration showed a vision for search and web browsing that is completely reimagined from the ground up.
On the left side of the screen, the kind of search results you're used to seeing. On the right, a souped up version of search powered by the latest tech created by OpenAI.
For instance, while you're searching for furniture, Bing can try to figure out whether it will fit in the back of your car.
While shopping for a new TV, Bing will be able to tell you the pros and cons of each option, without having to go to Wire Cutter and CNET.
You can now ask Bing to plan a five day trip to Mexico City or wherever and it will spit out an itinerary instantly and then email it to your family.
Some of this can be accomplished with ChatGPT, but the combination of the real-time chat interface with search results offers some additional benefits.
Bing's results come with citations. So if you want to drill down on the sources for the TV attributes, Bing lists the links on the same page.
Microsoft's search engine, Edge, is also getting the GPT integration, as well as OpenAI's software-creating tool called Codex.
Microsoft demonstrated how Edge is now able to write new code directly in the browser on sites like the coding site Stack Overflow.
Microsoft spent a good chunk of Tuesday's event talking not about the best features of its new search browser technology but the potential downsides for society.
That's an unusual choice in an industry known for rah-rah announcements always presented through the rosiest of lenses.
It said it assembled a "red team" to try and figure out how the powerful tech might be misused. Sarah Bird, Microsoft's "responsible AI" expert, gave a particularly haunting example: Someone might ask ChatGPT how to plan a mass shooting.
Bird went on to explain how the company implemented controls to try to prevent searches that ask the technology how to commit crimes, as well as other abuses.
The tangent into safety highlighted how concerned large companies like Microsoft and Google are that the technology could lead to public relations blowback.
Another concern: Cost. Searching such vast datasets to come up with answers requires a tremendous amount of server power. Microsoft said it has been working to reduce cost by separating queries into categories that require massive compute power and queries that can be answered with more traditional search techniques.
Microsoft said it is the only company that has optimized its servers for the purposes of rolling out this technology to millions of people.
Google, however, may soon answer that challenge.