The News
Thousands of supporters of Brazil's former president, Jair Bolsonaro, stormed the country's Congress, Supreme Court, and presidential palace on Sunday, as many called for military intervention to oust leftist President Luiz Inacio Lula da Silva who defeated Bolsonaro in a close runoff election in October.
Footage showed pro-Bolsonaro crowds breaking windows, destroying property, and taking selfies after invading the key areas of the Congressional building, the federal court, and Planalto Palace in the country's capital of Brasilia, almost exactly two years after the Jan. 6 attack on the U.S. Capitol by pro-Trump supporters.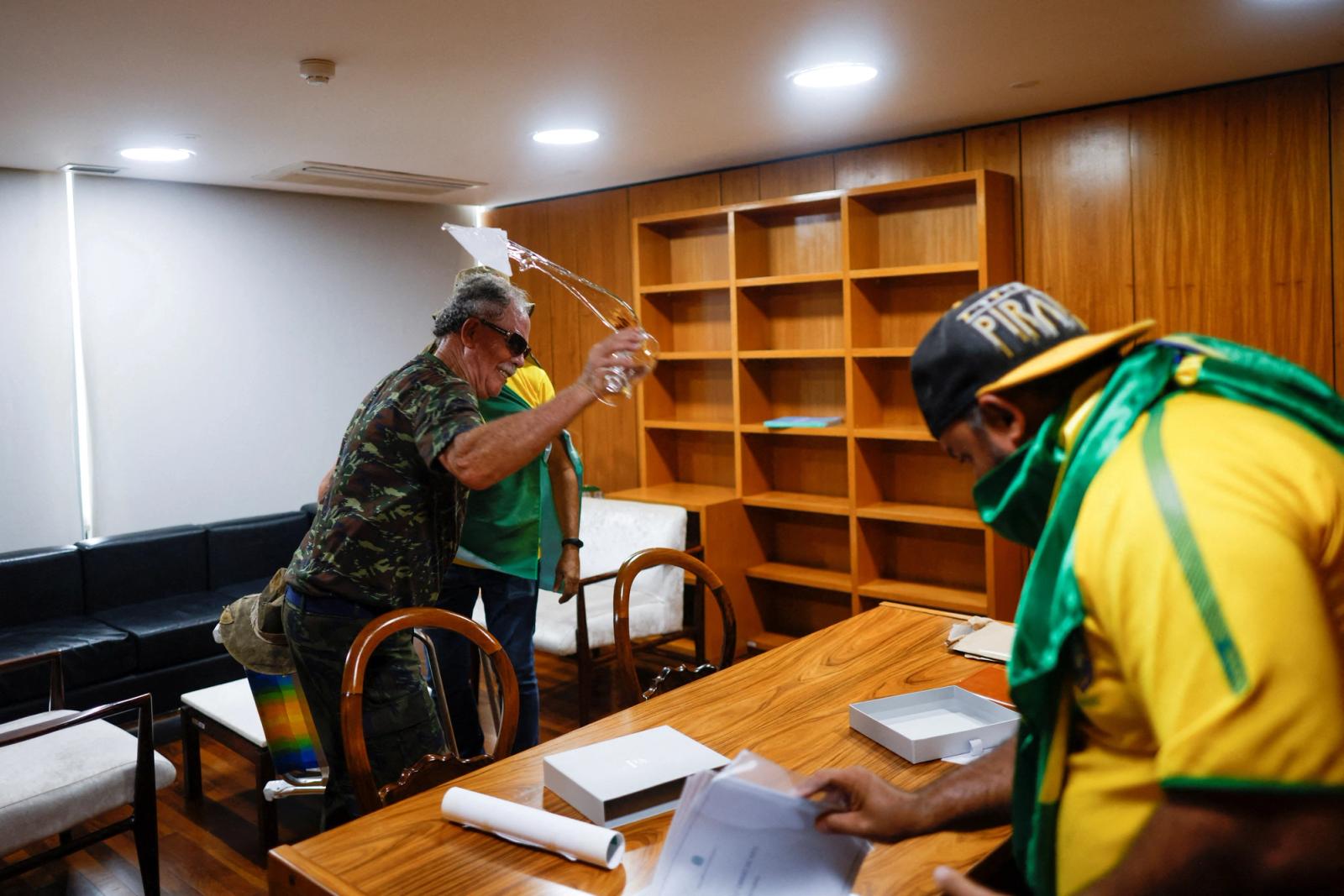 Footage from local journalists showed Bolsonaro's supporters inside the Congressional building after breaching security barriers.
Videos also showed a huge mob breaking into Brazil's Supreme Federal Court and destroying property.
Another video showed the crowds taking selfies outside the Planalto Presidential Palace which they had broken into. Footage showed broken windows and dozens of damaged chairs and tables inside the palace.
The crowds reportedly prevented police from entering by using furniture as barricades, CNN Brasil reported.

Know More
The three centers of power were later cleared of demonstrators and at least 170 people were arrested, police said, according to CNN Brasil.
President Lula signed a decree calling for federal security intervention in Brasilia until the end of the month. He said Bolsonaro was responsible for the invasion and had encouraged this behavior from his supporters in several speeches. Lula described Sunday's demonstrators as "fascists" and "vandals" and said they will be found and punished.
Ibaneis Rocha, the governor of the Federal District which includes the capital Brasilia, called it an "anti-democratic riot" on Twitter, and said he was taking all measures to control the demonstrations and arrest and punish those responsible.
Congress was not in session on Sunday and CNN Brasil reported that Lula was not in building at the time the crowds entered. However, a team of his workers were inside the palace and were waiting to be evacuated.

Step Back
Bolsonaro refused to formally concede the election to Lula in October, and left for Orlando, Florida, right before Lula was inaugurated as leader in the presidential palace. However, his administration had said that the transition of power to Lula would take place.
Bolsonaro, often dubbed the "Trump of the Tropics," had spent months during his campaign sowing doubt about Brazil's electoral system and had vowed to reject the results if he lost.
After his loss to Lula, truck drivers staged blockades and protests in the country, calling for Bolsonaro to stage a coup and remain power.

The View From The White House
Jake Sullivan, the U.S. national security advisor, said the U.S. "condemns any effort to undermine democracy in Brazil."
He added that President Joe Biden was watching the situation closely and that "Brazil's democracy will not be shaken by violence."
Later, Biden called the situation "outrageous."
"I condemn the assault on democracy and on the peaceful transfer of power in Brazil. Brazil's democratic institutions have our full support and the will of the Brazilian people must not be undermined. I look forward to continuing to work with @LulaOficial," Biden said in a tweet.