The News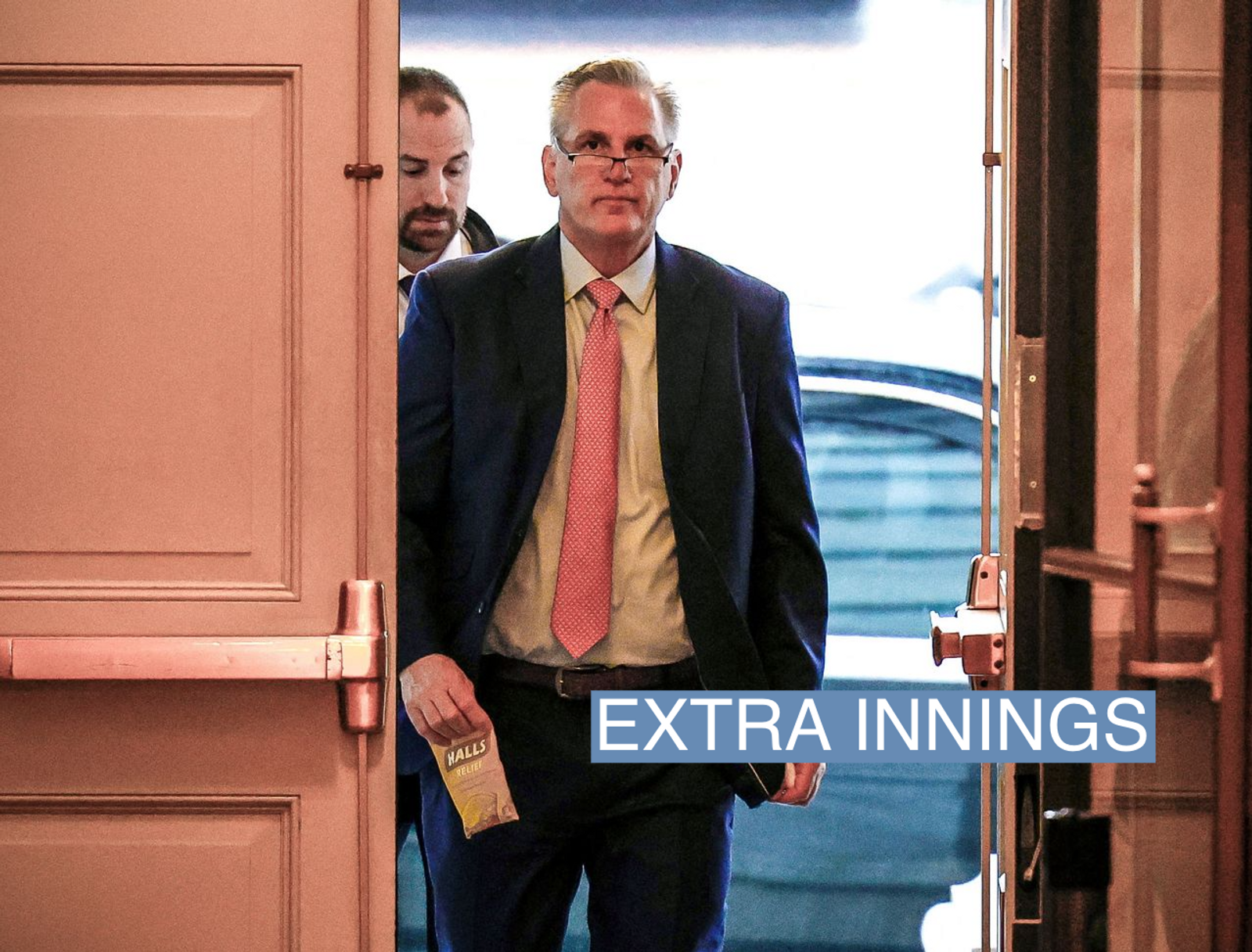 Kevin McCarthy appeared to be making progress towards a deal with at least some opponents of his speakership on Thursday night, even as 20 Republicans voted him down on the House's seventh, eighth, ninth, tenth, and eleventh ballots.
In a a sign that members wanted more time to talk, the House voted just after 8 PM to adjourn until noon tomorrow which required support from the holdouts.
"I think we're getting closer" Rep. Jim Jordan, R-Ohio told reporters as they staked out meetings.
"This is gonna be a nice evening, eventually," Rep. Patrick McHenry, R-N.C., who was helping lead talks on McCarthy's behalf, said. "Just a question of when."
McCarthy can't afford to lose more than four votes. His opponents are calling for changes that would give them more influence over committees and allow any one member to call for a vote to remove the speaker at any time, among other demands.
Republican holdouts crisscrossed in and out of negotiation sessions led by McCarthy lieutenants throughout the day, growing more tight-lipped about details as the day wore on.
By the evening, "no" vote Rep. Ralph Norman, R-S.C. said he was reviewing a n offer from leadership in writing that would give members 72 hours to review legislation and address his calls for a vote on term limits, among other provisions.
"It's changes that we wanted," Norman said after leaving Rep. Tom Emmer's, R-Minn. office, where talks were taking place. "Now, we've got a lot more that we have to get to. This is round one and it's on paper, which is a good thing."

Know More
Before the House adjourned, McHenry said "the goal" was to elect a speaker Thursday night. It still is unclear how many of the 20 holdouts might be swayed, however, even if an offer from leadership is met favorably by some.
The talks seemed mostly aimed at bringing aboard more movement-oriented conservatives like Rep. Chip Roy, R-Texas, who were intensely engaged in talks today.
McHenry named Rep. Byron Donalds, R-Fla. (who initially backed McCarthy before defecting on the third ballot) and Scott Perry, R-Ariz. as two more members who were in "goodwill" discussions around reforms.
But more flamboyant MAGA-style populists like Reps. Matt Gaetz, R-Fla. and Lauren Boebert, R-Colo. still sounded dug in as of Thursday evening, even as Gaetz allowed that a rules-based "straitjacket" around McCarthy might be acceptable. That's more wiggle room than Rep. Bob Good, R-Va. offered, who started the day saying he would never vote for McCarthy under any circumstances. Arizona freshman Eli Crane told Politico he was "not looking for a deal."
"If you listen to the hardest-core seven or eight, they have told me they will never yield," Rep. Pete Sessions, R-Texas said, according to CNN. He has suggested Republicans begin to consider backup options who might get 218 votes if the standoff continues.
Winnowing down opposition and showing some momentum, however, could help McCarthy keep Republicans from looking toward other potential speakers, like his top deputy Steve Scalise, and make it easier to isolate and pressure the remaining rebels.
—Kadia Goba and David Weigel contributed to this report