The News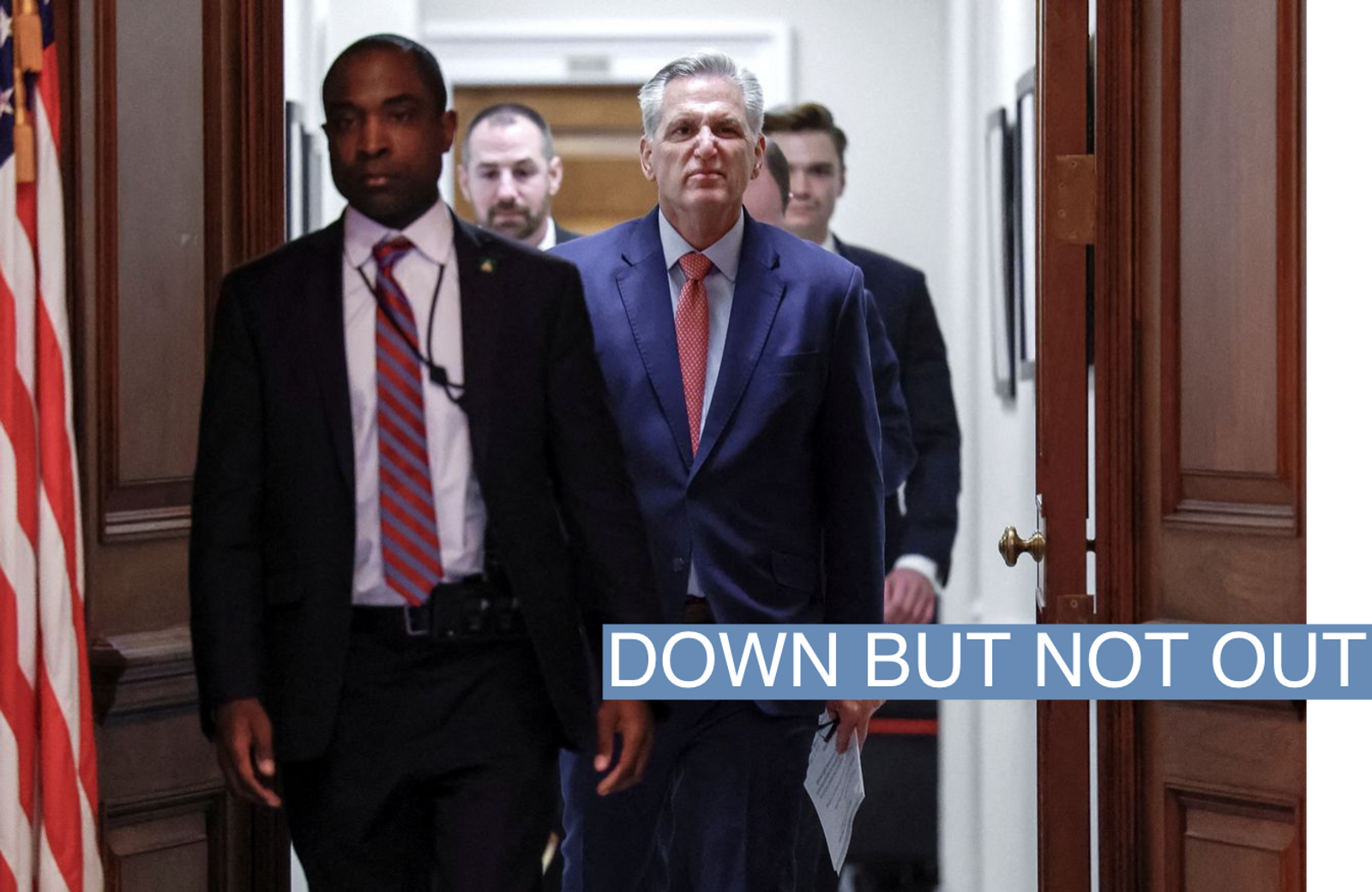 What now for House Republicans? After three rounds of voting, Rep. Kevin McCarthy failed to secure enough support to become speaker on Tuesday, leaving business in Congress frozen and his party seething.
Here are the three possible paths out of the mess.

McCarthy Pulls Out a Win
There are two not-entirely-exclusive ways McCarthy might still become speaker.
He could cut a deal with his rightmost flank to secure their votes.
Conservative allies could apply enough pressure on the holdouts that they feel they have to give in or risk their future standing in the party.
Neither path is looking great right now.
Despite some concessions to House Freedom Caucus members in recent weeks, talks broke down ahead of Tuesday's vote. Some allies even suggested they should withdraw their existing offer and start making threats of their own.
"We're just not going to allow the tail to wag the dog in this," Rep. Michael McCaul, R-Texas said ahead of the first vote.
But the rebels claim McCarthy came nowhere near to meeting their demands, which included plum committee seats for their members, even more investigations, and a pledge not to interfere in primary races.
McCarthy told reporters on Tuesday night that he adjourned the House so members could "get in the room and talk." But it would be a humiliating climbdown for McCarthy to concede more now and there's no guarantee it would actually make him speaker.
As for door number two, it's hard for leaders to credibly threaten upwards of 20 members with retaliation given the small majority, but some McCarthy-supporters suggested that conservative media might ride to the rescue.
"I hear a lot of talk show conservatives are going to be slamming these guys for what they're doing," Rep. Don Bacon, R-Neb. told Semafor. Rep. Guy Reschenthaler, R-Penn. speculated to Punchbowl that "Tucker and Sean Hannity and Ben Shapiro" would beat up on the holdouts.
Those hopes seemed slightly misplaced by Tuesday night; During his Fox segment on the speaker vote, Tucker Carlson called McCarthy "not especially conservative," said his "real constituency is the lobbying community in Washington," and insisted that he would have to make more concessions to secure the gavel, including appointing a hardline conservative to investigate the FBI and U.S. intelligence agencies. McCarthy nemesis Rep. Matt Gaetz, R-Fla. tweeted out a clip.
Sean Hannity was more critical of the holdouts, saying their demands were slippery and that they risked derailing the entire Republican agenda in the House and turning the party into a "total clown show."
Meanwhile, former President Donald Trump, McCarthy's most prominent backer and a notoriously fair-weather friend toward candidates who might make him look like a loser, seemed to be inching away from "my Kevin." On Tuesday, he declined to reaffirm his endorsement of McCarthy to NBC News, saying "We'll see what happens." McCarthy said later that evening that Trump reiterated his support and asked him to stay in the race.

A Republican Replacement Steps In
McCarthy's closest allies have pledged to vote for "only Kevin," but if he continues to look like a lost cause, there's going to be more and more pressure to consider other options.
The first tiny crack in McCarthy's united front appeared Tuesday on the third ballot, when Rep. Byron Donalds, R-Fla. switched his speaker vote to Ohio Rep. Jim Jordan, R-Ohio.
"The one thing that's clear is [McCarthy] doesn't have the votes," Donalds, who is considered a rising star in the caucus, told CNN's Jake Tapper. "At some point as a conference we're going to have to figure out who does."
Following the first vote yesterday, McCarthy's opponents coalesced around Jordan, a House Freedom Caucus founder who supports McCarthy and even gave a speech nominating him on the second ballot.
But a more formidable figure might be another member who has yet to receive a single vote: Rep. Steve Scalise, R-La., the would-be majority leader if McCarthy were to succeed. Like Jordan, he has said he supports McCarthy for the gavel, but at the same time hasn't ruled out a run himself were McCarthy to fail.
It's far from certain, however, that Scalise wouldn't run into similar problems in trying to get 218 votes. One holdout, Montana Rep. Matt Rosendale, has said he'd oppose any speaker nominee who was part of House GOP leadership in the last 10 years.

Dems Cut a Deal
There have been some whispers that a group of Republicans — most likely moderates — could come to an agreement with Democrats on a candidate more palatable to both sides of the aisle, but it seems unlikely for now.
"We haven't had any outreach," Democratic leader Hakeem Jeffries told reporters Tuesday evening when asked about the possibility. As to whether he'd consider supporting a Republican for speaker, he said "we're looking for a willing partner to solve problems for the American people, not save the Republicans from their dysfunction."
"It is possible, but we're not there yet," Bacon, who has raised the possibility of a Democratic-backed speaker before, told reporters Tuesday night. "When we get there, I'm not going to advertise it."
Some Democrats seemed receptive to the notion. Rep. Matt Cartwright, D-Pa. even suggested that McCarthy himself could be the one to strike a bargain with Democrats, inviting the would-be speaker to stop making deals with "koo-koo birds" and negotiate with the "vast swath of Democrats" who could work with him instead.
That would be a hard sell among other Democrats, who aren't particularly fond of McCarthy.
"I don't think that House Democrats have any interest in saving Kevin's speakership," said Rep. Don Beyer, D-Va., who offered that any unity candidate would need to resemble a moderate like Bacon or Dan Newhouse, R-Wash.
Rep. Gregory Meeks, D-N.Y. told Semafor that if moderate Republicans were interested in a unity speaker, they would have to make the first offer. "That can't be us going to them," he said. "They have got to come to us."
— Benjy Sarlin, David Weigel, Kadia Goba, Morgan Chalfant, and Jordan Weissmann contributed