In this edition: The aftermath of a DNC protest, the DeSantis v Haley ad wars, and how High Times ch͏‌ ͏‌ ͏‌ ͏‌ ͏‌ ͏‌
| | | |
| --- | --- | --- |
| Washington | Manchester | Des Moines |

| | | |
| --- | --- | --- |
| | November 17, 2023 | |

Americana
What went down at the DNC Israel protest
THE SCENE
On Wednesday night, more than 150 protesters demanding a ceasefire in Gaza blocked entrances to the Democratic National Committee's offices near the Capitol, singing, chanting, and holding electric vigil candles until police officers forcibly removed them.
By Thursday morning, the protesters — organized by IfNotNow and Jewish Voice for Peace, which have staged multiple acts of civil disobedience since the war began last month — were fending off accusations of violence and terror.
Two Democratic members of Congress falsely accused protesters of trying to storm the building; others invoked the Capitol riot on Jan. 6, 2021. After U.S. Capitol Police released a statement on the protest, announcing the arrest of a New York man who they said had attacked two officers and claiming other officers had been pepper sprayed, DNC Chairman Jaime Harrison praised their response.
"As Americans we have a right to demonstrate peacefully, but violence is never acceptable," said Harrison. President Biden and First Lady Jill Biden called into a party meeting on Thursday, thanking the police for dispersing protesters.
Activists who'd led the protest pushed back on Thursday. The plan, they explained, was for protesters to block the DNC's entrances while members of Congress and congressional candidates were inside, then confront them as they left. One group of demonstrators projected lights on the building, spelling out "Voters Say: Ceasefire Now."
But the protest also came as members were on edge over antisemitic threats against them and their constituents that have escalated since the Hamas attack and Israel's response, as well as some left-wing events and materials that featured defenses of the 10/7 massacre.
"Forcing police to guess intent is irresponsible and dangerous," Rep. Sean Casten, D-Ill., warned protestors on X.
Those fears and resentments came to a head as some Democrats, in no mood to carefully parse the nuances of which group shouting outside their door had backed which position, immediately complained of extremist intimidation.
California Rep. Brad Sherman, who on Wednesday called the protesters "pro-Hamas demonstrators," initially claimed that they had been "attempting to break in." He did not repeat that allegation in a subsequent CNN appearance, but multiple media outlets ran with the claim that police kept protesters from entering the DNC.
"I would ask anyone who makes these claims to produce evidence," said IfNotNow's Eva Borgwardt, "because the only people that I saw use violence yesterday at that protest were the police."
DAVID'S VIEW
The demonstrations, which came from two established left-wing Jewish groups that have long protested Israeli policy, did not appear nearly as dangerous as many of the statements indicated. But the groups involved ramped up their tactics at an especially volatile time for both Democrats and Republicans that put them in a political buzzsaw.
The left-wing coalition of groups now demanding a Gaza ceasefire pre-dates the war; the self-described "anti-Zionist" Jewish Voice for Peace and IfNotNow, participants in the Wednesday night protests, were founded in 1996 and 2014, respectively. They made some inroads in the Democratic Party, especially among its youngest voters, as Netanyahu-era governments fought with President Barack Obama over Iran and West Bank settlements and as Israeli leaders embraced President Donald Trump. Meanwhile, memories of past Israeli peace efforts began fading away.
Since Oct. 7, however, even as antiwar activists have been ostracized by much of their party, public opinion has shifted their way. In a Quinnipiac poll released Thursday, Democrats said they were more sympathetic to the Palestianians than the Israelis by a 7-point margin; a Reuters/Ipsos poll this week found a majority of Americans support a ceasefire.
But the vast majority of congressional Democrats have backed the Biden administration's position — support for the Israeli military operation, with a "humanitarian pause" for aid and hostage releases, rather than demanding a stop to the bombing and talks on a full ceasefire. A Monday press conference with House Democrats who supported a ceasefire, joined by a progressive rabbis organization, got little attention. A protest on the DNC's doorstop promised to get more.
I covered the protest on Wednesday, arriving at 7:20 p.m., after organizers had alerted media outlets that a nearby vigil would end with a protest at the DNC. For around 10 minutes, protesters marching from the vigil were stopped by police on bicycles. When allowed to move forward, dozens of protesters moved past the police and rushed to the entrances of the DNC, standing in front of them and resisting officers who pulled them away.
By 7:42 p.m, the main entrance had been cleared, with a line of officers blocking anyone else from walking up, and members being escorted out in vehicles that breezed past the protest. Organizers, who'd been part of other direct actions broken up by police, were surprised at how quickly they acted, without the warnings to disperse that they'd grown used to.
"We went last night, arm in arm, to sign, to light candles in memory of the dead, and to attempt to engage, actually, with Democratic leadership," said Dani Noble, an organizer with Jewish Voice for Peace.
The protest was illegal — there was no permit, and they were stopping people from exiting the building. National Lawyers Guild representatives moved around the crowd, telling protesters where to move if they did not want to be arrested.
But coverage of the protest, and some Democratic reactions, portrayed a more violent, chaotic scene than the one broken up quickly by police. House office buildings, a block and a half away, were locked down as the protest was dispersed.
Democrats inside the DNC, apart from Sherman and Massachusetts Rep. Jake Auchincloss, did not repeat claims that protestors had attempted to break inside. But they largely agreed with the police statement on what happened, blaming the protesters for violence as they resisted the effort to remove them and scuffled with officers.
"The right to demonstrate and peaceably assemble is a constitutionally protected one," Michigan Rep. Hillary Scholten said in a statement. "But demonstrations such as this one — in which police orders to leave private property were ignored, Members of Congress were blocked from exiting, and six police officers were injured — cannot be classified as peaceful."
Both parties joined in condemning the movement's tactics. Republicans, some of whom had characterized a sit-in last month at a House office building as an "insurrection," took the same how-dare-they tack this week. Speaker Mike Johnson labeled the crowd, which included progressive rabbis, antisemitic and "pro-Hamas." Democrats, who have largely rejected the campaign for a ceasefire, characterized this direct action as a dangerous mistake.
Most media coverage portrayed the protest as a "clash" (Fox News) that "turned violent" (CNN). A peaceful protest in downtown D.C. two weeks earlier got a fraction of the attention. Some Democrats, like Sherman, also said that it was unfair to see this action take attention from Tuesday's peaceful March for Israel, which attracted far more participants on the other side of the political debate and didn't feature any civil disobedience.
Pro-ceasefire protesters, by now, are used to accusations of antisemitism, even if they're Jewish, and of support for Hamas, even if they denounce it. They learned something else this week — that the direct action tactics they'd used for years could unite Democrats against them this time, lumping them in with insurrectionists. And it happened as polling was moving their way.
NOTABLE
In Axios, Andrew Solender talks with more Democrats about the protests and their fears, including an anonymous member who says it "scared me more than January 6."
In the Washington Post, Ellie Silverman and Peter Hermann speak with more protesters, agonizing over how the night was handled and covered; one participant "thought defying these initial police orders would lead to something she had experienced at other protests in Philadelphia," a few warnings followed by willing arrests.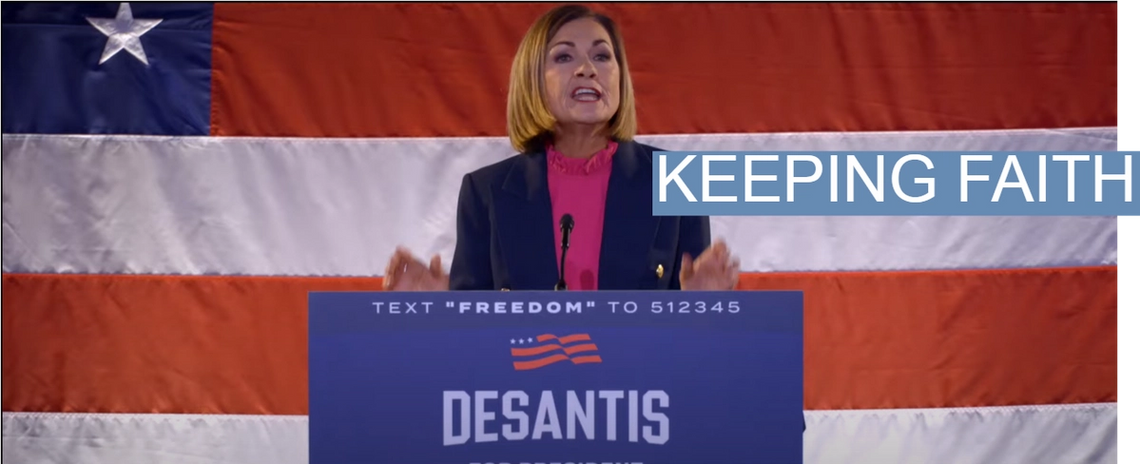 Ron DeSantis for President, "Endorsement." Iowa Gov. Kim Reynolds endorsed DeSantis just as Haley started threatening his clear second-place status. In speeches, campaign appearances and interviews, she's rebooted the case for his candidacy, but not altered it: Conservatives can trust him, and he can win. "He's probably the most effective leader that I know," Reynolds tells NBC's Dasha Burns, part of a montage of Reynolds praise that's chased with a short clip of DeSantis.
SFA Fund, "DeSantis is Lying Because He's Losing." Haley's in her third month of attacking DeSantis's record on fracking — for it as a member of Congress, restrictive as a governor of a state whose voters limited the practice. Her super PAC's spot uses footage from January 2019 of an environmental activist from Food & Water Watch bird-dogging DeSantis to ask if he will "ban fracking," getting a "yeah, yep, yep, yep" response. DeSantis never actually did what the protester wanted, but as Biden's learned, with clips of his responses to climate hecklers showing up in GOP ads, any promise on camera can and will be used against you.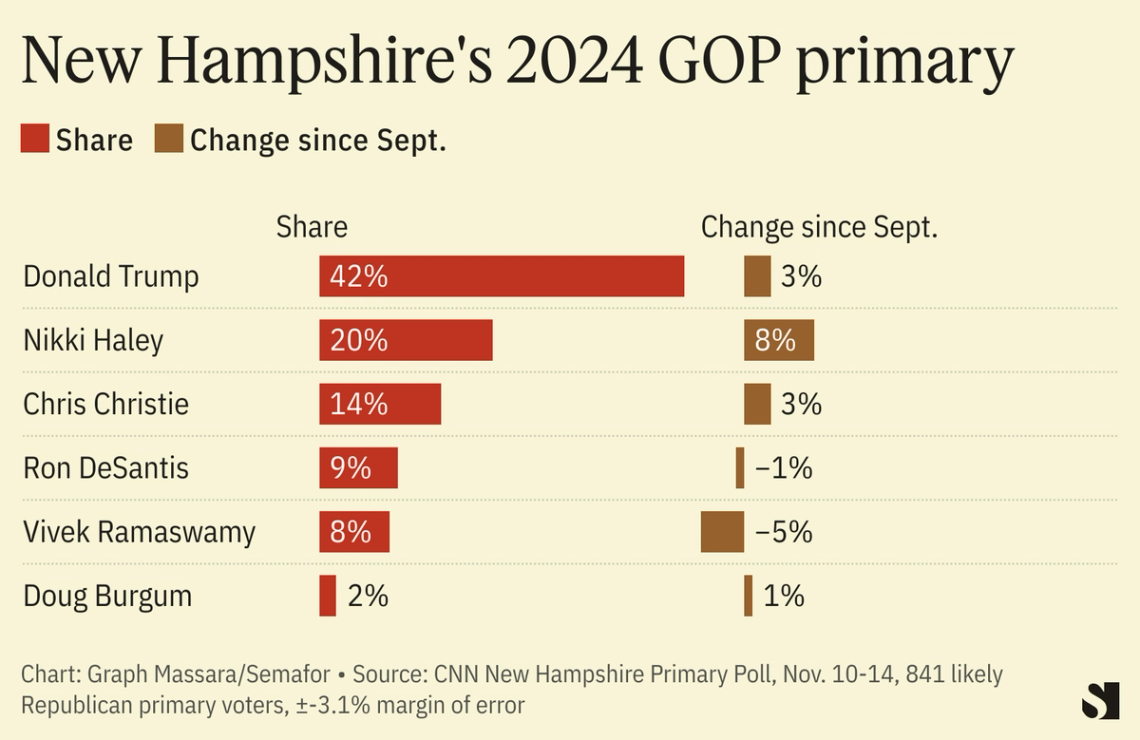 On paper, the anti-Trump vote in the New Hampshire GOP electorate — registered Republicans and no-party-preference independents — is big enough to overwhelm the former president. But over the course of the primary, the University of New Hampshire's polling has found primary voters souring on every candidate except Trump and Haley. In April, right before he entered the race, DeSantis had a 48-point net favorable rating here, 17 points better than Trump. Republican voters now view DeSantis negatively, by a single point; Trump's 17-point net favorable rating is the highest of any candidate, followed by Haley, with a 10-point net favorable rating. Trump's issue positions are popular, too, with 70% of Republicans here supporting the death penalty for drug dealers, and 51% favoring a halt on military aid for Ukraine.

On the Hill, and even in the GOP presidential primary, the president's response to the Gaza-Israel war is far less divisive than his support for Ukraine. That consensus doesn't carry over to the Democratic base. Thirty-three percent of Democrats oppose the president's handling of the Gaza war, more than double the number who disapprove of how he's handling Ukraine. Young voters are split on the Ukraine question 46-48, but by a 44-point margin they oppose how he's handling "the war between Israel and Hamas."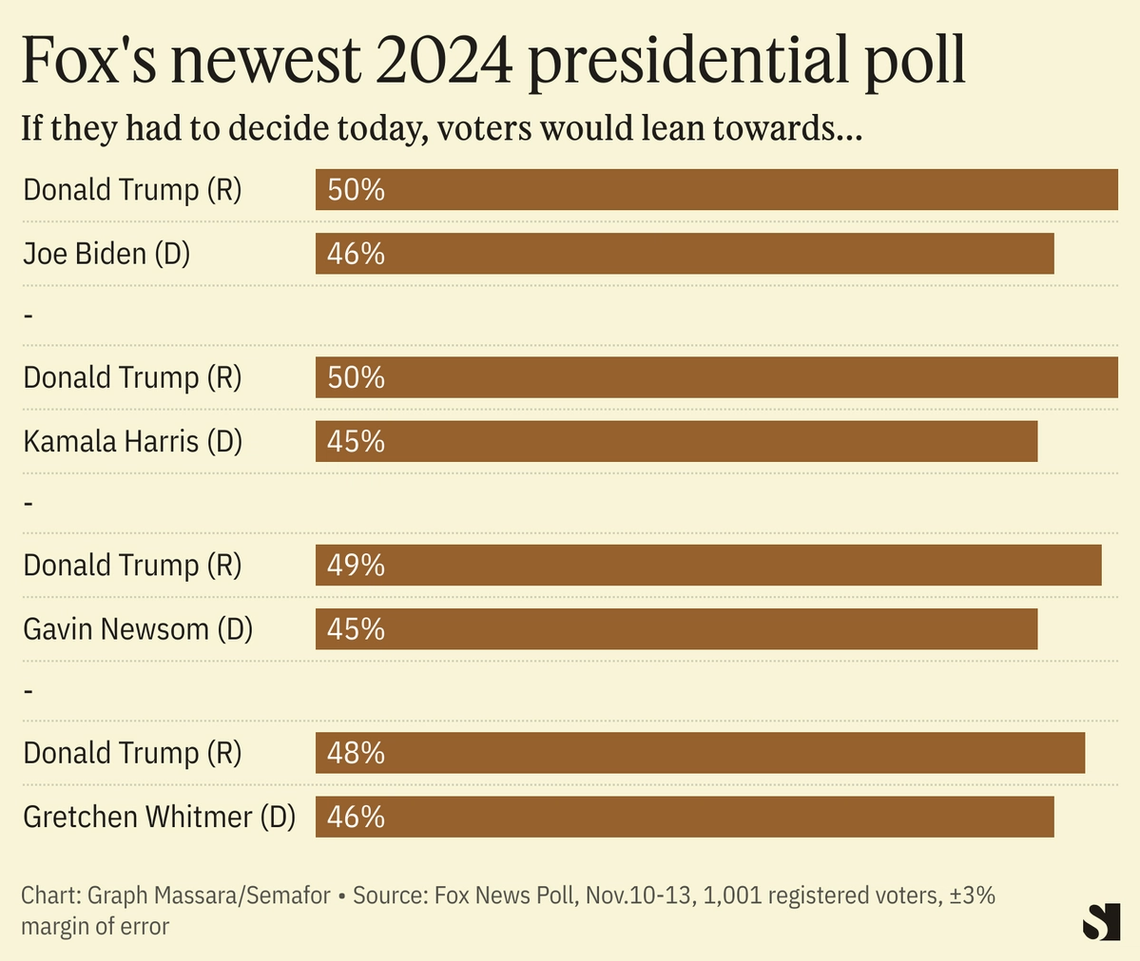 There's an electability squabble in the GOP primary; polling shows Haley running stronger than Trump, and DeSantis says that his 2022 landslide proves he'd win voters that Trump can't. And both Haley and DeSantis have suggested that Democrats will swap out Biden, giving Trump an opponent he can't beat. This rare ballot test suggests otherwise: Trump holds onto 90% of the Republican vote, and a majority of the independent vote, against any named Democrat. (One caveat: In this sample, Trump triples his 2020 numbers with Black voters, even if he's facing the vice president.)
White House. Three Republicans will be in Des Moines tonight, appearing at the Iowa Family Leader's forum for "discerning Christian voters." Ron DeSantis, Nikki Haley, and Vivek Ramaswamy will speak at the group's second 2024 cattle call; the first was a series of interviews between the candidates and Tucker Carlson.
Bob Vander Plaats, the president and CEO of the social conservative group, endorsed Rick Santorum ahead of the 2012 caucuses and Ted Cruz ahead of 2016. DeSantis's rivals would be surprised if he doesn't endorse DeSantis; the Florida governor's campaign and its affiliates have given nearly $100,000 to the Family Leader, and Vander Plaats said this summer that DeSantis had the best chance in Iowa of any Trump challenger.
"Being governor of Florida, what in the world makes you say: I want to run for president of the United States?" Vander Plaats asked DeSantis this week, in a friendly video interview.
"Some would say — can be a lapse in judgment, when people make that plunge!" said DeSantis.
Haley entered the weekend with fresh interest and commitment from GOP donors; Tim Scott's departure from the race last week freed up Stanley Druckenmiller and Eric Levine, among other large funders who had Haley as their second choice. She came under fire for 24 hours after suggesting that anonymous social media accounts should be verified by name, an idea Ramaswamy called "disgusting" and DeSantis called "what China does."
Haley pivoted, saying the policy would only affect foreign accounts, without explaining how that would be determined. And her campaign is increasingly portraying DeSantis' attacks as desperate flailing, whatever the substance.
"Her numbers are rising in Iowa, New Hampshire, and South Carolina," said state Sen. Chris Cournoyer, Haley's Iowa campaign chair. "I think that DeSantis, even with his 99-county tour in Iowa, is just stagnant, and her message is truly resonating."
Senate. Reproductive Freedom for All, the pro-abortion rights group formerly known as NARAL, endorsed a trio of Black female Democrats this week — Delaware Rep. Lisa Blunt Rochester, California Rep. Barbara Lee, and, in Maryland, Prince George's County Executive Angela Alsobrooks. Blunt Rochester hasn't drawn a serious competitor in her race, and Alsobrooks has piled up endorsements in her primary with wealthy Rep. David Trone; Lee's been mired in the single digits in California's all-party March primary.
House. Two more swing-seat members retired this week, for very different reasons. As Semafor's Kadia Goba first reported, New York Rep. George Santos ended his bid for a second term on Thursday, after the House Ethics Committee released a report documenting how he abused campaign funds and filed false reports to the FEC. "My family deserves better than to be under the gun from the press all the time," Santos explained in a statement.
Later that day, Michigan Rep. Dan Kildee announced that he'd retire in 2024, at the end of his sixth term. "There are times in all our lives that make you reassess your own future and path," Kildee told supporters. "For me, being diagnosed with cancer earlier this year was one of those moments."
Both developments could help Republicans. Kildee's central Michigan district had moved sharply to the right since he won it, as old Democratic strongholds outside Saginaw and Bay City went for Donald Trump. Joe Biden won the 8th Congressional District by 2 points in 2020; Kildee won his 2022 race, targeted all cycle by the GOP, by 10 points, and the defeated Republican nominee Paul Junge wasn't running again.
Biden carried Santos' Long Island seat by 8 points over Donald Trump, but it backed GOP candidates in every race since as the party pummeled Democrats over criminal justice reforms that they blamed for higher crime. Santos' fundraising dried up completely, and nine other Republicans were already running to replace him.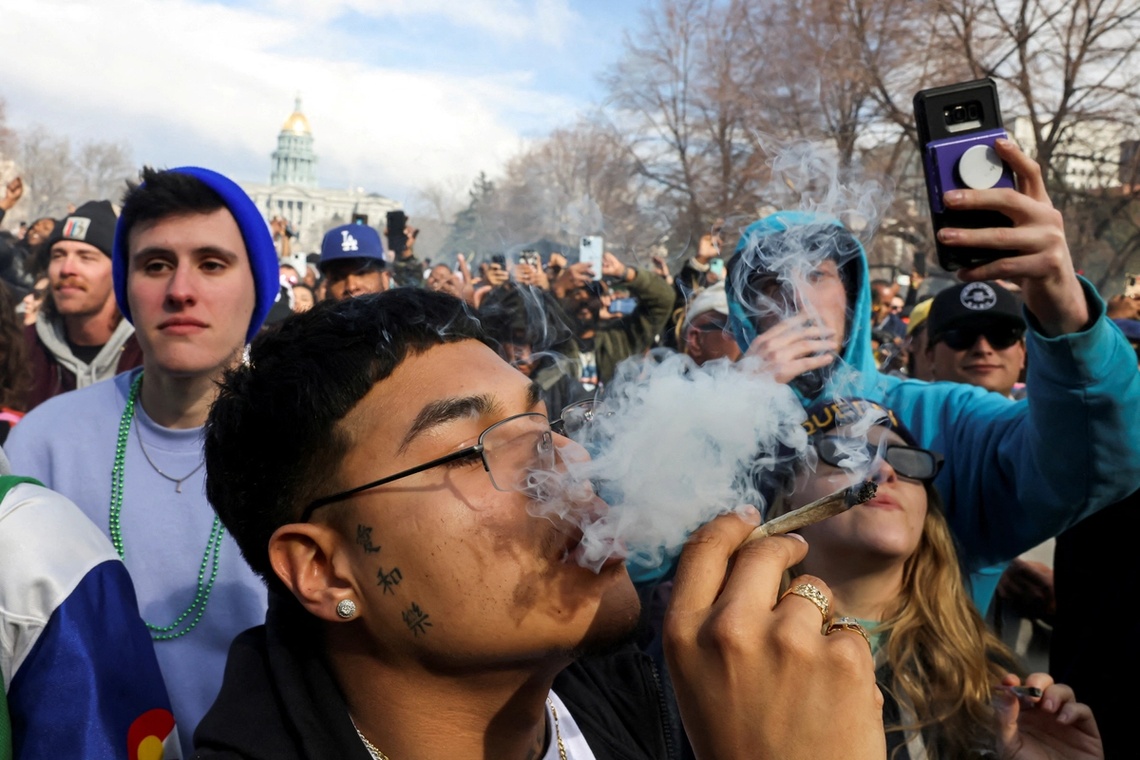 REUTERS/Kevin Mohatt/File Photo
How much of modern life do we owe to a mysterious marijuana kingpin? That's the question Sean Howe grappled with in "Agents of Chaos," a history of 1970s radicals centered on "High Times" publisher Thomas King Forçade. Howe's story traces the flowering of an anti-war, anti-establishment movement that was confident it could remake America, into a commercialized industry that didn't change much — and one that Forçade did not live to see. This is an edited transcript of our conversation.
Americana: Who was Tom Forçade, and why'd you want to write about him?
Sean Howe: He was this larger than life, Zelig-type of character who also was dogged his entire life by accusations that he was a government agent. He played a behind-the-scenes role in all of these different subcultures, which was fascinating enough to me. But when I saw these mysterious whisperings, about whether or not he was a spook, I stepped into the quagmire.
Whether or not Forçade was a provocateur, he liked to provoke. He thrived on his contrarianism. And he liked to cultivate this mystique around himself, which totally played into the paranoia. This guy who doesn't want to be photographed, who picks fights with other radicals, and who doesn't use his real name — that's obviously going to have an effect on whether people trust you.
Americana: But he's a key figure in the radical press – what role was the radical press playing in America at the start of the 1970s?
Sean Howe: At the end of the 1960s, popping up around the country were these mostly anti-war, left-wing, sex-and-drugs-embracing weekly papers. The coalitions of the 1960s, which were largely civil rights and anti-war- based, started to crumble apart at the end of the decade. That's the time that Tom Forçade came onto the scene and took the reins of the Underground Press Syndicate. He insinuated himself with what people used to call the movement heavies, like Abbie Hoffman, Jerry Rubin, John Sinclair. And Forcade's court case to get press credentials, years later, becomes the precedent for the CNN versus Trump case, when Jim Acosta is banned from the White House.
At the time, there's this idea that protests will change the world. It came out of a sense of hopelessness. There was a student movement full of people who felt disenfranchised. There weren't really any politicians who reflected what they believed. Now, on the left, you can see certain elected representatives who they feel reflect their views. But when the option was Hubert Humphrey? They didn't see the point of getting behind that. There's a kind of desperation behind putting all their eggs into the direct action basket.
Americana: There is a lot of activism based around drugs and drug legalization in this period, before the launch of High Times. Why was that?
Sean Howe: The sentences were so harsh — the fact that someone could be locked up for 10 years for possession of a couple joints was just so insane. And beyond that, drugs were really being used as a pretext for harassment, arrests, and suppression of the so-called underground media. They were getting their own printing presses, and speaking out against what no one in the more establishment media was speaking out against, and then drug busts were being used to silence that.
There was also this belief that marijuana was a way that you could break down people's indoctrination to the status quo. It was a way to make people question the systems that everybody lives in and takes for granted. I think people genuinely believed that if you got enough people to do LSD or to get high, nobody will want to go to war.
Americana: What role do Forçade and High Times play in the eventual legalization of marijuana in much of the country?
Sean Howe: Even though decriminalization didn't happen in 1980, like so many people thought it was going to, High Times really normalized the use of marijuana in middle class America. The drawback is that it also commodified it somewhat. High Times was an important part of the legalization process that we see today, and it's also a reason that this has become such a corporatized thing.
There were editorials he wrote in High Times about that, but at the same time, he was making all this money from a magazine that advertised different kinds of bongs. He had these proto- dispensaries, which were very transactional, these places where you could go in and sample different strains in a kind of sterile environment.
Americana: This idea of mass enlightenment, and enlightened people changing the world the way that the radicals wanted, keeps coming up. You have Forçade imagining how great it would be if everyone had total access to information. Well, we have it now, and it doesn't seem everyone got enlightened and agreed with each other.
Sean Howe: If people become certain that they have all the answers, and they have no doubts, it's disastrous. Whether it's the left or the right, that's true. Right now, the far right is really in a lather about FBI infiltration and provocation. But that's not new. I write in the book about the Secret Army Organization in San Diego, which was, like, lousy with FBI agents. I see that being echoed today.
19 days until the fourth Republican presidential primary debate
59 days until the Iowa Republican caucuses
67 days until the New Hampshire primary
99 days until the South Carolina Republican primary
353 days until the 2024 presidential election

Sign up now to get Semafor in your inbox.
Semafor, Inc. 228 Park Ave S, PMB 59081, New York, NY, 10003-1502, USA